The Film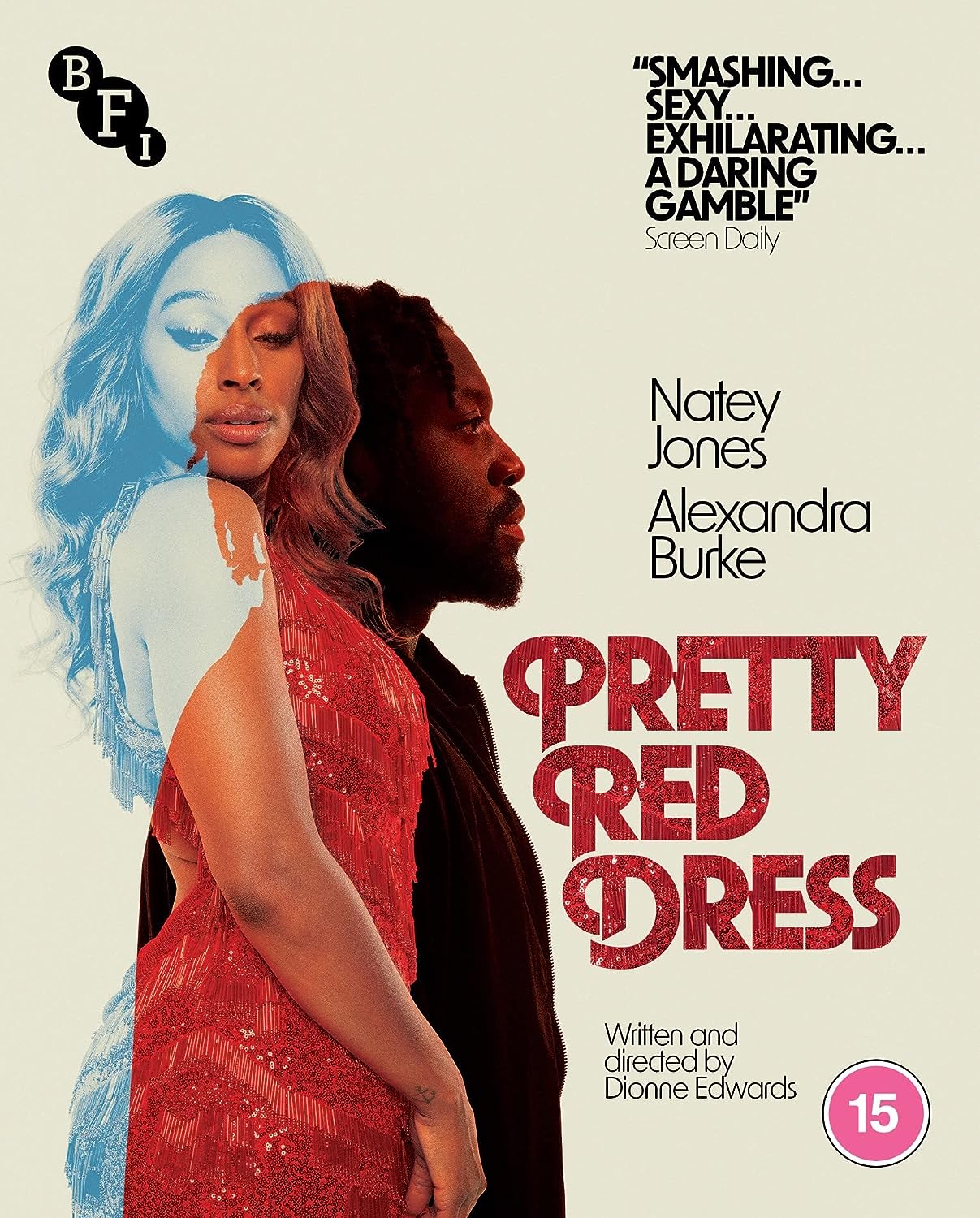 "Pretty Red Dress" (2022)

Travis (played by Natey Jones) has just been released from prison and is ready to reform his life back in South London with his partner Candice (played by Alexandra Burke) and their teenage daughter Kenisha (played by Temilola Olatunbosun). Candice is working at a supermarket, but is given an opportunity to audition for an upcoming stage production to play as Tina Turner which would be lifechanging for the family. She and Travis see a gorgeous red dress at a second hand shop that would be perfect for her audition, though it would be a costly investment. To her surprise, Travis buys it for her, which would bring extra confidence for Candice's audition. But at the same time, the dress sparks a deeper interest for Travis, who is not just excited to see her in it, but excitement to wear it himself.

"Pretty Red Dress" looks at a family of three that are at a crossroads in their lives. Travis is ready to adjust back into society and be the man of the house again. He reluctantly takes a job working at a restaurant owned by his older brother Clive (played by Rolan Bell). But the dress that he bought for his partner awakens something within him. There is a sequence in which Candice wears the dress and seduces Travis is a slightly masochistic roleplay which they enjoy together. The dress surely gave her sexual power over him just like sexy lingerie would do, but he sees something more. What if he wore the dress, the make-up, the underwear, the long wig instead? How would he feel and would he have the same sexual power that she had? Kenisha is a young teen that is going through puberty, and also self discovery. She is reluctant to say to her parents that she is in a relationship with a female classmate Cicely (played by Maria Almeida) and she gets into fights at school which could get her expelled if they continue. For Candice, the chance to play a musical idol at this struggling and difficult time in her life would mean a major change for her career and her personal life. She has the vocal range as demonstrated in various scenes, but does she have the confidence to do it justice? While it should be strongly on her mind, she is distracted by reports from the faculty at Kenisha's school and the awkward situation of catching Travis wearing her red dress makes things even more complicated. In a time when the family should try to stick together, it seems all three are emotionally separating from one another.

Writer and director Dionne Edwards made a number of short films and "Pretty Red Dress" is her first feature length film production. For "Pretty Red Dress" there was emphasis on not explaining about the characters' desires. There isn't an explanation for why Travis is attracted to women's clothes. He just does. It doesn't make him gay or change his sexual desire by gender as he is still madly in love with Candice after all these years. It is the same for Kenisha as it's not gone into about her sexual nature or how she began to find herself sexually. She already knows and there needs no background for it. The shame that is behind both of them are brought forth in traumatically embarrassing situations with Candice happening to catch them at different times and confronting them. For Travis he's quick to brush it off saying it was a joke and that he was just playing around, but deep down it wasn't a joke and Candice is also distraught. For Kenisha she is embarrassed and angry, deciding to run off and avoid the confrontation with her parents about her sexuality. It's an interesting move to strip away the backstory of the family, such as why Travis went to prison and for how long, why Travis and Candice never got married, etc. There is also tension between Travis and his older brother Clive. There is jealousy that Clive is doing much better with his own business and is looked up to by everyone, including Candice. The film is about characters looking to break from the norm and to express themselves freely, and "Pretty Red Dress" does a solid job with the issue.

Although one of the weaker elements may be that there isn't an equal divide with the characters in the story. Travis and his desires takes up most of the screentime, followed by Candice and lastly with Kenisha. It was said by Edwards that there was more to Kenisha's story that unfortunately be cut from the film. It would have been interesting to see what was cut, but schoolyard bullying and the difficulties of puberty are frequently seen on screen in various forms over the years. Focusing on Travis was the bolder choice, as it is not the usual coming out story as this is not about sexual preference with gender, nor is it a straight forward crossdressing story. There is a long history of women, fashion, and sexuality across the world. With make-up, accessories, undergarments and outerwear, women are able to express themselves in various ways that have become a part of societal norms with each generation and each country having their evolution. For men, there is no men's make-up section at department stores. There is no Victor's Secret for underwear. While there are small exceptions, for the mainstream society, men have not had the same attraction to fashionable sexy garments that women have had. What Travis goes through will indeed cause some snickers from some audiences, but what is excellent is how his initial awkwardness becomes strength and power, and how it is portrayed in "Pretty Red Dress" is caring while it is daring. The 2018 film "In Fabric" also dealt with a red dress that influenced people who wore it, but that was an effective fantasy horror, while "Pretty Red Dress" lies in reality with nothing supernatural about it. There is beauty within fashion and the wearer will certainly feel something more when worn. Whether it's a thong bikini, thigh high stockings with garter belts, or stiletto heels, the woman wearing them will feel a sense of sexual power. The film asks, why not for a man?

"Pretty Red Dress" was originally scheduled for production in 2020 with a differing cast, but production had to be halted due to COVID-19 lockdowns. Production was able to resume over a year later, but some of the initial cast members went on to other projects. Temilola Olatunbosun was still available for the role of Kenisha but she was more than a year older. Locations that had been decided on also had to be changed due to scheduling as well. Even with the troubles, the production endured and the completed film premiered at the BFI London Film Festival on October 9th, 2022. This was followed by festival screenings in Rotterdam and Seattle in 2023 and given a theatrical release in the UK on June 16th, 2023. This would sadly be less than a month after the passing of Tina Turner on May 24th, 2023, who was a great inspiration for the film and directly referenced with her music and her fashion.

Note this is a region B Blu-ray

Video


The BFI presents the film in the 1.85:1 aspect ratio in 1080p AVC MPEG-4. The transfer comes from the HD master from Protagonist Pictures. Shot digitally, the production looks excellent throughout, from the intricate reds of the red dress shining brightly as well as the greens of the park and the darker portions such as night scenes. Bright sequences outdoors also look excellent with the color balance. The image looks sharp throughout and there are no particular issues of compression or errors to speak of.

The film's runtime is 109:48.

Audio


English DTS-HD Master Audio 5.1
English LPCM 2.0 stereo
English Audio Descriptive Dolby Digital 2.0 stereo
There are lossless 5.1 and uncompressed stereo options for the film, as well as an audio descriptive track. As the film has a number of musical moments such as right from the start, the 5.1 soundscape does an excellent job with spreading the music cues to the surround channels. Other music cues from composer Brijs also sound great, utilizing the stereo separation and surrounds. Dialogue is mostly center spaced and is well balanced against the music and effects. There are no issues of dropout or imbalance for a pleasing aural experience.

There are optional English HoH subtitles in a white font which are well timed and easy to read.

Extras


Audio commentary by director Dionne Edwards and producer Georgia Goggin
In this audio commentary, Edwards and producing partner Georgia Goggin discuss the making of their first full length feature. Talked about are the reason for constructing a set for the family's home, the rehearsal process, the chemistry between the characters, happy accidents, regrets with certain sequences, audience reactions, and more. Interestingly, they also discuss a lot about deleted scenes, which are not available on the disc. It seems there was quite an amount of material, especially of Kenisha's character's arc.
in English Dolby Digital 2.0 without subtitles

Pretty Red Dress Q&A (22:35)
Director Dionne Edwards, producer Georgia Goggin, and cast members Temilola Olatunbosun, Natey Jones and Alexandra Burke are joined on stage at the BFI Southbank for an after screening Q&A on June 13th, 2023, moderated by Caleb Femi. Discussed about are the casting process, Jones catching COVID during production, the conflicts that each of the main characters go through, the rehearsal period to create the family dynamic, plus some questions from the audience. The Q&A has been embedded below, courtesy of the BFI.
in 1080p AVC MPEG-4, in 1.78:1, in English LPCM 2.0 without subtitles



"Dressing Up" interview with director Dionne Edwards (14:01)
This interview with Edwards from May 2023 has her talking about the cast rehearsals and acting workshops, what the actors brought to the story, and the influences for the feature. From films like "Babylon" (1980) and "Satuday Night Fever" (1977), to filmmakers like Martin Scorsese and Shane Meadows, plus the force of Tina Turner, Edwards talks about the importance of each and their impact.
in 1080p AVC MPEG-4, in 1.78:1, in English LPCM 2.0 without subtitles

"Picking Up the Thread" interview with producer Georgia Goggin (26:56)
This interview with Goggin from May 2023 has her talking about her years as a teen and wanting to get into film production, meeting Edwards in 2012 and working together on a number of short film projects, the differences between producing a short and a feature film, the production delays due to COVID, having to recast actors and a lot more.
in 1080p AVC MPEG-4, in 1.78:1, in English LPCM 2.0 without subtitles

"Starting a Conversation" interview with choreographer and movement director Johannes Radebe (3:21)
This short interview with Johannes Radebe has him discussing the script, his role on the production, working with the cast and crew, and the importance of the story and creating a conversation about the issues presented.
in 1080p AVC MPEG-4, in 1.78:1, in English LPCM 2.0 without subtitles

Sundance Directors Lab scenes (with Play All) (7:30)
- Scene 1 (3:15)
- Scene 5-9 (4:14)
Dionne Edwards was one of the participants for the 2019 Sundance Directors Lab, a program to help with aspiring filmmakers to workshop difficult scenes in a low risk environment. The first sequence is of Travis picking up Kenisha after she gets in trouble at school. The second is during the family argument that leads to the cops knocking on their door. These were shot in 2019 with Eric Kofi-Abrefa, Riann Steele and Aria Herrell as the family.
in 1080p AVC MPEG-4, in 1.78:1, in English LPCM 2.0 without subtitles

"We Love Moses" 2016 short film (15:48)
Ella is a 12-year-old who develops a crush on Moses (played by Jerome Holder), who is the best friend of her older brother Michael (played by Raphel Famotibe). Although she is picked on by her classmates, she tries to build confidence in herself to try to win over the heart of Moses, who doesn't quite see her in the same light. The short, directed by Dionne Edwards has some similarities to Kenisha's character in "Pretty Red Dress" with her sexual awakening and getting into arguments with others at school. But here the central focus is on Ella, in which we hear her voice as an older woman (narrated by Paige Cowan-Hall) as she reflects on her childhood through an awkward but important phase. Well directed and with great performances by the young cast, it's certainly worth a watch and an excellent supplement on this Blu-ray. Shot in HD, the transfer is very strong in picture, as well as with the stereo audio.
in 1080p AVC MPEG-4, in 2.40:1, in English LPCM 2.0 stereo with optional English HoH subtitles

Trailer (1:44)
The original UK trailer is presented here. It has been embedded below, courtesy of the BFI.
in 1080p AVC MPEG-4, in 1.85:1, in English DTS-HD Master Audio 5.1 without subtitles



Booklet
A 28 page booklet is included with the first pressing. First is a statement from Edwards about the film from March 2022. Next is "Making Pretty Red Dress: Diary Extracts" by Georgia Goggin, which are portions of the producer's diary entries which look at some of the difficulties faced during the production's shoot. It's also interesting to see the shooting order, as with many productions are shot out of sequence. This if followed by "Pretty Red Dress: An Unsentimental Celebration of Self-Acceptance" by Ben Walters, which was first published in Sight and Sound. There are also full film credits, special features information, transfer information, acknowledgements, and stills.


Other notable clips:


Mark Kermode reviews "Pretty Red Dress"


Interview with Dionne Edwards from HeyUGuys


Interview with Natey Jones & Alexandra Burke from The Upcoming


Interview with Alexandra Burke from 5 News

Overall


"Pretty Red Dress" is an excellent story about repression and emotion seen through the eyes of one struggling family in a unique...fashion. The BFI's Blu-ray is an excellent one, with a great number of extras and a strong presentation, though not having any deleted scenes is a bit of a missed opportunity. It still comes as highly recommended.
| | | | | |
| --- | --- | --- | --- | --- |
| The Film: A- | Video: A | Audio: A | Extras: A- | Overall: A |