Black Demon (The) (Blu-ray) [Blu-ray]
Blu-ray B - United Kingdom - Signature Entertainment
Review written by and copyright: Rick Curzon (22nd August 2023).
The Film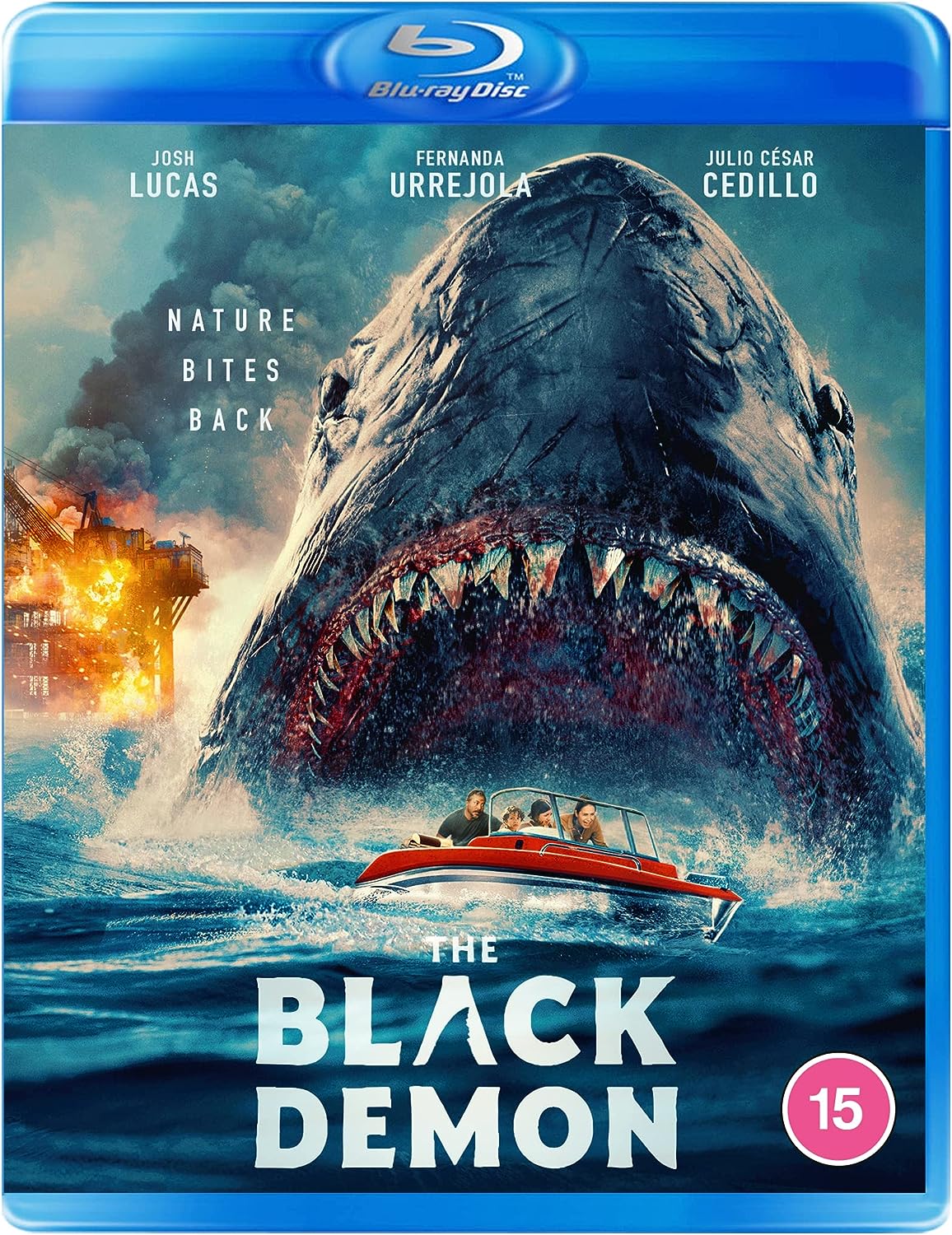 A MYTH BECOMES A KILLER REALITY. THE BLACK DEMON LIVES!

Oilman Paul Sturges (Josh Lucas) takes his family out to a Mexican coastal town to visit his pride and joy. An oil rig. But when they arrive the once vibrant town is a shadow of its former self. Word of the town is that the drilling has awakened something, a legend, a myth, a megalodon: The Black Demon!

Suspicious of the rumours, Paul takes his family to investigate the rig only to discover he has provided this giant shark with another meal to terrorise and devour.

Video


Forgettable monster mash cum shark flick made to cash in on the trend for such things. Acting is variable, the script daft and follows the cliched playbook for this kind of monster film closely and the film offers little that is new and is thuddingly obvious and predictable without any charm. Stick to Jaws (1975) or even The Meg (2018), the latter of which Black Demon is designed specifically to rip off, Asylum style.

Online sources just say this was shot digitally and this much is obvious to anyone familiar with what photochemically shot films look like versus digitally lensed productions. There's no grain as one would expect and the image is sharp as a tack. Colours are surprisingly rich and vibrant for a digital production but it still has that slightly flat lifeless look when set against films shot on film.

Black levels and contrast are perfect and the image is a strong as one would expect for the format and the film's recent vintage. It has the usual trend to make dark scenes dim with flatter contrast so it can occasionally be hard to follow the onscreen action in those bits. Thankfully those bits aren't too frequent. Obviously not in the same league as a mega budget production like The Meg series but a strong presentation ('A'). Obviously, UHD BD and HDR would improve the image in certain respects.

Yet another film shot in the weird 2:1 ratio that Netflix favours

1080p24 / ABC MPEG-4 / BD50 / 2:1 / 100:41

Audio


English / Spanish DTS-HD Master Audio 5.1 (48kHz)
English / Spanish LPCM 2.0 Stereo (48kHz)
Subtitles: There are burned in English subtitles for the Spanish dialogue only, no hard of hearing subs are provided.

I watched the film with the 5.1 rather than the 2.0. I sampled the latter but with my amp set to Auto Format Direct it was entirely set across the front. With ProLogic II engaged it became more enveloping but why would you choose it over the excellent 5.1 which verges on demo quality at times? Full-bodied, active surround track with plenty of base and welly in the action bits, ambiance and score throttle the surrounds at times. LFE is notably deep and boomy at times; I just wish the film was better to go with the technical specs. The only subs provided are burned in to the image and translate non-English dialogue ('A').

Extras


"Behind the Scenes" 2023 featurette (2:01)

Worthless behind the scenes puff piece presented in 1080p24 1.78:1 with uncompressed English LPCM 2.0 stereo sound. Words used: Amazing, vibrant, touch, creative, humble ... skip it. Image and sound are good.

Startup Trailers:
- Ambush (1:03)
- Prizefighter: The Life of Jim Belcher (1:38)

Promos for other Signature Entertainment releases presented in 1080p24 2.39:1 with uncompressed English LPCM 2.0 stereo sound (48kHz, 16-bit). Neither film looks particularly tempting with the first being a Vietnam actioner and the second a historical piece bout a loud, shouty prizefighter. Image and sound is good for what it's worth.



Packaging


Standard blue BD Keepcase.

Overall


Yet another giant shark flick gets very decent image and sound quality from Signature Entertainment in the UK. Extras are worthless and the film nothing more than an impeccably technically presented programmer, best ppreciated with beer, pizza and alcohol MTST3K style ('C-').

The disc is cheap so recommended on a slow evening.
| | | | | |
| --- | --- | --- | --- | --- |
| The Film: D | Video: A | Audio: A | Extras: E | Overall: C- |

---
Rewind DVDCompare is a participant in the Amazon Services LLC Associates Program and the Amazon Europe S.a.r.l. Associates Programme, an affiliate advertising program designed to provide a means for sites to earn advertising fees by advertising and linking to amazon.co.uk, amazon.com, amazon.ca, amazon.fr, amazon.de, amazon.it and amazon.es . As an Amazon Associate, we earn from qualifying purchases.