The Film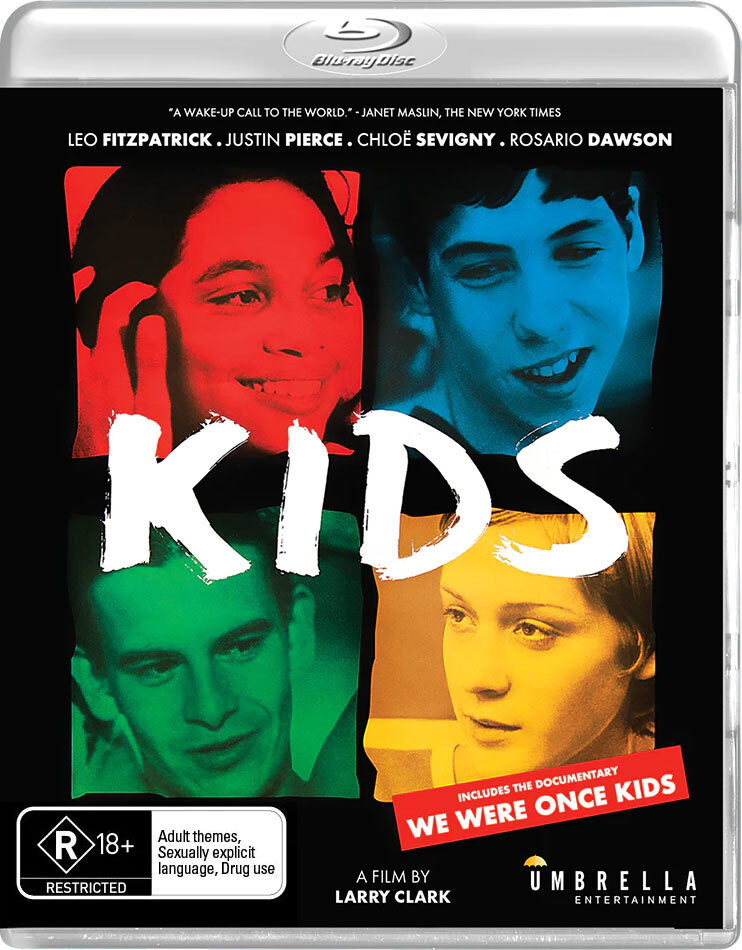 "Kids" (1995)

Telly (played by Leo Fitzpatrick) is a teenager that is obsessed with skating and sex. In regards to sex, he is especially obsessed with having sex with virgin girls. His best friend Casper played by Justin Pierce) is his best friend, who is also a skater and is not afraid of getting into brawls and loves to party. During the course of twenty-four hours, the boys hang out with their friends while drinking, smoking, fighting, and whatever else that comes in their way. Meanwhile, there is Jennie (played by Chloë Sevigny), who lost her virginity to Casper and is upset that he disappeared from her life. When she goes to a health clinic with her best friend Ruby (played by Rosario Dawson), Jennie is told that she has contracted HIV. Panicked and distraught, her first thought is to find Telly and confront him.

Photographer Larry Clark became interested in documenting the teen skateboarding scene of New York City in the early 1990s, where he befriended a group of young kids. Though he was more than double their age, he earned their trust over a period of time and learned to skate himself. He also befriended Harmony Korine, a film school student who also became friends with the amateur skaters. The two looked at producing a feature film based around these kids who skated, drank, smoked, and partied with Korine developing a script and Clark directing. A number of the kids would play a version of themselves while casting calls were also made for certain parts, without the involvement of unions or guilds, as they were looking for kids without acting experience. Independently produced and made in a docu-drama form, "Kids" became one of the most talked about films of 1995 and an extremely controversial one for its content as well as the stories behind the scenes.

It's notable that the film received an NC-17 rating by the MPAA, even though there is not a single moment of on-screen nudity. There is some skin shown and depictions of sexual behavior, yet nothing explicit or obscene in shots. The rating came entirely from the sexual content in terms of spoken dialogue and in sexual depictions that are off screen. The dialogue, which sounds almost entirely improvised, was actually scripted and had content that was rare to be heard in cinematic works. From the boys talking about deflowering virgin girls, girls talking about cumshots, the content certainly make audiences blush or become uncomfortable, yet somehow the way that it is shot and how these young performers interact will make anyone easily think that the film was a documentary rather than scripted. The natural tones of the actors (which many were actual friends in real life) along with the handheld cinematography by Eric Edwards make "Kids" a unique experience that no other film could possibly do. It also helped that having actors that were not superstars with the believability.

Though the project was developed with skaters in mind, there are actually only a few examples of skating seen in the film. There is the infamous sequence of the kids at the park where they get into a violent brawl, though it's not a film that showcases tricks or moves on boards. Instead, what remains are the shocking moments in the film. The moment that Jennie learns that she is HIV positive is the biggest warning of all, as it came at a time that the virus was a major issue in the world. In the mid-90s the AIDS scare was a serious reality for everyone, and not something that was taboo or silenced like it was in the 1980s when the disease emerged. Sex education in American schools made it a serious issue and there was better awareness of it in the mainstream media, from famous personalities that contracted the virus coming forward, and 1993's "Philadelphia", which featured an HIV positive lawyer being discriminated against becoming an Oscar winning feature. But as it shows in "Kids", these teens were not afraid of sexual consequences at all. They were also not afraid of illegal behavior such as drug use or underage drinking, and instead were free and without a conscience. The film doesn't ask about how things became this way or how things can change. Instead it showcases that this is how teens behave and that's just how it is. Reality can sometimes be much more frightening than fictional accounts.

"Kids" takes place over a twenty-four hour period, and during its time that the cameras follow the characters, there is only one instance of a parent being introduced. Telly's mother (played by Julie Stebe-Glorius is shown at home, taking care of her newborn baby and through dialogue, it is stated that the family is together with Telly's father in the picture. One might think that Telly comes from a broken home but that is definitely not the case. The question might be where all the other parents are during this day, but considering that in the 1990s in America, divorce rates where getting higher and more households had both parents working full time to make ends meet, the ideas of latchkey kids became more of a norm than not. Children were able to hang out unsupervised, and whatever behavior was seen on screen here had an easy sense of being plausible. For parents who saw the film, it was a true wake-up call to what was going on around them. Not everything was as innocent as they expected.

Shot on a budget of $1.5 million, the film was shot over a six week period during the summer of 1994 when the kids were out of school. The completed feature premiered at the Sundance Film Festival in January 1995 where it caused quite a stir, though it secured distribution from the now-cringe inducing Weinstein Brothers, who bought the rights for $3.5 million. At its screening, as well as other festival screenings had Clark and Korine promoting the film, yet not the actual kids that were involved in the production, which blurred the mystery as to if these were real kids and their real tales or if they were actual performers. The Cannes Film Festival screening and Q&A was riled with controversial comments, with critics asking if the performers were of legal age and if they were given actual alcohol or drugs for the production. The controversies and the vague answers from the filmmakers gave the film a hyped appeal that proved to work in terms of word of mouth. The film opened on July 21st, 1995 in the United States in a limited release and expanded out to more locations in the next few months, with the distributor opting for "unrated" rather than the "NC-17" rating, hoping for a larger audience. Grossing over $20 million worldwide, it easily became a hit and also one of the most talked about films of the year. The soundtrack album was also a major hit. Featuring numerous tracks from The Folk Implosion, the duo had a surprise charting hit with the song "Natural One" hitting the charts in both the United States and the United Kingdom. Ironically, "Natural One" was not featured in the film at all. The soundtrack album had multiple tracks by The Folk Implosion, plus songs by fellow indie rockers Daniel Johnston, Slint, and Sebadoh (the main band fronted by The Folk Implosion's Lou Barlow), yet it decided to leave off many of the great hip hop tracks featured in the film, with The Beastie Boys, Jeru the Damaja, Brand Nubian, A Tribe Called Quest, and O.C.. The album has not been reissued with the additional songs since then.

Critically the film was divided though. Some praised its realistic tone and its moral tale on excessive behavior. Others were critical on what was depicted and how it was depicted by such young performers on screen. Though it wasn't known entirely at the time, there were controversial decisions made for the filming process. The kids were actually getting drunk and getting high with alcohol and drugs provided by the production. The girl in the opening scene (played by Sarah Henderson) who has sex with the character of Telly, was only twelve at the time of production. Yes, she was supposed to look young, but considering what was shown and knowing her real age, it does feel disturbing. The climactic rape sequence has some young kids sleeping in the background of the scene, who were actually passed out from getting too high. While the kids in the film were paid for their work on camera, they later felt exploited by the experience, as many of them never saw anything after the film's release. The filmmakers never came back even though they were supposedly friends for a long time, there was no monetary gain as they received no residuals. More stories came forward over the years, and the 2021 documentary "We Were Once Kids" chronicled the lives of various participants of the film and their crew to critical acclaim.

"Kids" proved to be a fair hit for an independent feature, though its longevity came with home video through rentals and sales, as it was not a feature that was ready for broadcast television. It received releases on DVD though none of them had any significant bonus features. It was released on Blu-ray in Germany and Japan, again with limited bonus features with just trailers. Umbrella Entertainment has finally given the film a release with a well deserved amount of extras in this special edition.

Note this is a region ALL Blu-ray

Video


Umbrella Entertainment presents the film in the theatrical 1.85:1 aspect ratio in 1080p AVC MPEG-4. The film starts with the Senator Film logo, the German distributor, so it seemingly uses their HD transfer. Although it was shot on 35mm film, one could easily mistaken it as being a 16mm shot production due to its limited color palate, thick and grainy look, and also the pronounced amount of damage marks. It seems to be a transfer from a film print rather than a first generation source, and there doesn't seem to be any major restoration efforts to clean the image. There are examples of speckles and other marks every ten minutes or so at reel change portions and some instability with the image. In addition there is a bit of missing film in the end credits, for about two or three seconds for a jump cut. But it's right near the end so there is no music playing to signify a jump. On the positive side, it's not altogether a dirty transfer, as most of the time the image is fairly clean and having well balanced colors without fluctuation. Colors are bright and bold and dark portions are also reproduced well. The film could look much better if original elements could be used for a new transfer.

The film's runtime is 91:23. Besides the odd short jump at the end credits, the film is in an uncut form.

Audio


English DTS-HD Master Audio 5.1
The 5.1 audio track is presented in lossless form. Though the feature is dialogue heavy, music plays an important role as well as the surrounding sounds of New York City, and the surrounding channels do a great job in spreading the excellent soundtrack cues and the effects throughout. As for dialogue it is mostly center based and it sounds excellent throughout with clear and easy to understand dialogue, well balanced against the music and effects. Unlike the image, the audio is clean and crisp without any issues of dropout, crackle, or other issues.

There are optional English HoH subtitles for the main feature in a white font.

Extras


Audio commentary with author and film historian Alexandra Heller-Nicholas (2023)
This new and exclusive commentary by Heller-Nicholas has her discussing the film's making, its message, its controversy and much more. As a writer and expert on exploitation cinema, she showcases examples of how it can fall into that category while also its arguments against it. There are also discussions of pop culture of the period in terms of music and movies, her first viewing of the film when it was released in Australia, information on the filmmakers and performers and more.
in English Dolby Digital 2.0 without subtitles

"We Were Once Kids" 2021 documentary (90:31)
"Kids" went on to have international success on its release, and it kickstarted the acting careers of Fitzpatrick, Sevigny and Dawson and the filmmaking career of Korine. These are the stories of some of the others that were part of the production. Their lives before the film, their experience making it, and their lives following its release. From the skating scene of the kids in the city in the early 90s, the friendships they made, the seeming exploitation of them as kids during its making including Clark getting them high and drunk for sequences, and dreams that never came to be after the film's success as they were left behind and abandoned by the filmmaking team. There are a number of funny stories, tragic happenings, and a frustrating message over crushed dreams in this documentary directed by Eddie Martin includes interviews with actors Hamilton Harris, Jon Abrahams, Priscilla Forsyth and others from the production alongside friends and family plus home video footage and film clips for a well focused documentary that sheds a more disturbing light on the making of "Kids". The footage of Clark and Korine at the Cannes Film Festival is a frustrating one as well, with Clark trying to shy away from questions with vagueness on the making of the film, like blatantly lying about not using marijuana for the kids during production and evading questions about the ages of the performers. It's also noted at the end that Clark and Korine were asked to participate in the documentary but they declined. The documentary premiered at the 2021 Tribeca Film Festival and makes its home video debut here on this Umbrella Entertainment Blu-ray.
in 1080p AVC MPEG-4, in 1.85:1, in English DTS-HD Master Audio 5.1 with optional English HoH subtitles

"Street Skater Quim Cardona - The Real 'Telly' from Kids: Asphalt NYC" 2013 featurette (7:09)
This short produced by Network A takes a look at skater Quim Cardona, who as a teen auditioned for the role of Telly in "Kids" and claims to be the inspiration for the character. He discusses his life as a skating teen, continuing to skate decades on, recalling the audition process and his reaction to the film on its release. The clip has also been embedded below.
in 1080p AVC MPEG-4, in 1.78:1, in English Dolby Digital 2.0 without subtitles



TV Spots (2:03)
Although this is labeled "TV Spots", presented are just two scenes from the film in standard definition but upscaled. First is Telly getting Darcy to join their friends to go swimming while the second clip is Jennie talking about her time with Telly at Ruby's place.
in 1080p AVC MPEG-4, in 1.85:1, in English Dolby Digital 2.0 without subtitles

Trailer (1:41)
The original trailer filled with critics quotes is presented here, again upscaled from a standard definition master.
in 1080p AVC MPEG-4, in 1.85:1, in English Dolby Digital 2.0 without subtitles


Umbrella Entertainment has finally given the film a release with significant extras. It's unfortunate that some of the primary people involved, with Clark, Korine, Sevigny, and Dawson couldn't be heard, but considering how critical the documentary is on Clark and Korine, it's easy to see why. Sevigny and Dawson have given talks about the film in hindsight on multiple occasions, though no interviews with them are included in this set.


Other notable clips:


Positive reactions from Siskel & Ebert in their review of "Kids".




Two clips from a 20th anniversary Q&A from the BAMcinemaFest.


A clip from "Epicly Later'd" on "Kids".


The trailer for "We Were Once Kids" from Umbrella Entertainment.


Music video for "Sugar Kane" by Sonic Youth featuring Sevigny.


Music video for "Big Gay Heart" by The Lemonheads featuring Sevigny.


The Folk Implosion performing "Natural One" in 2023.

Packaging


The disc is packaged in a keep case with reversible artwork, with the only difference being the R18+ rating logo being removed on the opposite side. Original pressings from the Umbrella Web Shop also include a slipcase with alternate newly commissioned artwork by Tony Stella.

It is also available in a Collector's Edition limited to 500 copies exclusively at the Umbrella Web Shop which includes:
- Custom art outer rigid slipcase by Tony Stella
- Custom art slipcase by Tony Stella
- 48 pages of behind-the-scenes, experiences and art
- Original 35mm collectable film frame in case
- 8x Replica Lobby Cards
- A3 reversible poster

The 48 page book starts with a review by critic Dan Webster which was originally published in 1995. Next is a review by critic Amy Taubin entitled "Kids: Skating the Edge" which was also originally published in 1995. There is also a few pages of "Kids Trivia" which are reprints of a few tidbits that can also be found on IMDB. "Kids Art" has a gallery of original theatrical artwork as well as conceptual designs for this Umbrella Entertainment release. The reversible poster which is housed in the keep case has the original American theatrical poster art on one side and the original French theatrical poster art on the other. The 35mm film frame is housed in a plastic case. The rigid box which has its own original artwork houses all the above contents, and there is also a square piece of plastic that holds the film frame case in a slightly awkward way. Note that the web shop also states it includes eight replica lobby cards, though there were not included in our review copy and is not listed on the packaging, though some unboxing videos show some customers seem to have received the lobby cards.

The packaging states region B only but the disc is in fact region ALL.


Overall


"Kids" remains controversial and not an easy film to sit through even after nearly thirty years. It is certainly important and has its strong merits, though it does have some flaws with the balancing of the two main narratives. Umbrella Entertainment's Blu-ray release finally packages it with some excellent extras including the very well made "We Were Once Kids" documentary, though the HD master is not the greatest. Still comes as highly recommended.
| | | | | |
| --- | --- | --- | --- | --- |
| The Film: B | Video: B- | Audio: A- | Extras: A- | Overall: B+ |