Nathalie: Escape from Hell [Blu-ray]
Blu-ray ALL - America - MVD Visual
Review written by and copyright: Eric Cotenas (4th September 2023).
The Film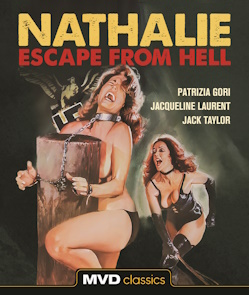 The sole medical practitioner left in a Ukranian border village as more and more of her countrymen are deported to concentration camps, Nathalie Baskova (Crazy Desires of a Murderer's Patrizia Gori) places her duties of care just over her participation in the local resistance movement. When the local rebels attack a German convoy on its way to Russia to take over the granary, Nathalie feels obligated to treat the wounded General Hartz (Special Train for Hitler's Rudy Lenoir) and Lieutenant Erik Muller (Eugenie... the Story of Her Journey into Perversion's Jack Taylor). When one of the resistance fighters bursts in and executes Hartz before being shot down himself, Nathalie is blamed and sent to Berlin. Her medical skills land her a relatively comfortable job in the infirmary until Swiss Red Cross worker/undercover resistance fighter Basili (Revenge in the House of Usher's Jean Tolzac) turns up to inspect the camps and assigns her the job of tracking down Ingrid Wassering, a young agent who has knowledge crucial to their attempt to overthrow Hitler.

As it happens, Nathalie learns that she is to be transferred to Fort Stilberg, a chateau on the Polish border that not only holds a powerful radio transmitter but is also a popular brothel for the Nazis. Muller, who has been reassigned there under alcoholic Colonel Gunther (Fascination's Jacques Marbeuf), has her assigned to the infirmary, earning the ire of officer and sadistic brothel madam Helga Hortz (Lorna… the Exorcist's Jacqueline Laurent) for usurping her authority as well as her jealousy for suddenly showing interest in a woman that he never had for her. The battle of wills between Muller and Helga comes to a head when she discovers Muller and Nathalie in bed together and Helga frames the girl for her murder of Gunther which allows her to do away with two enemies at once. Nathalie is put in the chateau's dungeon awaiting trial (and its forgone verdict) where she discovers that one of Helga's other torture victims is Ingrid. Without known that the resistance front is moving in on Stilberg, Nathalie must either work out a way to effect Ingrid's escape or kill her to prevent valuable information from getting out.

Shot back-to-back with Helga, the She Wolf of Stilberg. in the same locations with Gori (who was also in Eurociné's other Nazisploitation film Elsa Fraulein S.S.) in the lead and some other shared cast – among them Pamela Stanford (Blue Rita) as well as porn stars Alban Ceray (Countess X) and Richard Allan (The Female Executioner) – Nathalie: Escape from Hell is a relatively involving action film among the lower-tier of Nazi sexploitation films, a disreputable sub-genre that thrived in Italy in the wake of mainstream films like The Damned and Salon Kitty but were almost solely and incompetently executed in France by Eurociné. The audience for softcore sexploitation was shrinking in France with the explosion of hardcore theatrical releases, and the sex scenes here jump abruptly between anti-erotic tussles and a few clinches that seem like they are about to go further as if credited director "James Gartner" (aka hardcore director Alain Payet) was preparing scenes for cooler and hotter alternate cuts but did not care to actually assemble the scenes in a creative manner.

If the lazily-plotted drama works, it is primarily because of Gori and Laurent – despite the latter's scenery-chewing performance being severely-hampered by dubbed dialogue delivered in a stilted manner to match the actress' mouth movements – more so than the dependable Taylor (Eurociné stalwart Olivier Mathot (The Sadist of Notre Dame) is credited but does not appear). While porn starlet-turned-exploitation star Brigitte Lahaie (The Night of the Hunted) is wasted in a decorative supporting bit, equally-prolific porn starlet Claudine Beccarie – who also appeared in Payet's Prostitution clandestine – has a bit more to do in the climax. Regular Jess Franco composer Daniel White (Female Vampire) has a supporting role as an Irish Whiskey-drinking Scottish secret agent alongside Belgian filmmaker Patrice Rhomm who scripted the Italian/Belgian cult favorite The Devil's Nightmare as well as directing Eurociné's aforementioned Nazisploitation films Helga, the She Wolf of Stilberg and Elsa Fraulein S.S.. Footage of German convoys and shootouts with the resistance was culled from the same shoot that also produced filler for Special Train for Hitler.

Video


Theatrically-released in Canada where Eurociné had a distribution deal with Andre Link's Cinepix, Nathale: Escape from Hell oddly enough did not land a U.S. video release either as part of Wizard Video's Eurociné package that included Elsa Fraulein S.S. (as "Fraulein Devil") and Special Train for Hitler (as "Hell Train") nor the later T-Z Video budget bin "Captive Women" series of retitlings, being available solely on the bootleg circuit and even bypassing Image Entertainment's and Media Blasters' exploitation of the Eurociné titles during the DVD era while a barebones Dutch edition offered the English track but a more widely available French DVD was not English-friendly for the feature or its newly-produced extras.

The film makes its official bow stateside courtesy of MVD Visual in concurrent Blu-ray and DVD editions. The 1080p24 MPEG-4 AVC 1.66:1 widescreen Blu-ray comes from an HD scan that is free of any digital corrections; as such, the cleanest sections look quite good given the mostly static photography and flat lighting while there are many instances of jitter and scratches that both occurred in-camera to the negative as well as archival damage.

Audio


The sole audio option is the English dub in uncompressed LPCM 2.0 mono. Music can sound a bit harsh, effects are flat apart from some gunfire and whippings, while the dub is more flatly-acted than recorded (it would have been nice to include the French track to see if it had better dubbed performances). Optional English SDH subtitles are included but they have their share of transcription errors.

Extras


The only extras are the film's theatrical trailer (1:13) and a quartet of other Euro exploitation trailers.

Overall


Nathalie: Escape from Hell is probably the best of France's lower-tier stabs at Nazisploitation.

---
Rewind DVDCompare is a participant in the Amazon Services LLC Associates Program and the Amazon Europe S.a.r.l. Associates Programme, an affiliate advertising program designed to provide a means for sites to earn advertising fees by advertising and linking to amazon.co.uk, amazon.com, amazon.ca, amazon.fr, amazon.de, amazon.it and amazon.es . As an Amazon Associate, we earn from qualifying purchases.