The Film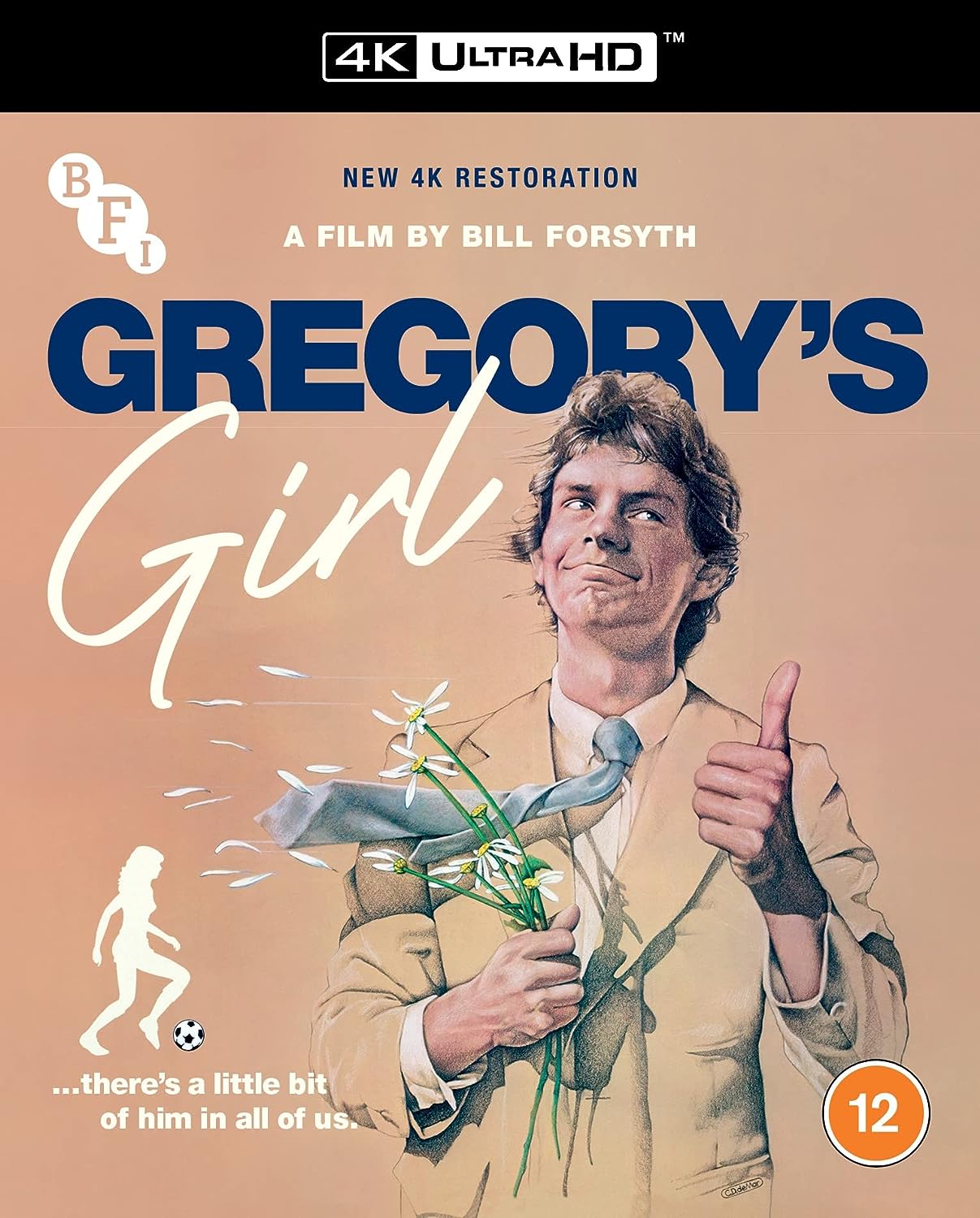 "Gregory's Girl" (1980)

Gregory Underwood (played by John Gordon Sinclair) is a shy and awkward teen who like his friends, is getting interested in the opposite sex but not quite sure to handle himself. While there are girls at their school, none of them are in position to interact with girls, let alone have a meaningful conversation. Gregory plays football for the school team which is doing poorly, leading the PE teacher Mr. Menzies (played by Jake D'Arcy) to hold tryouts for new players. Dorothy (played by Dee Hepburn) decides to take the opportunity, in which she becomes the only female as well as the star player with her skills. She becomes the object of Gregory's dreams, so it becomes his quest to try to get her to fall for him in return.

From the opening scene of "Gregory's Girl" in which a group of schoolboys peep into the window of a woman undressing and show some topless nudity, one may expect the film to be a standard teen sex comedy with numerous awkward situations between teens and adults with wild and crazy hijinks. "Gregory's Girl" is anything but that. Instead it takes a far more innocent look at teens growing up, falling in love, and finding humor in a more realistic situation than fantasy.

Gregory is not a standout character at all. He is lanky, fidgety, awkward, and not exactly magnetic in handsomeness. But like any other boy at that awkward teen age, he is an everyman. He likes music as evidenced by his posters of bands like Rush and The Specials plus his drumset, has a group of school friends, and his hormones are kicking into gear and he is getting interested in sex. When he encounters Dorothy, it's not his usual group of horny friends that he confesses it to. One person is his ten year old younger sister Madeline (played by Allison Forster) who may be little, but seems to have a better grasp on reality than her brother. She has a suitor, her classmate Richard (played by Denis Criman) who also at the age of ten is quite a gentleman with her as well as with his first encounter with Gregory. Another person Gregory confides in is his classmate Steve (played by Billy Greenlees), who is much more interested in cooking than sex. There is a awkwardly funny exchange when Gregory confesses being in love with a fellow football player in which Steve says "Probably just a phase. Who is it? Andy?" hinting at his homosexuality which never becomes an issue in their friendship or the story. Through the sound advice from those around him, Gregory is willing to step up and become a man for the first time, which may or may not go accordingly to plan.

Gender roles are played in interesting ways in "Gregory's Girl", in which some characters play stereotype while others are against type. Gregory falls into the stereotypical awkward teen category. Dorothy is not the typical girl, as she has no qualms playing football with the boys and showcasing her talent on the field and not having her gender become a barrier to her goals. She is far from being shy, as a confident person and not just a confident woman. Her friends Margo (played by Carol Macartney) and Susan (played by Clare Grogan) are more on the typical side of the female characters, though they have some memorable sequences in the "date" scene at the end of the story. The aforementioned Steve is the sole gay character yet his sexuality is never placed in any derogatory way, instead as being a part of his character nonchalantly and quite effectively in a few comical segments.

Writer and director Bill Forsyth was looking to make a feature length film using kids that were part of the Glasgow Youth Theatre. He worked with a number of people on fleshing out the characters and their mannerisms, and submitted an application to the British Film Institute for funding, in which he requested £29,000 with plans to shoot on 16mm film. Unfortunately, it was rejected as the BFI thought the script was "too commercial" in appeal, since they were more on the side of funding experimental works at the time. Distraught with the decision yet creatively fueled, Forsyth quickly drafted a new script and worked with the theatre group on a robbery comedy with a group of teens entitled "That Sinking Feeling" (1979). With a miniscule budget of £5,000, the small film became a minor sensation and earning multiple times its cost in theatrical screenings. With its acclaim, it was easier for Forsyth to find funding, in which the National Film Finance Corporation and Scottish Television helped with securing a budget of £200,000 for Forsyth's followup film. The main actors Robert Buchanan, Billy Greenlees, and John Gordon Sinclair all would reappear in "Gregory's Girl", though as completely different characters.

Shot over a six week period near Glasgow in the summer of 1980, the film was completed in time for the BFI London Film Festival where it premiered on November 30th, 1980. It would later receive a general theatrical release on April 23rd, 1981 in the United Kingdom. The film received surprising attention from the moviegoing public, and was a hit not just in Scotland but across the country. A year later, it was distributed in America by Samuel Goldwyn Films, though they requested for the dialogue to be redubbed so American audiences could understand the Glaswegian accents easier. The dialogue was dubbed with softer, yet still Scottish accents for the American release, which became a surprising hit, grossing a total of £25 million worldwide. The film was nominated for four BAFTAs, with Best Film, Best Direction, Best Screenplay and Outstanding Newcomer Lead for Sinclair, and winning one for Best Screenplay.

Over the years its stature has only grown in acclaim from critics and audiences. There are a number of memorable moments in the film that continue to live in the minds of viewers. From Gregory covering his own nipples with his fingertips in embarrassment, the veal scene in the lunchroom, the bright white suit, and even the penguin. It also invigorated the Scottish film industry, which prior to Forsyth's films were basically non-existent. Homegrown Scottish films such as "Small Faces" (1995), "Ratcatcher" (1999) and "Beats" (2019) all owe gratitude to "Gregory's Girl", and works such as "Rushmore" (1998), "Napoleon Dynamite" (2004) and "Submarine" (2010) are to name a few more that take heavy inspiration. Forsyth was approached for adapting "Gregory's Girl" into a television series, but instead he developed a follow-up film in 1999 titled "Gregory's Two Girls" which again starred Sinclair in the lead but this time as a teacher. It did not have the same reception as the original, and as of this writing is the most recent film that Forsyth has directed.

"Gregory's Girl" has smarts, charm, and a heartwarming appeal even if it has all the awkward moments that comes with the territory. It doesn't have the quick pace or the slapdash antics of many teen comedies out there, but that's what sets it apart. While back in 1979 the BFI rejected Forsyth's appeal for funding for the feature, it ironically has received a 4K restoration along with a Blu-ray and a 4K UltraHD Blu-ray releases from none other than the BFI.

Note this is a region ALL 4K UltraHD Blu-ray

Video


The BFI presents the film in the original 1.85:1 aspect ratio in 2160p HEVC with HDR10 and Dolby Vision. The original 35mm camera negative which is held by the BFI was scanned at 4K resolution and restored by R3store Studios and the BFI. The 4K picture certainly looks strong with the new restoration, with the colors of wardrobe, the greens of the trees and grass all being reproduced wonderfully. Detail is strong, colors are consistent, and there are very few instances of damage marks to be found. There are no issues of scratches or major debris to be found, though there are examples of rare speckles to be found at times. The opening credits which as usual use a second generation source look much thicker in appearance with heavier grain with some fluctuation of colors, though this should be expected. "Gregory's Girl" has always looked good on home video, so it should be no surprise that its debut in the 4K format looks as good as it should be. A great restoration and transfer by the BFI.

The film's runtime is 91:26.

Audio


English DTS-HD Master Audio 2.0 mono
English (US dub) DTS-HD Master Audio 2.0 mono
There are two lossless audio options for the film, with one being the original theatrical mono audio track and the other being the alternate English dub track made for the American market. The original mono sounds great, as it has been remastered from the original magnetic audio masters, removing unwanted hiss, pops, crackle, and dropouts effectively. Dialogue is clear and well balanced against the memorable score by Colin Tully. As for the alternate track, the film was redubbed for the American market which felt the Scottish accents were a bit unintelligible for the American ears. Thankfully they are not speaking in "American" English but just softened Scottish accents so some words and phrases are more clearly pronounced. As the redubbing was done in studio, the voices are much clearer than the on location recordings of the original audio, but there is an unnatural quality due to the ADR. It is more of a curiosity piece though it is interesting to go back and forth between the two audio tracks to spot the differences in pronunciation.

There are optional English HoH subtitles for the main feature in a white font.

Extras


Audio commentary with director Bill Forsyth and critic Mark Kermode (2014)
This audio commentary has Forsyth alongside critic Mark Kermode as the moderator, who asks many questions both screen specific and general throughout. Discussed are the troubles with the financing and the delay for a full year, working on the script and tweaking the dialogue accordingly with the cast rehearsals, the casting choices, behind the scenes information, the film's reception, Forsyth's thoughts looking back and much more. Also discussed are about his career, his dislike for most mainstream filmmaking, the pacing and narrative structure of films, and more. Forsyth does have a bit of shyness towards the discussion as he admits that the film has its faults due to his and everyone's inexperience, but Kermode does a fine job making the conversation more lively. Note this was originally recorded for the 2014 Second Sight UK Blu-ray release.
in English Dolby Digital 2.0 without subtitles

Audio commentary with actors Robert Buchanan, Douglas Sannachan and Caroline Guthrie, moderated by the BFI's Douglas Weir (2023)
In this new and exclusive commentary, supporting stars Buchanan, Sannachan and Guthrie are reunited for a fun look back at the film, with Weir serving as the moderator. They discuss their time in the local youth theater and working with Forsyth, their thoughts on the film in hindsight, the positive and natural energy from the performances, behind the scenes memories, and much more. They especially become excited at the "veal" lunchroom sequence as they are all together in the shot and have quite a few laughs. Weir gives his thoughts, some factual information on the behind the scenes, and keeps the actors on track throughout the commentary.
in English Dolby Digital 2.0 without subtitles

Gregory's Girl Q&A with John Gordon Sinclair, Clare Grogan and Dee Hepburn (2015) (30:28)
In this 35th anniversary Q&A reunites Sinclair, Grogan and Hepburn on stage with moderator Sue Harris from the University of London after a screening of the film. The cast recall the production, from their auditions, behind the scenes, working with Forsyth, as well as the surprising success the film had and its longevity over generations. There are a number of audience questions, including one adorable fashion based question by a young viewer at the end. The Q&A has also been embedded below, courtesy of the BFI.
1080p AVC MPEG-4, in 1.78:1, in English Dolby Digital 2.0 without subtitles



"Bill Forsyth: The Early Years" 2014 interview (20:58)
This interview with Forsyth has him discussing this early days in the filmmaking business, by getting a job working on productions, getting interested in filmmaking by watching European cinema, his idea for making "Gregory's Girl" with the Glasgow Youth Theatre, the problems which led to the making of "That Sinking Feeling" first, the success of the film, making "Gregory's Girl", the surprising life the film has had, and more. Note this was originally made for the 2014 Second Sight UK Blu-ray release.
1080p AVC MPEG-4, in 1.78:1, in English Dolby Digital 2.0 without subtitles

"Clare Grogan: Gregory's Girl Memories" 2014 interview (11:32)
Grogan discusses her work on the production in this interview, from getting to know Forsyth while she worked as a waitress while in high school, getting cast in the film, working with Forsyth and the other actors, her music career in the band Altered Images starting at the same time, still getting recognized for her character, and more. Note this was originally made for the 2014 Second Sight UK Blu-ray release.
1080p AVC MPEG-4, in 1.78:1, in English Dolby Digital 2.0 without subtitles

"The Strathclyde Tapes: Bill Forsyth" 1992 interview (38:21)
This vintage television special has Forsyth discussing about filmmaking to an audience of grammar school and high school students. The children are prepared with questions that range from individual films that he has made to general filmmaking questions. From his techniques of creating the characters, his filmmaking choices, the differences making films independently in Scotland and films in Hollywood, and much more.
in 1080i60 HEVC, in 1.33:1, in English Dolby Digital 2.0 without subtitles

"Soundtrack Gallery" stills gallery with alternative takes and unused music (13:22)
Presented here is a selection of stills in an automated slideshow with poster art, lobby cards, and behind the scenes stills. These are accompanied by a selection of instrumental cues by Colin Tully that were not used in the final film plus some alternate takes of some memorable cues. There are numbers in the bottom left corner of the screen to indicate the cues (there are nineteen in all), though none of them are titled.
in 1080p AVC MPEG-4, Music Dolby Digital 2.0

US Trailer (3:04)
The original American trailer is presented here, which has not been given a restoration, so it is filled with speckles and scratches with some faded colors.
in 1080p AVC MPEG-4, in 1.33:1, in English Dolby Digital 1.0 without subtitles

Booklet
A 28 page booklet is included with the first pressing. First is the essay "Gregory's Girl: Tits, Bum, Fanny - The Lot" by Tim Blanchard, author of author of "Being Gregory: Bill Forsyth, Gregory's Girl, The Lot". Discussed are about the seemingly unlikely legacy of the film and for Scottish filmmaking. Next is "Caracas, etc." by David Archibald, teacher at the University of Glasgow, who discusses about Forsyth's early career, the themes and the impact of "Gregory's Girl" as well as the director's subsequent films. This is followed by "Creating an Industry: Glasgow Youth Theatre to Gregory's Girl" by journalist Claire Walker, which traces Forsyth's involvement with the youth theater and the process of making both "That Sinking Feeling" and "Gregory's Girl" and the difficulties faced. Next is a review of the film by Gilbert Adair which first appeared in Sight & Sound Quarterly in summer 1981. There are also full film credits, special features information, transfer information, acknowledgements, and stills.


The film had a few releases on DVD though none of them had significant extras. In 2014, Second Sight UK released the film on Blu-ray for the first time, which was then followed by a Blu-ray and DVD from Film Movement US. The BFI's 2023 4K UltraHD Blu-ray (and simultaneously released standard Blu-ray edition) features all the extras found on the Second Sight release and adds some additional extras. Note that the US Blu-ray has an exclusive interview with Forsyth on its edition and that the Second Sight release has stereo remixed audio rather than the original mono.


Other notable clips:


Interview with Dee Hepburn on CBTV in 1982


An episode of the BBC's "Movie Connection" on "Gregory's Girl" from 2007


30th anniversary Q&A at the Glasgow Film Festival


A locations then & now short by BTJustice


A 2017 trailer for the film by Screenbound Films


Film Movement's trailer for the film from 2020


4K restoration trailer by the BFI


The trailer for "Gregory's Two Girls" (1999)

Overall


"Gregory's Girl" is filled with innocence and awkwardness that wonderfully mirrors the best and worst parts of growing up. With memorable characters, quotable dialogue and fine direction, the film continues to charm audiences to this day and this new 4K UltraHD Blu-ray from the BFI is the best way to experience it. With a great number of new and vintage extras, it comes highly recommended.
| | | | | |
| --- | --- | --- | --- | --- |
| The Film: A- | Video: A | Audio: A | Extras: A- | Overall: A |