The Film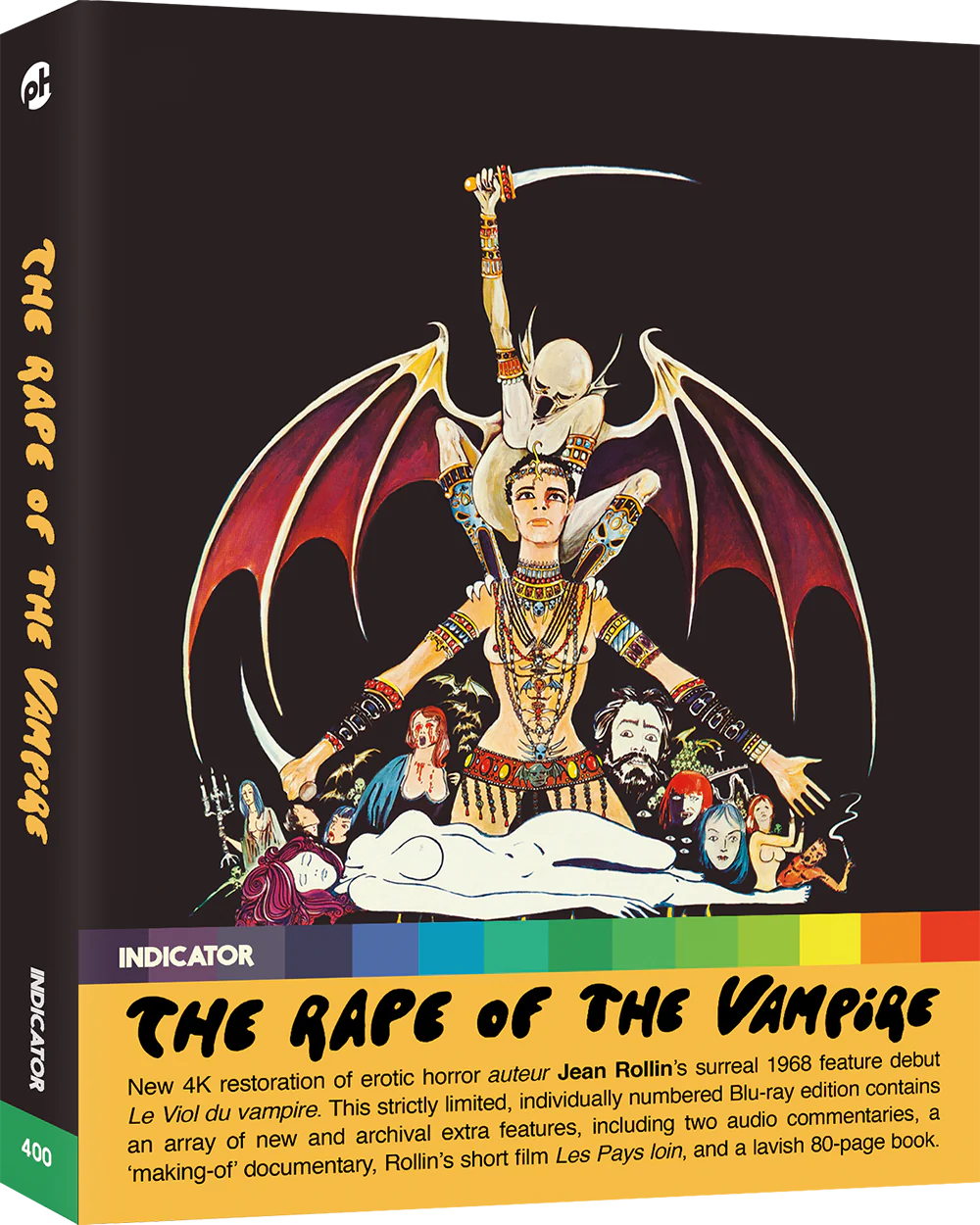 Jean Rollin's startling debut feature, 1968's The Rape of the Vampire (Le Viol du vampire), introduces his unique take on vampirism, establishing the blend of surrealism, eroticism, and horror that would become his trademark.

In the film's first part, four strange women living in a decrepit château – and all believing themselves to be ancient vampires – are visited by a psychoanalyst who attempts to rid them of their apparent delusion. In the second, the Queen of the Vampires presides over a diabolical clinic, unaware that the head doctor is plotting against her.

With its surreal black-and-white images and riveting free-jazz score by François Tusques, The Rape of the Vampire was released in Paris to a scandalised response during the chaos of May '68, heralding the arrival of a major new talent in the fantastique cinema. This new edition also includes Rollin's 1965 short The Far Countries (Les Pays loin) restored in 4K.

Video


I began my horror film fandom watching the most recent Hollywood entries in the genre on HBO when I lived in the USA (circa 1979-83) but also caught the odd older film around the same time. I started with Hammer when I saw The Horror of Frankenstein (1970) and Quatermass and the Pit (1967) on a New York City station that we could receive due to having cable (we lived upstate) and it was Hammer that furthered my interest when my family moved to the UK in 1983. The Satanic Rites of Dracula (1973) was shown by the BBC in November of '83 and from then on all things vampire was my bag. In the summer of '84 I picked up a second hand copy of David Pirie's excellent The Vampire Cinema (1977) and in it's pages I was exposed to differing types of bloodsucker film from around the world.

I was particularly captivated by the beautiful, stylised posters of Phillipe Druiliet that he'd done to advertise Jean Rollin's artsploitation vampire epics: The Rape of the Vampire: A Two-Part Melodrama (1967), The Nude Vampire (1969), Shiver of the Vampire (1970), Requiem for a Vampire (1971) and Lips of Blood (1975). I didn't actually get to see any of these films until the '90s when Nigel Wingrove's Redemption VHS label hit the jackpot publishing VHS releases of Eurocult genre fare. Usually rented from the late, lamented Village Video in Headingly Leeds.

Rollin was always stronger on mood and dreamy atmosphere that clear narrative and nowhere is this more in evidence than in his first film, The Rape of the Vampire; still one of his best, least exploitative works. I've owned this one many times over the years: on the UK Redemption VHS then DVD releases, the exquisite Dutch special edition 2-disc DVD from Encore and finally the US Kino Lorber BD. It's probably his most surreal film and the one in which his stated influences (serials, comics, Surrealism, Dadaism) are worn most on it's sleeve. The rather episodic and fractured nature of the narrative is mainly due to the two-part nature of the beast. Rollin had been told to produce a short film (the first 33 minutes of the final film) to accompany a reissue of another shorter old horror film - Dead Men Walk (1943) starring George Zucco - but when that film couldn't be obtained, the distributor (or producer) asked him to make a sequel, the only problem being that characters had been killed off in the initial segment; so, back from the dead they came!

Rape of the Vampire is shot in velvety monochrome, Rollin's only feature film in B&W and it looks better here in the new 4K restoration than it has ever looked, certainly on home video, possibly even from film when projected day one. Gamma levels are perfect with no bias distracting from the perfectly balanced rich black levels with lots of great shadow detail and the low key put punchy contrast which ensures that even the whitest of white highlights are well defined. Even the intense magnesium torches seen early on in part one accentuate grain rather than blast away detail.

Speaking of grain, there's plenty of it be finer in well lit scenes or courser in skies and exteriors it's beautifully rendered. I'm sure that the UHD 4K disc will increase the detail, which is already strong on this BD, to even more impressive levels the HDR grades will improve the already impressive dynamic range in an even more layered presentation.

In any case, this BD gets my top marks as it's demo quality and an incredibly strong presentation ('A+'). The encode is superb, no signs of digital tinkering and no print damage. It's been beautifully restored.

(At the time of writing the usual ODFs of the booklet having been sent so my usual practice of quoting the restoration credits will be added later)

1080p24 / AVC MPEG-4 / BD50 / 1.66:1 / 94:55

Audio


French LPCM 2.0 Mono (48kHz, 24-bit)
Subtitles: English (optional)

The soundtrack is less robust than the image but it's a very low budget mono track. It's clean and clear with decent fidelity. Occasionally there's some mld distortion inherent in the materials but it's always been there and is unlikely to hinder enjoyment. Although mostly shot with production sound in French, there are some moments where dialogue has had to be re-dubbed in post production and those moments obviously sound slightly more canned. The best this soundtrack has ever sounded. Superb optional English subtitles are provided ('B+').

Extras


Audio commentary with Jean Rollin (2007)

This vintage track is preceded by the following text screen:
The following commentary was recorded for a 2007 DVD release. Unfortunately, the original mix was mistimed, causing many of Jean Rollin's comments to be out of sync with the film. For this presentation, extensive retiming work has been undertaken to bring Rollin's comments in line with the action as it appears on the screen. As a result, and because we weren't able to access the raw, unmixed commentary recording, the film's soundtrack is no longer consistently synchronised to the picture. We apologise for this issue and sincerely hope that it won't affect your enjoyment of this informative and insightful commentary track.


Rollin is a quietly spoken gent and he creates a chatty, informative, relaxed atmosphere that frames his commentary covering every possible angle of the film's production. Presented in lossy French Dolby Digital 2.0 mono with optional French subtitles.

Audio commentary with Tim Lucas (2023)

Lucas is a dab hand at these tracks and he's been in the business doing them for over twenty years. He's always learned, focussed and to the point with the occasional moments of humour. His voice is measured and velvety and easy on the ear which is a boon. He covers the film from every angle one could want starting out by discussing how this film came to be, the well-know story concerning part 1 initially being a short to support a reissue of Dead Men Walk (1943) which didn't pan out so it needed padding out to feature length and the resulting part 2 being a sequel. Lots of history, trivia concerning cast, crew, locations (including Rolin's beloved beach at Dieppe). Presented in lossy English Dolby Digital 2.0 mono (48kHz, 192Kbps) with no subtitles.

"Jean Rollin Introduces The Rape of the Vampire" 1998 introduction (2:33)

This vintage introduction has Rollin on fine form relaxing on his sofa with some mildly dodgy technical qualities (weak video, slight audio issues). He discusses fleetingly the film's origins, how it was the first film for most of those who worked on it, it's controversial reception. Presented in upscaled 1080p24 1.66:1 with lossy English Dolby Digital 2.0 mono (48kHz, 192Kbps). All through the intro there's a doofus holding a mask over his face silently sitting next to Rollin.

"Fragments of Pavement Under the Sand: The Making of The Rape of the Vampire by Daniel Gouyette" 2023 documentary (revised from the 2012 original) (31:34)

A vintage documentary, made for the 2012 Kino Lorber US BD by Jean Rolin's assistant Daniel Gouyette, has been revised and given and is touchingly dedicated to the late Donna Lucas. Features interviews with actor and editor Jean-Denis Bonan, journalist Jean-Pierre Bouyxou, actor Jean-Loup Philippe and actor-co-writer-director Jean Rollin. We hear about how Rollin and friends started out as rebelling against the more conventional and staid French film establishment, the influence of other directors who came before them like Claude Lelouch and Robert Hossein and much about Rape of the Vampire, it's conception, making and release, the tongue in cheek approach mixed with the serious. Most interesting is the discussion of how Rollin felt he was making a conventional film, only realising that his sensibility was far from conventional when witnessing the negative audience reaction (during the May 1968 civil unrest at Le Styx cinema) and the anecdote where an editor accidentally spliced a couple of shots in upside down but Rollin liked it so left it i! I also appreciated the moment where Philippe points out that Rollin would linger over shots in the final edit just for the pleasure of it. Presented in 1080p24 1.78:1 with lossy French Dolby Digital 2.0 stereo (48kHz, 192Kbps) with optional English subtitles.

"Indelible Impressions: Virginie Sélavy on The Rape of the Vampire" 2023 interview (8:15)

A relatively new writer-journalist on the DVD-BD scene (at least in my experience), Virginie Sélavy specialises in surrealism and gives a good account of herself in this overview of Rollin's career with specific reference to Rape of the Vampire and it's release during the May 1968 Paris civil unrest and strikes. Rollin's film being one of the few films to see release during that turbulent time and it sparked reactions of anger and derision. A short piece presented in 1080p24 1.78:1 with 1.66:1 clips from the film with lossy English Dolby Digital 2.0 stereo (48kHz, 192Kbps).

Cast and Crew Interviews:
- "Jean Rollin on The Rape of the Vampire" 2007 interview (4:23)
- "Jean Rollin: L'Effervescence 1962-1968" 2023 with editor Jean-Denis Bonan (39:30)
- "I Regret Nothing: Jacqueline Sieger on The Rape of the Vampire" 2023 featurette using a 2007 interview (12:27)
- "The All-Rounder: Alain-Yves Beaujour on The Rape of the Vampire" 2023 featurette using a 2007 interview (17:58)
- "Parallel Routes: François Tusques on the Score to The Queen of the Vampires" 2023 featurette using a 2007 interview (11:25)

A welcome collection of interviews ported across and revised technically that cover several bases merely touched upon elsewhere on the disc. Most interesting is the interview with Sieger who memorably plays the vampire queen and the discussion of the score. Rollin gives us a nice, concise outline of his approach to horror cinema; he's not keen on the term "horror" preferring Fantastique and surrealism (he disliked gore). He also discusses how producers demanded nudity, sex and eroticism. In Rape of the Vampire he handled all of this like a moving painting, liked to the paintings of Paul Delvaux (1897-1994). Presented in a mix of 1080p24 1.78:1, with vintage upscaled sections in 1080p24 1.33:1 pillar boxed, all with lossy English and French Dolby Digital 2.0 mono (48kHz, 192Kbps).

Alternative Scene (2:08)

An alternate version of the operating table scene presented in the same restored quality (image and sound). 1080p24 1.66:1 with lossy French Dolby Digital 2.0 mono sound (48kHz, 192Kbps) and optional French subtitles.

Super 8 Version (16:39)

Very probably the first home video version of the film condensed to a fraction of it's length. Presented in 1080p24 1.37:1 with French Intertitles and optional French subtitles. It has some weave and plenty of damage and dirt. Soft and indistinct, makes for a nice contrast with the restored version.

Theatrical Trailer (4:30)

Vintage promo presented in 1080p24 1.66:1 with lossy French Dolby Digital 2.0 mono sound with optional French subtitles.

Image Galleries:
- The Rape of the Vampire Image Gallery: Original Promotional Material (112 images)
- The Rape of the Vampire Image Gallery: Behind the Scenes (89 images)

"The Far Countries" 1965 short film by Jean Rollin:
- Play The Far Countries (16:25)
- Play with Jean Rollin audio commentary hwith an unnamed moderator) (16:25)
- The Far Countries Image Gallery: Original Promotional Material (48 images)

An early short film by Rollin presented in 1080p24 1.66:1 with lossy French Dolby Digital 1.0 (48kHz, 192Kbps). Image is excellent if a little soft seemingly taken from a print rather than a negative. It looks to have been shot in 35mm. We get a rine still gallery and audio commentary with Rollin and an unnamed moderator. As with the yaktrak on the main film Rollin is chatty and informative, softly spoken albeit speaking in clear English here.

"A Memorable Journey: Reconstruction of a Lost Work by Jean Rollin" 2018 reconstruction of an unfinished 1962 Jean Rollin short film by Victor Poucalow and Raja Tawil (27:43)

Presented with surviving stills, script pages and clips plus new footage this is a recon of a lost short - L'Itinéraire marin - with narration in French with optional English subtitles. Presented in 1080p24 1.78:1 with lossy French Dolby Digital 2.0 stereo (48kHz, 192Kbps).

"De la grève: a short history of L'Itinéraire marin" 2023 featurette using 2007 interview material (6:55)

A short featurette about the lost 1962 short L'Itinéraire marin (A Memorable Journey: Reconstruction of a Lost Work by Jean Rollin) with Jean-Denis Bonan and Jean-Loup Philippe. Presented in 1080p24 1.78:1 with lossy French Dolby Digital 2.0 stereo (48kHz, 192Kbps).

80-page liner notes book with a new essay by Beatrice Loayza, archival writing by Jean Rollin on the making of the film, an archival interview with the director by Peter Blumenstock, Jean Rollin's recollections of shooting The Far Countries and full film credits

Sadly, not provided for review despite several email requests (I usually get PDF copies of all of the booklets for Powerhouse's releases).

Packaging


Not sent for review.

Overall


I've own this film on many different formats and it has never looked or sounded as good as it does here with Powerhouse Films' new 4K restoration, even on this BD (the 4K disc wasn't provided for review) the transfer here outclasses all other versions I've seen. Demo level quality, at least as far as a vintage film of the era is concerned. Extras have been pulled together from most prior releases and are superb. Easily one of the discs of the year and the film gets better and better with each passing year, one of Rollin's best most interesting films and a visual stunner ('A+').
| | | | | |
| --- | --- | --- | --- | --- |
| The Film: A- | Video: A+ | Audio: B+ | Extras: A+ | Overall: A |