Doctors (The): Colin Baker Years (The): Behind the Scenes
R0 - United Kingdom - Reeltime Pictures
Review written by and copyright: Rick Curzon (17th September 2023).
The Show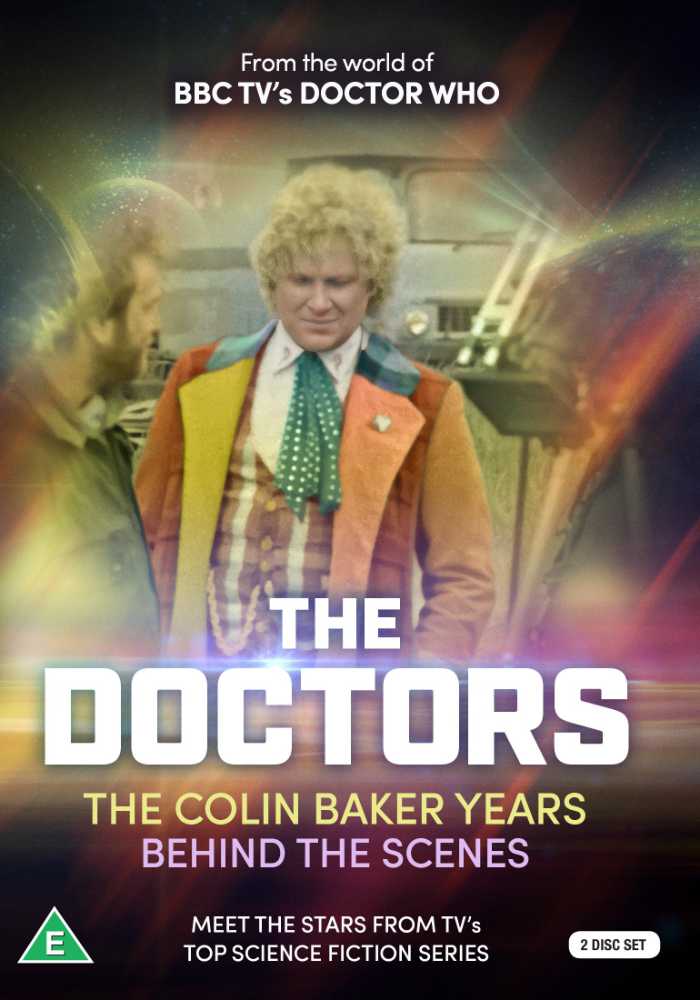 This is the definitive set of interviews with the production team who brought Doctor Who to life and sent you "behind the sofa"!

These six documentaries are the best in-depth interviews with Chris Clough (Director), Matthew Robinson (Director), Dominic Glynn (Composer), Wally K Daly (Writer), Philip Martin (Writer) and Glen McCoy (Writer) ever undertaken!

Presented by Grant Foxon, Ian Kubiak and "voice of the Daleks" Nicholas Briggs.

For all Doctor Who fans, this special collector's edition is over 5 hours of pure nostalgia, which will give you a whole new insight into the making of your favourite science fiction series!

Video


Keith Barnfather has been interviewing Doctor Who (and Blake's 7) alumni since the 1980s for his long running Myth Makers range of behind the scenes interview VHS and latterly DVD releases. This latest edition collects together chats with several, personnel from the 1984-86 period that was the Colin Baker / Sixth Doctor era. We have an excellent collection of beautifully conducted interviews. My technical comments on these releases tend to be identical for each set released however, these are all very recent productions and the visual side of things is generally strong. Colours are stable, black levels aren't always completely deep but these have been shot digitally on location and on the fly. Contrast is strong, detail decent for the standard definition DVD format. As I have observed before:
I didn't notice any artefacts or compression issues but had there been some minor ones it probably wouldn't have detracted in the same way as on a release of Doctor Who episodes. The image is soft by virtue of how it was captured but that is not a criticism. The only way things could improve would be to upscale on Blu-ray discs with the superior encoding / codecs that the format affords. But, this kind of material will probably not support the costs; after all, this essentially is a 2-disc set of extras.

Overall rating = B+.

NTSC / MPEG-2 / 2 x DVD-9 / 1.78:1 / 366:04

Audio


English Dolby Digital 2.0 Mono / Surround
Subtitles: None

Basic 2.0 stereo that gets the job done with no surrounds unless channelled through ProLogic II or similar. Frankly, playing these through PLII is pointless as there's the occasional bleed in which sounds from the front appear in the rear. Stick to "straight" or "direct" (AFD Auto = Auto Format Direct). Speech, which is THE main point of these sets, is always crisp and clear and what little music there is (intros and outros) doesn't get in the way. Being more recent recordings audio is stronger than more vintage productions even if my comments are pretty much the same ('B-').

Sadly, no subtitles have been provided so the hearing impaired will have trouble accessing this set.

Extras


"Myth Makers: Chris Clough" 2022 interview (53:30)
"Myth Makers: Matthew Robinson" 2022 interview (61:52)
"Myth Makers: Dominic Glynn" 2015 interview (53:02)
"Myth Makers: Wally K. Daly" 2018 interview (71:13)
"Myth Makers: Phillip Martin" 2016 interview (71:61)
"Myth Makers: Glen McCoy" 2023 interview (54:26)

As ever, these are very comprehensive interviews that give each subject the time to discuss their wider careers as well as their time on our favourite TV show and happily with this set most are still with us. However both Phillip Martin (1938-2020) and Wally K. Daly (1940-2020) have died and thus as I've pointed out in the past, this makes these interviews incredibly valuable for posterity.

Packaging


Standard, black 2-disc DVD Keepcase.

Overall


Another invaluable 2-disc set from Reeltime Pictures. Keith Barnfather and his colleagues have been working tirelessly since the 1980s to document the careers, experiences and memories of Doctor Who and Blake's 7 alumni. With this set we get a focus on the short, underrated, controversial and sadly turbulent Colin Baker era (1984-86) and as usual this is a must have for any serious fan of the show. Highly recommended!

Bravo Reeltime!

Only available via their sales website:

https://timetraveltv.com/
| | | | | |
| --- | --- | --- | --- | --- |
| The Show: A+ | Video: B | Audio: B- | Extras: A+ | |

---
Rewind DVDCompare is a participant in the Amazon Services LLC Associates Program and the Amazon Europe S.a.r.l. Associates Programme, an affiliate advertising program designed to provide a means for sites to earn advertising fees by advertising and linking to amazon.co.uk, amazon.com, amazon.ca, amazon.fr, amazon.de, amazon.it and amazon.es . As an Amazon Associate, we earn from qualifying purchases.