The Film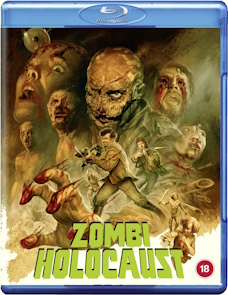 A series of grisly thefts of body parts and organs from cadavers at a New York teaching hospital is covered up by Dr. Drydock (Syndicate Sadists' Walter Patriarca) and his colleague Dr. Lori Ridgeway (The New York Ripper's Alexandra Delli Colli) until a heart is torn out of a living patient. When the culprit turns out to be orderly Toran and he commits suicide when caught, Ridgeway and Drydock learn that Dr. Peter Chandler (Contamination's Ian McCulloch) and his assistant George Happer (Peter O'Neal) of the Department of Health have been investigating a series of similar cannibalistic crimes in other parts of the country. Lori, also an anthropologist, notices that Toran and the body of another suspected cannibal share the same tattoo. She and Peter take that and Toran's dying words "Keto ordered it" to Lori's mentor Professor Stafford (The Arena's Romano Scandariato) who reveals that Keto was a god to whom primitive cannibal societies on a Southeast Asia chain of islands made blood sacrifices, including an island named after the god himself.

Chandler recruits Lori to accompany himself, George, and the latter's ruthless reporter girlfriend Susan (What Have They Done to Our Daughters?'s Sherry Buchanan) on a trip to the islands under the guise of researching the primitive tribes. Although missionary doctor Obrero (Run, Man, Run!'s Donald O'Brien) warns them against going to Keto, he equips them with guide Molotto (Papaya: Love Goddess of the Cannibals' Dakar) and porters to take them to the island. When the boat's motor overheats, they are forced to stop at a closer island but it seems that they may indeed have stumbled upon Keto as cannibals start thinning out their numbers… and then the zombies show up.

An atypical credit for prolific comedy director Marino Girolami (Violent Rome) under the pseudonym "Frank Martin" – possibly contacted because his son Enzo Castellari (Escape From the Bronx) was offered direction of Zombie – Zombie Holocaust actually gains much of its unintended comic value from Girolami's rather flat handling of the actors and extended scenes of body mutilation as executed by Maurizio Trani (Dawn of the Mummy) and Rosario Prestopino (Dial: Help). Although the film's original Italian and English export title suggests a combination of Lucio Fulci's film and Ruggero Deodato's Cannibal Holocaust's film, the film recycled footage from the Fulci film and other elements from producers Fabrizio de Angelis' and Gianfranco Couyoumdjian's, and director Joe D'Amato's earlier production Emanuelle and the Last Cannibals including composer Nico Fidenco (or possibly arranger/conductor Giacomo dell'Orso) augmenting his score for the earlier film with synth cues and additional electronic effects – as well as writer/assistant director Scandariato, his wife Silvana (Nightmare City) on costumes, and editor Alberto Moriani (Zombi 3), and production designer Patriarca on sets and onscreen.

The cannibal scenes are fairly gruesome but, in trying to one up Zombie's scenes of carnage, actually allow the viewer to assess the techniques of sculpting latex, clay, and spilling bovine offal. While the Fulci film had the splintered eye as its setpiece, Zombie Holocaust has a bit of non-consensual brain surgery ("The patient's screaming disturbing me, performed removal of vocal chords"), more gruesome in its lead up than the actual reveal. The zombies as sculpted by Trani without the supervision of Giannetto de Rossi are more in line with Trani's Burial Ground designs, and leave the flesh-eating to the cannibals and have little to do other than one getting its head decimated by a hand-wielded outboard motor. As a zombie film or a cannibal film, Zombie Holocaust is rather forgettable. On the other hand, as a grindhouse experience, on the other hand...

Video


Although Zombie Holocuast was released theatrically stateside by Terry Levene's Aquarius Releasing as "Doctor Butcher, M.D." in an unrated version that trimmed down some additional dialogue and transitions – as well as inserting a grainy stock shot of a plane landing in place of the jeep ride through the village from Zombie – adding a new title sequence based around footage from the aborted Roy Frumkes-supervised anthology Tales That Will Tear Your Heart Out and wiping Fidenco's score in favor of new keyboard cues and library music by Walter Sear of Sear Sound (who also rescored Fulci's The Beyond for Aquarius' "7 Doors of Death" release) – the film went straight to pre-cert VHS in the U.K. pre-cut by three minutes, and even that version fell afoul of the Video Nasty debacle.

When the film was released to DVD in the U.S. from Media Blasters and in the U.K. from Vipco, it turned out to be a transfer of the original Italian version (~84 minutes at 24fps) which was missing a five minute sequence that appeared in both the export version and the aforementioned "Doctor Butcher, M.D." Media Blasters' 2011 Blu-ray release was among their first problematic editions in the format, either being an upscale or just looking so soft due to excessive digital video noise reduction (Burial Ground and Beyond the Darkness fared even worse) while 88 Films' first go at the title as part of their initial Indiegogo restoration project in 2015 was sharper-looking but perhaps a bit too bright, blowing out skies and not doing away with a faint yellow tinge in the whites. Severin Films' 2016 Blu-ray opened up the frame on the bottom for a 1.78:1 framing, but it was also slight darker with more realistic-looking colors and better highlights. Fans of the U.S. version also got a reconstruction of that cut using the Italian master and film elements for the "Doctor Butcher, M.D." cut which also allowed them to restore "The Pit" sequence to the "Zombie Holocaust" version from film rather than video.


88 Films' 1080p24 MPEG-4 AVC 1.85:1 widescreen combo comes from a brand new 4K restoration and assaults the eye with saturated reds and rich blues from the title sequence onward. The pigskin of both the dead and unwilling living medical subjects is more obvious as well as latex heads and limbs, but the spill of deep red guts enriches the illusion as never before. Cinematographer Fausto Zuccoli (Alien from the Deep) is nowhere near as creative a cinematographer as Zombie's Sergio Salvati, but his even lighting and lack of diffusion allow studio interiors and most of the New York exteriors to almost look like they shot yesterday apart from one panning shot of Lori and Peter walking to a car after meeting with Professor Stafford that is just out of focus the entire time. There is still some crush in the deepest blacks, but the 4K and 1080p versions tease out more shadow detail even in the island location scenes than the Severin transfer, with the campsite sequence seemingly having a greater sense of depth in the frame than the earlier transfer. Drizzle is distinguished from grain, and lens flare is also more evident in handheld shots, but this is actually pleasing in some of the New York scenes with the combination of wet streets and the sun giving a nice glow to a couple sequences of Lori walking around New York.

The look of the film in this remaster is particularly surprising given that the use of footage from Zombie necessitated shooting in the 2-perf Techniscope format – okay in itself given how many of the HD restorations of films shot in this format look – before a 1.85:1 image was extracted from the center, although the same was done for Fulci's City of the Living Dead and that looks spectacular.

Audio


Audio options include English and Italian DTS-HD Master Audio 2.0 mono tracks. Both tracks are post-dubbed, with the English track (featuring McColluch's voice) sounding clean and clear enough, but the Italian track is overall louder without distorting at the high ends. What occasionally sounds like phasing and sibilance distortion on the track is actually synth sounds added to the Fidenco Emanuelle and the Last Cannibals (presumably by dell'Orso). Optional English subtitles are provided for the Italian track, revealing that the mad doctor is called "O'Brien" on the Italian version as opposed to "Obrero" on the English dub.

Extras


The film is accompanied by an audio commentary by film historians David Flint and Adrian Smith who note that the film was likely inspired by the success of the Fulci film but that its models seem to be not only Emanuelle and the Last Cannibals (and the jungle films that inspired the Italian cannibal genre) with the cannibal angle, but less so the Fulci film but the older zombie films with non-flesh-eating, mind-controlled zombies rather than the undead (which actually makes some of the killings of the zombie characters more horrific) while also noting that the Italian and Spanish horror genre has a few of those types as well. Their speculation over the reasons for shots taken directly from the Fulci film as well as the use of the Fidenco Emanuelle score – as well as discussion of the U.S. version – is more stimulating than their questions over holes in the plot which are most likely due to shoddy scripting, a low budget, and a rushed shoot than any artistic compromises. They also discuss the film's history in the U.K. as well as McColluch's reaction to realizing that he appeared in three films under scrutiny during the Video Nasty era.

Oddly, none of the three new video extras with Zombie Holocaust crew actually discuss the film at hand. "Girolami Holocaust" (19:16) is an interview with editor Moriani and assistant director Castellari. Moriani recalls starting out as an assistant operator until an accident with a broken camera, getting into sound through his brother who was under contract with producer Mino Loy (Eaten Alive!), synching dailies, and supervising English versions of Italian films at CDC, coming to work with Girolami and comparing him to working with Fulci on later films. Castellari appears briefly to discuss working with his father early on while noting that he had less oppoturnities to do so once he became a director.


"Our Life, Our Music" (42:08) is an interview with composers Giacomo Dell'Orso and singer Edda Dell'Orso which starts with an introduction noting that Giacomo was actually responsible for some of the scores credited to Fidenco. He recalls becoming Fidenco's arranger through his brother Gianni dell'Orso, working with D'Amato and Bruno Mattei (Hell of the Living Dead), and his and his wife's shared embarrassment and amusement to discover all the Italian softcore and hardcore porn films to which they are credited by way of their music being licensed by the likes of CAM for productions that could not afford original scores. Edda dell'Orso also discusses their collaborations with Ennio Morricone.

"To Die and Rise in Rome" (15:46) is a particularly puzzling interview with assistant director Marcello Avellone sitting in a necropolis with his dog musing on living dead in film with throwaway references to his two horror films Specters and Maya (neither of which featured zombies but hopefully will turn up on Blu-ray in the future).

Ported over from the earlier 88 Films Blu-ray is "Eaten Alive!: The Rise and Fall of the Italian Cannibal Film" (85:12) directed by Calum Waddel and featuring commentary from writers Kim Newman, Shelagh Rowan-Legg, Antonio Tentori, and John Martin Jr., scholar Mikel Koven, actors Me Me Lai (Eaten Alive!) and Robert Kerman (Cannibal Holocaust), and filmmakers Umberto Lenzi (Cannibal Ferox), Sergio Martino (Island of the Fishmen), and Deodato. The survey of Italian cannibal films from Lenzi's Man from Deep River to Massacre in Dinosaur Valley – with a mention of the Indonesian Savage Terror – connects the genre to the earlier mondo films and addresses charges of racism and misogyny. U.S. viewers can find this documentary on the Grindhouse Releasing Blu-ray of Cannibal Ferox.


Also ported from the earlier release is a 2009 Q&A with actor Ian McCulloch at the Manchester Festival of Fantastic Films (50:25) and the English Export Trailer (4:20) which – as it appears all other Blu-rays and DVDs – features Italian onscreen text and is missing the dialogue track for the first half but then has English audio for the remainder. New to the disc is a restoration reel (3:05) which shows the cleanup work and grading in split screen (it appears as though the 1.85:1 crop of the Techniscope scan was done before the grading, which perhaps makes sense).

Packaging


This standard Blu-ray edition does not include the slipcover, A3 foldout poster, or liner notes booklet included on the concurrent 4K UltraHD/Blu-ray combo edition.

Overall


As a zombie film or a cannibal film, Zombie Holocaust is rather forgettable. On the other hand, as a grindhouse experience, on the other hand...