The Film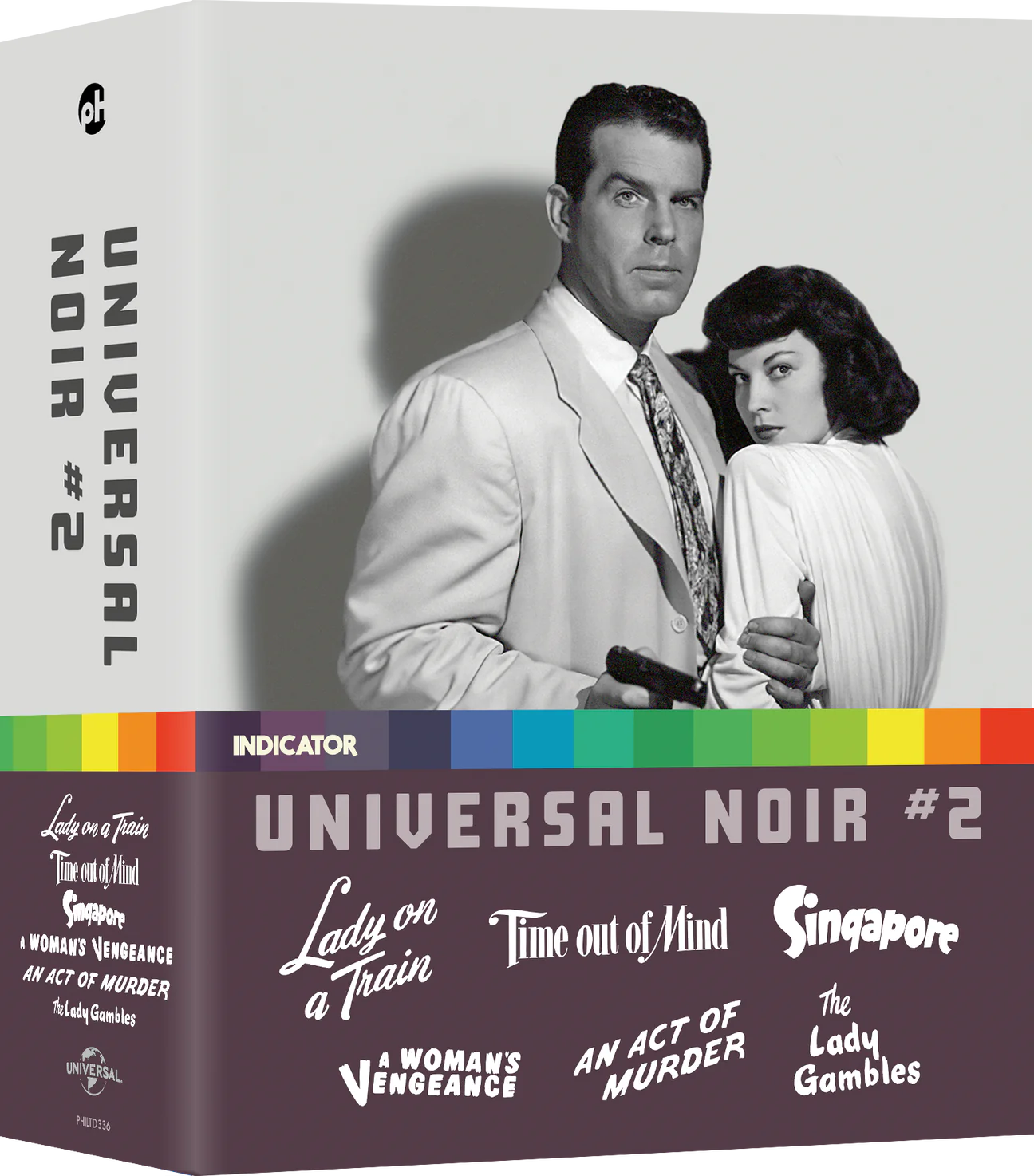 Universal Noir #2 – the second in Indicator's series of box sets focusing on the celebrated film noir output of Universal Pictures – collects six crime classics from Hollywood's golden age.

Starring the cream of US and British acting talent – including Deanna Durbin, Ralph Bellamy, Phyllis Calvert, Fred MacMurray, Ava Gardner, Ann Blyth, Jessica Tandy, Cedric Hardwicke, Fredric March, and Barbara Stanwyck – these dark and dangerous dramas feature witnesses to murder (Lady on a Train), family rifts (Time Out of Mind), amnesia and smuggling (Singapore), murderous infidelity (A Woman's Vengeance), mercy killing (An Act of Murder), and gambling addiction (The Lady Gambles).

This indispensable collection marks the UK Blu-ray premiere of all six films, and also features an array of fascinating contextualising extras, including newly recorded commentaries, critical appreciations, rare archival short films, and a 120-page book. Strictly limited to 6,000 individually numbered units.

Video


Not really a noir at all but a drama about addiction, gambling addiction with Barbara Stanwyck as the victim of the problem and Robert Preston as her husband. It's very well made, acted etc but disappointing if you're expecting more traditional noir tropes. Towards the end we do get a little of that noir jeopardy but it's too little too late. Still, a slick, professional piece overall.

In any case the image is superb. The underlying master is from Universal:[blockquote][i]... sourced from Universal's 2009 remaster, created from a 35mm finegrain print.[/i][/blockquote] Apart from the usual filtered moments used whenever we get a Stanwyck closeup, or an optical where the image is soft, this is a very clean, sharp transfer with plenty of fine grain well handled by the encode. This has to be one of the better transfers I've seen of a 1940s Academy ratio film on BD, certainly one taken from a finegrain print.

The gamma is balanced well so we get none of the colour bias that used to plague monochrome transfers of film and television back in the day. I can recall watching The Outer Limits (1963-65) on BSB circa 1990 and some episodes had a green tinge, luckily the BSB satellite box allowed one to remove all colour from the image so it was possible to have a clean, pure, inky B&W image. Powerhouse Films do a great job of ensuring that their monochrome transfers are pure and this is a fine example.

Black levels and contrast couldn't be better with no signs of crush at all and highlights are beautifully rendered with no blowouts. Detail is extremely satisfying on all focal planes and the image is very satisfying overall creating a velvety viewing experience ('A').

1080p24 / AVC MPEG-4 / BD-25 / 1.37:1 / 98:45

Audio


English LPCM 1.0 (48kHz, 24-bit)
Subtitles: English HoH

Sound is solid as it always is on these Powerhouse Noir sets (Columbia and Universal). A single channel mono track that exports a simple sound experience in which dialogue is the main thing. Scoring never interferes, it's all very clean and clear if lacking in dynamism of the kind expected by modern audiences. There's some very mild hiss when the volume is cranked up typical of this being created in the analogue days. In any case, fine track with superb hard of hearing subs for those who need them ('B+').

Extras


Audio commentary by film historian Pamela Hutchinson (2023)

Hutchinson is described thus on her BFI bio:
Pamela Hutchinson is a freelance writer and film critic who blogs about silent cinema at SilentLondon.co.uk as well as contributing regularly to Sight & Sound and the Guardian. She is the author of the BFI Film Classic on Pandora's Box.
I've heard her discuss topics in featurettes before but am not sure if I've heard her on a commentary track before. In any case she's done her research and preparation covering all the bases one would expect kicking off the track discussing how the film is all about gambling addiction and potted histories of Stanwyck and other cast members as they appear in scenes on screen. Other subjects covered are comments on the style, the themes, costuming, character interrelationships, the journey the leads go through, Stanwyck's sexual thrill from gambling amongst other relevant topics. It's scene specific all the way allowing what happens on screen to guide her comments. Hutchinson is an easy listen and if not breathless, she keeps the track packed and without silences or giving us a blow by blow account of what we're watching. An excellent track although I don't think the film is a proper noir, whereas Hutchinson does. Presented in lossy English Dolby Digital 2.0 mono (48kHz).

The Lady Gambles Image Gallery: Original Promotional Material (36 images)

Excellent HD gallery of promotional images.

"Sucker Bait" 1943 short film (38:41)

Interesting propaganda piece from WWII about spies being prepped by Nazi Germany and how Americans need to be on the ball to talk "too damn much" ... careless talk costs lives and all that. It's been supplied as a 2K master by the Library of Congress and generally looks fine, if a little soft and lacking in fine detail. As usual for Powerhouse, gamma is pure, black levels and contrast generally well judged although I found the image a little flat when compared to the main feature. Presented in 1080p24 1.37:1 with uncompressed English LPCM 2.0 mono (48kHz, 24-bit).

120-page liner notes book with new essays by Ellen Wright, Paul Duane, Philip Kemp, Tara Judah, Imogen Sara Smith, and Iris Veysey, extensive archival articles and interviews, new writing on the various short films and film credits

The Lady Gambles gets a solid 16-pages dedicated to in this superb hardcopy companion to the six films in this wonderful set.

Packaging


Not sent for review.

Overall


Disc six in Powerhouse Films' excellent new Universal Noir Vol 2 set. The Lady Gambles is not a noir but a hard-hitting Hollywood melodrama about the dangers of gambling addiction. In any case image and sound are top notch for a film of this era (1949) and the extras are choice, highly recommended ('A-').
| | | | | |
| --- | --- | --- | --- | --- |
| The Film: B- | Video: A | Audio: B+ | Extras: A- | Overall: A- |