The Film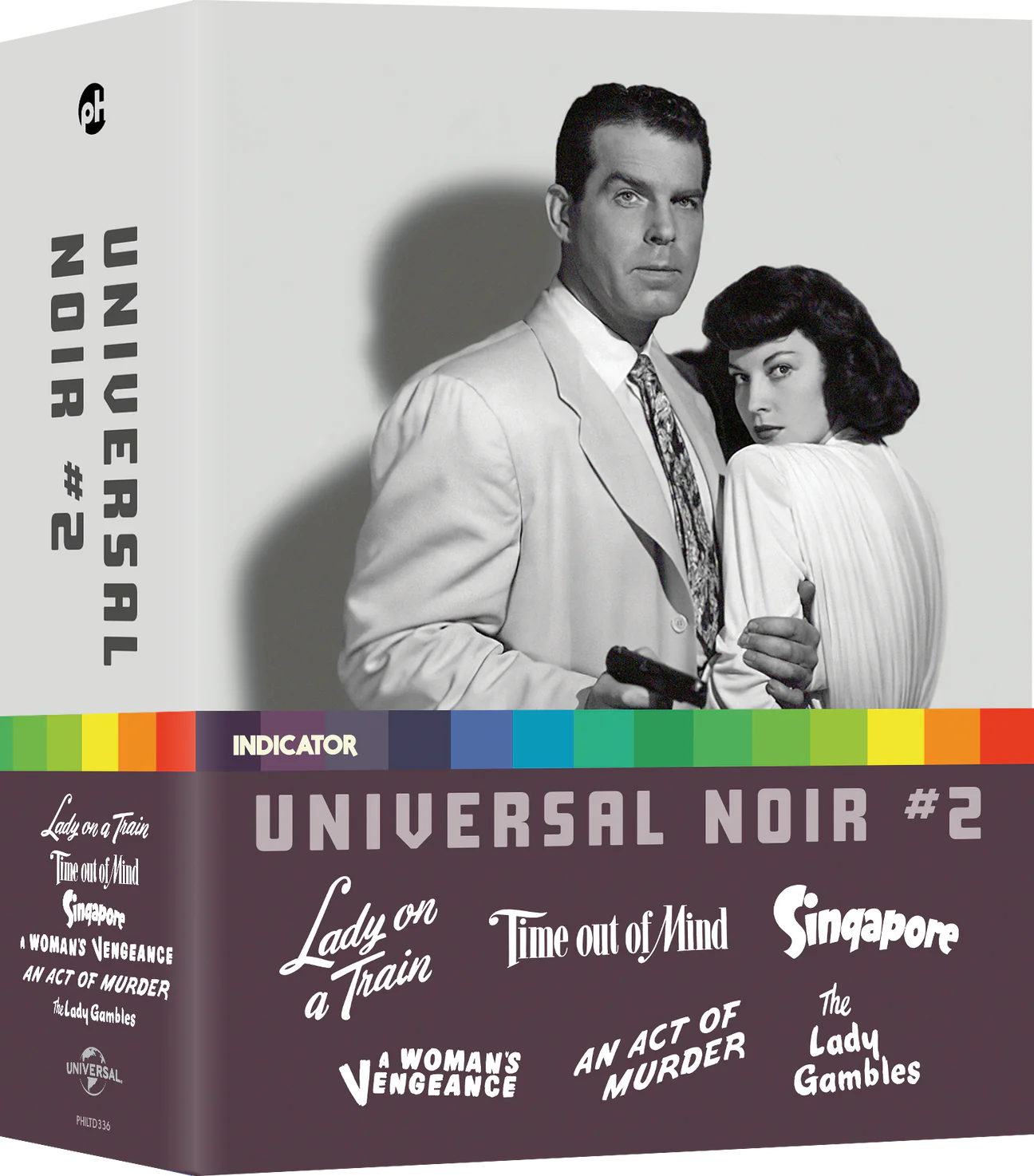 Universal Noir #2 – the second in Indicator's series of box sets focusing on the celebrated film noir output of Universal Pictures – collects six crime classics from Hollywood's golden age.

Starring the cream of US and British acting talent – including Deanna Durbin, Ralph Bellamy, Phyllis Calvert, Fred MacMurray, Ava Gardner, Ann Blyth, Jessica Tandy, Cedric Hardwicke, Fredric March, and Barbara Stanwyck – these dark and dangerous dramas feature witnesses to murder (Lady on a Train), family rifts (Time Out of Mind), amnesia and smuggling (Singapore), murderous infidelity (A Woman's Vengeance), mercy killing (An Act of Murder), and gambling addiction (The Lady Gambles).

This indispensable collection marks the UK Blu-ray premiere of all six films, and also features an array of fascinating contextualising extras, including newly recorded commentaries, critical appreciations, rare archival short films, and a 120-page book. Strictly limited to 6,000 individually numbered units.

Video



Lady on a Train was sourced from Universal's 2022 restoration, created from a 2K scan of the 35mm composite dupe negative.
Visually this is a fairly typical film of it's era, it has a slightly soft, hazy look at times due to optical shots being layered but on the whole is crisp and sharp more often than not or at least as much as the style of cinematography will allow. The bitrate is reasonably high in the twenties through early thirties. Detail is excellent in closeups and mid shots, less impressive in backgrounds but this is due to the nature of the slightly soft cinematography. Grain is perfectly resolved throughout by the topnotch encode. There are no virtually no signs of print damage nor digital tinkering, everything is filmic. There is the occasional spot or speck but very few and far between.

We have perfectly balanced gamma with no colour bias creeping in, always a boon when watching monochrome productions. Blacks are properly black and true with decent shadow detail and no unintended crush. Contrast is solid and supportive creating a very punchy image when it's at it's most stark with deep blacks set next to highlights. There are some very filtered shots usually of Durbin which are pretty typical of how actresses could be lensed to make them more angelic and these are very diffuse; a technique that was still being used in episodes of Star Trek (1964-69) when actresses featured in closeup. In any case, I could see no blowouts in lighter areas where detail was eclipsed.

Overall a string transfer ('A-').

1080p24 / AVC MPEG-4 / BD-25 / 1.37:1 / 94:29

Audio


English LPCM 1.0 (48kHz, 24-bit)
Subtitles: English HoH

Sound is solid of limited range has some mild hiss typical of sound recording of the time. Dialogue is clean and easily discernible, music is far more limited in it's use unlike modern productions where it's over used. When it does appear it doesn't interfere with what's being said. Beautifully restored with no signs of clicks or pops or any other age-related wear and tear. Excellent, accurate hard of hearing subtitles are provided ('B+').

Extras


Audio commentary with film historians Glenn Kenny and Farran Smith Nehme (2023)

Fact-pact track by two very lively, engaging commentators who have impressive track records with the form. They kick off discussing how the film is written by Leslie Charteris (author of The Saint series of novels) and directed Charles David (pronounced Da-vide) who would become the husband of leading lady Deanna Durbin. It's a fine track that covers lots of ground including attitudes to African-American characters within the film and plenty on the film's plot, themes, specific scenes as they play out. Also covered in detail are the cast and crew with obvious focus on the primary contributors. Both commentators appear to know each other well and have a decent rapport which counts for a lot. Presented in lossy Dolby Digital 2.0 mono sound (48kHz, 112Kbps).

"Library of Congress" 1945 short film (20:28)
... Library of Congress were supplied as 2K masters by the Library of Congress.
An interesting vintage short from the same year as the main feature that covers the titular organisation and how it keeps track of all publishing copyrights as well as all published material (print and film). Visually it's been well restored with perfectly balanced gamma, deep, velvety blacks and decent contrast. Grain is well handled and the encoding strong. There's some signs of age-related wear and tear but it's rare and limited to the odd speckle. Presented in 1080p24 1.37:1 with lossy Dolby Digital 2.0 mono sound (48kHz, 192Kbps).

Theatrical Trailer (2:14)

Vintage promo in 1080p24 1.37:1 with lossy Dolby Digital 1.0 sound (48kHz, 192Kbps).

Lady on a Train Image Gallery: Original Promotional Material (34 images)

An excellent HD gallery of promotional images used to publicise the film on it's first theatrical release.

120-page liner notes book with new essays by Ellen Wright, Paul Duane, Philip Kemp, Tara Judah, Imogen Sara Smith and Iris Veysey, extensive archival articles and interviews, new writing on the various short films and film credits

Hardcopy companion to the films in the set with each receiving a new essay and to back those up vintage material. The shirts also get some analysis which is also nice. These booklets are always a treat and this one is no different.

Packaging


Not sent for review.

Overall


Disc one in the six-disc "Universal Noir Vol. 2" set contains the amusing comic murder mystery Lady on a Train starring for child star Deanna Durbin and it's a thoroughly agreeable little film. Powerhouse Films' expert transfer and encode make the very good Universal 2K restoration look spiffing and sound is equally solid. Extras are top notch all though not comprehensive are very choice and engaging ('A-')
| | | | | |
| --- | --- | --- | --- | --- |
| The Film: B+ | Video: A- | Audio: B+ | Extras: A- | Overall: A- |