The Film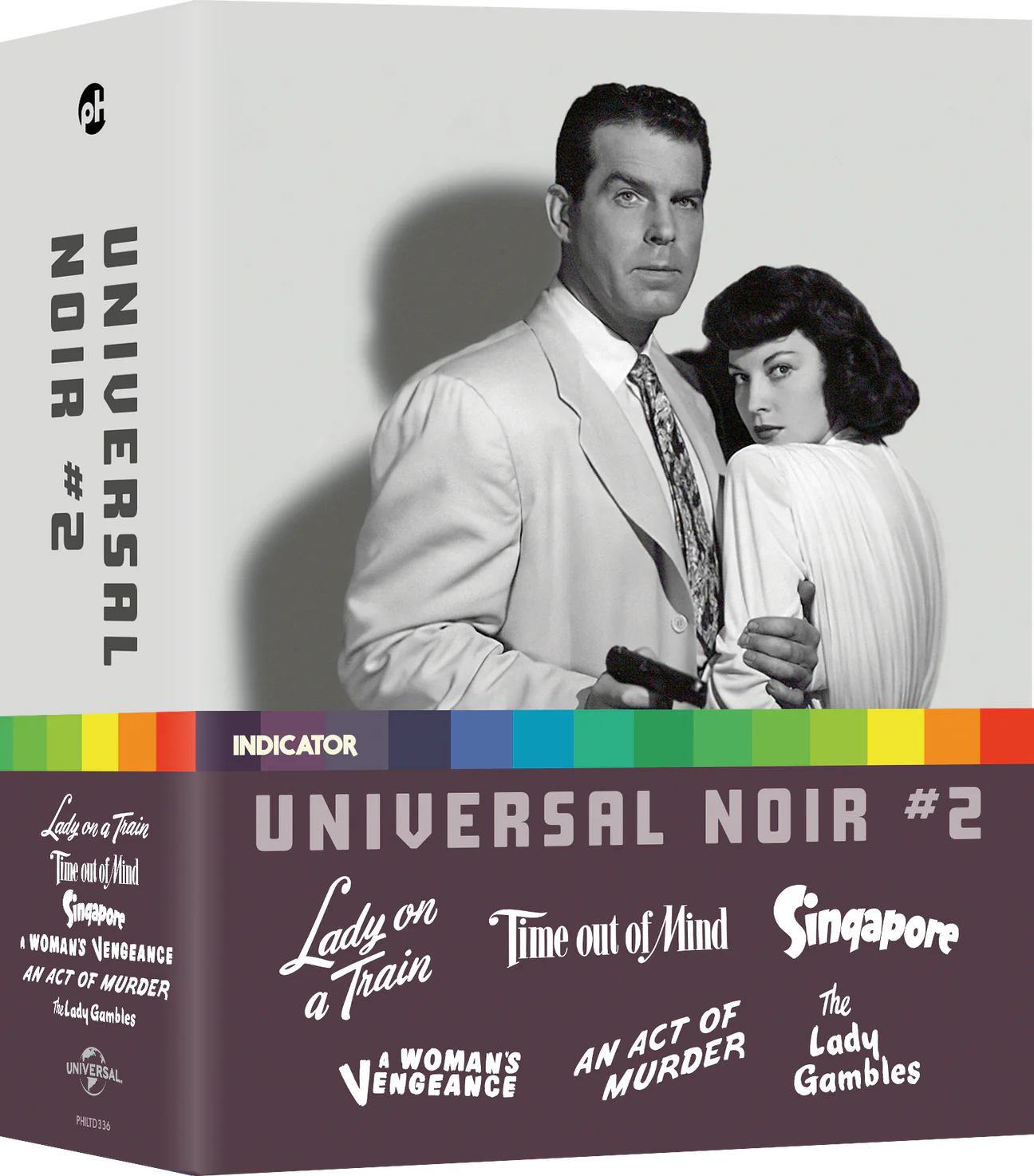 Universal Noir #2 – the second in Indicator's series of box sets focusing on the celebrated film noir output of Universal Pictures – collects six crime classics from Hollywood's golden age.

Starring the cream of US and British acting talent – including Deanna Durbin, Ralph Bellamy, Phyllis Calvert, Fred MacMurray, Ava Gardner, Ann Blyth, Jessica Tandy, Cedric Hardwicke, Fredric March, and Barbara Stanwyck – these dark and dangerous dramas feature witnesses to murder (Lady on a Train), family rifts (Time Out of Mind), amnesia and smuggling (Singapore), murderous infidelity (A Woman's Vengeance), mercy killing (An Act of Murder), and gambling addiction (The Lady Gambles).

This indispensable collection marks the UK Blu-ray premiere of all six films, and also features an array of fascinating contextualising extras, including newly recorded commentaries, critical appreciations, rare archival short films, and a 120-page book. Strictly limited to 6,000 individually numbered units.

Video


Powerhouse hits a home run with a fine presentation of this 1947 Casablanca (1942) clone that relocates the formula to the Pacific basin. The cast are not quite as distinguished as that classic and runs a good twenty+ minutes shorter but the leads are up to par and the support and studio work effective.

Lensed in crisp, sharp monochrome, this is a fine image harvest from Universal:
Singapore was sourced from Universal's 2021 restoration, created from a 2K scan of the 35mm composite finegrain print.

Perfect gamma so no colour bias means a nice inky black and white image. Black levels are rich, deep with no crush, shadow detail is excellent as detail generally across the board (MacMurray's and Gardner's wardrobe is richly textured) although some opticals see detail drop and grain increase (closeups of females, mainly Gardner). Contrast is typically punchy but lowkey to allow highlights to be detailed. This is a noir after all so we get nice contrast and black and white levels. As good an academy ratio monochrome image as I have seen taken from a print, shy of 4K and HDR obviously ('A').

1080p24 / AVC MPEG-4 / BD25 / 1.37:1 / 79:25

Audio


English LPCM 1.0 (48kHz, 24-bit)
Subtitles: English HoH

Limited range but very crisp and clear, score sounds slightly canned but not too much. There's some mild hiss and crackle but as good as most 1.0 tracks of the era. Dialogue is crisp and clear, music florid and melodramatic; this is a decent sounding adventure romance that ticks the boxes for a film of this vintage. Excellent hard of hearing subs are provided. This sound track is as good as it can shy of a rebuild from the sound stems assuming they exist ('B+')

Extras


Audio commentary with film historians Kelly Goodner and Jim Hemphill (2023)

Hemphill I've encountered before and he always gives good commentary; I've not encountered Goodner but she aquits herself well. The track kicks off discussing the film's real historical event (the fall of Singapore, 1942) and the film it was inspired by (Casablanca, 1942). Also covered are Singapore's 1947 theatrical stablemates on release at that time from various studios and independents. The key cast and crew are covered as well as the production. Needless to say there's also plenty of discussion of film noir and where Singapore sits within that genre, the film's themes etc. Presented in lossy Dolby Digital 2.0 mono sound (48kHz, 16-bit).

"A Woman of the World: Christina Newland on the Noir Persona of Ava Gardner" 2023 featurette (19:22)

A new interview pice in which film historian Newland discusses Ava Gardner and her noir roles and where they sit in amongst her career. It kicks off with discussion of how She was shaped and styled for the role of star. Her personal life also gets a mention and some detail plus Newland focuses on some of her key roles, working with Robert Siodmak etc. Presented in 1080p24 1.78:1 with English LPCM 2.0 stereo sound (48kHz, 16-bit)

"Lux Radio Theatre: Singapore" 3 November 1947 radio episode (56:20)

Vintage radio version first broadcast the year the main film adaptation was release. Sound is muffled and shows signs of age with some hiss, scratches and some mild distortion. Presented in lossy Dolby Digital 2.0 mono sound (48kHz, 16-bit).

Theatrical Trailer (0:42)

Vintage promo that plays on the exotic locale and noir tropes. Presented in 1080p24 1.37:1 with uncompressed English LPCM 2.0 mono sound (48kHz, 16-bit).

Singapore Image Gallery: Original Promotional Material (64 images)

Chunky HD gallery of promotional images.

"Reward Unlimited" 1944 short film (10:58)

Vintage short released three years prior to Singapore (1947) presented in HD:
... scanned in High Definition from 35mm finegrain composite master elements by the US National Archives and Records Administration (NARA) especially for this Indicator edition.
The image is occasionally a tad blown out but not by much, detail is reasonable and the mix of blacks and contrast is pleasing. Sound has so pops and clips but, again, not much. Presented in 1080p24 1.37:1 with English LPCM 2.0 mono sound (48kHz, 16-bit).

"With This Ring" 1954 short film (40:13)

A second vintage short from 1954 presented in upscaled standard def in 1080p24 1.37:1 with uncompressed English LPCM 2.0 mono sound (48kHz, 16-bit). This was shot in Eastman Colour but is very faded and virtually black and white which is a shame because it's obviously nicely shot in that format.

120-page liner notes book with new essays by Ellen Wright, Paul Duane, Philip Kemp, Tara Judah, Imogen Sara Smith, and Iris Veysey, extensive archival articles and interviews, new writing on the various short films and film credits

Singapore gets 18-pages dedicated to it in yet another excellent hardcopy companion to the films in this set.

Packaging


Not sent for review.

Overall


Disc three in Powerhouse Film's eagerly awaited second set of six Universal noir dramas is the entertaining Singapore (1947). Typically fine image and sound presentations with a very good extras package round out the presentation. Overall this is a fine disc ('B+').
| | | | | |
| --- | --- | --- | --- | --- |
| The Film: B | Video: A | Audio: B+ | Extras: A- | Overall: B+ |