The Film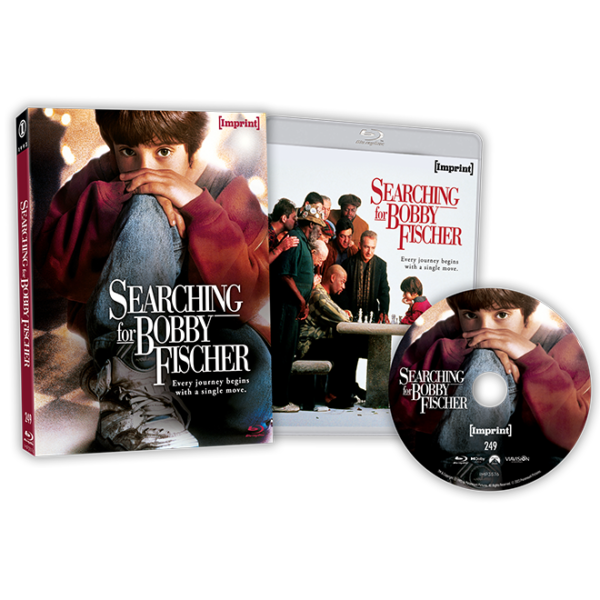 1993 was a stacked year for Hollywood releases, the top grossing films included "Jurassic Park", "Mrs. Doubtfire", "The Fugitive", "Schindler's List", "The Firm", "Indecent Proposal", "Cliffhanger", "Sleepless in Seattle", "Philadelphia" among others, so its easy to see why a film like "Searching for Bobby Fischer" would get lost in the fray. It was released at the end of a busy summer season, in August 1993 and was up against "The Fugitive" which open a week earlier and dominated August box office receipts, despite excellent critical reviews including a 4/4 star review from Roger Ebert, the film managed to scrape a $7 million box office off a $12 million budget. More people would later discover the film on platforms such as HBO, TV engagements, and eventually on DVD which helped garner a cult following. You can still find the now 23 year-old Paramount DVD in stock in most places, there's also a Warner Archive DVD released 10 years ago, for a while that was the only way you can you watch this film, until now, with Imprint's HD release on Blu-ray!

Based on the book "Searching for Bobby Fischer: The Father of a Prodigy Observes the World of Chess" by Fred Waitzkin, who would adapt his own book with screenwriter Steven Zaillian, and would make his feature directing debut with this film. The film follows Seven year-old Josh Waitzkin (Max Pomeranc) who becomes fascinated with the game of chess and the colorful players in New York's Washington Square Park. Josh takes to the game quickly, he befriends Vinnie (Laurence Fishburne) impressed with Josh's skill, takes him under his wing and teaches him the game, albeit unconventional methods. When Josh's father, Fred (Joe Mantegna) learns of his son's exceptional skills he employs the tutelage of chess master Bruce Pandolfini (Ben Kingsley) that has vastly different styles of teaching and playing than that of Vinnie in the park. Vinnie and Josh's friendship would continue to blossom despite Bruce's efforts to teach Josh the "proper" way to play chess as Josh attends the national chess competition where he is paired against Jonathan Poe (Michael Nirenberg) another intimidating young prodigy.

Like many people I discovered this film well after its theatrical run, having rented it on VHS and despite the film not having any CGI dinosaurs (which was all the rage back in 1993), or big action stars like Arnold Schwarzenegger the film managed to take ahold of me. It felt like the I was watching my first real "adult" movie but seemed accessible because the focus was a kid. A shy, somewhat reserved kid that found a passion in something. It's a trope that's entirely relatable, in fact the film is filled to brim with relatable moments that turn what could be seen as a boring chess movie into an emotional drama that manages to leave a last mark on its viewers. The film's emotional core is anchored by touching, sensitive, nuanced, and mature performance from the film's lead, Max Pomeranc. For an actor his young age to deliver such a rounded and three-dimensional performance is something that doesn't happen often in Hollywood and among child stars. I'm surprised he didn't become a bigger star, only appearing in four other films between 1994-2008. A little bit of internet sleuthing reveals he graduated high school, went to University in Canada, then appeared in a very small role in "Definitely, Maybe" (2008) and as recently as 2014 has developed a career in public policy and communications. So, it would seem acting probably wasn't Max's passion.

Max's career aside, the film is populated with an incredible cast that all deliver, Joe Mantegna, Joan Allen, Ben Kingsley, Laurence Fishburne as the lead cast and William H. Macy, Dan Hedaya, Laura Linney, and Tony Shalhoub in supporting roles and are all heavyweights that punch above their class. Zaillian manages to craft a touching film that doesn't overcook the drama. Matched with cinematography by the legendary Conrad L. Hall, who would be nominated for an Academy Award for his work on this film, Hall paints with light and shadow and has committed to film one of the most beautiful looking films of the 90's.

Finely tuned editing also helps highlight the drama and makes the subject of chess exciting to watch, drama, tension, emotion, it's all paced well and engages the viewer. Intercutting between the film's characters and black and white archival footage of Bobby Fischer offers up an interested parallel between Fischer and Josh. There are few films like "Searching for Bobby Fischer" that hit on all levels; writing, acting, directing, photography, editing, it all works. There's a reason why all critics have praised this film (achieving a 100% freshness rating on RottenTomaoes) and why audiences continue to discover and adore it.

The boutique label Imprint from Australia has been making some waves in recent times with their stellar catalogue, taking on oft forgotten or classic films not yet given the HD treatment and releasing solid copies that collectors love adding to their vast film archives. "Searching for Bobby Fischer" is one of those films we never knew we needed until now. Not many people today talk about this 30 year-old film but it still holds its own as a solid and inspirational picture. In order to purchase this film on Blu-ray fans will have to import this Australian release, as it's the only way to view this film in HD on physical media at this time. Another win for physical media!

Video


Presented in a widescreen ratio of 1.78:1 mastered in 1080p HD 24/fps using AVC MPEG-4 compression and created using a new 2K scan of the film. Imprint delivers for the first time an HD transfer for this film and as with most Imprint titles the image looks terrific. For a 30 year-old film it looks fresh, clean, and despite it's obvious 90's era it looks like it could have been shot yesterday. In saying that I noticed that textures and detail look a little too smooth, it's possible some DNR has been applied here as there was very minimal film grain to be seen. Blacks are deep and colors are nicely balanced, with natural skin tones but sometimes lean towards a waxy look further evidence some digital clean up was applied. There's some softness in a couple of shots but it's not a deal breaker and some white levels can look a little too hot, but otherwise this is the best this film has ever look but I can't get past that sharpness seemed to have been favored over maintaining the film's original grain structure.

Audio


Two audio tracks are included in English DTS HD 5.1 Surround and English LPCM 2.0 Stereo, I chose to view the film with its 5.1 audio. This film is a drama, the only real surround activity we get is with the film's score and the New York city streets ambient sounds that help propel the viewer into the moment and into the city. These hold up well, but it's the dialogue that is the strongest elements of this track and it's clean and clear without any distortion. It's an adequate audio track that I have no real complaints about. Optional subtitles are included in English.

Extras


Imprint has collected a decent amount of supplements that include a brand new audio commentary, a brand new featurette, and a collection of archival interviews. Below is a closer look at these extras.

First up is a newly recorded audio commentary by film historian Scott Harrison, Harrison is a vibrant commentator that covers a vast array of topics from the real life people, the book, as well as talk about the film and its ability to portray chess in a fascinating light for mainstream movie audiences.

"Maybe Itís Better Not To Win: Scoring Searching For Bobby Fischer" featurette (21:07) takes a look at the film's score by James Horner but also on his career scoring other films leading up to this one, it plays out like a video essay.

Archival interview with Director Steven Zaillian (5:00) from 1993 this is a promotional clip with the film's director as he talks about the world of chess and on working on the film.

Archival interview with Ben Kingsley (5:12) another clip from 1993, the actor talks about the film's title and on his involvement in the film.

Archival interview with Joan Allen (4:48) Allen talks about portraying a real person and on spending time with the real Bonnie among other things.

Archival interview with Laurence Fishburne (4:05) the actor talks about his character being a composite of other characters and on his career.

Archival interview with chess author Bruce Pandolfini (5:43) the author talks about the game of chess and on his reaction to the film and on how the game is presented.

Archival interview with actor & prodigy chess player Max Pomeranc & Josh Waitzkin (6:18) the real Josh and the actor who plays Josh talk about how accurate the film was aside from the pressure of people thinking he could be the next Bobby Fischer and on that burden among other things.

Packaging


Packaged in oversized keep case housed in a "Limited Edition" slipcase with first 1500 copies. This is spine number 249 in the Imprint series.

Overall


If you haven't searched out this film yet, I urge to you. It's such a beautiful piece of filmmaking and Imprint delivers a decent release, after all if you're looking for a Blu-ray HD copy this is currently the only edition available.
| | | | | |
| --- | --- | --- | --- | --- |
| The Film: A+ | Video: B- | Audio: B+ | Extras: B | Overall: B- |