The Film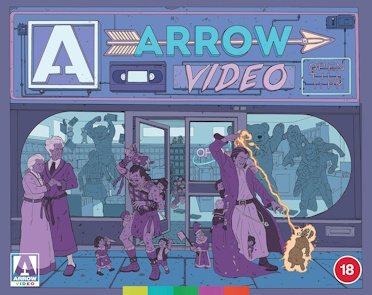 "Remember the shelves of your local video store? Those days aren't gone! Reject reality and substitute your own with Arrow Video! In 1983, entrepreneurial producer and director Charles Band founded Empire International Pictures, which would go on to make some of the most memorable and beloved genre movies of the 1980s. Empire became a mainstay of video stores across the world with their catchy titles, outlandish art and Band's wholehearted belief in giving audiences a good time.

Freshly restored for the digital era with a wealth of new and archival extras, these films have never looked better. No need for a time machine, these golden age video classics will send you back to the 80s!"

The Dungeonmaster: Paul Bradford (Metalstorm: The Destruction of Jared-Syn's Jeffrey Byron) is a computer wiz who has been able to "link in" to his intelligent computer Cal and control virtually every aspect of his life; that is, with the exception of his relationship with dancer Gwen (Retribution's Leslie Wing) who is jealous of his relationship with his computer. His vivid dreams of Gwen in peril become a sudden reality when the couple are beamed to the outer dimensional netherworld of Mastema (Evilspeak's Richard Moll) who holds Gwen hostage and challenges Paul and his "magical machines" – dubbing him "Excalibrate" after Cal's full name X-Cal-BR8 – to a series of seven challenges for their freedom.

Each challenge is a sequence directed by a different filmmaker in Empire Pictures' producer Charles Band's effort to piece the production together as funds became available. In "Ice Gallery" from Rosemarie Turko (Scarred), Paul and Gwen find themselves among a museum of Mastema's literally frozen former competitors, including Jack the Ripper (Cleve Hall, effects artist on Romano Scavolini's Nightmares in a Damaged Brain), Einstein, and the Wolf Man (Puppet Master scribe Kenneth J. Hall) who prove dangerous when Mastema turns the heat up. Paul battles zombies whose souls have been collected by underworld caretaker Ratspit, an amusing puppet creation by Empire Pictures' go-to special make-up effects artist John Carl Buechler in his own segment "Demons of the Dead" while Band helms "Heavy Metal" in which Gwen is menaced on stage by heavy metal rockers W.A.S.P. performing "Tormentor". Paul nearly gets squashed when battling an Indonesian giant in stop-motion artist David Allen's "Stone Canyon Giant" which features Troll's Phil Fandacaro and his brother Sal as a pair of dwarf natives).

Actor Byron penned "Slasher" directed by his brother Steven Stafford – credited as "Steven Ford" after their godfather John Ford (Stagecoach) – in which Paul must prevent Gwen from becoming the victim of a serial killer even though the police have arrested him as the prime suspect. Paul is then drawn into a forbidding cave by Gwen's voice and encounters the "Cave Beast" in the directorial debut of assistant director Peter Manoogian (Demonic Toys). Paul and Gwen encounter Mad Max-esque bandits (including The Addams Family's Felix Cilla) in "Desert Bandit" helmed by Empire editor/future Subspeices creator/director Ted Nicolaou before Paul finally challenges Mastema mano y mano.

Made to cash in the popularity of the role-playing board game "Dungeons and Dragons" (and possibly the popularity of Disney's TRON), The Dungeonmaster is entertaining at best and painless at its worst. Byron and Wing are likable protagonists and Moll makes for a wonderfully theatrical villain, amusing at first but downright disturbing with his monologue about his childhood treatment of a cat (quite a contrast to Night Court's towering but sensitive manchild bailiff Bull). Even if the episodes are not consistent in quality, cinematographer Mac Ahlberg (Hell Night) gives some visual consistency to the live action shots while Richard Band (The House on Sorority Row) and Shirley Walker (Memoirs of an Invisible Man) give the film an epic sound with the help of The National Philharmonic Orchestra. Besides the usual effects work of Buechler and Allen, the animated dragons summoned by both Mastema and Paul were created by Disney's photographic effects unit with additional opticals by Van der Veer Photo Effects (a company that started out on Star Trek and The Outer Limits before servicing the Hollywood big budget disaster movie cycle of the seventies). A sequel was planned but left unfinished with the demise of Empire Pictures, although it became a segment of Pulse Pounders which included a short Trancers sequel and the Lovecraft adaptation The Evil Clergyman. The anthology was shelved and later screened only once in 2012, but the latter two shorts have played separately while the The Dungeonmaster sequel was supposed to premiere on Full Moon's streaming service.


Dolls: On a dark and stormy night in the English countryside, honeymooning American couple David (TerrorVision's Ian Patrick Williams) and Rosemary Bower (The Pit and the Pendulum's Carolyn Purdy-Gordon, the director's wife), along with David's third wheel of a daughter Judy (Poltergeist II: The Other Side's Carrie Lorraine) from a prior marriage, break down on a lonely road and are forced to seek shelter at spooky home of avuncular doll maker Gabriel Hartwicke (Mr. Sardonicus' Guy Rolfe) and his wife Hilary (Don't Look Now's Hilary Mason). Also seeking shelter are hapless American motorist Ralph (WarGames's Stephen Lee) and brassy cockney hitchhikers Isabel (Spellcaster's Bunty Bailey, aka the "Take on Me" girl) and Enid (Ordeal by Innocence' Cassie Stewart). Judy and Ralph are entranced by the dolls in Gabriel's workshop ("Toys are very loyal, and that is a fact," he tells Ralph) but Rosemary is disdainful of the couple's hospitality, David is more interested in the scotch, and the girls are interested in fleecing the house of its "anteekees." They all soon discover what happens to naughty people when the toys have free reign of the house during the "longest night in the world."

Although released after From Beyond, Dolls was director Stuart Gordon's second film – delayed by the film's long period of post-production – and its creepy poster/video cover image of a doll holding its eyeballs beside its empty sockets was indelibly stamped in the minds of many a kid even before films like Child's Play and Dolly Dearest gave them more reason to be afraid of their own toys. The film's delicate balance of dark fairytale and horror film tips towards the latter, but this is perhaps appropriate since its moral is directed at adults. Rolfe and Mason turn in appropriately warm yet authoritative performances (Mason would play another knowing and mystical part in Meridian, a Full Moon production shot in Italy a few years later by executive producer Band) while Bailey and Stuart are delightfully tacky. Lorraine gives an impressive child performance ("What do you want from me? I'm seven years old") but Lee – who sadly passed away at age fifty-eight in 2014 – turns in the film's sweetest performance as a "kid at heart." Purdy-Gordon is delightfully bitchy as the wicked stepmother while Williams goes from suitably guileless to snide to over-the-top since he could go either way in the survival stakes.

Mac Ahlberg's masterful lighting cannot always conceal the strings of the dolls operated by puppeteers John and Vivian Brunner (who had both also puppeteered the creatures in Lifeforce) – augmented with stop motion by David Allen and animatronics and prosthetics by John Carl Buechler and his Mechanical and Make-up Imageries crew – but it is a sumptuous-looking film thanks also in part to the production design of Giovanni Natalucci (Crawlspace) which includes a two-story practical set with several whole rooms and a forced-perspective exterior house faηade (both of which were redressed to be used in From Beyond). It is really unfortunate that the score of Fuzzbee Morse (Ghoulies II) – with its main theme by Victor Spiegel – was never released as a soundtrack album.


The titular Cellar Dweller is the creation of fifties EC Comics-esque artist Colin Childress (Re-Animator's Jeffrey Combs) who inadvertently brought it to life off of the page to slaughter when he bases it on a demon described in the Book of the Ancient Dead, a Necronomicon knockoff that posits "To contemplate evil, is to ask evil home." Attempting to destroy it by burning his drawings, he also perishes in the inferno. Thirty years later, cartoonist and Childress fan Whitney Taylor (Malice's Debrah Farentino, daughter of James Farentino) wins a fellowship to the Throckmorton Institute for the Arts, a small artist colony in the middle of the countryside with no telephone, television, and one hundred miles from civilization. Headmistress Mrs. Briggs (Silent Scream's Yvonne De Carlo) believes the cartoonist was chosen by the board out of a "perverse sense of nostalgia" and is displeased with Whitney's plans to create a new comic in the mold of "Cellar Dweller," forbidding her from entering Childress' burnt-out basement studio.

Among the fellow artists, who include ditzy performance artist Lisa (Santa Barbara's Miranda Wilson), amorous abstract artist Philip (Head of the Class' Brian Robbins), and frustrated hardboiled mystery writer Norman (The Mad Bomber's Vince Edwards), is Whitney's art school rival: video veritι artist Amanda (Dynasty's Pamela Bellwood). Drawn to Childress' studio by strange noises and nightmarish visions (which actually stimulate her imagination), Whitney breaks into the studio and discovers the Book of the Ancient Dead and visualizes its description of a creature part vampire, part werewolf, part demon, and part ghost. When Mrs. Briggs and Amanda plot together to get Whitney kicked out of the program, Whitney unintentionally gives the cellar dweller its first victim by visualizing a gory demise for Amanda. Soon after, Whitney no longer needs to draw for the creature to kill, and the grisly fates of her fellow artists turn up on the drawing board after the fact. Can Whitney destroy the cellar dweller and keep the rest of her housemates alive without suffering the same fate as Colin Childress?

The second of Empire Pictures creature effects regular John Carl Buechler's feature-length directorial efforts before briefly moving onto the mainstream by helming Friday the 13th VII: The New Blood (he would also do make-up effects for Halloween 4: The Return of Michael Myers the same year), Cellar Dweller seems a rather slight effort next to Troll; although perhaps for that reason it may have suffered less producer interference. The film could have done more with the idea of its protagonist being obsessed with Childress, believing him to have been murdered, and being a suspect in the disappearances of her housemates (as Norman believes for a brief moment); but the film moves along at a nice enough clip with a neat creature and – for those of us who first encountered the film on late night television – some nudity and splashy gore. Lucio Fulci favorite Sergio Salvati (Zombie) handles the photography, atmospherically lighting the suspense sequences while over-lighting other scenes (the same was true of his work on David Schmoeller's Crawlspace) while art director Angelo Santucci (Maya) redresses and augments Giovanni Natalucci's sets (including the house exterior) for Arthur Allan Seidelman's more intriguing Empire effort The Caller. Buechler's company here included actor William Butler (Buried Alive) and later KNB tech Mike S. Deak (who also wore the Cellar Dweller suit), and later close-up inserts of the monster chewing on limbs shot in Los Angeles by Feast's Tom Callaway.


Arena: On an intergalactic space station in the outskirts of the galaxy, Steve Armstrong (Creepshow 2's Paul Satterfield) wiles away his days as a short order cook, having long since given up his dream of fighting in the Arena. The games have been corrupted by gambling and human fighters do not stand a chance against various alien and robotic warriors whose strength and abilities are handicapped by computer to keep them evenly classed. When two lackeys of alien fighter Vang (Wayne Brewer) give four-armed co-worker Shorty (Heaven Can Wait's Hamilton Camp) a hard time, Steve teaches the fighter a lesson by throwing him through a window. With her robotic fighter Spinner incurring damage in the latest match with brutal champion Horn (effects artist Michael Deak) in the latest match, Quinn (Maniac Cop 2's Claudia Christian) is impressed with the way Steve similarly deals with her two assistants (Catacombs's Brett Porter and Leviathan's Charles Tabansi) when they come to rough him up for putting Vang out of commission.

Believing that humans no longer have any place in the Arena, Steve refuses her offer to train him for fighting and goes to an illegal casino with Shorty to win enough money for a ticket home. During a police raid, Shorty sees an opportunity and pockets money from the safe. His actions are witnessed by Weezil (The Hitcher's Armin Shimerman), the alien lackey of fight fixer Rogor (The Last Starfighter's Marc Alaimo); however, when he demands the money returned, Shorty reveals he has already spent it on a nonrefundable ticket and sent the rest to his home planet. Given twelve hours to come up with the money, Steve takes Quinn up on her offer. When Rogor sees Steve fighting in the Arena, he wants a piece of the action. When Steve refuses his lucrative offer, Rogor – realizing that he will lose control over the Arena's gambling racket if Steve wins the title from Horn – first sends femme fatale singer Jade (Death Spa's Shari Shattuck) to seduce and drug him, and then tasks Weezil and big-brained alien Skull (actor/effects artist William Butler) to hack the computer and manipulate the handicapping of the fighters when Steve takes on Horn in front of a packed audience.

Although its story – penned by writing team Danny Bilson (The Rocketeer) and Paul De Meo (The Flash) who had previously scripted Trancers and Zone Troopers (directed by Bilson) – is rather routine, Arena is visually one of the more ambitious Empire pictures of the studio's latter days but it is unfortunately let down by the budget in spite of the efforts of Empire regulars like production designer Giovanni Natalucci, composer Richard Band, cinematographer Mac Ahlberg, and the effects department of John Carl Buechler. The tone is all over the place, the fight choreography is hindered by both the camerawork and editing along with Satterfield having to exchange punches with performers in stiff creature suits – the exception being a wonderfully-designed "Sloth" courtesy of Screaming Mad George (Night Angel).

There is no chemistry between Steve and his two love interests or trouble-attracting buddy Shorty – whose four arms are less convincing than the puppetry of the creatures – while potentially-interesting villain Rogor is given little to do but glare (although Alaimo does get to subtly convey a degree of insecurity as he needles Jade about her attraction to Steve). As far as Empire's science fiction output, Arena falls somewhere between top tier entries like Robot Jox, Zone Troopers or Trancers, yet above the thrown-together Transformations and the "Too Gory for the Sliver Screen" Wizard Video line titles like Mutant Hunt, Breeders, or Robot Holocaust. The film was produced by Irwin Yablans (Halloween) who had previously collaborated with Band in the pre-Empire days on Tourist Trap and Parasite, and would also produce Renny Harlin's Prison for Empire. Director Peter Manoogian had previously helmed the Bilson/De Meo-penned Eliminators (more about that hellish experience below) for Empire and would later direct the low-key "body snatcher" film Seedpeople and the better-received Demonic Toys for Band's Full Moon Entertainment.


Robot Jox: Fifty years after the nuclear holocaust, the world is divided between The Confederation (the Soviet Union) and The Market (the United States), and disputes between territories are settled by one-on-one combat in the arena in gigantic robots controlled by trained fighters known as the "Robot Jox". Confederation champion Alexander (Heaven's Gate's Paul Koslo) has not been content to merely beat his Market opponents, he annihilates them. His third kill is an upset to Jox trainer Captain "Tex" Conway (The Entity's Michael Aldredge) whose champion fighter Achilles (The Last Warrior's Gary Graham) has been "saved" by Market Commissioner Jameson (Netherworld's Robert Sampson) for the fight over resource-rich Alaska.

Achilles has taken the loss of a teammate more personally, and sees that games becoming more inhumane as Professor Laplace (Hilary Mason) is training the next generation of "Gen Jox" (or "tubies"), humans especially bred for fighting and winning. Jameson and weapons expert Dr. Matsumoto (The Karate Kid Part II's Danny Kamekona) suspect a mole within The Market giving away their secret weapons to The Confederation. Alexander quickly gets the upper hand on Achille using the same secret weapons, but Achilles manages to hold his own. When Alexander's robot projectile hand flies off course and threatens the audience in the bleachers, Achilles tries to block the impact and ends up crushing three hundred spectators. Although the commission has declared the fight a draw because of Alexander's illegal weapons use, a guilt-ridden Achilles refuses to fight in the rematch. As the Gen Jox fighters train to replace him in the fight, Achilles starts to fall for the only female fighter Athena (I'm Gonna Git You Sucka's Anne-Marie Johnson). When Achilles' likely successor Sargon (Nowhere' Thyme Lewis) is killed during training and Athena is announced to fight against Alexander, Achilles decides to return to the arena (dangerously underestimating Athena's genetic drive to win).

Begun in 1986 but not finished until 1989, the $6 million dollar Robot Jox was Empire's (and Stuart Gordon's) most ambitious project and attempts in every way to compete with the mainstream other than a name actor (although the film was not released until 1990 when Empire was no more, Graham did not start Alien Nation until after the production was finished). The photography of Mac Ahlberg and production design of Giovanni Natalucci are reasonably slick if still economical, and the Paris Philharmonic-performed orchestral score of Frιdιric Talgorn (Edge of Sanity) sweepingly epic in the more cost-effective but no less capable Ultra Stereo. The stop-motion animation of David Allen and visual effects of Peter Kuran's Visual Concepts Engineering are impressive, although the same techniques that were affectionately nostalgic in films like Ghoulies and Troll probably did not impress audiences accustomed to your average Industrial Lights and Magic sideshow disguised as a feature film. Graham and Johnson are good leads, although the love story is as mundane as the intrigue angle.

The climactic battle is drawn out by a nonsensical trip into space, and the ending probably played better on paper. Dolls' Ian Patrick Williams and the Carolyn Purdy-Gordon appear briefly as Achille's brother and sister-in-law, White Squall's Jason Marsden and two of Gordon's own children play three of Achille's five nephews and nieces, while Gordon himself plays the bartender at Achilles' local hangout, and Jeffrey Combs cameos in the crowd during Achilles' fight with Alexander. In different territories, both Full Moon's Robot Wars and Crash and Burn were released as "Robot Jox 2" but the former is the more obvious sequel, sharing some of the same settings and themes (while re-casting Kamekona as an entirely different character) while, if anything, Crash and Burn might be the post-post-apocalyptic outcome of the events in these two films.

Video


Released theatrically by Band's Empire Pictures and on tape by Lightning Video in a PG-13 edit, The Dungeonmaster appeared in other territories – including the U.K. from Entertainment Film Distributors – as "Ragewar" with a prologue and a different order for the vignettes (when the film was released in the U.K. by Vestron Video International, it was U.S. version). A slightly more explicit cut under that title that included some full-frontal nudity from VICIOUS LIPS' Gina Calabrese first appeared stateside on cable courtesy of MGM before Shout! Factory's Scream Factory All Night Horror Marathon, Vol. 2 – a two-disc, four film set that also included the retrained Empire chiller Catacombs, the Italian-produced, American-lensed radioactive killer plant film Contamination .7 (released direct-to-video stateside as "The Crawlers" and in the U.K. as "Creepers"), and Cellar Dweller – utilizing the same HD master from MGM that they would then upgrade to Blu-ray in a double feature with the troubled Spanish-lensed Empire sci-fi pic Eliminators.


Arrow's 1080p24 MPEG-4 AVC 1.85:1 widescreen Blu-ray comes from a new 2K restoration of the original camera negative which appears to have been the full pre-release version (77:59) allowing for the recreation of the international version (77:23) which did away with the frontal nude shots, and the PG-13 version (73:35), looking slightly sharper – after the opening sequence which looked gauzy overall on the earlier master but here we can distinguish shots that are actually soft focus and others that are not – with slightly more generous framing and superior delineation of the saturated gel lighting and skintones, while better shadow detail enhanced the sense of depth in some of the fully live-action compositions (almost all of the visual effects, on the other hand, seemed to have been composited on an optical printer in need of cleaning).

Released theatrically by Empire and on VHS by Vestron Video and laserdisc by Image Entertainment in 1988 – and directly to VHS in the U.K. from Vestron Video International – Dolls was one of the Empire Pictures titles fortunate enough to get not only an anamorphic widescreen DVD from MGM in 2005, but a full works special edition. The film hit Blu-ray first in Japan and Germany, and then in the U.K. from 101 Films (with only one of the two DVD commentaries as the sole extra) a few months before its stateside release from Shout! Factory in a loaded special edition.


More recent Australian, Austrian, and German replicated the MGM package without the Scream Factory exclusives and utilized the same master but Arrow's 1080p24 MPEG-4 AVC 1.85:1 widescreen Blu-ray from a new 2K restoration of the original 35mm interpositive. As with earlier digital transfers, the opening shots unfold in daylight whereas they unfolded with murky day-for-night tinting on the Vestron VHS; however, the new scan improves on the look of the early location exterior scenes but more so in the controlled lighting of the sound stage interiors. Skintones are a bit pinker but Bailey and Stewart now look punkish in their make-up rather than ghastly pale (while Mason looks more human than porcelain), and the enhanced sense of depth draws the viewer to the background and the presence (or sudden absence of dolls) before the characters. The strings are still visible in more of the puppet shots than on the DVD including some of the ones against black backgrounds that were less visible on the earlier format (but that was also the case with the earlier Blu-ray).

Released direct-to-video and laserdisc stateside by New World Home Video and in the U.K. by Entertainment in Video, Cellar Dweller was late in coming to DVD, arriving stateside as part of Shout! Factory's aforementioned Scream Factory All Night Horror Marathon, Vol. 2 – a two-disc, four-film set that also included Catacombs, The Dungeonmaster, and Contamination .7 – utilizing the decades old fullscreen tape master (also the source of 101 Films' U.K. DVD). Shout! Factory upgraded the film to Blu-ray in a double feature with Catacombs utilizing the only element MGM had in its possession: a 35mm print scanned in HD that revealed more picture information on the left side of the screen compared to the video master while the right was more or less the same (suggesting that the fullscreen transfer was not fully unmatted but slightly zoomed in). Shout! Factory did some basic clean-up and color work but damage at the start and reel changes remained and shadow detail was only fair.


While some of the other films in this set benefited from new 2K scans, Arrow Video had to make do with the same MGM-supplied HD master and they too have done additional touching up for their 1080p24 MPEG-4 AVC 1.85:1 widescreen Blu-ray (the previous release was opened up to 1.78:1). Blacks are deep but shadow detail remains compromised; however, the scratches evident in the earlier master have been deftly removed, the overall image looks a hair sharper – allowing better assessment of the film's sound stage interiors and exteriors – and what once were all whites in the character wardrobe actually now reveal a range of whites, creams, and off-whites that lend a slightly "cozier" feeling to the picture and its characters. Close-ups looked a tad waxy in the Shout! Incarnation but here you can make out the stubble on Combs' cheeks, chin, and neck. Given the film's reputation as a lesser Empire effort, it is likely that this may be the best we will see of the film even if the negative does turn up one day.

Released theatrically by Trans World Entertainment amidst growing financial issues, Arena got a U.K. VHS release from Entertainment in Video in 1989 but it did not receive a U.S. tape and laserdisc release until 1991 from RCA/Columbia Pictures Home Video as part of a video deal with Epic Home Video (a merger of Trans World's Epic Productions and Mark Damon's Vision International whose titles like Wild Orchid and Dark Angel were also distributed on video by RCA/Columbia). Like Cellar Dweller, the lack of film materials kept Arena off DVD and Blu-ray; indeed, it was a PAL tape master that appeared on Shout! Factory's two-disc, four film SciFi Movie Marathon (with America 3000, The Time Guardian, and Eliminators) and then as the sole DVD in Full Moon's six-hundred copy-limited "Empire Pictures Collection" of eighteen Empire Pictures titles (a repackaging of fourteen Scream Factory single and double feature Blu-rays).


Restored in 2K from the only known surviving 35mm print elements, Arena reveals a degree of carelessness presumably stemming from the dire financial situation of Empire at the time (Trans World Entertainment's Eduard Sarlui would take over the company and it assets on behalf of creditor Credit Lyonnais as soon as production wrapped). The offset of all of the onscreen titles and text strays outside the title-safe area, cropping a few of the longer credits like "executive in charge of production" and some graphics that appear during the film. These bit were not impeded on the cropped video master, suggesting that the both internegative may have been misaligned somehow when the print was made. Since this was a bigger budget production than Cellar Dweller, the damage and the reduced shadow detail is less disruptive to one's assessment of the textures of the film's production design, creature effects – the Buechler suits look more rubbery than usual at the joints while the Screaming Mad George creation holds up rather well – optical effects hold up well including Shattuck's hologram performances and the shots of the Arena's M.C. in which the compositing of the actor against the video background is supposed to be obvious. The disc also includes the cropped fullscreen video master (97:15) for posterity since it features different framing and color grading from the print used for the HD presentation, although the newer scan is recommend for first time viewing.

Released theatrically in 1990 by Triumph Releasing, an early eighties RCA/Columbia art film distribution company (Das Boot, Querelle) revived in the late eighties to theatrically distribute Epic titles and then on VHS and laserdisc in 1991 by RCA/Columbia, Robot Jox would wind up with MGM on a barebones, anamorphic widescreen DVD in 2005 followed by a Scream Factory Blu-ray in 2015.


The earlier HD master was perhaps a bit too saturated with some actors besides Mason looking a bit rosy-cheeked in close-ups while white spots popped up intermittently. Arrow Video's 1080p24 MPEG-4 AVC 1.85:1 widescreen Blu-ray comes from a new 2K restoration from the original 35mm camera negative reveals slivers more information on all four sides while the saturated colors again pop but without diluting skin tones while the greater detail of the underlying scan makes the Gen Jox look more human and less "plastic". The optical composites will always look a bit coarser but the regular studio work but some of the stop motion is felt more than just viewed including a shot of one of the robot's clenched fists coming towards the frame.

Audio


The Dungeonmaster's LPCM 1.0 mono track does not sound that different from the Scream Factory DTS-HD Master Audio 2.0 track, but both sport clear dialogue and pointed laser effects while the National Philharmonic Orchestra-performed score sound appropriately full and vibrant. Optional English SDH subtitles are included.


As with the Scream Factory edition, Arrow's disc of Dolls includes both the original Ultra Stereo track in 2.0 and a 5.1 rechanneling – LPCM 2.0 on the former here while both tracks wer DTS-HD Master Audio on the earlier disc – of the already highly active mix, with the 5.1 track giving a bit more spread to the score and background noises (thunder, rain, and doll chatter and giggling) of a mix that is mostly front-oriented. Optional English SDH subtitles are included.


Cellar Dweller's LPCM 2.0 rendering of the Ultra Stereo track nicely conveys the piercing screams, low growls, whispers, and the scoring of Carl Dante –which seems richer in orchestration that any of his subsequent synth work for Empire and Full Moon, which included the likes of Cannibal Women in the Avocado Jungle of Death to several Surrender Cinema erotica films). Optional English SDH subtitles are also available.


Arena's LPCM 2.0 rendering of the Ultra Stereo track is slathered with a more synth heavy Richard Band score while crowd noises during the fights get the most spread, but dialogue is clear and the fight scenes provide some directionality in the foley punches and body blows apart from a couple laser gun shots. Optional English SDH subtitles are provided.


Robot Jox's LPCM 2.0 stereo encoding of the Ultra Stereo soundtrack is immersive, with the various explosions and laser blasts having as much presence as Talgorn's score, and the training and fight scenes offer ample opportunity for creative sound design that one wishes that the film had been remixed in 5.1 as perhaps the most "mainstream"-looking Empire production. Optional English SDH subtitles are also included.

Extras


On The Dungeonmaster, the pre-release version is accompanied by an audio commentary by actor Jeffrey Byron, moderated by film critics Matty Budrewicz and Dave Wain in which he reveals that he started out as a child actor with the encouragement of his actress mother Anna Lee and novelist stepfather Robert Nathan and appeared in godfather John Ford's Donovan's Reef and the last filmed episode of The Twilight Zone before leaving the business to be a kid, getting the acting bug again after college and getting a small role in Peter Bogdanovich's At Long Last Love and Nickelodeon after writing to the filmmaker leading to more work including Metalstorm: The Destruction of Jared-Syn where Charles Band offered him The Dungeonmaster halfway through production, Band's idea to hire different directors to shoot different adventures after he started shooting the wraparounds, and his own input into the casting – including hiring his brother to direct the segment he wrote along and casting several actors from his acting class – as well as working with Wing, Moll, Buechler, and Allen (although he is no more able to provide anything more on Rosemarie Turko than the moderators have been able to come up with).


Byron also appears in the interview "I Reject Your Reality and Substitute My Own" (15:07) covering a lot of the same ground but also noting his aforementioned iconic line and his own interest in metaphysics. The disc also includes the U.S. theatrical trailer (1:57) and an upscaled alternate trailer (3:02).

Dolls features a couple new extras and ports over from the MGM ones starting with an audio commentary by director Stuart Gordon and writer Ed Naha in which Naha recalls how Band brought him the killer doll idea after he had written Troll for him while Gordon describes the three picture deal he had signed with Band following Re-Animator and springing the back-to-back shooting of Dolls and From Beyond on him. Gordon sees it as a sweeter film than his debut film while Naha describes it as a twisted fairytale (Gordon cites Bruno Bettelheim's "The Uses of Enchantment" and its interpretation of the function of fairy tales, which are supposed to be scary). They also recall their concern about traumatizing child actress Lorraine and keeping her off the set while shooting some of the scarier bits (as well as how the film made Gordon's own kids afraid of their toys).

Also ported over is the audio commentary by actors Carolyn Purdy-Gordon, Stephen Lee, Carrie Lorraine, and Ian Patrick Williams which is warmer and more humorous with Purdy-Gordon giving anecdotes about the goings-on both sides of the camera (including Gordon's own fear of dolls after getting trapped in a doll display after hours at the University of Wisconsin). Williams discusses reworking his character after a last minute switch from him being the rich sugar daddy to Rosemary being the wealthy one, as well as his awe about the immense Italian shooting stages (all comment at various points on Natalucci's sets and Ahlberg's photography). Lorraine recalls being terrified by transformed "Teddy" even though she understood it was an actor in a suit, points out the scenes that freaked her out as a child, how the filmmakers had her watch them do the make-up for the gorier scenes so she would not be afraid, and her memories of Mason and Rolfe.


New to the disc is an audio commentary by David Decoteau, Empire alumnus and friend of director Stuart Gordon in which he recalls his early life as a gay kid in Oregon working as a projectionist, moving to Los Angeles as soon as he turned eighteen, living a few blocks from Empire and wanting to work with them after seeing Re-Animator in the West Hollywood-equivalent of a grindhouse. He recalls some of his directorial efforts for Empire but focuses more on the line producing side, being sent to Rome where he was supposed to direct a project that fell through, discussing the input into the company of Band's father Albert Band (Ghoulies II), trying to make deals with suppliers when Band did not come up with money, and earning the dislike of Ahlberg as the face of the producer cost-cutting when he could not source the camera crane (when Ahlberg needed work much later in life, the cinematographer still turned down DeCoteau when he called him up with a job). DeCoteau also focuses less on working with Gordan than on becoming friends with him and his family off-camera – noting that besides filling supporting roles in some of his film, Purdy-Gordon also cooked for some of the productions – and both men seeking advice from one another on low budget filmmaking, as well as the Full Moon days in which DeCoteau produced David Allen's Puppet Master II and cast Guy Rolfe in Puppet Master III: Toulon's Revenge (a film Gordon stated was DeCoteau's best work for Band), going off on his own before being "rescued" by Band who brought him in behind the scenes on latter day Full Moon productions in between his own projects.

Also new is "Assembling Dolls" (17:01), an interview with editor Lee Percy (Boys Don't Cry) who learned editing by doing when Roar editors Ted Nicolaou and J. Larry Carroll (The Texas Chain Saw Massacre) found themselves with more than a million feet of raw footage and later being contacted by Brian Yuzna (Return of the Living Dead III) to edit Re-Animator (Percy had previously known of Gordon from his theater company back in Chicago). He offers up his assessment of Dolls as a horror film, noting that a lot of the attack footage had been shot with the obvious expectation that the editor would work out how to make it look convincing, and that out of the three Gordon Empire horror films, this was the one which they had to beef up the gore.

Ported from the Shout! Factory disc is "Toys of Terror: The Making of Dolls" (38:31) featuring new comments from Purdy-Gordon, Williams, Naha, Gordon, Yuzna, executive producer Band, and effects artist John Vulich (Castle Freak), Gabe Bartalos (Leprechaun), and Gino Crognale (TV's The Walking Dead). Band describes how the poster art preceded the concept of the film while Naha describes how much creative freedom Band gave him to craft a "killer doll" story. Purdy-Gordon and Williams – both stage actors from Gordon's theater company – affectionately discuss their cast mates while Gordon and Yuzna recall casting Lorraine. Purdy-Gordon also describes the Brunner puppeteer couple as being very much like the old couple in the film, while the effects artists recall how the effects pieces were meant to be made in Los Angeles and shipped over to Italy but Yuzna's last minute idea that the dolls should have a form beneath their porcelain facades required them to make additional creations using materials at hand in Rome. Band, Gordon, and Yuzna describe the long post-production period where they added more gore but then pulled back when it made the film too grim, as well as the additional mechanical dolls the Italian technicians created before he commissioned Allen for stop-motion shots to show more doll movement. Yuzna speculates that the film divides Gordon fans because of its lower splatter factor and the emphasis on dark fairytale.

Also included is the film-to-storyboard comparison (8:30) of the bear attack, the attack on Rosemary, and the Mr. Punch transformation from the DVD, as well as the film's U.S. theatrical trailer (2:34), an alternate trailer (1:24), and an upscaled U.K. home video trailer (1:35), as well as an image gallery (52 pages).

Cellar Dweller had no extras on the earlier Scream Factory edition so all the extras here are new starting with an audio commentary by special make-up effects artist Michael Deak, moderated by film critics Matty Budrewicz and Dave Wain in which the artist expresse surprise at the cult following of this lower budget project which was seen at the time as video-bound. Deak recalls working as a banker and being invited to pretend he was an effects artist on the set of Day of the Dead just to eat, moving to Los Angeles where some of the same contacts got him work in Buechler's studio first answering phones and sweepting up, then building effects pieces to send to Rome, and being sent to the troubled Eliminators shoot in Spain where he primarily recalls the epidemic of explosive diarrhea that struck the cast and crew more so than the effects. He also recalls how the effects crew on Dolls had made a nuisance of themselves and how he and William Butler earned back the Italian production crew's good will. Of the film, he recalls that Buechler had built the suit using his body mould without telling him that he was going to play the creature, how they could not design any custom gore pieces because they did not know who would be cast in the film, rigging up effects of his victims while wearing the suit, the toll long hours in the suit took on him, and geeking out over the casting of De Carlo – who drank outside of work but was always professional on the set. Of Buechler, he makes a surprisingly complementary comparison between under him as a director and working under Michael Bay.

"Grabbed by the Ghoulies" (16:03) is an appreciation of special make-up effects artist John Carl Buechler by Budrewicz and Wain who discuss Buechler's early interest in effects, his earliest credits, how he became almost synonymous with Empire but had less input and influence during the Full Moon period – during which Deak and Wayne Toth (House of 1000 Corpses) had their own studio as one of a number of smaller houses working on the studio's output in different countries – and Buechler's seeming preference in his later years to work independently on several smaller projects than under contract.


"Inside the Cellar" (16:30) is another interview with Deak in which he covers some of the same information as the commentary but also notes with clip illustration some of his effects gags in the film and makes the amusing but true observation that a lot of Buechler's creature creations actually resembled him facially while still being suited to the needs of the project.

The disc also includes the film's VHS trailer (1:15) as well as a film-sourced Empire Pictures trailer reel (11:23) of Ghoulies, Ghoulies II, Breeders, Eliminators, Crawlspace, From Beyond, and Prison, as well as Empire Pictures trailer reel - VHS Mode! (17:01) featuring tape-sourced video trailers for Catacombs, Eliminators, Enemy Territory, From Beyond, Ghost Town, Ghoulies, Ghoulies II, TerrorVision, Troll, and Crawlspace, as well as behind the scenes (1:40) and artwork and stills (45 pages) image galleries, the original sales sheet (2 pages), and original production notes (16 pages).

Arena is accompanied by an audio commentary by director Peter Manoogian, moderated by film critics Matty Budrewicz and Dave Wain in which he notes that it was his biggest budget film for Band at both Empire and Full Moon while also revealing that the initial budget of $6 million went down to $3-4 million and the finally to $1.5 million with production designer Giovanni Natalucci growing increasingly frustrated but somewhat encouraged by Manoogian's conception of the space station as the grotty, rundown Las Vegas of the galaxy. He recalls his early days following graduation from NYU film school – where his father Hank Manoogian taught – working on commercials in Florida and forming his own ad agency before moving to Los Angeles and starting over again, working on Charles Griffith's Dr. Heckyl & Mr. Hype for Cannon as co-production manager to Griffith's wife Jill and replacing the inexperienced assistant director – with the usual drunk Oliver Reed anecdotes – meeting Band and shooting in Rome at the De Laurentiis studios, attributing the design of the creatures entirely to the effects artists, and the state of Empire Pictures at the time.

"Not His Arena" (14:44) is an interview with co-screenwriter Bilson who started out working as a camera assistant for Mac Ahlberg on Ghoulies where he pitched some ideas to associate producer Debra Dion leading to work coming up with scripts to go with posters Band designed for foreign pre-sales as well as coming up with titles that he sold to Band. Although he got to go to Rome and direct Zone Troopers more offers did not follow and he and De Meo felt disrespected, noting that their ideas were more mainstream than exploitation and that Band did not know how to treat their concept for Arena which was essentially "Body and Soul in space" and that the tone of the film was not what they intended in the script. He places the blame firmly on Band, and has no desire to see the film again or any interest in Band's subsequent output.


"Empire of Creatures" (16:21) is an interview with special make-up effects artist Michael Deak who recalls the condition of the studio in Rome, the difficulty of choreographing and fighting with Satterfield while wearing the Horn costume, doubling along with several of the effects crew as alien extras during the bar scene, and Sarlui stepping in as soon as the production wrapped and then later sending him back to Rome to salvage the effects pieces left over at the studio which found their way into both Joe D'Amato's Quest for the Mighty Sword and Troll 2.

The disc also includes the film's theatrical trailer in both 16:9 (1:40) and 4:3 (1:41) along with a behind the scenes image gallery (1:06) and one of posters and stills.

Robot Jox ports over both Shout! Factory commentary tracks. On the audio commentary by director Stuart Gordon, moderated by Michael Felsher, he discusses the film's long development period and that the opening credits background was the miniature footage developed to sell the film to investors (and shot on a table top unlike the effects shots in the Mojave Desert for the body of the film), the influence of Transformers and the Japanese anime shows (as well as the influence of "The Illiad" and The Right Stuff). The script was by Joe Haldeman whose book "The Forever War" who had reframed his Vietnam experiences in a science fiction context. The original title was "Robojox" when it was started in 1986 – the third of a three picture deal with Empire that included Dolls and From Beyond – but they had to change the title since Robocop came out the following year (and Robot Jox of course was not finished until 1989). He discusses casting Graham and Johnson, and how they got into a political argument during their introductory dinner (him being a conservative Republican and her a liberal), as well as how that contributed to their onscreen chemistry (first at odds and then developing a mutual respect), and also reveals that the film's uncredited conceptual designer was Ron Cobb (Conan the Barbarian). Felsher prompts Gordon to expand upon the contributions of the Empire technicians, especially the ways in which production designer Natalucci and others realized the world of the film within the budget.

On the audio commentary by associate effects director Paul Gentry, mechanical effects artist Mark Rappaport, and stop-motion animator Paul Jessell, the participants not only point out their individual contributions, but also those of many credited and uncredited crew members. They also warmly discuss their working relationships with Allen, go into more detail about the difficulties of the Mojave Desert shoot, and keep the discussion mostly on the effects themselves and less on the onscreen action apart from the actual effects shots. They describe how the robot models were heavier than the usual stop motion models (yet just as delicate) and could not hold their own weight when trying to make them walk (requiring counterweights to take the pressure off the rest of model whenever one of the feet was lifted). They also have a laugh over how the referee floater vehicle was held up by nine wires to keep it perfectly steady as it moved, and how all nine of the wires simultaneously snapped and shattered the ship into "a million pieces" (and is apparently still in that condition). Old school effects fans/hopefuls will also be interested in hearing about the various store-bought materials repurposed for the effects.


Also ported from the Shout! Factory edition is "Looking Back" (10:24), an interview with actor Koslo who recalls the genius of Gordon, connecting with his co-stars (he saw the film for the first time last year at a screening with Gordon and Johnson), working with Graham to make their climactic hand-to-hand combat more intense, the film's effects (chucking over the phallic chainsaw), as well as Ahlberg's abilities to match miniatures and full-scale sets, as well as working in Italy (and fearing for his life with Italian drivers).

Not ported over strangely are a series of archival interviews from a longer documentary featuring the input of Gordon, pyrotechnic supervisor Joe Viskocil (The Abyss), Gentry, Jessel, as well as animation & visual effects Chris Endicott (I am Legend) and Mark McGee; however, Arrow has included a quartet of new extras

New to the Arrow edition is "Crash and Burn" (17:09), an interview with actor Graham who recalls working with Johnson and Koslo – including injuries both incurred during their fight scenes in which they were slipping and sliding on sawdust meant to represent the desert, and regretting not raising an objection when Band and the screenwriter decided to change the ending to make an anti-war statement.

In "Her Name is Athena" (13:25), actress Johnson recalls taking the role when it was still in doubt whether What's Happening Now! was going to be renewed for another season, doing martial arts training, thanking her three years of college Italian when she realized that the hair stylist was styling her hair with car oil while holding a lit cigarette, how the film's ethnic diversity in the casting of the Gen Jox was intentional – indeed, white Achilles is seen as a throwback – getting to know Graham, and the resurgence of fan interest in the film after the release of Pacific Rim.

"The Scale of Battle: David Allen and the FX of Robot Jox" (26:35) is an appreciation by visual effects artists Gentry, Steve Burg (Interstellar), Yancy Calzeda (Starship Troopers), Kevin Kuchaver (Return of the Jedi), Dennis Muren (Innerspace), and John Vincent (Doctor Mordrid) who note that while Ray Harryhausen, there are no others in the field who will likely achieve such iconic status in spite of the major influence Allen had on all of them and his contributions not only to Empire and Full Moon but also on bigger budget mainstream productions (partially due to his preference to run his own independent company rather than function as a department within a larger effects house).

The disc closes out with "Salvaged from the Wreckage" (8:19), a behind the scenes from Gentry's photos archive, the film's theatrical trailer (1:24), behind the scenes (9:14) and posters and stills (114 pages) image galleries, the original sales sheet (2 pages), and the original production notes (11 pages).

Packaging


The standard edition retains the reversible sleeves and double-sided posters for each film featuring original and newly-commissioned artwork by Ilan Sheady and slipcase packaging featuring original artwork by Laurie Greasley but drops the postcards and eighty-page booklet from the limited edition.

Overall


While the first half of the boxed set title Enter the Video Store: Empire of Screams suggests future volumes dealing with other video rental boom-era studios, one hopes that this will not be the only Empire volume.