The Film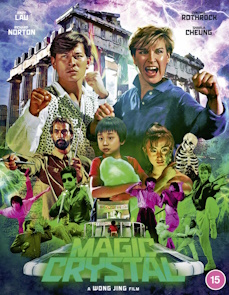 Hong Kong Special Forces operative Andy Lo Li (Tragic Hero's Andy Lau) decides to take a well-earned vacation to Greece when he receives a troubling letter from his archaeologist friend Shen Kun (Cannibal Curse's Phillip Ko). He decides to bring along his nephew Bin Bin (Run Tiger, Run's Bin Bin) and his sidekick Snooker (director Wong Jing). Andy runs into Shen just in time to rescue him from a pair of thugs posing as Interpol agents (Fight Back to School 2's Tony Leung Siu-Hung and Yes Madam's Eddie Maher) who want something that Shen has excavated, but his instructions to Shen to hide out at his hotel are at cross purposes with actual Interpol agents Billy (Once Upon a Time in China II's Max Mok) and Cindy (China O'Brien's Cynthia Rothrock).

Believing that Shen has managed to get back to Hong Kong, Andy, Snooker, and Bin Bin return home; whereupon, Bin Bin discovers secreted in his luggage a large emerald-colored crystal that is able to speak to him telepathically. While the crystal (nicknamed "Jade") helps Bin Bin settle scores with his schoolyard bully and mess with equally-childish Snooker, Andy learns from Shen's sister Winnie (God of Gamblers' Sharla Cheung Man) that her brother has not returned home. When the pair are attacked by Russian agent Karov (City Hunter's Richard Norton) who wants want Shen discovered, Andy realizes whatever it is must be in his possession. Karov sets Andy up for the murders of Shen and Andy's colleague Sergeant Shih (Enter the Dragon's Shih Kien). While Billy tries to learn from Andy what Shen had in his possession that is so important to Karov, Cindy and Bin Bin's mother (Human Lanterns' Wong Mei-Mei) attempt to defend Bin Bin when Karov's men lay siege to their home; however, Jade has selected Bin Bin to return him to Greece and fulfill his creator's intergalactic destiny.

A more consistently-entertaining and fun effort from director Wong Jing, Magic Crystal is the sort of "family film" that could only have come out of Hong Kong, mixing some great fight choreography and AIDS jokes with "cute" E.T. The Extra Terrestrial-styled scenes between child actor Bin-Bin and Jade and a few horrific bits that suggest Wong Jing might also have seen Poltergeist. The plotting is paper-thin – the opening action teaser is set up by a dialogue scene so vaguely-scripted that one already knows the villains introduced in the scene that follows will have no bearing on the story proper – but the Greek setting of the first act provides some nice production value including fight scenes in front of national landmarks. The middle's more familiar Hong Kong setting of suburban homes, parking garages, gyms, and jails leaves us unprepared for the third act's return to Greece with some Indiana Jones-style death traps filmed on some impressive Hong Kong sound stage sets and the film's en vogue twist on aliens and mythology.

Lau, Mok, Rothrock, Mei-Mei, and Norton provide the requisite impressive martial arts while television presenter and Wong Jing's comic relief regular Nat Chan Pak-Cheung (Last Hero in China) is on hand (and feet) as Winnie's pervy would-be suitor who is branded "evil" by both Bin-Bin and Jade and is thus the victim of their supernatural shenanigans. Wong Jing himself takes the sort of "fatty" role that would normally have gone to production partner Eric Tsang – indeed, Tsang played a comic relief character named Fatty in Wong Jing's Hard Boiled II: The Last Blood – and takes part in both the film's more athletic pratfalls and its literal "toilet humor," but the film's focus is rather unevenly spread between action and kiddie fantasy. The film's optical effects are on par with what one would see in one of the supernaturally-oriented Sammo Hung films of the time, but the puppet creature used for Jade when it has to physically interact with Bin-Bin looks like something from a Troma production of the period. While not quite on the level of some of the more batshit Hong Kong films of the period, Magic Crystal is an example of Wong Jing's attempts to throw multiple genres into a food processor and put the results on screen in a quest for box office bucks.

Video


Although Magic Crystal was prepared for export, it was apparently too odd and hard to place for the United States, but it got a theatrical release and two VHS releases in the U.K. but both territories had to look east or farther west for an English-friendly DVD edition with a choice of the English-subtitled Hong Kong disc or a German import that featured both English dub and subtitle tracks for the film which was a bonus feature on Magnificent Warriors. The film made its HD bow in 2021 in Hong Kong and in France, but that HD master was faulty, missing frames and either repeating frames or substituting shots to repair the damage. 88 Films' 1080p24 MPEG-4 AVC 1.85:1 widescreen Blu-ray comes from a brand new 2K restoration of the original 35mm camera negatives and it looks gorgeous, with rich emerald greens in the optical effects, the Greek daylight skies retaining detail in the highlights, and some nice textures in sweaty facial close-ups and both the authentic Greek locations and the sound stage sets (which is particularly a relief given what 88 Films had to work with for Wong Jing's Hard Boiled II: The Last Blood).

Audio


Audio options include the original Cantonese and English mono dubs in lossless DTS-HD Master Audio 2.0 and optional English subtitles for the Cantonese track. The Cantonese track is the way to, at least the first time around, since the English dub is as silly for the adult characters (particularly Norton's villain) as it is for the child characters.

Extras


An introduction by actor Richard Norton (0:14) plays before the main menu loads while the feature is accompanied by an audio commentary by Hong Kong film expert Frank Djeng who provides backgrounds on the television and film careers of Wong Jing and the cast – including Bin-Bin's short tenure as an in-demand child actor – and the Hong Kong film careers of Rothrock and Norton (who got a scar from one of his fights with Rothrock in the film), but the most interesting aspect of the discussion is the difficulty of selling science fiction to Hong Kong audiences – apart from Hollywood imports like the hugely popular E.T. The Extra Terrestrial – and the need to mix in other genres like action and comedy.

"Fight Like a Girl" (6:09) is an interview with actress Rothrock who recalls starting work on the film while simultaneously shooting Righting Wrongs, working with Wong Jing, and the difficulty of acting with visual effects (noting that during the climax she would have liked to have been told what she was supposed to be seeing rather than just "look up at the ceiling").


"Fast as Lightning" (18:39) is an interview with Norton who recalls his first Hong Kong role in Twinkle, Twinkle Lucky Stars and meeting Rothrock on Millionaires' Express, being injured by Rothrock's bow staff on the film after a sixteen-hour shoot, and insisting on dubbing himself after seeing the finished film.

The disc closes with the film's English export trailer (4:03).

Packaging


The disc comes housed with a reversible cover with new artwork by Sean Longmore and original HK poster art, while first pressing includes a double-walled matte-finish o-ring slipcover featuring new artwork by Sean Longmore and a double-sided foldout poster.

Overall


While not quite on the level of some of the more batshit Hong Kong films of the period, Magic Crystal is an example of Wong Jing's attempts to throw multiple genres into a food processor and put the results on screen in a quest for box office bucks.