The Film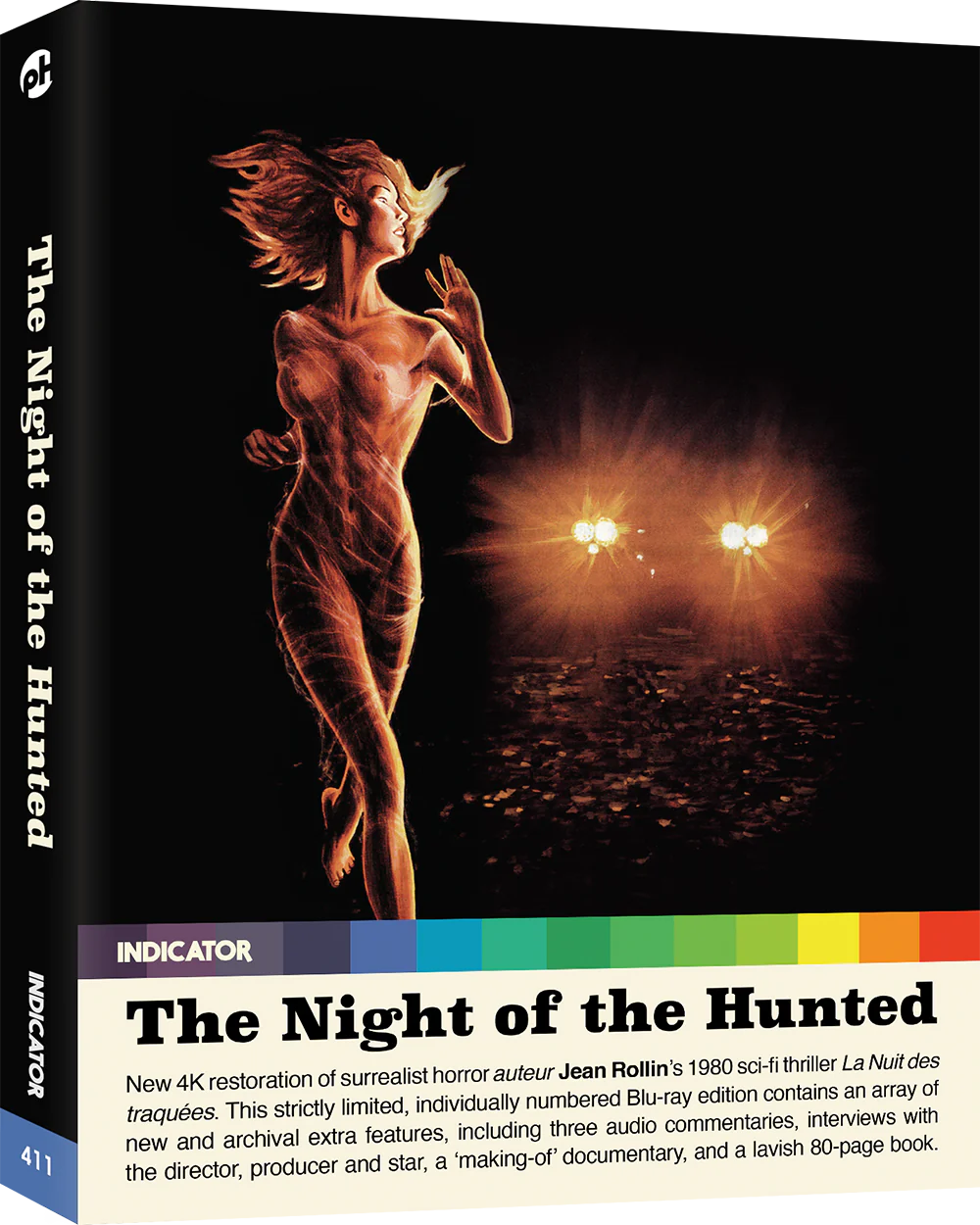 One of Jean Rollin's least-seen and most underrated works, The Night of the Hunted (La Nuit des traquées) finds the director moving away from his trademark tales of vampirism to explore a nightmarish, dystopian world.

In the dead of night, Elisabeth is rescued from unknown pursuers by Robert and taken to safety. But, after she is kidnapped and taken to an austere clinic whose distressed and abused patients are suffering from progressive memory loss, Robert sets out to find her and discover what is taking place in the clinic.

Shot at night on a shoestring budget, with a cast mostly drawn from France's adult-film industry, The Night of the Hunted stars Rollin regulars Brigitte Lahaie (Fascination) and Natalie Perrey (Lips of Blood), and offers a stark and melancholic take on contemporary society.

Video


Unusual left turn towards Cronenbergian science fiction for Rollin in which a government experiment goes awry and causes people to lose their memory. It has it's moments but typically drifts into exploitation a little too much with extended scenes of nudity and sex. I've never really warmed to this film as I much prefer Rollin in vampire-fantastique mode. Brigitte Lahaie gives a good performance but I find it all a but cheap and, although beautifully shot, visually less appealing with the emphasis more on urban environments and interiors as opposed to his more usual rural landscapes and ruined castles. I'm a fan of Rollin's use of landscapes and his poetic approach to the material with his swings into comic strip-serial like imagery and Dadaist, surrealist influences. That effect struck me as more muted here.

By no means a bad film, but very much more an example of an interesting if not entirely successful sci-fi nightmare with a more conventional setting.
The Night of the Hunted was scanned, restored and colour corrected in 4K HDR at Filmfinity, London, using original 35mm negative and inter-negative film materials. Phoenix image-processing tools were used to remove many thousands of instances of dirt, eliminate scratches and other imperfections, as well as repair damaged and missing frames. No grain management, edge enhancement or sharpening tools were employed to artificially alter the image in any way.
this is easily the best this film has ever looked with a fairly rich colour palette that had healthy, warm flesh tones with some vivid interiors; Robert's mellow orange apartment seen in the first few minutes makes a strong impression. Primaries (a vivid re hat here, a maroon sweater there ... red beds, streaks of yellow) are punchy. Black levels and contrast are perfectly judged with plenty of shadow detail and well rendered highlights.

Grain is fairly fine for the most part of the detail is exceptional, particularly in closeups of skin and fabrics; it's less impressive in backgrounds but that's almost certainly down to the low budget and speedy production ('A').

1080p24 / AVC M-PEG 4 / BD50 / 1.66:1 / 91:26

Audio


French LPCM 1.0 (48kHz/24-bit)
Subtitles: English (optional)

This is solid if unremarkable uncompressed soundtrack. Dialogue is generally extremely clear and well rendered but there's the odd sibilants issue and voices on phones are little piercing. Philippe Bréjean's scoring is fairly minimalistic but creates a strong atmospheric impression when it appears. Occasional hiss can be heard at higher volume but it's so very mild as to be no problem. Excellent English subs (optional) are provided ('B-').

Extras


(1.) Audio commentary by film historian Tim Lucas (2023)
(2.) Audio commentary by director Jean Rollin and an unnamed moderator on select scenes only (in English) (49:38) (2006)
(3.) Audio commentary by actress Brigitte Lahaie and Jean Rollin on select scenes only (in French with optional English subtitles) (49:54) (2006)

The Lucas track is one of two new extras and if you've heard any if his prior efforts you know what to expect: a continuous, detailed, heavily research yaktrak that covers every conceivable base one would wish. The emphasis is more on detail about those involved. He tackles head on how this is film is in many ways the opposite of what his admirers expected. Presented in lossy English Dolby Digital 2.0 mono (48kHz).

The Rollin tracks are from the 2006 Encore DVD set and he is on fine form (interacting with an unnamed moderator in one, Lahaie in the other) discussing how the film came to be, production anecdotes etc. They focus on select scenes, hence the much shorter running time for each. There are moments of silence, albeit brief. Presented in lossy English (the first) and French (the second) Dolby Digital 2.0 mono (48kHz).

"Jean Rollin Introduces The Night of the Hunted" 1998 introduction (1:41)

Vintage introduction with 1080p24 1.66:1 film clips with upscaled 1080p24 1.33:1 comments from Rollin. Sound is lossy English Dolby Digital 2.0 mono (48kHz). Rollin briefly mentions the low budget and that he enjoyed making it with Lahaie.

"The Gulf of Emptiness: Stephen Thrower on The Night of the Hunted" 2023 interview (20:47)

Typically thorough appraisal of Rollin's career and focusing mainly on Night of the Hunted by film historian Thrower, known from his books on Lucio Fulci and especially his two volume tome on Jess Franco. 1080p24 1.78:1 with lossy English Dolby Digital 2.0 stereo (48kHz).

"Lost: The Night of the Hunted" 2023 documentary using 2012 interviews (19:45)

New version of a 2012 documentary on the film featuring interviews with film historian and Rollin collaborator Jean-Pierre Bouyxou, film historian Daniel Bird, actress Brigitte Lahaie and actress and collaborator Natalie Perrey. Rollin also appears. 1080p24 1.66:1 / 1.78:1 with lossy English-French Dolby Digital 2.0 stereo (48kHz) and optional English subtitles for French sections.

"The Bridge" 2023 featurette about the viaduct location seen in The Night of the Hunted (4:14)

Companion piece to the above documentary featuring Bouyxou and Lahaie focuses on the viaduct location seen in the film. 1080p24 1.66:1 / 1.78:1 with lossy French Dolby Digital 2.0 stereo (48kHz) and optional English subtitles.

Cast and Crew Interviews:
- "Jean Rollin on The Night of the Hunted" 2007 interview (2:43)
- "A Delectable Presence: Brigitte Lahaie on The Grapes of Death, Fascination and The Night of the Hunted" 2023 presentation of a 2006 interview (15:29)
- "Forty Years Together: Producer Lionel Wallmann on His Career with Jean Rollin" 2023 presentation of a 2006 interview (16:21)
- "Alain Plumey at the Museum of Eroticism" 2006 interview (14:33)

A comprehensive collection of vintage DVD extra interviews presented in 1080p24 1.66:1 for film clips and upscaled 1.33:1 standard def video for the interviews with lossy English (Rollin, Wallman) and French (Lahaie, Plumy) Dolby Digital 2.0 stereo (48kHz) with optional English subtitles for French sections. I found the Rollin and Wallman pieces by far the most interesting.

Inserts and Alternative Scenes (Play All - 17:56):
- Soft Scene #1 (5:31)
- Soft Scene #2 (2:30)
- Fille traquées Hardcore Scene (9:54)

The two soft scenes are actually pretty hard for softcore sex and are more or less of the same quality as the main feature albeit a little softer (possible upscales?). The hardcore scenes are much grottier and more faded than the main film, perhaps ungraded. They're about as titillating as being sodomised by a flaccid African bull elephant!

Theatrical Trailer (3:22)

Vintage promo in 1080p24 1.66:1 with lossy French Dolby Digital 1.0 (48kHz) and optional English subtitles.

The Night of the Hunted Image Gallery: Original Promotional Material (54 images)

Excellent HD gallery.

80-page liner notes book with a new essay by Ruairí McCann, archival writing by Jean Rollin on the making of the film, an archival interview with actor Brigitte Lahaie and full film credits

Superb hardcopy companion is extensive and double the size of most of Powerhouse Film's booklets.

Packaging


Not sent for review.

Overall


One of Rollin's less appealing but more experimental effirts gets the deluxe treatment. Obviously this being Powerhouse Films and encoding by Fidelity in Motion means that it looks and sounds as good as it's possible to be, and I'm sure the UHD BD with HDR will build and improve on the excellent visual results seen on this first rate Blu-ray. Extras collect together practically everything from the old 2006 Encore 2-disc edition adding a new commentary. producer Michael Brooke and his colleagues are to be commended for knocking these eagerly awaited cult Rollin films out of the park; highly recommended ('A-').
| | | | | |
| --- | --- | --- | --- | --- |
| The Film: C- | Video: A | Audio: B- | Extras: A+ | Overall: A- |