The Film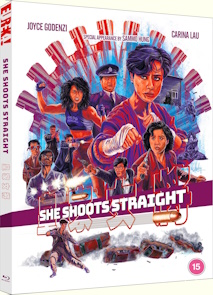 Inspector Bo Wong (The Lover's Tony Leung) is getting married. While his widowed mother (Fatal Vacation's Tang Pik-Wan) and godbrother Superintendent Hung (Millionaires' Express's Sammo Hung) could not be happier for her only son to continue the family line, his four sisters on the other hand are unhappy with his choice of bride in Inspector Mina Kao (Eastern Condors' Joyce Godenzi), particularly elder sister Ling (2046's Carina Lau) who is fiercely competitive and fears that Mina will abuse her position over her – especially since Superintendent Lau Police Story's David Lau Chi-Wing is unsubtle in his infatuation with Mina – while his other sisters (Vampire vs. Vampire's Sandra Ng Kwun-Yu, Police Story 2's Anglie Leung Wan-Yui, and The Iceman Cometh's Sarah Lee Lai-Yui) follow her catty example. When Mina attempts to be diplomatic in stepping back from leading an undercover operation at a big casino about to be hit by a Vietnamese refugee gang – lead by Hua (Way of the Dragon's Yuen Wah) and his sister Ying (JFK's Agnes Aurelio) who are facing forced deportation – Bo puts his foot down and with his sisters and assumes co-leadership with Mina of the operation.

Superintendent Lau demands that Mina write up Ling for suspension, and Mina reluctantly relents but begs him to wait until after Mother Wong's birthday celebration to tell her. Lau, however, decides to stir the pot resulting in a physical confrontation between the two women in which Bo definitively chooses his wife over his sister when Ling calls Eurasian Mina a "half-breed." A remorseful Ling is in the middle of writing an apology letter to her brother and his wife in Mina's office when she takes a telephone call meant for her sister-in-law by someone who has information on the gang and wants to meet up. Ling goes in her stead, with Mina and Bo close behind as they realize that she is walking into a trap meant for Mina. The three face off against Hua and Ying but they are unmatched due to the pair's Vietnamese military tactics employing firebombs and jungle death traps, and Bo ultimately pays the price.

Traumatized Mina and Ling vow not to tell anyone until after Mother Wong's birthday celebration, but a news report spoils the affair. The family is further devastated when Hua crashes the family and bombs Bo's coffin, injuring Mina who discovers that she is pregnant and painfully foregoes anesthesia during her operation in hopes that the child will survive. Sensing a career-making victory, Lau decides to take over the case, suspending the Wong sisters and denying them, their mother, Hung, and Mina of their chance to avenge Bo's death. Hung, however, still has loyal friends on the force who inform him of how the Vietnamese gang intend to get out of the country; what he does not realize is that Mina and Ling have gone ahead of the family to take on an entire ship of gang members on their own.

A star vehicle for future Mrs. Sammo Hung Joyce Godenzi – although Hong Kong film scholars note that the pair were only colleagues at the time of the shoot – She Shoots Straight might be the most "feminist" of the industry's "girls with guns" genre. However catty the Wong sisters are portrayed, and however many opportunities early on the film afford to show Godenzi and Lau fighting in sexy clothing, the film more than any other examples – including entries in the Yes Madam series – treats various forms and degrees of sexual harassment as more than just punchlines where guys are shocked to get a physically-violent response from the objects of their impertinence. Lau is no shoulder to cry on after Bo's death but a chauvinist jerk who will not take no for an answer – no matter how many times Mina unambiguously rejects his overtures – and even the bad taste comic relief bit of Bo poking holes in his condoms to get career-oriented Mina pregnant can be seen as a behind her back dismissal of her agency in their marriage and the film does not suggest that it should be treated like a miracle (with Mother Wong insisting that the doctors save Mina if it is a choice between her and the baby).

Producer Hung also takes a back seat to both the female characters – only landing a couple blows on a few stuntmen after Godenzi and Lau have done the heavy-lifting – as well as director Corey Yuen (Righting Wrongs) and action director Mang Hoi (Lady Reporter). The middle part of the film may be a turn-off for some Hong Kong action fans, but it is nice to see emotions driving the narrative beyond the immediate desire for revenge, with Hung emotionally supporting his adoptive family and Mother Wong being the one who supports her daughters' desire for retribution. The action sequences above and below decks on the boat and the climax in a quarry are thrilling and very visceral in their body blows with the victor's final blow between Godenzi and Aurelio coming unpredictably from one of the believably exhausted pair. The film was one of nearly sixty films screenwriter Barry Wong (Fight Back to School) wrote in his short twelve year career which was cut short by an early death at age forty-six.

Video


While She Shoots Straight did not secure a theatrical release in the U.S. or U.K. upon release under its export title "Lethal Lady", it did make its way to the states as a bilingual Hong Kong laserdisc import and a later Tai Seng laserdisc followed by a Tai Seng DVD port of the English-subtitled Hong Kong DVD in 2004. In the U.K., the film got an anamorphic special edition via Contender (minus a "Hong Kong Legends" banner). Eureka's 1080p24 MPEG-4 AVC 1.85:1 widescreen Blu-ray comes from a new 2K restoration looks very uneven with some nice close-ups and medium shots in well-lit interiors but sequences with smoke, dust, or fog and some of the non-permitted street stunts look smeary in motion (some of this is less noticeable due to the rapid fight choreography and quick cuts) While this is not a disc you can pause to try to pick out the stunt doubles, it is still probably the best the film has looked on home video.

Audio


Audio options include Cantonese LPCM 2.0 original mono and English DTS-HD Master Audio 5.1 tracks - presumably created at the time of the Fortune Star DVD remasters - both of which are post-dubbed. Music and effects sound clean on both tracks, but the English dubbing voices do Lau no favors in more emotional scenes, making her seem whiny when arguing with her brother and laughable during her cries of "brother" as Bo is cut down by the gang members (indeed, the English vocal performances make almost make the film's dramatic and lightly comic sequences seem like more of a parody) while the remixed music and effects do not really enhance the action any more effectively than the mono track. Optional English subtitles are available for the Cantonese track while a second track for text is enabled with the English dub.

Extras


The film is accompanied by a pair of commentary tracks. The first Audio Commentary by Asian film expert Frank Djeng covers the relationship between Hung and Godenzi, the against type casting of Lau, the Vietnamese deportation subplot, which actors dubbed themselves, the presence in the cast of a number of Western stunt performers including Ken Goodman (Operation Condor), Bruce Fontaine (King of the Kickboxers), Mark Houghton (Skinny Tiger and Fatty Dragon), and Jeff Falcon (Six String Samurai), as well as the effect of the melodramatic middle portion of the film on audiences and international sales of the film.


The audio commentary by action cinema experts Mike Leeder & Arne Venema notes that the film was actually announced as "The Inspector Wears Skirts 3" and in is known in some territories as a Yes Madam series entry, reveal some recollections from the Western stuntmen that reveal that the majority of their stunt work, was left on the cutting room floor, discuss the raunchy elements of this Category III film, as well as the context for Vietnamese refugee crime and Eurasian identity in Hong Kong.

Also included is an interview with filmmaker Valerie Soe (7:19) – who discusses the atypical elements of this "girls with guns" film including an emphasis on family dynamics, career issues, and bonding between females – as well as a "Shooting Locations" (12:19) piece, the English "Lethal Lady" opening/closing credits (2:24), and the Hong Kong theatrical trailer (2:38).

Packaging


The disc comes housed with a reversible cover with the "Lethal Lady" artwork on the inside while the the first 2,000 copies include an O-Card slipcase featuring new artwork by Darren Wheeling and a collector's booklet featuring new writing by James Oliver who notes the film's perception at the time as a "vanity project" or a "lover's indulgence" despite Hung's claims that he and Godenzi did not start dating until a year before their marriage in 1995 since his divorce from his first wife had not been finalized during the film's production as well as pondering why Hung did not try to turn Godenzi into the next Maggie Cheung rather than the next Michelle Yeoh given the backbreaking nature of Hong Kong action cinema.

Overall


She Shoots Straight might be the most "feminist" of the Hong Kong film industry's "girls with guns" genre, and it is quite a refreshing take on the formula.