The Film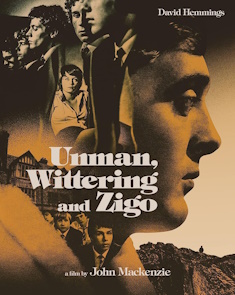 Leaving the world of advertising and the big city, John Ebony (Deep Red's David Hemmings) lands a position as a schoolmaster at the elite Chantry School replacing another teacher for the remainder of the term in hopes of landing a permanent position. He learns from art teacher Farthingale (Britannia Hospital's Tony Haygarth) that his predecessor Pelham fell to his death from the cliffs while on a walk one morning in the fog. His pupils in the Lower 5B are described by Farthingale as an unhappy mixture of "clever, small boys on the way through or very stupid older ones waiting for their parents to realize that they're wasting their money," but the headmaster (The Vampire Lovers' Douglas Wilmer) assures him that they only need a firm hand.

The class does indeed turn out to be a rowdy bunch, seemingly testing his resolve; however, when Ebony threatens to keep them after class for a week if they do not fall into line, they threaten him that he could end up like Pelham. Ebony initially does not believe their claims to have murdered the teacher, so they offer him up various forms of proof in the knowledge that no one else would believe him; and that appears to be the case as the headmaster dismisses it as a prank, Farthingale only half entertains Ebony's assertions over late nights at the pub, and even Ebony's wife Silvia (The Ruling Class' Carolyn Seymour) – unable to get along with the stuffy faculty and their equally cold wives and looking for employment as a distraction – is sick of hearing about it. Ebony believes he can expose them and prove their guilt if he discovers who is the actual ringleader, but his attempts at divide and conquer turns their concentrated wrath onto his wife.

An adaptation of the immensely popular radio play by Giles Cooper, Unman, Wittering and Zigo is rather low-key as a thriller, more concerned as it is in depicting the British public school system as a breeding ground for a class of entitled English male who can literally get away with murder. The viewer finds themselves in much the same position as Ebony facing the classroom of similar-looking boys with odd names as a mass; we may soon forget which one is Unman (The Hunger's Michael Howe) while Zigo is absent for the duration but remains on the attendance list, while "wet Wittering" (Colin Barrie) is only memorable because he is the regular target of abuse by his classmates and also seems was also the regular target of the late Pelham. One is perhaps manageable – although the one who first provokes Ebony physically then warns him that "there'll be a terrific row" if he tries to do anything (and Ebony so wants to belong to their "class") – but they are indeed intimidating as a mass. Ebony recognizes the contradiction that "they all work together; and yet, they're highly individual," which may make the viewer as frustrated with him as his wife with how wrong-headed his approach is with the boys.

His attempt to find the ringleader is successful but ultimately futile, but there are indications of it more evident to the audience than to Ebony himself. The one time in which he truly has the upper hand is when he learns that he will be replaced by a more suitable instructor (a prominent alumnus) and returns to class disaffected, telling them when they try to provoke him that he simply "can't be bothered." In both this situation and a later time when Silvia under threat of gang rape momentarily disarms them by mocking their status as "men," they chaotically turn on each other without regard to what suggestions of hierarchy we might have gleaned among them ("Shut your Cloistermouth!") before both times eventually redirecting their abuse to the same target both times as well as other times when they do not need to present a united front against the adults. Most intriguing is the suggestion of a more complicated dynamic between teacher and student as their pointing out that Ebony does not do things the way Pelham did seem sincere early on – and later more obvious as a means of coercing Ebony into doing their bidding – and actually needing Ebony to tell them what to do at the end. Left hanging in the air are some homoerotic intimations of sexual repression – which could have made more of the potentially awkward moment where the athletics coach catches Ebony in the locker room where he has been trying to corner one of the boys to find out who had the idea for murder first, and his friendship with Farthingale which is more intimate than his relationship with his wife – but Ebony's need to know proves too narrow for the overall picture (not unlike another Hemmings thriller protagonist or a two), diminishing him as much as the headmaster in the eyes of the boys, his wife, and the viewer.

Video


Released theatrically on both sides of the pond by Paramount Pictures, Unman, Wittering and Zigo never had a video release and only had television play in the U.K. The home video rights might have become complicated by the film's handling in various territories by Cinema International Corporation (CIC), a joint venture between Paramount and Universal Pictures; however, Arrow Video's Region A-locked, U.S.-only 1080p24 MPEG-4 AVC 1.85:1 widescreen Blu-ray has been licensed from Paramount. While we have no specifics on the transfer other than it being a high definition master, the film has a similar-looking chilly palette to another Paramount British contemporary Don't Look Now (one hopes John and Laura didn't leave their son at a school like this when they went off to Venice) with less in the way of punchy saturated colors by design considering how un-homey the couple's cottage looks even with their attempts to paint and decorate it.

Audio


The English LPCM 1.0 mono track is crisp and clear, sounding most aggressive in the verbal exchanges between Hemmings and his class while the overall sound design is rather sedate and the score of Michael Lewis (Theatre of Blood) is subtle works the nerves less for actual threats of physical danger than for the potential for the hero to get himself into trouble. Optional English SDH subtitles are sometimes more helpful than the spoken dialogue in helping us put names to the faces of the students.

Extras


The film is accompanied by an audio commentary by film historians Sean Hogan and Kim Newman who reveal that the radio play has remained very popular among school children and is even a class text performed chamber play-style, with both sharing their experiences of both the film and the play as schoolboys. They provide background on author Cooper who moved into television with the Sherlock Holmes television series that first starred Wilmer as Holmes for the first couple series and Peter Cushing in the last, as well as his adaptations of Maigret which were so perfectly-tailored for the television medium that the scripts ended up being translated into French and used for the Belgian series a few years later, the additions of screenwriter Simon Raven who was kicked out of such an elite school for "homosexual conduct" and is best-known for adapting Anthony Trollope's The Pallisers as well as writing the academia-set source psychological vampire novel "Doctors Wear Scarlet" that was dumbed-down into Incense for the Damned, as well as questioning why this film and The Long Good Friday did not net John MacKenzie a better directorial career.

"An Unruly Education" (25:45) is an interview with Matthew Sweet who discusses thee ways in which the play and film "haunts the culture" as a twist on a strain of popular literature in school settings where antics, bullying, and violence were played for comedy that became de-romanticized in the post-war era only as symbolic of a dying social order – Sweet also makes note of the even more radical TV drama Good and Bat at Games – only to be re-romanticized with the likes of J.K. Rowling's Harry Potter novels.

"Unman, Terhew, Lipstrob + Mrs Ebony" (30:13) features interviews with actors Seymour, Howe, Michael Cashman (Murder by Decree) - now Lord Cashman – and James Wardroper (A Bridge Too Far). Seymour recalls appearing in MacKenzie's first film One Brief Summer, getting drunk for her sex scene with Hemmings, and a misunderstanding that lead to an extremely awkward encounter with Hemmings' then-pregnant wife Gayle Hunnicutt (The Legend of Hell House) while Cashman and Howe recall that being the boys being grouped together on location encouraged a degree of misbehavior not unlike that of the boys in the film, Howe recalls drinking with Hemmings before their fight scene, while Wardroper expresses sympathy and solidarity with the teenage characters in the film and their resentment of the adult characters.


The disc also features "Unman, Wittering and Zigo" (73:01), a recording of the 1958 radio play set to stills from the film which presents a nice means of comparison of the play as performed for radio and how it was visualized for the screen, as well as the film's theatrical trailer (2:12), and an extensive still gallery.

Packaging


Not provided for review are limited edition first pressing contents of a reversible cover, a double-sided foldout poster featuring the original poster art and a new design by Eric Adrian Lee, and a liner notes booklet with new essays by Kevin Lyons and Oliver Wake.

Overall


Unman, Wittering and Zigo is rather low-key as a thriller but still relevant in its observations on a class that could literally get away with murder (and probably has).