The Film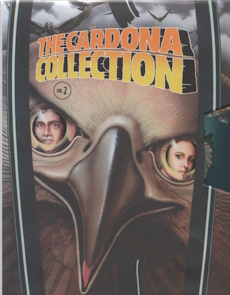 "René Cardona Jr. was the king of Mexican exploitation cinema throughout the 70s and 80s, directing dozens of films in a variety of genres and taking creative inspiration from the most popular trends in American and Italian genre cinema. Vinegar Syndrome presents The Cardona Collection: Volume 2, containing three of his violent, horror tinged adventure and disaster movies, all newly restored from their original negatives."

Beaks: The Movie: Based in Spain, American reporter Vanessa Cartwright (Blame It on Rio's Michelle Johnson) is hoping to report on important stories, but her boss (Edge of the Axe's Elmer Modlin) keeps sending her around the world to cover fluff stories. When they cover a local story about a South American farmer (Killer Barbys' Aldo Sambrell) who has become a repeat target of attack by birds of every species since he was attacked by his own chickens, Vanessa senses a larger ecological angle and drags her cameraman Peter (The Blue Lagoon's Christopher Atkins) with her to Rome to interview a couple (Lisa and the Devil's Gabriele Tinti and Pieces' May Heatherly) who survived a mass bird attack years before and are still traumatized by it, and they refer her to a wealthy Spanish hunter Bob (Bad Medicine's Manuel Pereiro) who just had one of his eyes torn out by an eagle and believes the birds are watching him and planning another attack. Vanessa is more incredulous than Peter about the idea of an organized attack by birds for the damage man has done to the planet until a series of reports come in from around the world about large scale attacks and they wind up in the middle of one of them.

As indebted to the original "when animals attack" film Alfred Hitchcock's The Birds – indeed, the film was sold in some territories as "The Birds 2" – as it is to the more recent late seventies films of the genre, Beaks: The Movie gains a sense of scope by virtue of being a Mexican/Spanish/Italian/Peruvian/Puerto Rican co-production; however, its episodic globe-hopping storyline is more lackadaisical than apocalyptic. A visit to Peru's Machu Picchu is more of a documentary bit a la some of the cutaway bits in director René Cardona Jr.'s The Bermuda Triangle about the Nazca lines which include massive outlines of birds that can only be seen in full from the sky and are rumored to be signals for returning gods (or aliens) while the trips to Italy and Spain are primarily to fulfill the co-production quota with appearances by Tinti, Heatherly, and Sambrell. While the intercutting storylines take place across the globe, it appears that much of it was shot in Spain with Johnson and Atkins participating in the large scale action sequence of a bird attack on a train full of evacuees, Pereiro's home hit during a birthday party for his granddaughter – the sequence that most resembles the Hitchcock film – and Cardona regular sexpot Sonia Infante (Treasure of the Amazon) and Salvador Pineda (Naked Lies) as a bickering couple who shelter with their children in a beach resort after an early sequence in which they are swarmed by birds in a park.

Apart from a few very Italianate gouged eyeballs gore effects – the first as the punchline to the opening paragliding sequence that goes on for far too long – much of the human violence consists of painted-on scratches while – like Cardona's Jaws-ripoff Tintorera! – much of the onscreen violence is perpetrated against animals with birds blown apart by a marksman, swatted out the air by frenzied actors, and even one poor thing has its wing slammed in a door during the attack on the birthday party. There is next to no suspense, with the editing and the recycled cues from Stelvio Cipriani's scores for Bloodstained Shadow, Nightmare City, Ring of Darkness, and other films giving the film the feel of a workprint with a temp track despite the use of both original and recycled Cipriani cues in some of Cardona's earlier films. The use of a body double in two frontal nude scenes for Johnson is hilariously obvious, especially because it is the only nudity in the film in a cynical commercial touch, but the entire affair demonstrates why fewer Mexican genre films – including Cardona's relatively higher-budgeted films – were getting exported as the eighties went on.


S.O.S. Conspiracion Bikini: After foiling a major drug smuggling operation all on his own, secret agent Alex Dinamo (Vacation of Terror's Julio Alemán) decides to further exasperate his International Service inspector colleague (Doctor of Doom's Roberto Cañedo) by taking his vacation at the very resort hotel where an international bikini convention is taking place since intelligence has revealed that members of the terrorist S.O.S. organization will be meeting at the same time. Alex's long-suffering lover Adriana (Sonia Infante again) thinks she is finally going to get some time alone with him; however, she repeatedly catches him in the company of a redhead (Liza Castro) who happens to be the assistant to fashion designer Madame Bristol (Dr. Satan versus Black Magic's Sonia Furió) and is trying to pass secret information to him before her identity is uncovered by her fellow models/secret agents – lead by hostess Lucrécia (The Batwoman's Maura Monti) and model choreographer Madame Rapière (The Revengers' Lorraine Chanel) – and murdered by Bristol's henchmen Luigi (Santo in the Treasure of Dracula's Carlos Agostí) and Uli (Infernal Rapist's Noé Murayama). Alex fails to keep his identity secret from Bristol and her associates, which endangers Adriana when she agrees to replace the murdered model on the runway.

S.O.S. Conspiracion Bikini finds Cardona Jr. on his eleventh feature just five years into his career and trying his hand at a Mexican take on the colorful, jet-setting spy thrillers – most likely James Bond but looking very much like the various German and Italian Eurospy films also inspired by the popular series – utilizing the backdrop and state-furnished facilities of Ecuador. In spite of catapulting singer Alemán to film fame as Latin America's first secret agent and boasting richly colorful settings, costumes, and beautiful women posed in tableaux that look ready for a tasteful men's magazine layout, the film is shockingly boring. While the audience is supposed to be kept in the dark somewhat throughout the first act of a thriller, Cardona and crew leave us confused about what is going on. We see the villains make cryptic remarks in public, but it becomes quite obvious during the S.O.S. secret meetings that the writers simply have not bothered with any specifics to their plans of world domination. Bristol makes vague references to overthrowing anonymous countries with new weapons, and instructs her group to go to "plan B" when Alex upsets their intended plans of which we know nothing. While that could be forgivable in light of the aforementioned Eurospy films which spend more time on dwelling on picturesque surroudings, scantily-clad women, and energetic action sequences with a charismatic leading man, this film on the other hand has wiry Alemán's lead as shockingly bad at running, fighting, and shooting as he is at fooling the villains into believing he is not a secret agent.

The finale featuring a speedboat versus yacht chase with Alex returning gunfire with a grenade launcher should be entertaining but it is just drawn out for nearly ten minutes with neither side hitting any of their targets before a limp finale. The loungey scoring of Ernesto Cortázar Jr. (Mystery in the Bermuda Triangle) becomes monotonous as the same cues are played repeatedly without any regard for the editing rhythms of the scenes and despite hiring Jackie Kennedy's favorite designer Oleg Cassini (The Ambushers) to design the swimwuits – with a special billing in the credits – there is little attempt to showcase any of the bikini designs as anything special. Cardona would dabble in other genres with eight more films in the next two years before the Alex Dinamo follow-up Peligro...! Mujeres en acción.


Under Siege: Industrialist William Lombard (Nightmare City's Francisco Rabal), his wife Kim (One on Top of the Other's Marisa Mell), and her visiting socialite sister Lisa (City of the Living Dead's Antonella Interlenghi) party the night away at a disco unaware that the police are combing the city for a band of robbers who have executed a large scale heist… that is, until the next morning when the Lombards' daughter Jessica (Hell's Trap's Edith González) opens the door to a gun-wielding trio: Franco (Emanuelle Around the World's Gianni Macchia) and brothers Pedro (The Island of Lost Souls' Mario Almada) and Carlos (Valley of the Doomed's Fernando Almada). The gunmen explain that they need to lay low for a while and will not harm the family if they cooperate; however, the violence that ensues from the appearances of surprise visitors including Lisa's best friend Laura (The Face with Two Left Feet's Sonia Viviani) and the secretary (Moraima Piccolo) of Lombard's concerned partner (Guillermo Ferrán) and failed attempts by Kim and Lisa to gain the upper hand place them in grave danger as the police hone in on their location after discovering the body in their wrecked getaway car.

Also known stateside as "Hostages" and in Mexico as "Traficantes de pánico" – both title screens of which are subtitled with the parenthetical "Panic Makers" – the Spanish/Italian/Venezuelen co-production Under Siege is largely set in the confined space of a villa with cutaways to the separate pursuits of other members of the gang by Inspectors Sylvester (Night of 1,000 Cats's Hugo Stiglitz) and Benitez (Treasure of the Amazon's Roberto Schlosser); however, the international cast and the climax aboard a plane (with Mell pulling a Karen Black) give the film the feel of Cardona's previous "all star" takes on the disaster movie genre Cyclone, The Bermuda Triangle, or Survive! rather than a Hollywood-style siege film. In spite of the greater resources and the larger scale of some of the action sequences, Cardona only competently stages action in the more intimate setting of the villa and its grounds. The opening casino heist is so confusingly staged that the audience does not understand until later dialogue reveals that what looked like a bunch of robbers hitting different parts of the same casino and splitting off to flee form the police was actually a coordinated heist on more than one casino. The intercutting of Sylvester's and Benitez's pursuit of different groups of fugitives with the hostage situation is so drawn out that the first of the film's two laugh out loud moments comes when we realize that Sylvester has waited the entire length of a movie standing in the back row waiting to open fire on two of the robbers when the lights come up (the second being the literally gut-busing fate of one careless robber during the bus chase). The film's American "star" Stuart Whitman (Invaders of the Lost Gold) literally "phones in" his performance as the inspector monitoring the manhunt from headquarters and only going "on location" for the finale.


In The House That Burns at Night, heroin-addicted stripper Alazana (Sonia Infante again) goes on the run after stabbing her pimp/supplier (the director's father René Cardona). Getting a fix by servicing a pair of ambulance drivers, Alazana winds up in front of the brothel of Esteria (The Vampire's Carmen Montejo) who is infirm but still runs her business with an iron fist with the help of younger, muscular, brooding manager/lover Eleazar (Salvador Pineda again). Alazana apparently fails to arouse the interests of Eleazar with a demonstration of her flexibility, but he does intervene when Esperia tells her that they have no use for her, suggesting that the younger woman be allowed to stay the night and find a ride with some American customer. When Alazana discovers that Esperia is slowly dying from cancer and in great pain, she finds a way to make herself indispensable, treating the older woman's pain with heroin injections and indulging her nostalgia for her own past youth and beauty. Eleazar becomes distracted from Alazana's scheming when he blows away an American Federal Agent posing as a client. Resourceful Alazana tells him to dump the body and stay across the border for a few months until things die down. When he does return two months later (in a car stolen from a sugar mama tourist and gifting the woman's camera to the border guard), Eleazar learns from the brothel's caretaker (Isle of the Snake People's Carlos East) that Alazana has taken over, leaving Esperia to waste away in her bedroom with occasional fixes. Eleazar asserts his control and Alazana seems to assent before serving him up a breakfast of a venemous snake and dumping him to die in the desert. He manages to survive and returns, and the ensuing physical confrontation both exhausts and arouses the pair who establish a tenuous truce as they run the brothel together; however, things take a tragic and fatal turn when one of them actually falls in love with the other…

Worth the price of the disc alone is one of Cardona's least-known films for viewers outside of Mexico in The House That Burns at Night seems to come out of nowhere in Cardona's filmography as he and screenwriter Benito Alazraki pare down Ricardo Gibay's titular novella "La casa que arde de noche" and give it a campy, visually-sumptuous treatment that seems less Cardona and more Pedro Almodóvar. Previously seen in this set as a ditzy model in S.O.S. Conspiracion Bikini, Infante may have been the driving force behind Cardona's feature adaptation of the titular Ricardo Gariby novella "La casa que arde de noche" as both star and producer. Niece of actor/singer Pedro Infante and daughter of Ángel Infante, Infante had also been married to Gustavo Alatriste who produced Luis Buñuel's Mexican films and divorced Viridiana star Silvia Pinal to marry her; and the commentary for S.O.S. Conspiracion Bikini reveals that Infante actually bankrolled some of his subsequent films until she divorced him in 1982 and subsequently married producer and long time Cardona associate Alberto López is credited here as executive producer. The sets are plush and vividly saturated – apparently redressing the same fortress once used by Cardona for his serial slasher Night of 1,000 Cats – the costumes dazzle, and the photography of Rosalío Solano (La casa de Bernarda Alba) is shot through with star filters, smoke, and diffusing veils that gradually overwhelm the image during the film's literally dizzying climax that makes amusing use of a giant turntable. In spite of a rather loose-seeming plot, the film is actually more than style over substance, providing something of an acting showcase for the leads and a few supporting players.

While Infante and Pineda would be relegated to playing a bickering middle-aged couple in Cardona's Beaks: The Movie from the same year, here the duo generate quite a bit of heat both clothed and in some artfully-lensed sex scenes that suggests more than they actually show. Although Infante is the star and Alazana the flashier character, Eleazar is the main character – as in the source novella going by the synopsis – and Pineda provides a complex and moving characterization. Just as Alazana seems driven by greed but turns her duplicity towards an idealized vision of American suburban domesticity to which she seems ill-suited, Eleazar says "the smell of ass" is the only thing he knows; and yet he is shown uninterested (sometimes violently so) in the strippers that put the moves on him, and seemingly quite devoted almost co-dependently to Esperia even as her physical and mental decline repulses him. He talks a big game about wanting to be in charge of the brothel but he seems most comfortable and capable as a manager, acting on Esperia's (and then Alazana's) behalf but unable to control things when they are both gone. Like the brothel's elderly custodian, Eleazar seems cling to brothel as a refuge from an outside world in which he feels unable to function. The supporting characters are portrayed in very broad strokes as bubbleheaded females and catty gay men in drag – particularly Alazana's confidante Beny (Moris Grey) – and yet, the film surprisingly manages to convey a sense of community and family even though few of them actually stand out as individuals. Infante would follow up The House That Burns at Night as producer and star with another Cardona collaboration in the even more outrageous rape-revenge film Los placeres ocultos (not to be confused with the like-titled Spanish film from Eloy de la Iglesia.

Video


Released in some English-speaking territories under the export title "Birds of Prey", the better-known title Beaks: The Movie originated with the re-edited American version released by Ascot Entertainment Group – the same American company that re-edited Lamberto Bava's Demons – which ran thirteen minutes shorter, moved scenes around, and replaced Cipriani's recycled score with an uncredited synth score (Cipriani's name remains in the end credits). The onscreen title of that version was simply "Beaks" on a black screen along with the rest of the credits while the "Birds of Prey" cut and onscreen title turned up stateside as part of the BCI two-disc, four-film set Drop Dead Gore-geous. Vinegar Syndrome's 1080p24 MPEG-4 AVC 1.85:1 widescreen Blu-ray transfer specifics no specific source – just "scanned & restored in 2K & 4K from various 35mm original elements" but it looks like it may be a composite of materials including some workprint with grease pencil markings – although this may have also been what was given to the U.S. distributor since the grease pencil shot was replaced by a cutaway from elsewhere in the scene – but it has the onscreen film optical title of "Beaks" in place of "Birds of Prey". The image is colorful but some shots look contastier than others, and some optical slow motion bits look harsher than the surrounding footage. It is unfortunately that the likely most expensive film in the set looks the most uneven, but one wonders if the negative is with the Italians (where the film's post-production took place) and may have been conformed to that cut which is even shorter than the American version.


Apart from perhaps American theaters and TV stations for Spanish-speaking audiences and, S.O.S. Conspiracion Bikini has been hard to see for American fans of Cardona. The film was not dubbed for English export and the most accessible home video release was a south of the border DVD release which, of course, had no English subtitle options. Vinegar Syndrome's 1080p24 MPEG-4 AVC 1.85:1 widescreen Blu-ray comes from the original 35mm internegative and looks often looks spectacular with vivid colors in the wardrobe, décor, and greenery. Clarity is compromised in some shots where the image jitters which looks as if the registration was off in the camera rather than a long lens and unsteady tripod and there are some intermittent archival scratches and dings.

Under Siege went direct to the new medium of cable in the United States under the title "Hostages" followed by a VHS release from Paragon Video Productions. Despite the film's casting pedigree, it did not have a DVD release stateside or overseas. Vinegar Syndrome's 1080p24 MPEG-4 AVC 1.85:1 widescreen Blu-ray comes from the original 35mm camera negative and looks spotless with no traces of archival damage and colors that pop in the wardrobe and bloodshed against the villa pastels and the gray metropolitan and industrial settings.


The House That Burns at Night's 1080p24 MPEG-4 AVC 1.85:1 widescreen transfer comes from a 2K scan of the original 35mm interpositive and it appears to have been well-cared for and probably not run through a printer, telecine, or scanner more than once as it is virtually spotless, boasting vivid colors and crisp detail during the scenes which do not utilize on-camera filters.

Audio


Beaks: The Movie was mixed in Dolby Stereo according to the end credits but this is another case where all home video releases (including the American re-edit) appear to be in mono including Vinegar Syndrome's DTS-HD Master Audio 2.0 track despite the mention of stereo on the back cover. S.O.S. Conspiracion Bikini has a technically fine Spanish DTS-HD Master Audio 2.0 mono mix of post-dubbed dialogue, flat sound effects, and constant scoring in which poor Monti should have been dubbed by someone else during her musical number. The optional English subtitles are free of any obvious errors.


S.O.S. Conspiracion Bikini was never dubbed into English, and the Spanish DTS-HD Master Audio 2.0 mono track generally fares better than the image in terms of clarity, partially due to the post-dubbing, and the blanketing of monotonous music cues. Although Under Siege was shot in English and an English post-dubbed version was what played stateside and on home video, Vinegar Syndrome was apparently only provided with the Spanish dub and have not resorted to VHS for the English track as they had in the previous Cardona set for Treasure of the Amazon. The Spanish-dubbed performances are lively, however, which does Whitman a favor since he looks disinterested for the most part.

The House That Burns at Night was never dubbed into English and the Spanish DTS-HD Master Audio 2.0 mono track sounds boasts clear dialogue and scoring for the most part (it is hard to tell is some warbling in some of the electronic music is a matter of damage or a synthesizer manipulation). The English subtitle track is a bit problematic, referring to Esperia sometimes as Celia and Alazana sometimes as Lalasana – the novel source calls her "La Alazana" – and Beny as "Binny" despite correct billing in the closing credits. In spite of this, it manages to convey the plot well enough for those of us who do not speak Spanish.

Extras


S.O.S. Conspiracion Bikini is the only film accompanied by an audio commentary by film historian Viviana García-Besné who discusses the effect of the film on Alleman's career, provides background on Infante and her aforementioned marriages, and how the film could not have been made without the cooperation of the Ecuadorian government and the airlines (along with the indirect funding of the film by the then-current president of China). She provides plenty of background on several of the supporting actors – also questioning why Cardona chose to having Monty sing when a few of her co-stars were more experienced as singers (without directly noting how awful her singing is) as well as the odd coverage of the musical sequence via a crane shot through a foreground chandelier – including some of the Mexican film family dynasties besides the Cardonas.


Apart from the aforementioned commentary track, the extras for all the films in the set are included on the first disc starting with "On The Run" (19:22), an interview with filmmaker René Cardona III – whose death in 2021 delayed this set – discussing Under Siege, the importance of shooting in Puerto Rico where the government provided vehicles, airplanes, weapons, and extras as well as closing down the streets for action scenes, the international casting, the innovations of funding through foreign pre-sales based on production stills during principal photography as well as the American cable market.

In "We Were Wild" (15:53), actor Stiglitz it being his idea to adapt Daniel Defoe's "Robinson Crusoe" with Cardona Jr. as Robinson Crusoe and the Tiger, taking it to America himself and striking a distribution deal with Joseph Levine leading to a sequel and a long relationship with the Cardona family. Of Under Siege, he recalls being excite to work with Rabal, Whitman, and Almida as well as González, doing in his own stunts, and falling in love with actress Victoria Vera (Monster Dog).

In "Don't Shoot" (9:45), Under Siege actor Orlando Urdaneta (Carlito's Way) recalls collaborating with the Cardonas by way of his partnership with fellow Venezuelan filmmaker Enrique Gómez Vadillo, shooting in Puerto Rico, and importing American stunt drivers by way of the Texas-based Mexican filmmaking dynasty the Galindo family.


"All in the Family: The Cardona Legacy" (14:40) is an interview with Andrea Cardona, granddaughter of René Cardona Jr. who recalls that her grandfather worked with director Miguel Zacarías as an ator in the thirties and married the man's sister Julietta and had son Rene Cardona Jr. She notes that it was great-grandmother Julietta who encouraged both men to go into film making for themselves, and that her father Rene Cardona III first started working for his father as second unit director on Beaks: The Movie before getting a chance to direct himself from producer Pedro Galindo III with Vacation of Terror.

In "Union City: Behind the Entertainment" (13:36), Felipe Marino, now president of Mexico's technicians union, recalls working on short films and commercials before meeting Cardona Jr. at Churubusco Studios, becoming the The House That Burns at Night's production organizer (not production assistant as listed on the menu screen), and being on set for the desert scenes in Veracruz and for the closed set erotic scenes.

"From P.A. to Producer" 2023 interview with actress Mineko Mori (Cemetery of Terror (16:48) who recalls meeting and marrying Stiglitz and coming to Mexico. When he introduced her to Cardona Jr, she asked if she could work behind the scenes on The House That Burns at Night but he insisted that she be an actress instead. Although she was mainly in the background of shots, she spent a lot of time on the set asking questions and learning as well as getting to know the other extras and the featured strippers, as well as the questionable safety regulations for the big fire scene at the end.


The extras are rounded out with a small promotional still gallery.

Packaging


All three discs are housed in a standard keep case with a reversible cover within a slipcover and a sturdier slipcase designed by Alessa Kreger. The set is strictly limited to six thousand units and is available directly from Vinegar Syndrome and select indie retailers.

Overall


Consisting of two action-packed international co-productions, a South American take on the Eurospy genre, and a film that straddles the arthouse and the grindhouse, The Cardona Collection #2 seems a more unbalanced selection that the first volume but Cardona fans who buy it for Beaks: The Movie or Under Siege may bet a pleasant surprise from The House That Burns at Night.