The Film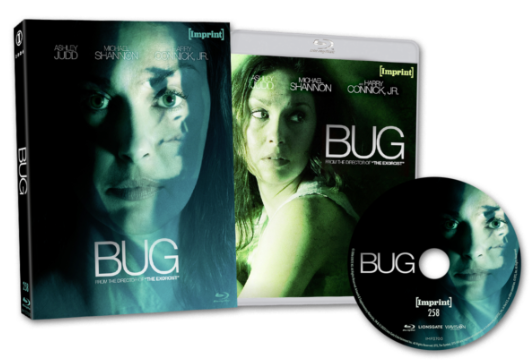 Of all the films William Friedkin made in his career, "Bug" has to be one of the most disturbing and that's considering he made absolute genre defining horror classic "The Exorcist" (1973). Based on a play this 2006 film premiered at Cannes to positive reviews, it was snapped up quickly by Lionsgate, released theatrically a year later, and promptly bombed. Years later it would emerge as a cult classic having been rediscovered on home video. It's easy to see why audiences didn't connect with the film upon release, you'll either love it or absolutely hate it. To say this film will divide audiences is an understatement.

Based on Tracy Letts' play, "Bug" is a gripping psychological thriller that delves into the disturbing world of Agnes White (Ashley Judd) and Peter Evans (Michael Shannon). In a run-down motel in rural Oklahoma, their lives intertwine, leading to a descent into madness. As their isolation and shared traumas draw them closer, their belief in a government conspiracy and an infestation of invisible bugs takes over, blurring the line between reality and delusion. Friedkin skillfully crafts a tense and claustrophobic atmosphere, exploring the fragility of sanity, the destructive power of unchecked obsessions, and the perilous consequences of co-dependence in a chilling and haunting narrative.

To understand why "Bug" failed to connect to audiences partly comes down to the marketing of the film. Sold as a "psychological horror" would be fitting, but by Friedkin's own admission he doesn't label the film as a horror. He saw the film as a comedy, a melodrama, a love story, and an adventure film as much as it is a horror. There was some confusion in the film's marketing especially when you have the film's director in interview talking about how it's not really a horror film. Opening on the same weekend as "Pirates of the Caribbean: At World's End" (2007) as counter-programming didn't exactly help either. Another factor is simply how divisive the film is, as soon as we're introduced to these character we begin a free dive into absolute madness over the course of the film and it is unrelenting until the final frame.

I haven't seen this film in years, in fact until this release I've long forgotten about it. After Friedkin's passing this year I started a deep dive into his filmography and rediscovered a lot of his classics and also got a chance to watch some films I'd missed. So, I was pleased when this Imprint edition came to my doorstep, sadly not currently available in North America. One thing is certain, this is one the better films from Friedkin's later output, in fact I'd be bold enough to say it's one of the best films he's ever made and it comes down to the intense performances from the film's cast, the tight direction, and the pace that grabs hold of you, takes you on an intense ride, and spits you out with an ending so dark and brutal it'll leave you in absolute shock.

Ashley Judd and Michael Shannon's spiral into paranoia is astounding to watch, this is a character study on how people can loose all logical guardrails, based on deeply traumatic backgrounds, Judd's character lost her child and Shannon was a former soldier suffering from PTSD. These two characters fall in love, discover invisible bugs in their bed sheets, this starts the spiral into madness as the obsession of the bugs leads to conspiracies that they are being controlled by a government experiment. Once the initial trigger occurs the film moves at an intense pace as we witness in awe two "seemingly" innocuous and inconsequential people embark on a journey of madness that plays on each of their fears and insecurities. Judd and Shannon easily deliver the best performances of their careers here, they both give such powerhouse performances it's honestly astounding that they receive little to no accolades for it. Matched with a strong supporting cast; I was impressed with Harry Connick, Jr.'s turn as Judd's ex, he plays an asshole really well and Lynn Collins also holds her own with Judd and Shannon.

The film's sense of paranoia is amplified by the location, the majority of the film takes place inside the motel room; adding an uncomfortable claustrophobic uneasiness over the entire film. Friedkin masterfully crafts each scene as the stakes escalate. Matched with a Cinéma vérité filmmaking aesthetic that features a combination of handheld camera work and crash zooms; it puts you right in there with these characters and continues to push viewers closer to the edge of their seats. It's not for everyone, it's hard to sell a film that's main purpose is to make you feel uncomfortable and "Bug" achieves this in spades. But the result is one of the most intense and impressive films you'll ever see and it becomes all the more relevant today with the rise of online conspiracies taking ahold of more and more people.

Video


Presented in widescreen 1.78:1 mastered in HD 1080p 24/fps using AVC MPEG-4 compression, licensed from Lionsgate, Imprint releases a master that looks pretty good for a 17 year-old film. There was a 4K release planned by Kino but has been cancelled, it's unclear if this transfer comes from the 4K mastering as there isn't any info provided by Imprint on where this transfer came from. As far as standard HD goes the film holds up well. Film grain is retained, detail looks good, colors appear well balanced. The film's final act has an entirely blue color wash and in many instances using this effect there can be a color "bleed" but I saw none of that.

Audio


Two audio tracks are included in English DTS-HD Master Audio 5.1 surround and English LPCM 2.0 Stereo. I chose to view the film with its 5.1 audio and was immediately immersed. Beautifully crafted sound design takes you into the claustrophobic nature of the film. Clear dialogue, subtle surround activity, and a well mixed score. Nothing to complain about here. Optional subtitles are also include in English for the hearing impaired.

Extras


Imprint has included a decent selection of extras, two audio commentaries, two featurettes, and a theatrical trailer. Below is a closer look.

First up us an audio commentary by director William Friedkin, recorded in 2007 for the older Lionsgate DVD release. Friedkin is such a wonderful commentator offering up a ton of valuable information on his filmmaking style, his directorial choices made, on working with the cast, he offers up insightful information for fans that's worth listening to.

A newly recorded second audio commentary track is included with author/film historian Troy Howarth and WK books contributor and editor of WENGS CHOP magazine Tony Strauss, these two comment on the reaction to the film and its production history among other things.

"A Discussion with William Friedkin" featurette (27:55), Friedkin talks candidly about his career, on the differences in making films in the 70's and 80's, and also talks about there are films he made he's not fond of.

"Bug: An Introduction" featurette (11:50) is the typical behind-the-scenes EPK style clip that includes interviews with the cast and crew.

Finally the film's original theatrical trailer (1:10) is also included.

Packaging


Comes packaged in a keep case housed in side loading slip-case. Limited edition of 1500 copies.

Overall


"Bug" is an underrated classic, it will challenge you, it will intimidate you, and it will make you uncomfortable.
| | | | | |
| --- | --- | --- | --- | --- |
| The Film: A | Video: A | Audio: A | Extras: B+ | Overall: A- |