The Film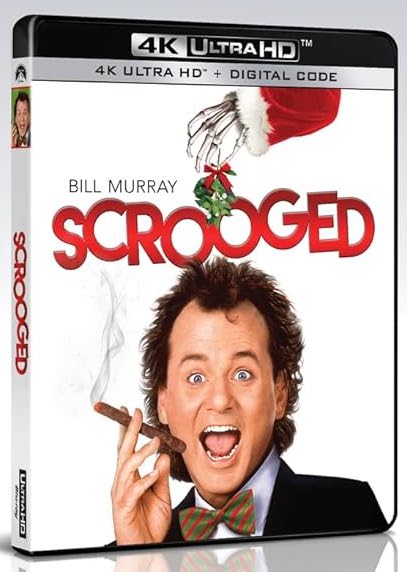 "Scrooged" is a contemporary reimagining of Charles Dickens' timeless novella "A Christmas Carol," directed by Richard Donner and starring Bill Murray in the lead role. While it may not be a cinematic masterpiece, "Scrooged" offers a fresh and satirical perspective on the age-old holiday story that, at the very least, provides some holiday cheer and laughs.

The film's primary strength lies in Bill Murray's charismatic performance as Frank Cross, a cynical television executive who epitomizes the role of the modern-day Scrooge. Murray's witty and sarcastic humor shines through, making his portrayal of Frank both amusing and endearing. It's a testament to Murray's acting prowess that he manages to infuse a character who is initially entirely unlikable with a certain charm and relatability by the end of the film.

The supporting cast, including Karen Allen, Bobcat Goldthwait, and Carol Kane, also brings their A-game, offering memorable performances that elevate the film. Kane's Ghost of Christmas Present is a standout character, providing a delightful contrast to Frank's miserly demeanor.

However, where "Scrooged" falls short is in its occasionally uneven tone. The movie tries to blend comedy, drama, and social commentary, sometimes resulting in a somewhat dissonant experience. The humor, while often hilarious, can feel over-the-top and, at times, forced. The darker and more poignant moments, meant to mirror the original tale's emotional depth, do not always hit the mark and can feel somewhat shallow by comparison.

Another aspect where the film falters is in its heavy-handed critique of the consumerist culture of the 1980's. The satirical elements, while relevant at the time, may feel somewhat dated and heavy-handed for modern audiences. This approach may have been effective during the era in which the film was made, but it lacks the subtlety and nuance needed to resonate with viewers today.

On a technical level, "Scrooged" benefits from solid production values. The set design and costumes capture the opulence of the 80's while seamlessly integrating the classic Dickensian elements, creating a unique and visually engaging world. The soundtrack, featuring contemporary Christmas hits of the time, adds a nostalgic touch.

"Scrooged" is an entertaining and, at times, heartwarming modern take on "A Christmas Carol." Bill Murray's performance and the supporting cast shine, providing humor and charm throughout the film. However, the film's occasional tonal inconsistencies and heavy-handed social commentary may not resonate as effectively with today's audience. Despite its flaws, "Scrooged" remains a beloved holiday classic, offering a fresh perspective on a timeless story, making it a worthwhile addition to any festive movie lineup.

Video


Presented in the film's original theatrical ratio of 1.85:1 mastered in 4K 2160p 24/fps and using HVEC codec with HDR10 or Dolby Vision if your set up supports that. Paramount has done a respectable job in releasing classics with solid home video 4K presentations and this film looks terrific in 4K. The 35 year-old films holds up well with fine detail present, natural skin tones, and the film's natural grain structure has been maintained to offer the film as it was originally intended. Contrast is good, black levels are occasionally inconsistent but otherwise there's little to complain about. It's worth the upgrade if you have the previously released Blu-ray.

Audio


A collection of six audio tracks are included in English DTS-HD Master Audio 5.1 surround, French Dolby Digital 2.0 Stereo, German Dolby Digital 2.0 Stereo, Italian Dolby Digital 2.0 Stereo, Spanish (Castilian) Dolby Digital 2.0 Stereo, and Spanish (Latin) Dolby Digital 2.0 Mono. I chose to view the film with its English 5.1 track. It won't win any serious awards but it's a perfectly serviceable sound track. Cristal clear dialogue, some decent surround activity, and an immersive music score round out the experience without too much issue. Optional subtitles are included in Danish, Dutch, English, English HoH, Finnish, French, German, Italian, Japanese, Korean, Norwegian, Spanish (Castilian), Spanish (Latin), and Swedish.

Extras


Paramount has released "Scrooged" with a decent selection of extras previously seen on other releases, they include am audio commentary, a collection of eight featurettes. Below is a closer look at these supplements.

First up is an audio commentary with director Richard Donner, Donner chimes in here and there with often leaving silent gaps in his commentary. It doesn't seem like he wanted to be there to record this track to be honest.

"A Christmas to Remember" featurette (14:04) is the typical EPK clip with interviews with cast and crew.

"Updating Ebenezer" featurette (13:34) takes a look at breathing new life into the classic tale for modern audiences.

"Bringing the Ghosts to Life" featurette (9:53) on the practical effects used to bring these characters to life.

"The Look of Scrooged" featurette (6:22) takes a closer look at the film's 80's production design.

"On Set with Bill Murray" are two featurettes that are behind-the-scenes clips of the actor on set, they include:

- "Brotherís Apartment" (3:22)
- "Frisbee the Dog" (3:41)

"ShoWest Clips with Bill Murray" are featurettes that were created to help promote the film to theatrical exhibitors and include:

- "The Best Money Can Buy" (1:15)
- "Now Everybody Get Up" (0:59)

Packaging


This Canadian edition drops the slip-case and digital code that is included in the US release and is packaged in a standard black 4K amaray case.

Overall


Not the best but certainly far from the worst of Bill Murray's output, it's a shame Paramount in Canada have decided to not include digital codes or slip-case for first pressings.
| | | | | |
| --- | --- | --- | --- | --- |
| The Film: B- | Video: A | Audio: B- | Extras: A | Overall: B |