The Film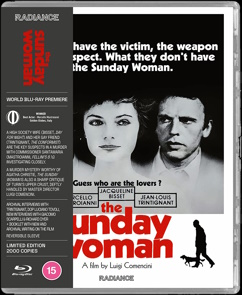 Aging architect Garrone (Beast with a Gun's Claudio Gora) is a lech who flirts with waitresses, peeks up skirts and down blouses, and crashes high-class parties to stir up trouble with seemingly pithy but pointed remarks. So sure is he that he is sitting on top of a secret cash cow that he flaunts what others see as an illusion of intellectual and moral superiority… until someone caves in his skull with a stone phallus. When Commissioner Salvatore Santamaria (La Dolce Vita's Marcello Mastroianni) and De Palma (Seduction's Pino Caruso) start investigating the murder, Garrone seems a man of little importance, humored by the likes of gallery owner Vollero (Midnight Express' Gigi Ballista) and his partner Bonetto (Your Vice Is a Locked Room and Only I Have the Key's Franco Nebbia) for what malicious amusement he brings, and the mysterious blonde woman leaving the scene as described by Garrone's neighbor Bauchiero (Deep Red's Dante Fioretti) a prostitute; that is, until a pair of disgruntled former servants bring in a discarded draft of a letter by employer Anna Carla Dosio (Bullit's Jacqueline Bisset) – wife of industrialist Vittorio Dosio (Mario Ferrero) – in which she expresses to playboy Massimo Campi (The Conformist's Jean-Louis Trintignant) her desire "to find a way to eliminate" Garrone.

Upon discrete interrogation – described by Santamaria's superior as "a silk hand in a velvet glove" – Campi and Anna cannot provide alibis for each other, not because they are secretly lovers as assumed, but because they went their separate ways the evening of the murder after an argument about how to pronounce "Boston." Santamaria is much less surprised to discover that Massimo is covering up a long-term relationship with younger civil service worker Lello Riviera (The Cat O' Nine Tails's Aldo Reggiani) than to discover Anna's utter excitement about being a possible suspect even after the pair jointly explain that they barely knew Garrone and that he was merely a tool in their own private theater as they directed him at various targets at social gatherings for their own amusement. Worried that his lover might be arrested and/or exposed, Lello starts his own investigation among the public records for Garrone's rivals and seedy business doings. Anna, meanwhile, discovers among her social circle another witness to the existence of the mysterious blonde in Virginia Tabusso (Door into Darkness's Maria Teresa Albani), meek spinster sister of imperious widow Ines Tabusso (Last Moments' Lina Volonghi), the grounds of whose estate have been used as a rendezvous point of the local prostitutes, and a raid of which produces not only a discarded blonde wig but also Lello Riviera with not obvious reason for being there given his orientation. Santamaria puruses the leads produced by the detective work of Lello and Anna – even though he suspects those from the latter a means of flirtation – but no one involved in this divertissement of an investigation during the hot months of autumn that the killer has been watching and is quite ready to kill again.

Based on the best-selling thriller by writing team "Fruttero & Lucentini" – that is, Carlo Fruttero and Franco Lucentini – as scripted by another writing team "Age & Scarpelli" (Big Deal on Madonna Street's Agenore Incrocci and Il Postino's Furio Scarpelli) and directed by comedy specialist Luigi Comencini (Bread, Love and Dreams), The Sunday Woman is no giallo nor is it just a light comedy. Using the framework of a thriller, the investigation is more of a cynical yet amusing overview of Turinese society in all of its venality, hypocrisy, intolerance, and complacency up and down the social strata. A murder investigation is a game played by characters who can just as easily up and vacation across the border in Switzerland to get away from the nuisances of kidnappings and terrorism – the Years of Lead that so preoccupy the poliziotteschi seemingly happening elsewhere – with the tensions between North and South, Piedmontese and Sicilian, one of class distinction (with the Sardinians considered as much outsiders as Filipinos or the Portuguese as hired help). The older generation as represented by the Tabussos and Massimo's parents lament their neighbors selling off their villas and estates to be transformed into restaurants and sports clubs, but the national heritage only occupies the same status as modern art when it can be assessed in monetary value. As breezy as the middle of the film is, The Sunday Woman is still a murder mystery and the tension ratchets up considerably with a climax set at a sprawling outdoor market where each of the suspects turn up for different reasons and the killer's motives are exposed as something more pecuniary than a crime of passion despite the murder weapon, but the joke is ultimately on Santamaria as Turinese society once again achieves equilibrium in the aftermath of the case and The Sunday Woman drives off into the horizon arguing over the pronunciation of the English word "taxi."

Video


Released in most territories by Twentieth Century Fox – including the U.S. where it presumably was subtitled in English given the importance of different local dialects to the plot – The Sunday Woman receded into obscurity compared to Comencini's other films while the source novel and the soundtrack album of Ennio Morricone – one of his more playful thriller scores that might put viewers in the mind of Investigation of a Citizen Above Suspicion have remained consistently in print. The film made its digital debut in Germany on DVD in 2008 followed by Italian and French releases. All of those transfers were fullscreen; however, that was not due to an old master but because cinematographer Luciano Tovoli was instructed by the producers to frame for television since one of the financiers was a network; as such, he protected for the TV ratio but framed for the theatrical ratio of 1.85:1. Radiance Films' 1080p24 MPEG-4 AVC Blu-ray features both 1.33:1 and 1.85:1 widescreen viewing options, and this reviewer would personally recommend the latter as an eye predisposed towards symmetrical composition may find distracting elements of landscape and d้cor that dip into the frame up top or down below during camera moves while the wider framing never impedes headroom. Tovoli favors bright, sunny lighting and mostly even illumination of interiors, often using shadows and darkness on the periphery as framing elements, and the presentation after the grainy optical overlays – with credits that look misaligned outside of the title-safe region of the frame – cleans up considerably, with close-ups surprising by letting Bisset, Mastroianni, and Trintignant retain their star glamour while also reveling in the harsher, aged, blanched features of the "faces" cast in supporting roles.

Audio


Both presentations offer an Italian LPCM 2.0 mono track in which Morricone's score has the most presence while the post-dubbed dialogue is always intelligible, divorced as it is from the entirely post-assembled sound design. Optional English subtitles are free of errors, and the translations tells of rather than shows the use of other dialects (although we are not sure if that was a means of simplifying things for the modern viewer or if the authors themselves were writing for a wider audience and decided it would be easier to cite the use of dialects rather than use them at length).

Extras


Extras start with a new interview with academic and Italian cinema expert Richard Dyer (18:15) who discusses the source novel, the writers, the screenwriters, and director Comencini, weighs in on whether the film could be considered a giallo, and clarifies the meaning of the title The Sunday Woman.

Ported from the German DVD – and not included in the subsequent German or French discs – is "Sunday Lights" (22:11), an interview with cinematographer Tovoli who reveals that he and Comencini got off on the wrong foot because the producer imposed him on the production, although their relationship did improve as they worked together.


Most informative is an interview with academic and screenwriter Giacomo Scarpelli (36:01) on his father Furio Scarpelli and writing partner Agenore Incrocci who worked together after the war on a satirical magazine, with Scarpelli doing the comic drawings and Incrocci writing the captions, moving into film with some colleagues like Mario Monicelli (Casanova '70) and Steno (Capriccio all'Italiana) starting with the Tot๒ films, their working methodology in writing projects separately and together, tension from occasionally working separately with others, a circle of friends including the source novel's authors and novelist Italo Calvino – of which Comencini was an outsider despite their handful of collaborations – and the end of their partnership.

The disc also features a 1976 French TV interview with Jean-Louis Trintignant (4:28) in which the actor is careful not to give away details, and the clip from the film that nearly gives away his characters' sexuality reveals some differences between the Italian and French dubs, as well as the film's Italian theatrical trailer (3:38).

Packaging


Not provided for review were the reversible sleeve featuring designs based on original posters or the limited edition 24-page booklet featuring new writing on the film by Mariangela Sansone and a reprint of an archival piece on the film, or the removable OBI strip (leaving packaging free of certificates and markings) that are included with the first pressing of two thousand copies.

Overall


A humorous examination of Turinese society masquerading as a thriller, The Sunday Woman is still a stimulating viewing experience thanks to some disarming plot turns, a playful Morricone score, and the charismatic triangle of Bisset, Mastroianni, and Trintignant.