The Film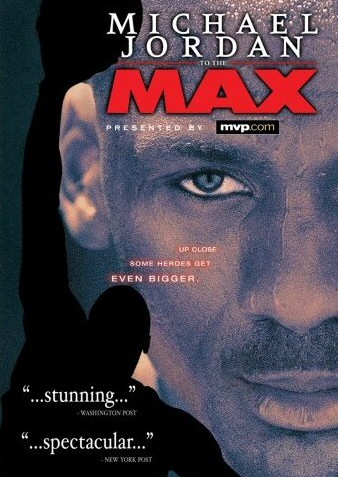 There are few iconic sporting figures in history, Muhammad Ali & Pele come to mind almost immediately, as does Michael Jordan. Considered one of the greatest basketball players of all time. Michael came into the NBA in the mid-eighties after leading his College team The University North Carolina Tar Heels (UNC) to a championship season. Drafted by the then floundering Chicago Bulls, Michael would soon become the leader of the team. But what made Michael so iconic, so popular? It can be put to a number of things, he's talented, he plays to win, he amazes every time he's on the court, he's a role model for younger players, but he's also charismatic, self giving and an all around nice guy. As an avid basketball fan and life-long Jordan fan I find myself drawn to his personality and nobody plays with Jordan's flair, nobody. MJ rose to further accomplishment having won three consecutive championships with the Bull between 1993-1995, and yet another three between 1996-1998, this documentary captures MJ's last year with the Bulls (1998) most notably the NBA playoffs through to the finals played against the Utah Jazz.

This film was originally produced for the IMAX format, those not familiar with IMAX, it's a specialty cinema with large-scale screens some tower upwards of 8 stories! Most IMAX productions are shot in either super 35mm or 70mm to take advantage of the large-size screen. IMAX's usual fare was of 3-D dinosaurs, nature documentaries about larger than life parts of the world (Mt. Everest) or other thrill ride documentaries such as Formula 1, etc. IMAX aimed to put you amongst the action. This was the first IMAX format documentary that focused on a single person, and what better a person who in reality is larger than life but Michael Jordan.

The documentary is pieced together like any other documentary it's made up of blurbs from coaches, players and other celebrities, edited in with footage of Michael playing, photos, and behind-the-scenes video. You can tell that the filmmakers share a love for the game of basketball and for Michael, as they have done a wonderful job putting together this film. They take us right into the 1998 season all the way following Michael as he tries to bow out of the game with one more big win.

The film is often exciting, tense, and occasionally heart-warming, which all make more an enjoyable viewing. Candid interviews with the man himself conducted in a way that afterwards you feel like you know him personally, even if you haven't seen a basketball game or follow the sport you will still enjoy this film, it has everything that the cinematic senses want. Shot on 70mm film the photography looks naturalistic, the colour saturation is beautiful and rich almost like you are watching a live sports broadcast. The score consists of music by Fatboy Slim, Earth, Wind & Fire and Freddie King among others and fit the images well. The only downside I have with this film is that it's too short, with a runtime of 46 minutes it goes by rather quickly. But otherwise this is a strong piece, a wonderful documentary made by love and to be enjoyed by fans a like. And what makes this documentary even stronger is that people who have never seen a single basketball game in their lives can also enjoy it.

Video


Michael Jordan To The Max is presented in the aspect ratio of 1.78:1 and is anamorphic. The packaging states that the transfer is 1.85:1, but after measuring it is actually 1.78:1 and as far as I can tell this is a flawless transfer. Fox has done a splendid job in transferring the 70mm elements onto a digital source. The image is sharp, clear and free of artefacts, the colours are strong and bright, blacks are even and balanced, there was some film grain evident but it was not distracting at all, overall a very nice transfer.

Audio


This DVD gives us the option of three audio tracks an English and French 5.1 plus an English 2.0 Surround track. I only listened to the English 5.1 track for the basis of this review. One word can best describe the sound "Stunning" every speaker had a job to do and didn't take any breaks, there was enough bass in this track to make the noise from a Nascar race look like a Disney special, the interview dialogue was clear as was Laurence Fishburne's narration, the stadium crowd noise was overwhelming and the music and sound editing was done justice by accurate separation. A DTS track would have been awesome but this DD track is fantastic.

Extras


This DVD doesn't have a lot of extras, but what we do get is fairly good.

First up is an audio commentary by co-director/producer James D. Stern, co-director/producer Dom Kempf and producer Steve Kempf. This is not often screen-specific instead they share their stories about how the documentary came about. Overall this is a decent commentary full of interesting and informative stuff.

Following the commentary we have a 21 minute "Behind-the-Scenes" featurette that cover the shooting of the opening sequence, the bullet time MJ slam dunk. The featurette consists of interviews with various crewmembers on how the effect was achieved edited with some behind-the-scenes footage of Michael in a green screen room.

The companion extra to the featurette is a short 2-minute sequence breakdown of the bullet time slam-dunk. This shows you a different CGI shot elements used to create that shot.

Other extras include 4 promo spots which include a 30 second TV spot, 30 second giant screen teaser, 30 second cinema teaser and the theatrical trailer and some text extras that include MJ's bios and stats, bios for the directors and producers as well as three reviews from the Calgary Sun, NY Post and Chicago Sun Times of what they thought of this film.

Overall


A great film that all can enjoy. A highly recommended DVD and you can't go wrong with the price as you can generally find this for under $10 USD at most e-tailers. The extras are a good addition, the transfer if top notch, the sound is fantastic. You can't really go wrong with this.
| | | | | |
| --- | --- | --- | --- | --- |
| The Film: A | Video: A | Audio: A+ | Extras: A | Overall: A |