NEWS
"COLUMBO - SEASON 1" ON BLU-RAY FROM FABULOUS FILMS
Wednesday 10th October 2018 - posted by James
"Just one more thing..."
Detective Columbo comes to high def this month in the UK from Fabulous Films, with "Columbo: Season 1" in a three disc set, available on October 22, 2018!
ARROW VIDEO'S DECEMBER 2018 SLATE
Sunday 30th September 2018 - posted by James
Arrow Video has announced their December 2018 releases.
- "Elvira Mistress of the Dark" (UK)
- "Waterworld" 2 disc limited edition (UK, US, Canada)
- "Bloody Birthday" (US, Canada)
"DISTANT VOICES, STILL LIVES" COMING TO BLU-RAY FROM THE BFI
Wednesday 26th September 2018 - posted by James
"Distant Voices, Still Lives", Terence Davies' masterful drama receives a Blu-ray release from the British Film Institute on October 22, 2018, restored in 4K for its 30th anniversary.
Check out BFI's new trailer and pre-order at Amazon UK from the link above!
"HORRORS OF MALFORMED MEN" (1969) AVAILABLE ON BLU-RAY FOR THE FIRST TIME!
Monday 17th September 2018 - posted by James
"Horrors of Malformed Men", director Teruo Ishii's controversial work that was unavailable for a long period its home country comes to Blu-ray for the first time courtesy of Arrow Video. Out today in the UK and out tomorrow in the US!
- Order at Amazon US
- Order at Amazon UK
"LAST YEAR IN MARIENBAD" RESTORED EDITION BLU-RAY FROM STUDIO CANAL AVAILABLE TODAY!
Monday 17th September 2018 - posted by James
"Last Year in Marienbad", the 1961 surreal masterpiece from director Alain Resnais receives a newly restored Blu-ray release from Studio Canal in their Vintage World Cinema line. Out from today, order at Amazon UK from the link above!
"LA PLANÈTE SAUVAGE" REMASTERED MEDIABOOK EDITION FROM CAMERA OBSCURA OUT NOW!
Monday 17th September 2018 - posted by James
"La planète sauvage" AKA "Fantastic Planet", animator Rene Laloux's 1973 sci-fi classic gets a remastered transfer from Camera Obscura in a limited edition Blu-ray+DVD Mediabook release, out now! Order now from Amazon Germany in the link above!
INDICATOR/POWERHOUSE ANNOUNCE NOVEMBER TITLES
Saturday 8th September 2018 - posted by James
Powerhouse Films has announced four new titles to their growing catalog. All are exclusively on Blu-ray and scheduled for release on November 19 2018, all with extensive extras and limited to 3000 copies each. Pre-order at Amazon:
- "Age of Consent" (1969)
- "Charlie Bubbles" (1968)
- "The Wrong Box" (1966)
- "Georgy Girl" (1966)
"THE NIGHTMARE BEFORE CHRISTMAS" AND "HOCUS POCUS" 25TH ANNIVERSARY BLU-RAYS
Sunday 2nd September 2018 - posted by James
Two Halloween themed films from Disney are celebrating their 25th anniversaries with newly reissued Blu-ray editions. Both are available on September 4th 2018. Pre-order at Amazon.com:
- "The Nightmare Before Christmas" 25th Anniversary Sing Along Edition
- "Hocus Pocus" 25th Anniversary Edition
ARROW VIDEO'S NOVEMBER RELEASES
Saturday 1st September 2018 - posted by James
Arrow Video has announced their slate of November 2018 releases.
- "Texas Adios" (UK)
- "Djanjo"/"Texas Adios" Double Feature (US, Canada)
- "De Palma & De Niro: The Early Films" 3 film boxset (UK, US, Canada)
- "Orgies of Edo" (UK, US, Canada)
- "Crimson Peak" (UK, US, Canada)
EUREKA! ENTERTAINMENT NOVEMBER 2018 RELEASES
Thursday 30th August 2018 - posted by James
Eureka! Entertainment has announced three new titles for release in November, all coming to Blu-ray for the first time in the United Kingdom.
- "The Last Waltz" (1978) (The Masters of Cinema Series #200, Blu-ray)
- "Once Upon a Time in China Trilogy" (1991-1993) (4 disc Blu-ray set)
- "Hitler's Hollywood" (2017) (dual format Blu-ray+DVD)
- "Lucky" (2017)
"TUCKER: THE MAN AND HIS DREAM" MAKES ITS BLU-RAY DEBUT
Wednesday 29th August 2018 - posted by James
"Tucker: The Man and His Dream", the 1988 biographical drama directed by Francis Ford Coppola and starring Jeff Bridges is out now on Blu-ray from Lionsgate Entertainment, and unlike the DVD edition it faithfully retains the original 2.35:1 aspect ratio. Order now at Amazon.com.
A SNEAK PEAK AT THE BFI'S "THE MAN FROM MO'WAX" LIMITED EDITION BLU-RAY+DVD
Thursday 23rd August 2018 - posted by James
"The Man from Mo'Wax", a documentary of musician/artist/record label founder James Lavelle will be released by the BFI on Blu-ray and DVD, on 10 September 2018. Here is a sneak peak at the 3 disc Blu-ray+DVD set, limited to 3000 copies. Order now at Amazon.co.uk.
STEELBOOK BARGAIN!
Tuesday 15th May 2018 - posted by Samuel
You can currently get The Fog steelbook from Scream Factory for less than $15 HERE.
LATEST PRE-ORDERS
Wednesday 9th May 2018 - posted by Samuel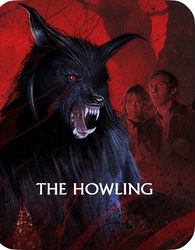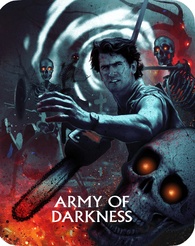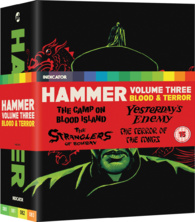 USA
- The Howling (steelbook) (Shout! Factory)
- Army of Darkness (steelbook) (Shout! Factory)
- Gore Whore (SRS Cinema)

UK
- Hammer: Volume 3 (Powerhouse)
- Fire Sale (Signal One)
- Doom Asylum (Arrow Films)

Germany
- Hellraiser Trilogy (digipak) (Turbine Medien)
France
- Child's Play (digibook) (ESC Editions)
NEW MILESTONE
Monday 23rd April 2018 - posted by Samuel
Today we have reached a new milestone! We have now compared over 130000 different releases! Thanks to all contributors and team members whose hard work continues to make Rewind a huge success.
GUN CRAZY (1950) - WARNER ARCHIVE COLLECTION
Friday 20th April 2018 - posted by Samuel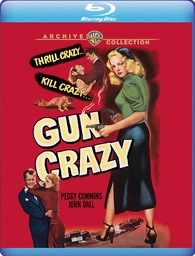 For fans of the Warner Archive Collection, one of their next releases will be Gun Crazy which is coming to Blu-ray on an all new 2018 HD master on the 29th May.
When gun fancier Bart Tare sees Annie Laurie Starr's sideshow sharpshooting act, he's a dead-bang goner. He and she go together, as Bart ultimately says, "like guns and ammunition." The two become bank robbers on the run, eluding roadblocks and roaring into movie history as one of the benchmark film-noir works. Joseph H. Lewis directs this ferocious thriller, selected for the National Film Registry and often cited as a forerunner to Bonnie and Clyde. Peggy Cummins and John Dall star, meeting in a sexually charged carny shooting contest and soon driven by impulses of violence and arousal they don't fully understand. They're young, foolish, doomed – and point blank in Gun Crazy's unforgiving sights.
Extras include:
- Audio commentary with film-noir Specialist Glenn Erickson
- "Film-Noir: Bringing Darkness to Light" documentary (2006)
You can pre-order this title HERE.
SCORPION TO RELEASE GREASER'S PALACE
Friday 20th April 2018 - posted by Samuel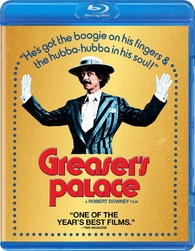 June 1st will see Scorpion Releasing release Greaser's Palace on to Blu-ray in the USA.
One of the most original, bizarre, hilarious, unforgettable films that you'll ever see, Greaser's Palace takes the story of Christ's suffering and places it in the Old West. A zoot-suited drifter performs miracles and attracts a large following, but all he really wants is to sing and dance. After finally getting to play The Palace, a saloon run by the ruthless Seaweedhead Greaser, he soon learns that he's got more miracles do.
The release will include:
- Interview with director Robert Downey
- Liner notes by Jonathan Demme

You can pre-order this title HERE.
KING OF HEARTS JOINING EUREKA'S MASTERS OF CINEMA RANGE
Thursday 19th April 2018 - posted by Samuel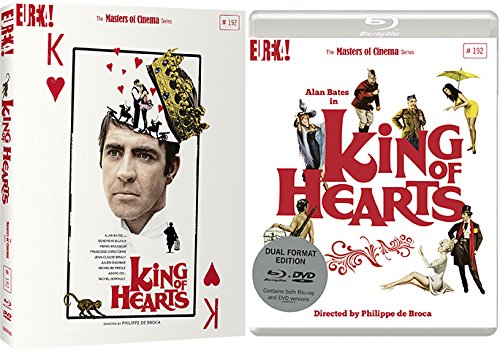 Eureka will release the 1966 feature King of Hearts in a dual format release as part of their revered Masters of Cinema range.
King of Hearts is a bright, lilting, whimsical, lyrical comedy that cleverly satirises the absurdity of war. Bumbling Scottish Private Plumpick (Alan Bates) is sent to a village in the beautiful French countryside during World War I on a suicide mission to detonate explosives set by the retreating German army. The village, soon to be blown sky-high, has been abandoned by its inhabitants and replaced with escapees from the local insane asylum. Now, with the mentally challenged running the town, Plumpick is crowned King!
This title will be released July 16th and can be pre-ordered HERE.
5 BLU-RAYS FOR £30
Tuesday 17th April 2018 - posted by Samuel
Amazon have brought back their popular 5 for £30 deal, which currently includes over 2000 titles! Click HERE to go straight to the deal!
THE BLADE OF THE RIPPER (GERMAN BLU-RAY)
Saturday 17th March 2018 - posted by Samuel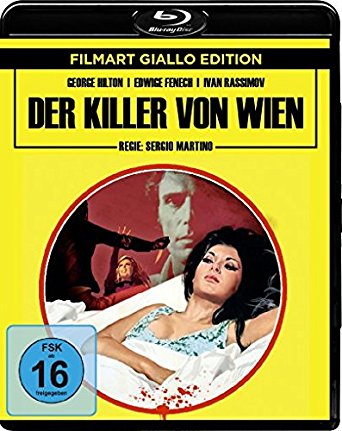 Media Target will release giallo The Blade of the Ripper on to Blu-ray on the 18th April.
Julie Wardh's (Edwige Fenech) marriage is nearing the end. Together with her husband Neil (Alberto de Mendoza), an older stockbroker, she makes her way to Vienna, where important business appointments are pending. Arriving in her hometown, Julie meets her old friend Carol and meets heartthrob George (George Hilton) at a party. Julie can not stop her affection for George and sees in him far more than a trifling flirtation. George seems to be a new bright spot in Julie's life, away from the boring business and married life of her husband. While Julie and George enjoy their affair to the fullest, Julie's ex-lover Jean (Ivan Rassimov) unexpectedly turns up. Despite the dark past of both, Jean could never quite break away from Julie and courts them wherever possible. The niceness of Jean increases and the more gruesome thoughts of a sadomasochistic relationship return to Julie. At the same time, more and more pretty women in Vienna are killed by a masked serial killer with a razor. Who is the mysterious killer? Is it Jean? Julie's husband, who is freaking out because of his wife's infidelity? Or George, who wants to have Julie unrivaled for himself?
Pre-order HERE.
The database contains 47210 entries with 135991 releases compared.

SPONSORS


Scream Magazine - 100% Horror.



Real Groovy - a New Zealand based DVD retailer.

FULL REVIEWS
TECHNICAL REVIEWS