The Film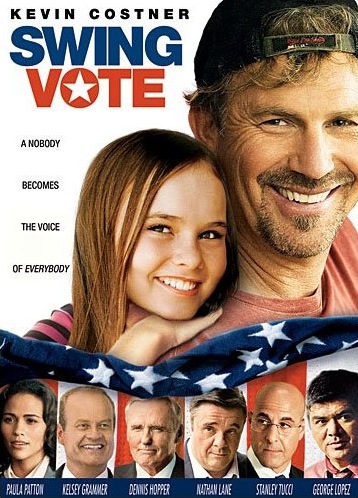 2008 was an incredibly hard-fought year in politics. There was endless coverage of the events leading up to one of the most historic elections of the century. You couldn't turn on a television, open up a newspaper or chat it up at the water cooler without getting into some kind of discussion about the current political climate. So, Hollywood, in its infinite wisdom, thought that what people would want to see is a political comedy, perhaps to help ease the nation's tension. That may have been true, but "Swing Vote" has got to be one of the most excruciating films I've ever had the displeasure of sitting through. There isn't a single area of the film I can point to as a problem; the entire film is one gigantic disaster from the opening frames to the closing credits. It's no wonder that "Swing Vote" was a major bomb at the box office; I can't imagine for the life of me who would pay good money in this economy to watch this movie.

Bud Johnson (Kevin Costner) is your typical trailer trash, working at an egg factory by day and drinking until he passes out at night. His daughter, Molly (Madeline Carroll), is way too intelligent for a girl her age. She spends her time cleaning up after Bud and has essentially become a surrogate housewife for her absent mother. After repeatedly pushing Bud to vote, he finally agrees to meet her at the polling station that night, only to pass out drunk and leave Molly alone. Not wanting to let Bud's vote go to waste, Molly attempts to cast his vote, but the ballot gets stuck in the machine when it accidentally gets unplugged and Bud's vote isn't counted. The election now rests on the shoulders of Bud, as his one vote will decide where New Mexico's 5 Electoral College votes go. Each candidate, incumbent President Andrew Boone (Kelsey Grammer) and his opponent Donald Greenleaf (Dennis Hopper), and their respective crew descend upon the tiny county of Curry to do what they can to earn Bud's swing vote.

The acting isn't a problem here, and the cast is full of plenty of well-known headliners. Kevin Costner, as Bud Johnson, does a great job of slipping into his role as a go-nowhere-do-nothing loser with a greater interest in NASCAR and booze than giving his daughter much attention. I've always felt that Costner was a very good actor, but he's one of those guys like Nicolas Cage who just happens to constantly pick horrendous starring vehicles. The last good film he made was 2003's "Open Range", and everything else since then has been poorly received to say the least. He brings nothing new to the clichéd, Jeff Foxworthy archetype he plays here. Many viewers, including myself, will draw instant comparisons between Bud and 2008's lightning-rod loser, Joe the Plumber. Thankfully, in real life we as a nation didn't have to rely on someone such as him to determine the direction of our country.

I couldn't stand Madeline Carroll as Bud's precocious, all-too-well informed daughter, Molly. I don't believe a girl her age is into things like reading up on landmark political cases, has aspirations to become "either a veterinarian or Chairman of the Fed", and drives her father home in his pickup when he's had too much to drink. But, of course, when she feels hurt then she retreats right back into daughter mode. This is one of those cinematic clichés I could stand to never see again. Kids can be very annoying in movies if they aren't cast right, especially those in a leading role, and this kid is one of the most annoying I've seen. Any possibly enjoyment this film could have provided was sucked right out of the room by this little black hole of disappointment.

The rest of the cast is filled out with some well-known actors who help to make the film slightly more enjoyable. Kelsey Grammer is at his usual best as the President. Grammer doesn't have much range, he typically just plays himself, but he does so with such aplomb and affability that it's easy to let that fact go. Dennis Hopper, as the not-so-subtle Donald Greenleaf, is playing the same slick, oiled-up character he's been playing most of his career – and he's damn good at it. Stanley Tucci provides some solid acting as Grammer's right-hand man, as does Nathan Lane as Hopper's second in command. George Lopez is amusing, and slightly underused, as the manager of the news station that breaks the story about Bud's swing vote. But it really wouldn't have mattered if they got the resurrected spirits of Orson Welles and Humphrey Bogart to make an appearance, the movie is terrible and nothing could have saved it.

Director and co-writer Joshua Michael Stern proves he knows nothing about writing a good script or adequately directing a good movie. His IMDB page shows no other theatrical films in his resume, although I did get a good laugh at the fact that his first writing credit was the abysmal "Amityville: Dollhouse" (1996). I really hope that the weak returns provided by "Swing Vote" are enough to sentence Stern to direct-to-video hell for all eternity, because it was an exercise in self-torture just to get through his debut theatrical film.

Video


"Swing Vote" is presented with a 2.40:1 anamorphic widescreen transfer that doesn't look all that bad. I'm not sure why a film like this would call for a scope aspect ratio, but colors looks good and the film is quite sharp for standard definition. Black levels are consistent and whites look clean and natural. For a film this horrendous, at least it's not too tough on the eyes to look at.

Audio


The film is presented in either English or Spanish Dolby Digital 5.1 surround. The film's main track in English Dolby Digital 5.1 surround sound gets the job done. Aside from the film's musical interludes, this is a dialogue-heavy track with minimal surround use. Dialogue is crisp and easily-discernible. As you might expect from a newer film, this is a clear and clean track.
Subtitles are also provided in English and Spanish.

Extras


"Swing Vote" gets a few decent extras, but they don't do much to enhance the overall product. We are given an audio commentary, deleted/extended scenes, a featurette, music video and some bonus trailers.

The audio commentary features writer/director Joshua Michael Stern and co-writer Jason Richman. The duo keeps the track moving along at a well enough pace, but most of this feels like it was pre-written rather than coming off-the-cuff. Neither takes much of a stance toward either political party, but they do a fair job of discussing the nature of the film's politics.

"Inside the Campaign: The Politics of Production" is a featurette which runs for 12 minutes and 58 seconds. This is your standard EPK-type material, with the cast and crew being interviewed about the film while some behind the scenes footage provides a look at production. They talk about how the project came together, assembling the cast and what the film means in today's politically-charged climate.

"Hey Man What About You?" performed by Modern West" runs for 4 minutes and 15 seconds, this is a music video for a song on the film's soundtrack. No doubt this was only included because Kevin Costner is the group's lead singer.

Up next are 4 deleted/extended scenes with optional audio commentary by writer/director Joshua Michael Stern. They include:

- "Boone & Greenleaf's Magic Moments" runs for 4 minutes and 5 seconds, Boone has a hallucinogenic experience in the desert, while Greenleaf speaks to members of a church.
- "Fox and Crumb Change the System" runs for 2 minutes and 8 seconds, the respective political campaign managers for both candidates conspire together.
- "Kate and Bud Fight" runs for 1 minute and 28 seconds, Bud argues with the reporter who broke the story.
- "Extended Bowling Scene" runs for 2 minutes and 55 seconds, Bud, Kate and Molly bowl and talk, and bowl and talk.

Finally, there are some bonus trailers for a random mix of titles:

- "Mirimax Films" spot runs for 2 minutes and 36 seconds, this is just a preview of new titles released by the company.
- "Lost: The Complete Fourth Season" runs for 1 minute and 3 seconds.
- "ABC News" spot runs for 32 seconds, and is completely out of place as a DVD feature.
- "Brideshead Revisited" runs for 2 minutes and 32 seconds.
- "Blu-ray Disc" promo runs for 59 seconds.
- "The Boy in the Striped Pajamas" runs for 2 minutes and 13 seconds.
- "Earth" runs for 2 minutes and 5 seconds.

Overall


"Swing Vote" made me wish I were doing anything other than watching it. I'm not sure what was worse: the clichéd characters, the clichéd script or the clichéd conclusion. Nothing about this film made me like it in the least, and the worst part of all is that it was supposed to be a comedy. I didn't even laugh at how bad it was that's how bad it was.
| | | | | |
| --- | --- | --- | --- | --- |
| The Film: F | Video: B- | Audio: B- | Extras: C+ | Overall: D |