The Film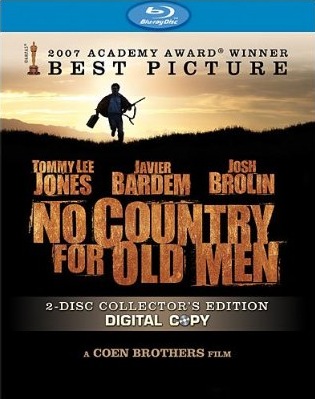 Joel and Ethan Coen have had an amazing career to date, having made a remarkable string of films that each get better and reveal more layers within themselves as the work ages. The brothers' career arc can be seen as a perfectly symmetrical bell curve, with their first three films (made between 1984 and 1990) each being a superior work to the one before it (culminating in the great "Miller's Crossing"). Following that upward trajectory, they did five films between 1991 and 2000, and every one of them is a must-see (including "Fargo", "The Big Lebowski", and "Barton Fink"). However, beginning in 2001 with the good (not great) "The Man Who Wasn't There", they began a three picture downward arc that ended with a miserable remake of the 1955 classic "The Ladykillers".

Had they stopped there, their career would have described a neat rise-and-fall, with the bulk of the material being of sterling quality. This is not to be the case however, as the apparently unstoppable Coens seem to be as full of energy as ever: their 2007 effort "No Country For Old Men" did very well at the Oscars this year, and the brothers have no less than four films slated for release in 2008 and 2009.

It seems to me that "No Country For Old Men" might be regarded in the future as the starting point for a "Coen Brothers 2.0", or the beginning of a second phase to their already successful and prolific careers. What might come as a surprise to some readers is that upon my first viewing of "No Country For Old Men", I likened the movie -- structurally -- to a porno film!

Follow the logic here:

In a porno film, we meet a few characters who we don't know, who have no back story, and who we have little reason to care about. With the thinnest and most uninspired of motivations, the characters will screw for a while. The 'best' scenes show lots of bodily fluids flying about. When there has been enough screwing to satisfy audiences who like to see people screwing on screen, the movie ends abruptly, the characters each go their own ways with little ado, and there is no need to tie up the plot, since there really isn't one. Now, replace all instances of the word 'screwing' with 'killing' in the above paragraph, and you essentially have "No Country For Old Men."

Although I am a great admirer of the Coens, it seemed that finding "No Country For Old Men" to be one of their weaker efforts had put me in a minority position. This film seems to have been praised almost universally. Watching the film a second time for the purposes of this DVD review, and armed now with the knowledge that the film had won the best picture Oscar for 2007, it seemed prudent to look for further layers in it.

The general point of the tale is: circa 1980 the world was changing, and our rampantly violent society had reached a threshold beyond law enforcement's ability to truly control or contain it. A competent, noble, and good-hearted - yet tough and seasoned - rural Texan sheriff (Tommy Lee Jones) realizes that he is in over his head, and decides to retire and let the world run its course rather than trying to save it all by himself. He goes into his twilight years on his farm while a brutal killer (Javier Bardem) and some rival drug gangs get away scot-free. Mixed up in all of this are a Texan redneck couple (Josh Brolin and Kelly Macdonald) who do not survive their encounters with forces considerably larger than themselves.

Having understood the issue at hand - Jones' character is out of his league in the modern world - I still feel that the point was obscured because the Coens spent more time showing the audience how evil Bardem's character is, and developing Brolin's doomed cowboy while largely ignoring what should have been at the center of the film: Jones' journey.

Jones does wonders with what little screen time he has, and it is a wonder that he didn't get an Oscar nod for his performance here (he was nominated this year for a different role however). It was Bardem in fact who won a best supporting actor Oscar for his work in this film, but all he really does is follow Brolin around like some modern-day Michael Myers or Jason Vorhees (from the old "Halloween" (1978) and "Friday the 13th" (1980) films) killing whomever gets in his way. Myers' butcher knife has been replaced with a cattle slaughtering device, and Jason's hockey mask has been replaced by a Dorothy Hamill haircut, but otherwise there is little difference, save for perhaps a smattering of that good ol' post-Hannibal Lecter psycho killer charm. Bardem played essentially the same character a decade earlier in the stinker "Perdita Durango" (1997), except his haircut in that film was a mullet.

Woody Harrelson also has a small role that could have been completely eliminated in the cutting room without effecting the final film in any meaningful way. Harrelson's character might be seen as a metaphor for the entire film, in fact. "No Country For Old Men" could have been the genius flm that so many people make it out to be, if only some different choices had been made in the editing room.

Video


Presented in the film's original theatrical ratio of 2.35:1 this transfer is in high-definition 1080p 24/fps and has been created using AVC MPEG-4 compression. This transfer is an exact port of the previous HD transfer. The film's look is very naturalistic and the transfer retains that aesthetic wonderfully. The colors are rendered well especially skin tones, blacks are deep and bold but most impressive is the striking level of detail retained within the transfers. The film's locations and backgrounds look marvelous, the sharpness is spot on and the image is crystal clear. There's some grain amid the darker scenes but otherwise we're dealing with a spotless transfer.

Audio


Two audio tracks are inlcuded in English DTS-HD Master Audio 5.1 mixed at 48 kHz/24-bit as well as a Spanish Dolby Digital 5.1 surround. The previous Blu-ray release featured an uncompressed PCM track and it was a solid audio example. I'm not sure why the need to remix the audio in DTS-HD? It would have been just as good had Buena Vista ported over the PCM track here... in any case this allowed me to compare both tracks side-by-side directly and the PCM does in fact have the edge, but only just in terms of a slightly broader sense of depth. However the DTS-HD track is lossless and is pretty damn good as well. The overall film is very minimalistic in terms of its sound design, so the mix tends to focus on ambient sounds and dialogue over anything else. But that doesn't mean that gunshots, the car explosion outside of the pharmacy or any other aggressive moments are weak, on the contrary they are impacting and sound natural. The overall sound space does display an abundant amount of detail and range, it's a great track that manages to immerse the viewer but is unnecessary considering the excellent PCM track from the previous release.
Optional subtitles are included in English for the hearing impaired, French and Spanish.

Extras


Buena Vista has released this film with all the extras from the previous Blu-ray edition plus a plethora of new extras for this 2-disc release. Included are a series of four featurettes, a series of interviews & conversations, bonus trailers and a digital copy. Below is a closer look at these supplements broken down per disc.

DISC ONE:

"The Making of No Country For Old Men" runs for 24 minutes 26 seconds ans is a by-the-book production featurette, with the Coens discussing their feelings about the source novel and the production of the film. As always, they look uncomfortable in front of the camera, clearly preferring to be on the other side of it. The principle actors chime in too, and there is a fair amount of on-set footage.

"Working with the Coens" is a featurette running for 8 minutes 7 seconds and consists of interviews with Javier Bardem as he talks about about his experiences with the Coens.

"Diary of a Country Sheriff" is a short featurette that runs for 6 minutes 44 seconds about the character of Sheriff Bell played by Tommy Lee Jones. Jones and the Coens are interviewed about Bell's motivations and his story arc.

"Josh Brolin's Unauthorized Behind-the-Scenes" featurette is the first of the new features that runs for 9 minutes 19 seconds, in this clip we get Brolin mocking the brothers in this occasionally funny clip that's very tongue-in-cheek in tone, it's worth a look but only really worth a single viewing.

Next is the most comprehensive "Press Timeline" I've seen on any release, in fact it's a unusual feature that chronicles the pre and post-release appearances from the key cast and crew as they promote the film, there are a total of 16 interviews & conversations, these can be viewed individually or with a 'play all' feature. Some of these clips are much better than others and a few are rather repetitive, but still worth exploring as it provides viewers with an insight into the amount of press and media that needs to be generate in order for a film to get a positive box office. The clips include:

- "Lunch with David Poland" runs for 26 minutes 30 seconds, this is an extensive and worthy interview with actors Javier Bardem and Josh Brolin.
- "L.A. Q&A with David Powell" runs for 24 minutes 13 seconds, and is another great clip featuring a Q&A with the directors Joel and Ethan Coen, actors Javier Bardem, Josh Brolin, Tommy Lee Jones and Kelly Macdonald as they comment on various aspects of the film and their characters among other things.
- "Variety Q&A" briefly runs for 3 minutes 8 seconds and features actors Javier Bardem, Josh Brolin and Kelly Macdonald.
- "EW.com Just a Minute" is a promotional interview that runs for 12 minutes 55 seconds and is with Javier Bardem.
- "Creative Screenwriting Magazine" is one of my favorite extras which runs for 21 minutes 25 seconds and features interviews with Joel and Ethan Coen as they comment about the writing process and the script.
- "NPR's All Things Considered" is a short clip that runs for 4 minutes 44 seconds and is an audio interview with actor Josh Brolin.
- "ABC Popcorn with Peter Travers" runs for 14 minutes 51 seconds and is another interview with actors Javier Bardem, Josh Brolin and Kelly Macdonald.
- "In-Store Appearance" is the second longest clip in this collection which runs for 40 minutes 31 seconds, actors Javier Bardem, Josh Brolin make appearances at stores.
- "Charlie Rose" runs for 22 minutes 33 seconds and is the segment from his TV show which features an interview with the directors Joel and Ethan Coen as they talk about the film.
- "WNBC Reel Talks with Lyons and Bailes" runs for 10 minutes 2 seconds and is another interview with Josh Brolin.
- "Channel 4 News" runs for 3 minutes 45 seconds, a brief discussion with directors Joel and Ethan Coen.
- "KCRW The Treatment" runs for 28 minutes 30 seconds is an audio interview made for radio featuring the directors Joel and Ethan Coen.
- "NPR's Day to Day" runs for 6 minutes 37 seconds and is another radio interview with actor Javier Bardem, there's some repitition in this track.
- "Spike Jonze Q&A" is the lengthiest feature here and runs for 60 minutes 7 seconds and is another favorite from this collection, Spike talks with the Coens and crew members that include the film's brilliant cinematographer Roger Deakins as well as members of the sound department and production designer Jess Gonchor in this informative and excellent clip that's worth checking out.
- "NPR's All Things Considered" is an excellent 7 minute 49 second recording with the film's producer Scott Rudin about the film's Academy Award nominations.
- "NPR's Weekend Edition" is the final clip which is an audio interview running 5 minutes 32 seconds and features the directors Joel and Ethan Coen.

Rounding out the extras are a collection of bonus trailers for:

- "Disney Blu-ray" spot runs for 1 minute 1 second.
- "Mirimax Films" spot runs for 2 minutes and 36 seconds.
- "Lost: The Complete Fourth Season" runs for 1 minute and 3 seconds.
- "Doubt" which runs for 2 minutes 2 seconds.

DISC TWO:

Is a digital copy of the film for portable players.

Packaging


This 2-disc set is packaged in a Blu-ray case housed in a cardboard slip-case.

Overall


If you've pirchased the previous Blu-ray disc you might be a bit annoyed about this recent double-dip, to soften the blow Buena Vista has included a $10 rebate coupon for those who bought the original Blu-ray or DVD release.
| | | | | |
| --- | --- | --- | --- | --- |
| The Film: B- | Video: A+ | Audio: A | Extras: A | Overall: A |