The Film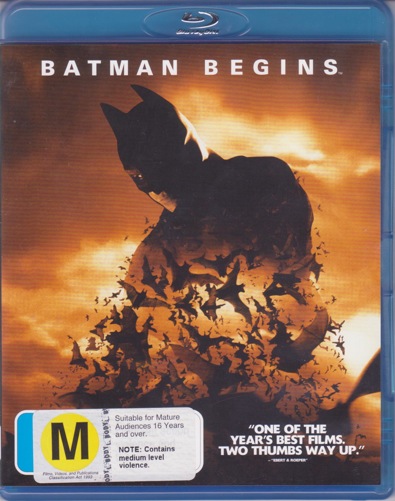 "Batman Begins" does two very welcome things. One, it restarts the Batman movie franchise. Two, it proves the claim that you need to switch your brain off when seeing a blockbuster was just a refuge for the talentless hacks churning out moronic explode-a-thons. The bar has been raised. Let's hope future blockbusters rise to the new challenge.

"Batman Begins" literally restarts the franchise, going back to the start of the story and ignoring the films that came before it. The opening act wisely goes straight to the dark depths of Bruce Wayne's (Christian Bale) motivations, the area that the best Batman comics of the last 20 years have focused on. Probably everyone knows that Bruce Wayne's parents were killed by a mugger, in this film after watching an opera (as opposed to the "Zorro" film in the comic). Bruce is determined to fight injustice and reclaim the Gotham City that has degenerated into a human cesspit. But he must first overcome his fears.

He travels to the Himalayas to learn from the League of Shadows headed by Ra's Al Ghul (Ken Watanabe). But he finds that their ideals differ in the hope they have for humanity. The League believes in wiping out all human evil and starting anew, Bruce believes people and places can be saved and reformed. A falling out ensues, which means a massive battle.

Bruce returns to Gotham and reassumes his role as head of Wayne Enterprise (he'd been on his journey for so long he's been declared legally dead). With the help of his trusty butler Alfred (Michael Caine) he assumes the Batman persona, and begins his fight against evil. He first takes on the old school gangster Carmine Falcone (Tom Wilkinson), but soon learns that there are far greater powers working behind-the-scenes.

One great thing about having a lot of money to work with is that you can hire a dream cast, and the cast of "Batman Begins" could just as easily be attached to an art house film. With so many great actors, scenes that may have been dull exposition are as, if not more, entertaining than some of the action scenes. Michael Caine as Alfred makes every scene good, Likewise Morgan Freeman as Lucius Fox.

There were only a few bum notes in the film (this paragraph may contain spoilers). Bruce Wayne's initial meeting with Carmine Falcone seemed to jump to the point too quickly, as if a few lines of dialogue had been cut out. When the people of Gotham are supposed to be tearing the city apart through paranoia they seem to just turn into George A. Romero zombies with an interest in Katie Holmes. And when Batman glides with his cape it looks kind of silly.

The film is funny when it can be, but never at the expense of suspense. The script gets the themes across without laying it on too thick (well it may be a little thick at the start for some). And things link up in a way that doesn't feel contrived. "Batman Begins" is, for people who have long believed that blockbuster films need not be a mental wasteland, a cause for celebration.

Video


The film is presented in its original theatrical ratio of 2.40:1 this image is delivered to fans on Blu-ray in high-definition 1080p 24/fps and has been mastered using VC-1 compression codec. The first thing you'll notice from this hotly anticipated HD release is that the image is incredibly sharp and crystal clear, so much so that with a lot of the expansive exteriors look so life like, especially the scenes which take place in the Himalayas. Furthermore, the colours are rendered beautifully and feature vibrant tones from the blue ice of the Himalayas to the deep and rich blacks of the gothic streets of Gotham City. Speaking of which, since a lot of this film is based in darkness I was impressed with the depth and boldness of the black levels, there was hardly any noise, although grain does come into the picture and helps maintain that filmic look. Finally the print is clean, there are no specks, no blotches or dirt and most importantly there is no evidence of DNR (digital noise reduction), no edge-enhancement or compression related issues. This is a top notch HD transfer.

Audio


Warner Brothers has released this film with six audio tracks in English Dolby TrueHD 5.1 surround mixed at 48kHz/16-Bit as well as standard Dolby Digital 5.1 surround in English, French, Korean, Portuguese and Spanish. For the purposes of this review I chose to view the film with its English TrueHD track. Thankfully Warner Brothers have released this blockbuster with an HD audio track, which is excellent, however the track could have been much better. I would have preferred the track mixed at 48kHz/24-bit rather than 16-bit, which feels like a bit of a cop out, or better yet a DTS-HD track or PCM uncompressed. This film is aggressive, expansive and broad and the soundtrack need to be as impressive as the image and utilize the highest bit-rate audio. Now that my rant is over, this TrueHD track is pretty good. Dialogue is clear and distortion free, action scenes virtually explode off the screen. Ambient sounds are excellent and subtly mixed throughout the sound space, the score breaths further life into this complex and rich audio track which totally immerses the viewer.
Optional subtitles are included in English, French, Korean, Portuguese, Chinese and Spanish.

Extras


Warner has packed this disc with extras that includes

Starting the disc off is "The Dark Knight IMAX Prologue" which runs for 6 minutes 37 seconds and is basically the opening scene of the film presented in the 1.78:1 IMAX ratio.

Next up is the "In-Movie Experience" this is a profile 1.1 or greater feature that allows you to watch the film with a picture-in-picture video commentary where the key cast and crew take you further behind-the-scenes into the making of the film. Comics, footage and featurettes make up the bulk of what you'll get here.

The next section of the extras is entitled "Additional Footage" there are three brief featurettes, these were previously hidden Easter Eggs on the DVD edition, these clips include:

- "Reflections on Writing" featurette that runs for 1 minute 57 seconds. In this clip screenwriter David S. Goyer talk about the secrecy of the project and on writing the film.
- "Digital Batman" featurette is a comparison between a "digital" and a "real" Batman that runs for 1 minute 6 seconds.
- "Batman Begins Stunts" is a behind-the-scene look at the Bat mobile stunt test as well as tests for the cape and wire rigs, sword fight in ice and other fight sequences among other things including a fire test that runs for 2 minutes 30 seconds.

Next up is a section entitled "Behind the Story" which includes the following extras:

"Tankman Begins" an MTV Movie Awards parody that features comedian Jimmy Fallon riding along with the Dark Knight taking him to the awards ceremony and also features a cameo from Andy Dick and Napoleon Dynamite, the clip runs for 5 minutes 12 seconds.

Next we got "Batman: The Journey Begins" this featurette runs for 14 minutes 15 seconds and covers Nolan's involvement in this property, the choice to bring on David S. Goyer to co-write with him. We also get a look at production issues that deal with the creation of the film, the look of it as well as looking for the right person to play Bruce Wayne.

Next up we have the "Shaping Body and Mind" featurette that runs for 12 minutes 48 seconds. Here we get to see Christian Bale's uncanny transformation in order to play the caped crusader. Prior to "Batman Begins" Bale had lost an astonishing amount of weight to play the character Trevor Reznik in "The Machinist" (2004) and he had to put back the weight, plus tone his muscles and train in the many fighting styles in a short amount of time in order to fit the cap and cowl for the start of filming.

"Gotham City Rises" is the next featurette and runs for 12 minutes 48 seconds. Here we have the creation of the fictional city in which Batman presides over. From the look of the narrows to Gotham's impressive high rise buildings, built as a massive set in England every detail is carefully scrutinized from city signs to traffic lights. This featurette also takes us through the process of searching for the right house as Wayne manor, as well as the incredible Bat cave set that was built for the production and includes a waterfall and stream system.

The "Cape and Cowl" featurette runs for 8 minutes 18 seconds and as the title suggests takes us into how the famous cape and cowl were created for this film and how each piece was researched, modeled, molded, cut and pieced together.

Following that we have the "Batman: The Tumbler" featurette that runs for 13 minutes 39 seconds. Here we get to see the development of Batman's coolest toy in this film, his vehicle "The Tumbler", Nolan takes us through what he envisions is Batman's ultimate Bat mobile.

Next up we have the "Path to Discovery" featurette that runs for 14 minutes 13 seconds. In the original comic origin stories that have been told about Batman, Bruce Wayne disappears for several years, he later returns to don the persona of Batman and help clean-up Gotham. Those years have never really been touch on before in any of the film or TV versions of Batman. Nolan here takes us through the inclusion of these crucial years and how they are important narrative elements that lead Bruce Wayne to eventually becoming the Dark Knight or Gotham.

The "Saving Gotham City" featurette runs for 13 minutes 1 second and focuses on how Gotham City came to life with the use of miniature sets. Because Gotham City does not exists, extensive miniatures were built to expand the city and give it a real world feel. We also look at the Computer Generated extensions to the city as well as the monorail that runs through the centre of the city all the way towards Wayne Towers.

The final featurette is entitled "Genesis of the Bat" and runs for 14 minutes 53 seconds. This piece takes a look at the process and influences that led to the final film we see today.

Following those clips we have an extensive stills gallery that includes many of the film's posters created to market the film. This is broken down into three sections:

- "U.S." includes a series of 9 images of posters, banners and ad material used to market the film.
- "International" includes a series of 14 images of posters, banners and ad material used to market the film.
- "Explorations" includes a series of 40 images of abandoned posters, banners and ad material that were never used.

Once you've finished exploring those galleries there are a series of "Confidential Files" these are extensive production notes that are broken down into three sections, "Hardware", "Enemies" and "Allies/Mentors" below is a breakdown of what is listed under each section:

"Hardware" includes in-depth notes on the following items:

- Utility Belt
- Memory Fabric Cape
- Prototype Military Suit
- The Tumbler

"Enemies" includes in-depth notes on the following characters:

- Scarecrow
- Ra's Al Ghul
- Carmine Falcone

"Allies/Mentors" includes in-depth notes on the following characters:

- Detective Sgt. James Gordon
- Rachel Dawes
- Lucius Fox
- Alfred Pennyworth
- Henri Ducard

Finally we've also go the film's original theatrical trailer which runs for 1 minute 13 seconds.

Overall


"Batman Begins" is one of the best films in the "Batman" series, Nolan has done an amazing job in brining the Dark Knight back how creator Bob Kane originally intended. This Origin tale is emotionally charged, epic in scale and action packed. "Batman" fans will not disappointed with this one.
| | | | | |
| --- | --- | --- | --- | --- |
| The Film: A | Video: A+ | Audio: A | Extras: A+ | Overall: A+ |