The Film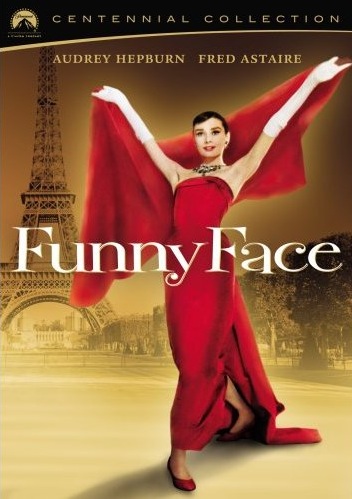 It may be an old saying but, when it comes to actors, they sure don't make 'em like they used to. Back during Hollywood's Golden Age, it took more than just a pretty face to get yourself into pictures. Actors had to rely on a little something called talent to get a gig, something one could argue has been sorely lacking from contemporary cinema. Sure, we have a handful of actors who are amazing at their craft, but you'd be hard-pressed to find many who can act, sing and dance like Fred Astaire. Coming in near the end of his illustrious career, "Funny Face" pairs Astaire up with the 30 years-his-junior Audrey Hepburn for this film about fashion and philosophy in Paris. Along with director Stanley Donen and a rare on-screen appearance from Hollywood vocal arranger Kay Thompson, the film is a great musical with strong performances.

Maggie Prescott (Kay Thompson) is the editor of Quality magazine, and she needs a fresh face for her new campaign. When she and her photographer, Dick Avery (Fred Astaire) decide to shoot in a unique location, a used book store, they happen upon Jo Stockton (Audrey Hepburn), a bookish philosopher with a 'funny face' that they both come to agree is perfect for the new fashion line. In no time Jo is whisked away to Paris, but rather than showing an interest in the world of fashion, she prefers to spend her time at the local club talking about empathicalism. Once she finally succumbs to the charms of Avery, however, the she learns to enjoy what she's there for and, unexpectedly, falls in love.

Everything about this film is incredibly well done. The casting couldn't have been better. Astaire at this point is a venerable master of his craft; the man moves with such ease and precision its unreal. Astaire had previously starred in the Broadway musical version of the same name, alongside his sister, Adele Astaire, no less, and 4 songs from that version appear here in the movie. He has an incredible voice considering he was 58 when this film was made. It does seem a little bizarre to me that Hepburn's character would be interested in a man 30 years her senior, but everything here is done with such Americana-type innocence that it's hard to fault the filmmakers for overlooking a detail such as this.

I wasn't familiar with the work of Audrey Hepburn before seeing this film, but I can understand now why she is considered so timeless. Hepburn displays a radiant yet innocent charm while also coming across as astutely confident; she knows what she wants but she isn't always unwilling to play the game to get it. Hepburn sings with her real voice here, unlike in "My Fair Lady" (1964), and I think she sounds fantastic. Her outfits in this film were all picked with the aid of renowned Parisian designer Hubert de Givenchy, and she looks incredible in every single shot.

The third lead cast member rounding out the triumvirate is Hollywood vocal arranger, and typically behind-the-scenes woman, Kay Thompson as Maggie Prescott. Thompson is a mature woman who has been around the business for a very long time, and she sinks right into the role of the editor who gets exactly what she wants. No doubt Meryl Streep's performance in "The Devil Wears Prada" (2006) was highly influenced by her character. She does an incredible job during the film's Busby Berkeley-esque opening number.

The look and visuals of the film were provided by Richard Avedon, who also happens to (loosely) be the inspiration behind the Dick Avery character in the movie. Avedon was a well-known photographer and he helped to create many of the film's classic locations in Paris, as well as providing many of the pictures seen in the film including the iconic shot of an over-exposed Hepburn. The film takes place in 2 major locations, New York and Paris, but the film will always be remembered for Paris because many of the location shots are beautiful, even if it does unfortunately happen to be raining in a few of them.

Director Stanley Donen was a more than capable man for taking the directorial reigns here, having previously directed such hit musicals as "On the Town" (1949) and "Singin' in the Rain" (1952). Donen has a great eye for shooting dance sequences that really draw you into the scene.. Having worked with some great song and dance men, among them Frank Sinatra and Gene Kelly, Donen was a great fit with Fred Astaire. The camera moves around him seamlessly at all times, and Donen gets so many great angels that each dance sequence takes on a life of its own. The highlight of the film for me was Hepburn's Bohemian dance number in the Parisian nightclub.

Video


For a film that's over 50 years old, "Funny Face" looks very good. The movie is given a 1.85:1 anamorphic transfer and it looks impressive. Colors are sharp, natural and never bleed, whites are cool and black levels are good, although I think I did notice some crushing in a few scenes, but it was nothing that ruined the overall presentation. Many newer movies don't look this good and Paramount did an excellent job here. From my understanding, this transfer is virtually identical to the transfer on the 2001 Special Edition DVD for the movie.

Audio


Paramount has given "Funny Face" an English Dolby Digital 5.1 surround sound track that is clean, crisp and sounds great. Surrounds are used sparingly, but there are a few odd effects here and there to fill things out a bit. Also included is a restored English Dolby Digital 2.0 mono track for purists, as well as a French Dolby Digital 2.0 mono track and a Spanish Dolby Digital 2.0 mono track.
Subtitles are available in English, French and Spanish.

Extras


Coming in at #4 in Paramount's newly-minted "Centennial Collection" series, "Funny Face" has been given a 2-disc set, with the first disc housing the feature film and the second home to a bevy of supplemental material. Featured are several featurettes, the film's theatrical trailer and a photo gallery.

"Kay Thompson: Think Pink" is a featurette which runs for 26 minutes and 35 seconds. This is a fairly comprehensive look back at Thompson's career, from her early beginnings as a dancer and songwriter to her rise in Hollywood as a hard-working actress. The people interviewed are very knowledgeable and there is some great archival footage presented. Think of it as a shorter version of an A&E Biography.

"This is VistaVision" is a featurette which runs for 24 minutes and 39 seconds. This is a great look back at the creation of VistaVision by Paramount.. With the advent of television, movie studios needed something new to draw back audiences, so the Vistavision widescreen presentation was created. The idea was the give people an experience of full immersion into a picture, something small, semi-circular TV screens couldn't provide.

"Fashion Photographers Exposed" is a featurette which runs for 17 minutes and 52 seconds. This gives an in-depth look at how photographers approach their subjects, and what is necessary to achieve the right look. The film "Funny Face" is used as an inspiration for the shoot on display here, with the models attempting to emulate Hepburn's timeless looks.

"The Fashion Designer and His Muse" is a featurette which runs for 8 minutes and 7 seconds. This is a look at how Hepburn chose some of her iconic outfits for her films (in the case of "Sabrina" (1954), it was in a mad dash), and Hubert de Givenchy, who helped her look so incredible in her films.

"Parisian Dreams" is a featurette which runs for 7 minutes and 38 seconds. This is a look at how the romantic French city plays a major part in "Funny Face", and what locations were used for the shoot.

"Paramount in the 50's" is a featurette which runs for 9 minutes and 33 seconds. This is an interesting, but far too brisk, look at Paramount's output in the 50's told in an old-fashioned cinematic newsreel style.

The film's original theatrical trailer is presented in anamorphic widescreen and runs for 2 minutes and 30 seconds.

Finally, there are 3 photo galleries available for:

- "Production" features 22 images.
- "The Movie" features 25 images.
- "Publicity" features 22 images.

Packaging


It's also worth noting that the set includes a beautiful 8-page full-color booklet with some great production photos and notes. The 2-disc case is housed in a sleek black slipcover with shiny, embossed cover art.

Overall


"Funny Face" is both a fun, light-hearted romantic movie and a great musical. Even if that's not typically your kind of thing, you'll have to appreciate just how hard working Astaire, Hepburn and Thompson are in this movie. The locations are legendary and the film looks gorgeous. Add in plenty of extras, although some are a bit unfocused, and you have a stellar presentation.
| | | | | |
| --- | --- | --- | --- | --- |
| The Film: B | Video: B+ | Audio: B | Extras: B+ | Overall: B+ |