Sex Drive: Unrated and Cream Filled
Blu-ray A - America - Summit Entertainment
Review written by and copyright: Adam Palcher (13th April 2009).
The Film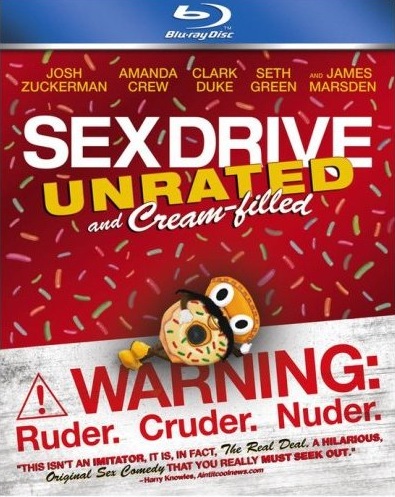 The "R" rated comedy is a dime a dozen these days and itís nice to see that it can still be funny. By no stretch of the imagination is this movie original, but it certainly has its moments and overall was a good time.

Josh Zuckerman plays the nice-guy Ian who is practicing being a hard ass to girls over the Internet but canít do it in real life. Only prompted by an invitation and his horny and charming buddy Lance (Clark Duke) do they take a road trip to turn Ian into a real man only to find themselves on an adventure themselves. Tagging along is Ianís long time best friend and obvious crush Felicia (Amanda Crew), always there to behest his manly nature and talk him out of things while Lance is talking him into them.

The performances that really stuck out for me were Clark Duke, who plays Ianís buddy, with a charmingly and hilarious performance from an actor Iíve never even seen or heard of before, thatís always a nice surprise. Along with Dukeís performance James Mardsenís role of Ianís older, extreme brother is spot on and often over the top and funny as hell. Same goes with Seth Greenís performance of the Amish smart ass with a love for sarcasm.

It all fits nicely into this hilarious adventure tale of sex crazed teens, pointless nudity and obscene language. Like I mentioned before this storyline is far from original, but lets be honest anyone who is signing up to see "Sex Drive" is not watching the film for itís artistic value and mind bending plot twist. From Mexican donuts and prison fights this film has it all for the sick natured person in you. Youíll love the film and it will make you want to ďvisit grandmaĒ!

This disc includes two versions of the film one is the original "R" rated 'Theatrical Cut' release and the 'Unrated Version' which has over 20 minutes of new, never before seen footage of the film with ad libs, nudity, and crudeness galore!


Video


There are two versions of the film on this Blu-Ray version of "Sex Drive". The 'Unrated Version' is presented in high-definition 1080p 24/fps in 1:85:1 ratio, and strangely the "R" rated 'Theatrical Cut' version is presented in 1080p 24/fps but in a 1:78:1 ratio. Both are mastered with AVC MPEG-4 compression, with a crisp and clear picture there is nothing stunning about the cinematography to particular ďwow ďany viewers, but it does it job with clear, detailed definition and blacks that are deep and rich.

Audio


Presented in English Dolby Digital 5.1 for both versions of the film, along with Spanish Dolby Digital 2.0 surround option available for the 'Theatrical Cut' version of the film, as well. Everything mainly seems in the front end with a few background noises moving around in the backend. This movie is made for laughs, not for audio, but it transfers well with this average sound editing and run of the mill teen-comedy soundtrack.
Subtitles are presented in English for the hearing impaired and Spanish.

Extras


Summit Entertainment has released this film with a collection of extras that include an audio commentary and three featurettes. All the below extras are NOT in HD, only 480i with Stereo 2.0 sound.

An audio commentary through the film with the writer/director Sean Anders and co-writer/producer John Morris. The commentary is actually pretty full of insight and production trivia, and of course funny as hell. Also itís good tool if you want to see (or hear) how a low budget indie comedy gets made.

"Sex Drive: A Masterpiece In The Making" is a behind-the-scenes featurette about the making of the film. Running pretty short for a featurette at 11 minutes and 32 seconds. You get to see how the next great American epic was made through interviews with the cast and crew, goofing around on set and the filmmakers discussing their ideas coming to life on screen. Looks like a fun movie to make, and everybody had a good time.

"The Mardsen Dilemma" featurette is a 4 minute and 36 second minute spoof with the cast and crew trying to convince James Mardsen that he is not funny, just good looking. Mostly behind his back. As a spoof it works great and is a nice, funny addition to the extras.

"Clarke: Duke Of The Internet" featurette is a similar spoof with Clark Duke taking about how awesome he is and the rest of the crew debating that, another funny clip. Apparently he got famous from a show he has on the Internet. This spoof runs 3 minutes and 49 seconds.

Overall



| | | | | |
| --- | --- | --- | --- | --- |
| The Film: B+ | Video: B+ | Audio: B | Extras: C | Overall: B |

---
DVD Compare is a participant in the Amazon Services LLC Associates Program and the Amazon Europe S.a.r.l. Associates Programme, an affiliate advertising program designed to provide a means for sites to earn advertising fees by advertising and linking to amazon.co.uk, amazon.com, amazon.ca, amazon.fr, and amazon.de.