The Show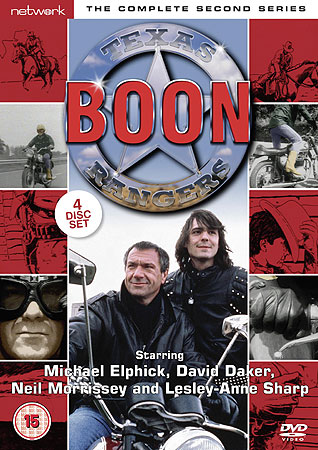 In his pivotal 1954 essay 'The Westerner', Robert Warshow argued that the appeal of the Western hero lies in the fact that he 'is a figure of repose […] lonely and to some degree melancholy […] [H]is melancholy comes from the "simple" recognition that life is unavoidably serious […] [and] his loneliness is organic, not imposed on him by his situation but belonging to him intimately and testifying to his completeness' (36). The Westerner is a man who accepts employment 'not because he needs to make a living, much less from any idea of "getting ahead"'; he is a character that possesses 'an apparent moral clarity that corresponds with the clarity of his physical image against his bare landscape' (37). Furthermore, the Western represents a notion of freedom: 'the wide expanses of land, the free movement of men on horses' (ibid.). This 'physical freedom […] belongs to the moral "openness" of the West' (ibid.). In this land of moral 'openness', the Western hero represents 'justice and order'; he is a man who 'does what he "has to do"' [….] What he defends, at bottom, is the purity of his own image—in fact his honor [….] He fights not for advantage and not for the right, but to state what he is [….] The Westerner is the last gentleman, and the movies which over and over again tell his story are probably the last art form in which the concept of honor retains its strength' (38). For Warshow, this is the essence of the enduring and cross-cultural appeal appeal of the Western.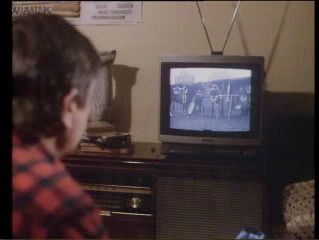 In Boon (Central TV, 1986-92), Michael Elphick plays Ken Boon, a former fireman-turned-motorcycle courier who is obsessed with American Westerns and who models himself on the kind of Westerner whose traits Warshow identified. Boon's love of Westerns is signalled in the series' opening titles sequence: during the first series' titles, Boon was shown in a small room filled with Western novels, reading a Western-themed comic book and imagining himself as the hero of the story, accompanied on the soundtrack by Jim Diamond's instantly recognisable theme song 'Hi Ho Silver'. In the titles sequence for this second series of the programme, produced in 1987, Boon is shown alone in his flat above the stables out of which he operates his business, a poster for the Van Heflin and Tab Hunter-starring 1950s Western Gunman's Walk (Phil Karlson, 1958) shown to be gracing the wall in front of him as the camera pans across to a small portable television set; a black-and-white Western picture is playing on the screen, the image of Ken Boon (on his motorcycle) intermittently superimposed over the horse-riding hero. Cutaways to Boon show him gleefully watching the film, cheering the hero. Like the protagonist of the classic American Western, from the titles sequence onwards Boon is shown to be lonely and somewhat melancholy, a man who believes in the physical and moral freedom offered by the classic Western and whose actions are built on a belief in, to use Warshow's words, doing 'what he "has to do"' in order to defend 'the purity of his own image' and his honour. In the first episode of this series, 'Texas Rangers', Boon is threatened by a group of bikers who try to extort him; he responds by telling them, in a classic Western-style assertion of his independence, 'Let me tell you something, son: I work for myself. I don't pay a slice to anybody; anyone gets on my back, they get a rough ride'.




Throughout Boon's seven series, Boon progressed from a motorcycle courier to a private detective. As this second series opens, Boon is on his own again after Doreen (Rachel Davies) has left for Spain. Boon has also opened his own motorcycle courier firm, The Texas Rangers, resulting in the introduction of Rocky Cassidy (Neil Morrissey) as Boon's Brummie assistant. Boon's business operates out of the stables of The Coaching Inn, the hotel that Boon's former colleague in the fire service, Harry Crawford (David Daker), has bought following the sale of his old hotel, The Grand Hotel, at the end of the first series; Boon has also invested in Harry's hotel and functions as a silent partner. In the first episode of series two, Boon also employs Debbie Yates (Lesley-Anne Sharp), a former chambermaid at The Coaching Inn, as his radio operator. Boon and his associates operate in a world of moral certainty, taking on odd jobs that see them crossing paths with property developers who are extorting local landowners ('Day of the Yokel'), unravelling the plans of credit card fraudsters (in 'Credit Where It's Due') and taking on jewel smugglers ('A Fistful of Pesetas').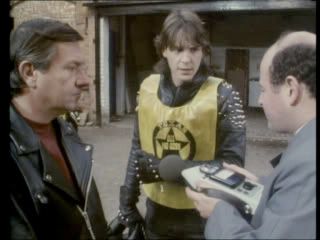 Boon's creators, Jim Hill and Bill Stair, were inspired by the classic Western series Have Gun – Will Travel (CBS, 1957-63), which starred Richard Boone as professional gunfighter Paladin, the 'knight without armour in a savage land' (as the theme song labelled him). The West Point-trained Paladin offered his 'problem-solving' services to those who needed his help, advertising his expertise with a business card which read simply 'Have Gun, Will Travel. Wire Paladin, San Francisco'. Likewise, in the first series of Boon Ken Boon advertised his services in the local newspaper, with an advert which read: 'Ex-fireman seeks interesting work. Anything legal considered'. ('Anything Legal Considered' was originally intended to be the title of the show that became Boon; Hill, 1999: np.) A year earlier, the hit US series The Equalizer (CBS, 1985-9) had also referenced Have Gun – Will Travel, with Edward Woodward's Robert McCall advertising his services as a Paladin-style problem-solver, with a similar newspaper advertisement stating 'Got a problem? Odds against you? Call the Equalizer'. In fact, Jim Hill and Bill Stair had taken Ken Boon's name from the star of Have Gun – Will Travel: 'Boon had derived from an American TV series that Bill and I both watched and liked from the 50s. It was called "Have Gun Will Travel" – a troubleshooting cowboy answered distress calls. He was called Palladin [sic] and was played by the actor RICHARD BOONE. We dropped the E and we had BOON – a modern day trouble shooter on a motorbike instead of a steed' (Hill, 1999: np).

Boon looked backwards to Western-themed series such as Have Gun – Will Travel and the era of the 1950s 'adult Western' films such as Gunman's Walk, offering a postmodern pastiche of the American Western and transposing its themes to modern-day Birmingham and, in later series, Nottingham. However, the series also looked sideways to contemporaneous British shows such as Minder (Thames, 1979-94), especially in terms of its mixture of drama and comedy. For Jim Hill, '[t]he one event that made me realise we had a hit show (as far as writers wanting to work on it) was when a MINDER script was sent in with ARTHUR [Daley] and TERRY [McCann]'s names changed to KEN and HARRY. It was clearly a MINDER plot (rejected) but the writer was desperate to be on BOON. I admired the MINDER series and felt proud that BOON had a similar quality' (Hill, 1999: np).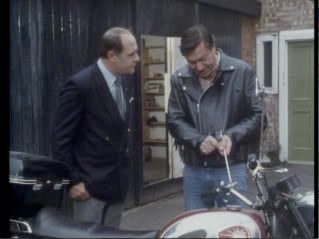 A fondly-remembered series, Boon has aged surprisingly well; the series is anchored by Elphick's sensitive performance as Ken Boon, a character who values his independence and has a strong moral compass. Elphick was, until his death, a largely undervalued actor, and it's always a great pleasure to see him on screen. The Independent's obituary lamented the fact that 'the demise of the British film industry robbed [Elphick] of the chance to make a name for himself on the big screen' (Hayward, 2002: en). Boon is Elphick's most lasting role, and whilst the programme's pastiche of the American Western was not particularly new (in its first few series, Minder also looked backwards to the conventions of the US Western: in fact, Minder's first episode was titled 'Gunfight at the OK Laundrette') its playfully postmodern allusions to the conventions of such an iconic genre perhaps now seems more inventive than it did during the 1980s, in the current era of seemingly endless and
indistinguishable 'reality' television programmes.

Disc One:
1. 'Texas Rangers'
2. 'Special Delivery'
3. 'Day of the Yokel'

Disc Two:
4. 'Smokey and the Band'
5. 'Taken for a Ride'
6. 'Wheels of Fortune'

Disc Three:
7. 'A Ride on the Wild Side'
8. 'Credit Where It's Due'
9. 'Trudy's Grit'

Disc Four:
10. 'A Fistful of Pesetas'
11. 'Paper Mafia'
12. 'Fiddler Under the Roof'
13. 'A Once Fluid Man'

Video


The series is presented in its original broadcast screen ratio of 4:3. The episodes are surprisingly well-preserved.




The original break bumpers are intact.

Audio


Audio is presented via a two-channel mono track. Again, this is well-preserved and clear.

There are no subtitles.

Extras


This release contains no contextual material.

Overall


A very good dramatic series, for any fan of British television drama Boon is well worth the investment of time and money, and despite a lack of repeats the series still has a strong following. It is easily the equal of other contemporaneous ITV dramas such as Minder. Series two contains some very strong episodes, with some great appearances by such well-known faces as a bearded and barely recognisable Ronald Lacey and Ray Winstone. This set contains a very good presentation of the episodes within series two of the programme, and is a must-buy for those who have already bought the first series of the show. However, for those new to the series it's probably best to start at the beginning, with series one.




With luck, Network will release the remaining five series of Boon.

References:
Hayward, Anthony, 2002: 'Michael Elphick: Obituary'. The Independent (11 September, 2002): en

Hill, Jim, 1999: 'Background information from Jim Hill'. [Online.] http://fp.martinunderwood.f9.co.uk/Boon/background.htm

Leeke, Gary & Elphick, Michael, 1999: 'Return of the Lone Ranger: An exclusive interview with Michael Elphick'. [Online.] http://fp.martinunderwood.f9.co.uk/Boon/interview.htm

Warshow, Robert, 1954: 'The Westerner'. In: Kitses, Jim & Rickman, Gregg (eds), 1998: The Western Reader. New York: Limelight Editions: 35-48

For more information, please visit the homepage of Network DVD.

| | | | | |
| --- | --- | --- | --- | --- |
| The Show: | Video: | Audio: | Extras: | Overall: |