The Show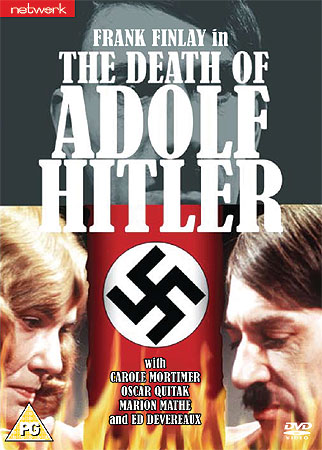 Produced for the ITV Saturday Night Theatre (LWT, 1969-74) strand, The Death of Adolf Hitler (1973) is one of many attempts to dramatise the final days of one of the most notorious figures within Twentieth Century history, along with The Bunker (CBS, 1981), Hitler: The Last Ten Days (Ennio De Concini, 1973) and the recent film Der Untergang/Downfall (Oliver Hirschbiegel, 2004). The two hour-long drama was written by Vincent Tilsley, a veteran television screenwriter who had written for series such as The Prisoner (ITC, 1967-8), Manhunt (LWT, 1970), Z Cars (BBC, 1962-78) and Dr. Finlay's Casebook (BBC, 1962-71). In 1971, Tilsley also co-created (with Rex Firkin, who also directed The Death of Adolf Hitler) the futuristic drama series The Guardians for London Weekend Television.

Here, Tilsley captures Hitler's mania during his last days in his bunker, aided by an outstanding performance from Frank Finlay as Hitler; for his role in the drama, Finlay was rewarded with a BAFTA. From the outset, Finlay plays Hitler as a man who is capable of moving from relative calm into hysterical bouts of rage, his fiery temper established early on, when he reduces Goering (Robert Cawdron) to tears; Hitler's companions are fully aware of his mania, and his lover Eva Braun (Caroline Mortimer) actively torments him by playing the song 'Smoke Gets In Your Eyes'. Fully aware of impending doom, Hitler is panicked by his knowledge that 'the Russians are coming'. He asks Braun, 'Why are you so calm? The Russians are coming, don't you know?' In response, she simply tells him that 'All you have to do is accept things'.

There are some nightmarish sequences depicting Hitler haunted by his past, which torments him via his dreams. Hitler's opiate addiction is also confronted in great detail. Furthermore, there are some clever tricks of editing: during the opening titles, an ironic cut is used from the popping of a cork on a bottle of champagne to the firing of a Russian howitzer.

There do not appear to be any edits.

Video


Shot on video, The Death of Adolf Hitler gets a handsome presentation on this release from Network. The drama is presented in its original broadcast screen ratio of 4:3, with the original break bumpers intact.

Audio


Audio is presented via a serviceable two-channel mono track. There are no subtitles.

Extras


Sadly, there is no contextual material.

Overall


The Death of Adolf Hitler is a powerful and fatalistic drama, carried by some very strong performances but, like most of the other dramas about Hitler's last days, filled with speculation and inferred details. This is a fascinating drama but for modern viewers it possibly pales in comparison with Hirschbiegel's highly-regarded Der Untergang. Nevertheless, this strong television imagining of Hitler's last days is fascinating, and very tense, viewing.


For more information, please visit the homepage of Network DVD.
| | | | | |
| --- | --- | --- | --- | --- |
| The Show: | Video: | Audio: | Extras: | Overall: |