The Film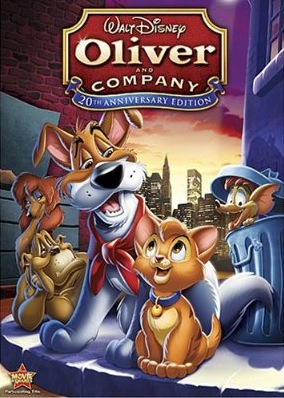 The late 80's were something of a slump for Disney's animation branch. The studio hadn't done a fully animated musical film since "The Fox and the Hound" (1981), and most of their output during that time was unremarkable at best. The studio had hoped to revitalize things with "Oliver & Company" (1988). Originally conceived as a sequel to "The Rescuers" (1977), "Oliver & Company" would be a return to the animated musical films that the studio pioneered for the better part of the last 45 years. I applaud their decision to get back in the ring, especially after being trounced by former animator Don Bluth and his considerable output in the 80's, but I still didn't see "Oliver & Company" as a return to the former glory once held by the studio.

Taking inspiration from Charles Dickens' classic novel, "Oliver Twist", "Oliver & Company" tells the story of Oliver (Joey "Whoa!" Lawrence), an abandoned kitten in New York City with no place to call home and no one to look out for him. One afternoon he runs across Dodger (musician Billy Joel), a street-wise mutt who schools him in the art of hustling to get a decent meal. Dodger takes Oliver back to the squalid apartment where he lives with his gang of dogs and the down-on-his-luck Fagin (Dom DeLuise). It seems that Fagin owes a considerable debt to local thug Sykes (Robert Loggia), and the only way he can pay up is to recruit his pets to find him some treasures. While out on a hunt, Oliver ends up in the home of a young rich girl, Jenny (Natalie Gregory), who is more than happy to adopt him. The gang decides to rescue Oliver, but he doesn't want to go. When Fagin tries to extort money from Jenny, Sykes gets wind of the plan and figures kidnapping her will net him a large sum in addition to "closing his account" with Fagin. The gang must rescue Jenny and find some way to eliminate Sykes for good.

I found the film to be extremely pedestrian, with plenty to keep children under 9 entertained but little else for any adults unfortunate enough to watch it with them. Unlike many kids movies made today, this film doesn't feature any subtle, below-the-radar laughs for the adult audience. The messages are sickly sweet, with little subtext that helped make the earlier Disney films so endearing. The worst aspect of the film, though, has to be the animation. I found it to be too dark, flat and gritty for a Disney film. It's obvious they were cribbing from other popular animators, such as Ralph Bakshi, an animator whose style I adore, but it doesn't fit this film. Maybe it's because this was made during a period of transition at Disney. Most of the "Nine Old Men" had moved on at this point, so it was up to their new animators to bring the film to life. I just wasn't feeling the style used here.

This was made back before A-list celebrities were lining up to collect an easy paycheck for doing voice work, but Disney still managed to assemble a cast of notable actors & musicians to bring the film to life. Led by Joey Lawrence, he of "Blossom" (1991-1995) fame, the cast also includes musician Billy Joel (in his first cinematic role), Richard Mulligan, Cheech Marin, Bette Midler, Dom DeLuise and cinematic hard-ass Robert Loggia. All do a respectable job with the respective roles; the only problem is that none of them are particularly memorable, though that might be because I fall well outside of the target demographic. My personal favorite was Cheech Marin as Tito, the super-charged chihuahua with a big mouth.

Another Disney staple this film is sorely lacking is a memorable musical score. Some of Disney's greatest songs from animated films are timeless; I could sing tunes from "Snow White and the Seven Dwarves" (1934) any time, right off the top of my head. The tracks here are kind of corny, and their lyrics seem like they were slapped together at the 11th hour. I expect more out of a Disney film set to music, and a better score may have greatly increased my enjoyment of this film, but sadly none of the tunes pull it together well enough to keep me satisfied.

"Oliver & Company" proved to be a big hit nonetheless, and Disney immediately began churning out animated musicals again, beginning with the blockbuster "The Little Mermaid" (1989). I remember the "Oliver & Company" promotional craze back in the day. I even had my very own Dodger plastic toy, courtesy of my local neighborhood McDonald's. When I re-watch films from my youth they either tend to hold up incredibly well, or better, than I remembered ("The Neverending Story" (1984), for example), or they prove that some things are best left in the past. "Oliver & Company" finds itself placed in the latter category.

Video


"Oliver & Company" has been given a 1.66:1 anamorphic transfer, though it doesn't do much to make the film look any better. The animation is fairly sub par, so a clean transfer will only be able to do so much to make it shine. Colors are mostly dull, and the film has a very flat look to it. Even though Disney created a separate division just for the film's computer-generated animation, nothing looks as sharp and crisp as the computer-assisted films of today. Still, the image is clean and clear and no digital noise is to be found.

Audio


Available options are a default English Dolby Digital 5.1 surround sound track. This isn't a very loud film, and the surrounds are used sparingly, but it's clear and free of noise. It's unimpressive by Disney standards, but then again so is the film. There are also French and Spanish Dolby Digital 5.1 tracks available.
Subtitles are available in English for the hard of hearing, Spanish and French.

Extras


For the film's 20th Anniversary, Disney has chosen to give "Oliver & Company" an adequate special edition with a making-of featurette, sing-a-long songs, interactive games, animated shorts, galleries and theatrical trailers. As with most new Disney DVDs, the special features here are divided among subcategories.

"Music & More" contains the following sing-a-long tracks:

- "Why Should I Worry?" runs for 3 minutes and 26 seconds.
- "Streets Of Gold" runs for 1 minute and 11 seconds.

"Games and Activities" contains one interactive game:

- "Oliver's Big City Challenge". I've never been a fan of interactive games on DVD's since they tend to run slow and are of little value. This one is no different.

"Backstage Disney" contains the following:

- "The Making of Oliver & Company" is a featurette which runs for 5 minutes and 29 seconds. A narrator guides you through a very brief overview of the film's story and the actors behind their animated counterparts.

- "Disney's Animated Animals" featurette runs for 1 minute and 29 seconds. This is a very quick discussion of Disney's history of using memorable animals in their films. Since all of the focus is on "Oliver & Company", this may as well have been a trailer.

- "Oliver & Company Scrapbook" gallery contains 14 images.

"Publicity Materials" features:

- Original theatrical trailer runs for 1 minute and 34 seconds.
- TV spot runs for 32 seconds.
- "Re-release" theatrical trailer runs for 1 minute and 39 seconds.
- "Return of a Classic" theatrical trailer runs for 1 minute and 59 seconds.

- "Fun Film Facts" is a text-based feature that provides some production notes which I'm sure children everywhere are dying to read.

"Bonus Shorts" contains the following:

- "Lend a Paw" runs for 8 minutes and 8 seconds. This is an Academy-Award winning short film in which Pluto saves a kitten in the snow. I remember watching this one as a kid. It's classic Disney.

- "Puss Café" short film runs for 7 minutes and 10 seconds. Another classic Disney cartoon, this one features a couple of lazy cats doing whatever they can to get some fresh milk, all while trying to avoid the guard dog, Pluto.

There are also some sneak preview bonus trailers for the following:

- "Up" runs for 1 minute and 51 seconds.
- "Disney Movie Rewards" promo runs for 20 seconds.
- "Pinocchio" runs for 1 minute and 27 seconds.
- "Beverly Hills Chihuahua" runs for 55 seconds.
- "Space Buddies" runs for 1 minute and 29 seconds.
- "Air Bud" runs for 1 minute and 4 seconds..
- "Bolt" runs for 2 minute and 31 seconds.
- "Tigger & Pooh and a Musical Too" runs for 57 seconds.
- "TinkerBell and the Lost Treasure" runs for 1 minute and 1 second.
- "Monsters, Inc." runs for 1 minute and 9 seconds.
- "Imagination Movers" runs for 32 seconds.

Overall


Though it might have worked for me as a child, I didn't find "Oliver & Company" to hold up too well over the years. The animation doesn't suit a Disney film, the songs aren't memorable and the story isn't very engaging. This is a good watch for kids under 9, but anyone over that age will likely be uninterested.
| | | | | |
| --- | --- | --- | --- | --- |
| The Film: D | Video: C+ | Audio: B- | Extras: B | Overall: C |