The Film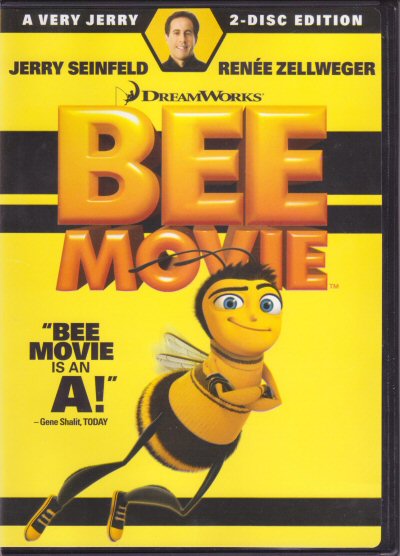 It's been several years since the show "Seinfeld" has bowed and yet it still remains as one of TV's funniest shows. It's still playing on screens around the world in that special little re-run heaven called syndication. The classic show about nothing sparked the meteoric rise of comedian Jerry Seinfeld as well as his supporting cast of characters. He made the wise decision to leave his popular show at the height of its run, choosing to go gracefully and on a high than ride it out for as many seasons and loose whatever edge the show had. Since then the comedian has gone back to his roots of stand-up, working on new material and releasing the documentary "Comedian" in 2002 which chronicled his return to the circuit. In the meantime Jeffrey Katzenberg of Dreamworks has supposedly trying for years to get Seinfeld on board and work on a project together. Finally Katzenberg gets his wish and the result of a few years hard work is the CG animated film "Bee Movie" which manages to harness Seinfeld's observational comedic sensibilities into a children's animated film. Although the film can be appreciated by adults it really feels like Seinfeld Jr.

"Bee Movie" tells the story of a bee, Barry B. Benson (Jerry Seinfeld) who gets discouraged about bee life, essentially the life of a drone doing the same thing over and over again for the rest of your life. Benson desires more, he wants to get out of the hive and experience life. Well one day he gets his chance to fly out with the pollen jocks, and after a series of misadventures meets a human. Vanessa Bloome (Renée Zellweger) is a florist who saves Benson's life and after discovering he can talk they soon develop a friendship. While being among the humans Benson soon realizes that they are stealing all their honey, and in an act of defiance sues the honey manufacturers. Although he wins in the grand scheme of things everyone lost, without bees pollinating plants the world's plant life is dying out, so it's up to Benson to re-motivate the bees and make things right again.

Going into "Bee Movie" one is surprised by the immense talent involved in the film, from Seinfeld himself taking credit as co-writer, producer and also plays the main character to the other supporting voice talent that includes Zellweger and a host of comedians featuring Chris Rock, Patrick Warburton, Larry Miller, Rip Torn and also actors such as Matthew Broderick, John Goodman and Ray Liotta among others. You'd think that with all these great people a part of this film it would be an amazing piece of work. Yet it's not, the most disappointing thing about this film was that it wasn't really that funny. The jokes fell a little flat, the story was mildly interesting and the only really great thing about the movie was Patrick Warburton as Vanessa's boyfriend. His character always made me laugh, and part of that was through his voice acting.

The film is peppered with some really sweet moments and some of the interactions Benson has with other bugs will occasionally induce a smile (but that's all), which although the scenes were written there's a lot of improvised material left in the film. Also it was nice to hear Zellweger rather than have to endure her sour expression. Perhaps she should do more voice work as her character was really charming.

Being an animated film I suppose we should cover the CG while we're here, the film delivers a cartoonish look, we get characters with exaggerated features and big eyes, and even the world around them feels cartoony. The visuals work well for the film and helps keep it grounded in its childish tone. While other animation studios try to push the boundaries of CG, Dreamworks is content to remain within the boundaries and deliver product.

What's clear is that over the years Seinfeld got a little lazy, and with competition from the Pixar camp it can't be easy for other studios to keep up. Although Dreamworks tries, one can't help but be totally spoiled for original product from their competition. "Bee Movie" had the potential to be such a great film but instead it builds up your aspirations for greatness and never delivers in the end.

Video


Presented in a widescreen ratio of 1.78:1 this anamorphic transfer is a top notch effort from Paramount and Dreamworks. The image is sharp and clean, the characters all appear with appropriate detail, without any pixel edges. The animation is smooth and the transfer presents it in such as way. Colors pop off the screen and include an impressive array. Additionally black levels are deep and bold in this otherwise excellent transfer.

Audio


Four audio tracks are included, an English Dolby Digital 5.1, French Dolby Digital 5.1, English Dolby Digital 2.0 surround and a Spanish Dolby Digital 2.0 surround track. For the purposes of this review I chose to view the film with its English 5.1 track. The film is virtually buzzing (pun intended) with activity. From the inner workings of the hive to the bustling streets of New York, the track is immersive and makes excellent use of the surrounds. The mix ranges from aggressive (see the plane landing sequence) to ambient and subtle, dialogue is clear and the film's score sores through the surrounds as well.
Optional subtitles are included in English, French and Spanish.

Extras


Paramount has released this film as a "Very Jerry 2-disc Edition" and packed the set with extras that include an audio commentary, a series of featurettes, lost scenes and alternate endings, a collection of trailers, TV Juniors spots, a music video, a jukebox song selection, and a collection of interactive features and DVD-ROM content. Below is a closer look at these supplements, broken down per disc.

DISC ONE:

First up is a feature-length audio commentary by co-writer/producer/voice actor Jerry Seinfeld, co-writer Barry Marder, co-producer Christina Steinberg, directors Simon J. Smith and Steven Hickner and editor Nick Fletcher. The best extra on this 2-disc set is found in this commentary despite the fact that these participants occasionally talk over each other and the comments are not always screen-specific. They comment on the film's production history, working with the various talent involved, the development is a interesting aspect as they cover the characters, plot, story elements both which made it into the final film and ones that were not used. It's a lively and fun track to listen to and also features some informative snippets.

Next up are 3 "Lost Scenes" a reel of deleted scenes, these are presented with a brief intro by Seinfeld and are in storyboard format and include:

- "Barry Interview" runs for 2 minutes 6 seconds, this first scene is an alternate opening where Barry is interviewing for a position at Honex.
- "The Queen" runs for 1 minute 42 seconds, in this second scene Barry meets the Queen Bee.
- "Liotta on a Plane" runs for 1 minute 12 seconds, finally in this third scene Liotta makes another appearance disguised as a flight attendant.

Following that are a reel of 6 alternate endings, all of these endings are presented in the same storyboard format as the deleted scenes, these endings were obviously dropped before the animation stage. They are all fairly similar with minor difference and all feature variations on how the film ends especially considering the relationship between Vanessa and Ken, the endings included are:

- "Barry and Vanessa Fly Off Together" runs for 2 minutes 37 seconds.
- "Tragic Love Triangle" runs for 1 minute 28 seconds.
- "Spanish Fly" runs for 2 minutes 40 seconds.
- "Outer Space" runs for 3 minutes 46 seconds.
- "Ken Flies Ultralight" runs for 2 minutes 11 seconds.
- "The Eagle Has not Landed" runs for 1 minute 57 seconds.

16 "TV Juniors" spots follow and runs for a total of 23 minutes 20 seconds, these are promotional clips created for the film's marketing campaign and feature Seinfeld in an office introducing the clip, each features various comedic situations surrounding the pre-production, production and post-production of the film. The first and probably funniest "TV Junior" is the first pitch at Dreamworks, other humor moments include the altercation with Liotta and how they wrangle animators from Mexico. Some are hit and miss, but this is a unique form of the marketing campaign that's refreshingly different than the usual boring TV spots.

"Jerry's Flight Over Cannes" is a brief featurette that runs for 3 minutes and shows us what the Dreamworks marketing team had in store for Cannes at the film's media launch, Jerry in a bee costume flys down a wire to greet the press.

Next up is "Inside the Hive: The Cast of Bee Movie" a featurette that runs for 14 minutes 40 seconds, this clip takes us through the casting of film and what each cast member brought to the character. It looks at the recording session where improvisation was encouraged as the cast recorded together, a rarity in an industry that records the voices individually.

Also featured on the disc are 2 live action theatrical trailers that include:

- "Windshield" runs for 1 minute 50 seconds.
- "Steven" which runs for 2 minutes 15 seconds.

Rounding out the extras on this first disc are a collection of bonus trailers for:

- "Kung Fu Panda" which runs for 1 minute 13 seconds.
- "Madagascar: The Crate Escape" which runs for 2 minutes 14 seconds.
- "The Spiderwick Chronicles" which runs for 2 minutes 32 seconds.
- "Kung Fu Panda" video game spot which runs for 1 minute 7 seconds.

DISC TWO:

This second disc is split into two sections, "Special Features" and "Dreamworks Kids". The first section is "Special Features" and includes the following extras:

First up on this disc is the "Tech of Bee Movie", a featurette that runs for 7 minutes 30 seconds, this clip takes a closer look at the CG animation of the film especially some of the challenges that this film posed for the animation crew among other things.

Next we've got "We Got the Bee" a music video performed by Alice Cohen featuring Hudson Soundlab NYC and runs for 2 minutes 10 seconds, this is actually a pretty cool video that's not your conventional video for a song tie-in for a film.

"Meet Barry B. Benson" is an interactive game which allows you to use your remote to ask Barry a question, his answers will let you learn more about the character.

"DreamWorks Animation Jukebox" feature which includes clips from other Dreamworks films, these are all the musical moments and included are:

- "Shrek" which runs for 1 minute 15 seconds.
- "Shrek 2" which runs for 1 minute 21 seconds.
- "Shrek The Third" which runs for 1 minute 32 seconds.
- "Flushed Away" which runs for 1 minute 56 seconds.
- "Over The Hedge" which runs for 1 minute 55 seconds.
- "Madagascar" which runs for 1 minute.
- "Shark Tale" which runs for 2 minutes 25 seconds.

The second section is "Dreamworks Kids" and features the following extras:

"The Buzz About the Bees" is a featurette that runs for 7 minutes 9 seconds is a brief educational clip about the insects, why they should be considered man's best friend, general facts as well as bee keepers and honey producing nations, etc.

"The Ow! Meter" is an interactive feature that allows you to check out the sting of 5 different types of bees and how they rate on an Ow! meter, this features takes a look at the effect of a strong whether you are a human or a bee. This feature also has a 1 minute clip about how to avoid getting stung by a bee.

"That's Un-Bee-lievable!" is another interactive game, this is a quiz where you use your remote to answer various bee related questions.

"Be a Bee" is yet another interactive game, here you answer a series of questions to work out what job you'd have in a hive.

"Pollination Practice" is the final interactive game on this disc, here you use your remote to target flowers for pollination.

Rounding out the extras are some DVD-ROM content for those that have a DVD-ROM drive on their PC or Mac, the features found here include:

- 6 bee character coloring pages, these PDF files allow you to print off some pages for kids to color in.
- 5 Honey recipes, features cool recipes using honey as the main ingredient.
- 3 Sudoku game grids, print off some Suduku games.
- "Bee Movie" video game demo, here you can play a levels from the video game.

Overall


The commentary was the most interesting of the supplements, while most of the features are targeted at kids it would have been nice to have included more in-depth making of material.
| | | | | |
| --- | --- | --- | --- | --- |
| The Film: C | Video: A | Audio: A | Extras: B+ | Overall: B- |