The Film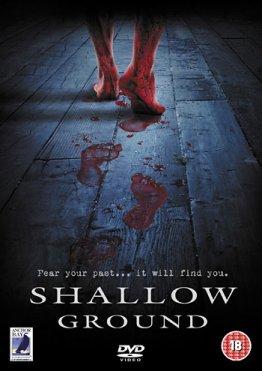 Just as Deputies Stuart Dempsey (Stan Kirsch) and Laura Russell (Lindsey Stoddart) are packing up and preparing to leave a remote sheriff's station for good, a naked teenage boy (Rocky Marquette) covered in blood and holding a bloodied knife appears. It is one year after a brutal and unsolved murder of a local girl and Sheriff Jack Shepherd (Timothy V Murphy), still guilt-ridden over her murder, is called back to search for the boy's true identity and possible victims. And so begin events that lead to the living paying for the pain that the dead have suffered.

Director Sheldon Wilson has created a low budget ($72,000) but interesting film here, one which he wanted to be more than just another 'slasher in the woods' scenario. Many obviously feel he (and the rest of the dedicated cast and crew) succeeded when the film was voted as the winner of 'The Audience Award For Best Picture' at the Dead By Dawn Film Festival 2004 and, certainly in terms of the gore and FX – which are absolutely wonderful - I'd certainly agree. However, I can't help feeling that there are elements which are lacking. I'm not sure I could point to any award winning acting in the film (although Rocky Marquette's performance as The Boy gave the character the 'presence' that was needed) and the story line (which I've not gone into here as I would spoil the twists and surprises which are there) seems a little unsure of itself. Perhaps I'm just a sucker for a film that doesn't require too much thought – not that I want to be brain dead by the end – but I finished watching this one with some unanswered questions. Unfortunately, not in a good way - they don't seem to intentionally unanswered, rather a fault of the story in the first place.

Video


The film is presented as an anamorphic 1.78:1 transfer (PAL) which is the original aspect ratio.



Much of the film is set at night which can cause problems with transfers produced with little care. Fortunately that's not the case here. Colours are defined and clear. It should be noted that there are a small number of shots which seem very slightly grainy but other than that the picture is perfect.

Audio


Like most releases from Anchor Bay these days, the disc has three audio options: a Dolby Digital 5.1 surround track (which is the original audio track), along with remixed stereo and DTS 5.1 surround options.



I watched the film with the Dolby Digital 5.1 track selected (as I don't have DTS facilities). There is subtle use of surround throughout the film but it's essentially the orchestral score which dominates the rear speakers. This is very effective throughout the film and represents a real achievement for a low budget production. Having said that, the rear channels are used well to create atmosphere in establishing shots. There are also a number of occasions where the surround is used to enhance the picture, such as at 61:50 to assist with the misdirection of The Boy.



A single subtitle option is available, an English Hard of Hearing track.

Extras


The film is accompanied by a modest set of extras which start with two audio commentaries: a 'Movie' Commentary by Director Sheldon Wilson and Producer John Traver and a 'Sound' Commentary by Director Sheldon Wilson, Composer Steve London and Sound Designer Richie Nieto. Next up is a half hour 'The Making Of Shallow Ground' featurette and the extras are rounded off with a Trailer, some Film Notes and an Easter Egg.



'Movie' Audio Commentary by Director Sheldon Wilson and Producer John Tarver: I watched most of the film again twice – once for each commentary – and whilst all contributors are certainly enthusiastic about the film, this one did seem a little dry. I think I'm influenced by the sound of people's voices and, like some college lecturers I can remember, theirs just didn't have the ability to hold my attention. That isn't necessarily a bad thing though and if you're keen to learn how to make a low budget film work then you could do a lot worse with 93 minutes of your time. It should also be noted that there is a loss of sound for a few seconds approximately 30 minutes into the track, although that doesn't really distract from the flow of comments.



'Sound' Commentary by Director Sheldon Wilson, Composer Steve London and Sound Designer Richie Nieto: Again, this is a fairly slow but sometimes informative chat track which, in case you haven't guessed already, concentrates on the sound design and score of the film. As would be expected, the group talk about very little else although many of the comments are anecdotal rather than purely technical talk. This is a track for those with an interest in this particular area of film making rather than simply the curious. Again, I noticed a loss of sound for a few seconds approximately 42 minutes into the track. If the disc was rated 12 or below I would have suspected a censorship issue but since it's an 18, that can't be the case.



The Making Of Shallow Ground featurette (30:32): This is a fairly informative piece that is full of contributions from the cast and crew. It covers almost every aspect of the production and reveals just how low budget productions actually work, such as actors who defer their payments and days which end with the producer wondering whether the crew will ever turn up again! There is also insight into the special FX including how to cope with buckets full of blood and how to get it to flow in any direction, on demand. The only disappointment for me is that it didn't cover the release of the film and the award at the Dead By Dawn Festival, especially since this is used to promote the film on the DVD packaging.



Trailer (2:50): This is a typical horror trailer that dwells on the gore and set pieces of the film. It also includes some spoilers so wait until you've seen the film before watching it.



Film Notes: Three pages of text which feel like a standard press kit since it includes an extended synopsis, review and very short details on the cast and crew.



Easter Egg: A very brief (1:30) featurette which shows how the disc menus were produced is available by going to the Extras menu, pressing Left to highlight the footprint and pressing Enter.

Overall


'Shallow Ground' is definitely a film deserving of some praise, although I don't think I'd rave about it to the extent that some have. Like the film in my 1st review ('Undead'), watching the extras in conjunction with the film serves to provide inspiration to budding filmmakers. I think audiences can appreciate a film much more when they realise the effort and ingenuity that goes into producing a successful low budget affair.
| | | | | |
| --- | --- | --- | --- | --- |
| The Film: B | Video: A | Audio: A | Extras: B- | Overall: A- |