The Show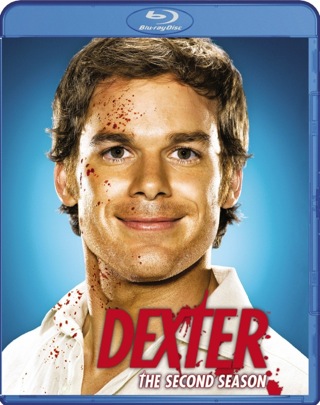 "Dexter" has had me intrigued from the beginning with it's premise, but unfortunately it's broadcast on the Showtime network in the United States, a premium network which means that it's a little above my budget to subscribe to and I missed out on it. However thanks to DVD and Blu-ray it also means its premium network broadcasting is a blessing in terms of allowing it to take it's content to a full, controversial and bloody, conclusion.

For those who missed out on the first season, like me, Dexter Morgan (Michael C. Hall) is a serial killer, a sociopath devoid of emotions who puts on a mask and fakes his day to day life, channeling his urge to kill by using his position as a forensic scientist to investigate murderers and kill them on his own time. In this second season however, Dexter finds some reservations after his last murder at the end of the first season that hit a little too close to home for him. He tries to get back into his serial-killing-for-the-greater-good form. Unluckily, once Dexter gets his groove back, the police department he works for uncovers his dumping grounds in the Miami Bay area, placing his coworkers unknowingly on his trail as they try to hunt him down.

As I've already said, the premise is really intriguing, a serial killer focused on killing killers. In the second season, the series attempts to go through the big overwhelming question: how does killing the killers make Dexter any more justified. At first blush it seems the series is content to leave it at the idea that he's the anti-hero protagonist and follows a set of his own rules in murdering the murderers. At times it seems that the series seems to delve into the idea behind capital punishment or how much more justified is the state in killing people than some vigilante name Dexter. However it feels as if there's no real definitive tone between taking joy in Dexter's justice with clever dialogue and a larger conversation around the idea of justice, social construction and sociopaths, but that kind of ambiguity can help to keep a show interesting

There's also some interesting conflict in terms of personal drama and Julie Benz has some great character drama and conflict with Dexter as the love interest of a man who can't feel love. It's nice to see her back working in TV again and getting a solid job after her fairly frequent guest spots in "Buffy the Vampire Slayer" (1997-2003)) and "Angel" (1999-2004). The rest of the supporting cast builds up a great ensemble, for all my fellow "Oz" (1997-2003) fans, a relatively large portion of the cast is represented with Erik King, Lauren Vélez, and David Zayas all playing cops and doing some great acting on par with their performances in "Oz."

The show is fairly solid, it has some momentary drags in some of the episodes, but they are fairly intermittent and are looked over quickly. "Dexter" is in many ways a further example of how the restraints of television can be hindering on the premises of some shows, "Dexter" could never really work on network TV, even though CBS has bought the rights and edited down the show it waters down and overlooks how the gore (which what's there is good) and language make the show feel more natural in the context of a show about a serial killer. It would be cheating to try and overlook the brutality or gore of the crimes that would make Dexter seem more heroic than sociopathic. That said, the directing and production of the show is really well done, the production values match up to the writing and directing between a 'well above average' to 'excellent' level.

Overall, "Dexter: The Second Season" is a good follow-up to the first, it runs a little to slow to start out with and has some rough spots, but Hall and the supporting cast, especially Benz, are incredibly strong and make the show watchable and likeable. The Second season didn't quite blow me away as I expected, but is good, watchable television that deserves praise.

Here's a quick rundown of the episodes of the second season:

– "It's Alive!"
- "Waiting to Exhale"
- "An Inconvenient Lie"
- "See-Through"
- "The Dark Defender"
- "Dex, Lies and Videotape"
- "That Night, A Forest Grew"
- "Morning Comes"
- "Resistance is Futile"
- "There's Something About Harry"
- "Left Turn Ahead"
- "The British Invasion"

Video


Presented in a widescreen ratio of 1.78:1 high-definition in 1080p 24/fps and has been mastered in AVC MPEG-4 compression codec. This series is shot in digital HD and these transfer have been created from their original digital masters, thus the image is fairly sharp, however there was some noise present in darker scenes that looks a bit distracting. Colors look good especially skin tones, detail and texture also hold up particularly well. While the image is better than the DVD release the HD image could still be better. Thankfully the transfer are clean without any dirt and also feature no major compression problems.

Audio


Two audio tracks are included here in either English or Spanish Dolby TrueHD 5.1 surround mixed at 48kHz/16-bit. The show is primarily dialogue based with some music cues adding to the overall immersive quality of the show. Dialogue is clear and distortion free, but is lacking in the active department. Subtle ambient sounds add another layer to the mix, while the overall track is a vast improvement over the standard Dolby track from the DVD with improved depth and range it wasn't as impacting as I'd have liked.
Optional subtitles are featured in English for the hearing impaired only.

Extras


The only extras on this set are featured on the third disc and include:

"Tools of the Trade" is an interactive game, select a tool and a brief outline of each one is provided, it's a lame extra... seriously Paramount how about something worthwhile?

You can also go online using the BD-Live access if you have a profile 2.0 player to access the following:

- 2 bonus episodes of "The United States of Tara" from the series' first season.
- "Blood Fountains" is a downloadable featurette, unfortunately this extra took ages to download... the portal is very slow and accessing some content is like pulling teeth!
- "The Dark Defender Series" are shorts that you can check out.
- Finally you also get cast member podcasts, which are probably the only thing worth checking out but still far from anything decent.

Overall


Paramount have presented these episodes well, sadly the extras are shameful, were are the audio commentaries, featurettes and deleted scenes, how come the show's creator's were not approached to create content for this release?
| | | | | |
| --- | --- | --- | --- | --- |
| The Show: A- | Video: B+ | Audio: B+ | Extras: D- | Overall: B- |