Ron White: Behavioral Problems - Live, Extended & Uncensored
R1 - America - Paramount Home Entertainment
Review written by and copyright: Adam Palcher (16th June 2009).
The Show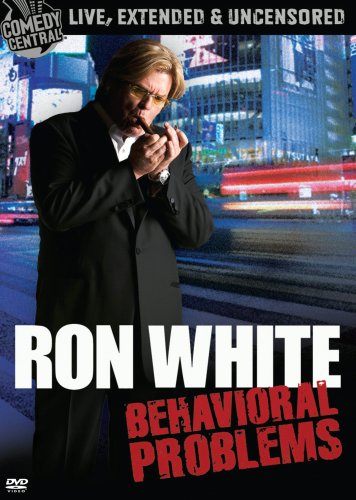 It's surprising to me that Ron White is part of "The Blue Collar Comedy Tour" he is easily the most original, funniest, and dirtiest of the group. Out of respect for Mr. White I won't lump him in with those sad excuses for comedians. Ron White definitely separates himself from the others by giving his audience his unabashed, candid presentation of his views on life.

White is not apologetic about his lifestyle telling stories of his constant weed habit and loads of money. The man sits on stage with a cigar and a scotch and spouts off rants of his views on funding the war, yelling at punk valets, and being drunk on his private jet. He definitely has the "redneck" part of his shameless persona down, but factoring in the side of his stoner lifestyle and lazy attitude you can tell White is living this life and having as much fun as he can while he's here.

I don't have much experience with Ron White's past efforts and from reading some other reviews this is not his funniest one to date, but White definitely has a target audience that are rabid and loving fans of everything he puts out. While I was expecting to sit through a painful execution of another "redneck" comedian, White genuinely surprised me with a thoroughly funny and ridiculously dirty routine.

I will always give it up to a comedian who is unapologetic about how he views the world and tells it how he feels. His drunken swagger and charm on stage works and is probably the reason he has his own private jet. Drink up Mr. White and serve us up some more comedy.

Video


This DVD is presented in standard definition with a 1.78:1 aspect ratio. Being a product of Comedy Central this is shot as your basic one-hour stand up routine, nothing fancy and everything was cut and edited to a proper standard.

Audio


The audio track is presented in either English Dolby Digital 5.1 surround sound or English Dolby Digital 2.0 stereo. The mix is even and standard with a mostly dialogue DVD on the front end and the audience laughter mostly on the back. Subtitles are not presented on this DVD.

Extras


Paramount has released this show with a collection of four deleted bits, below is a closer look.

"Rickety Piece Of Shit Bridge" with a runtime of 2 minutes and 52 with White in a deleted bit talking about well, a rickety piece of shit bridge. Worthy of a deleted bit and he looks totally wasted, as well.

"A Fourteen Footer!" is a another deleted bit from White talking about a man who killed a fourteen foot tall Grizzly Bear. Nothing too fantastic, but still a good extra. Running time is 5 minutes 11 seconds.

"Brokeback Mountain XXX" is the next deleted bit, it's an old bit of his experience watching the film "Brokeback Mountain" (2005) and the easy target of gay sex. This makes him eligible to make it on "The Blue Collar Comedy Tour", but the crowd loves it. Runtime is 2 minutes and 11 seconds.

"I Already Had This Erection" is a somewhat deleted bit that takes place at a bar after the show with some fans drinking with him and White telling some improv jokes. The whole thing is staged and could very well be a promo for the special. The story he tells is actually pretty damn funny. Runtime is 3 minutes and 41 seconds.

Overall



| | | | | |
| --- | --- | --- | --- | --- |
| The Show: B+ | Video: B- | Audio: B- | Extras: B+ | Overall: B+ |

---
DVD Compare is a participant in the Amazon Services LLC Associates Program and the Amazon Europe S.a.r.l. Associates Programme, an affiliate advertising program designed to provide a means for sites to earn advertising fees by advertising and linking to amazon.co.uk, amazon.com, amazon.ca, amazon.fr, and amazon.de.