Russell Peters: Red, White and Brown
R1 - America - Paramount Home Entertainment
Review written by and copyright: Adam Palcher (16th June 2009).
The Show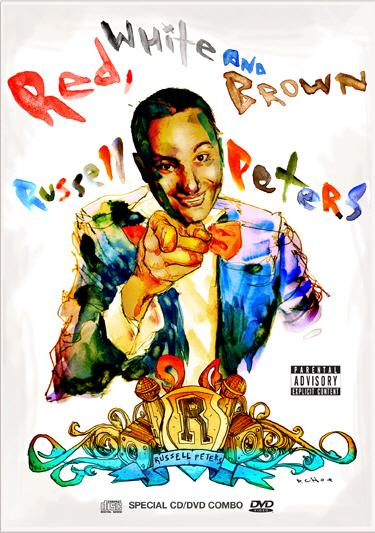 Comedy Central is the place to be if you are an up and coming comedian, and apparently it's not that hard to get your own comedy special. Through the slew of young fresh comedians on Comedy Central I was lucky enough to score this DVD treat of Russell Peters. Peters could easily be called a comic to keep your eye out for.

I would say at least 90% of Peters routine is based around racial jokes, hitting every ethnicity this world has to offer. Peters is playing to a sold out crowd in Madison Square Garden filled with material in the seats. What I like about Peters is that he interacts with the crowd and makes them be as much a part of the joke as he is. Pointing out the groups in the crowds and bringing their stereotypical idiosyncrasies up to the stage.

Peters is young, hip, and candid on stage. You can tell he is very comfortable on stage and has been doing this awhile. He plays with the audience and even laughs with them throughout his routine. Now for some comedians this could be a very annoying trait, but Peters pulls off his laughter as very charming and fun. It helps to interact with the crowd and seeing him live I could imagine is even better.

Again, everything here is very racial oriented, so it may not be for everybody, but if you can make light of the world and everyone in the room is on the same level then go for it. Who are we if we can't make fun of the human race? Peters takes this tactic and mostly satisfies for the hour long special.

The only thing that bothered me through this DVD performance is the endless cutaways of the crowd and reactions of the racial denomination he is making fun of at that moment. It's an editing choice, but it's a choice that says to me "it's ok that he is telling racial jokes, see they think it's funny", it almost defuncts the DVD for me.

Nevertheless, Peters pulls off a fun and entertaining performance that is well worth your time if your not too uptight about being politically correct and can laugh at the undeniable human condition.

Video


This DVD is presented in standard definition with a 1.78:1 aspect ratio. Being a product of Comedy Central this is shot as your basic one-hour stand up routine, nothing fancy and everything was cut and edited to a proper standard.

Audio


The audio track is presented in either English Dolby Digital 5.1 surround sound or English Dolby Digital 2.0 stereo. The mix is even and standard with a mostly dialogue DVD on the front end and the audience laughter mostly on the back. Subtitles are presented in English.

Extras


The package comes with not only a DVD of the performance but an audio CD, as well. Awesome extra. There's an audio commentary, deleted scenes and some bonus segments. Below is a closer look.

DISC ONE:

The audio commentary is available for an audio option during Peters main performance with comedian Russell Peters himself, along with producer Clayton Peters and the director Jigar Talati. A commentary on a comedy special seems a little pointless, but if you've seen this performance multiple times and want some extra insight it is still pretty funny, but to me takes away and I'd rather watch the main performance.

With a total running time of 5 minutes and 47 seconds we get four deleted scenes from Peters with the same great stuff the DVD offers. Funny, racial, and spot on. The scenes are: "Filipino Mom", Indians And Filipinos", "Ethnic Photos", and "Arab-A-Phobia".

"Support The Troops" bonus segment, in a total runtime of 9 minutes and 11 seconds Peters goes into two bits about his experience of going over to the "USS Eisenhower" and putting on a show for the troops. The second scene talks about staying in one of Saddam Hussein's old palaces, named "Saddam's Bitches In A Building". Optional audio commentary is available with comedian Russell Peters himself, along with producer Clayton Peters and the director Jigar Talati on this extra.

"White Jacket Bootleg" bonus segment, with a 11 minute and 55 second performance Peters goes into the man vs. women relationship and strays away from the racial bits, and it's a nice extra that is just as funny as everything else in a scene called "Women Are Thinkers". He ends with a cute bit with him questioning two Chinese people in the audience named " David and Vickey". Optional audio commentary is available with comedian Russell Peters himself, along with producer Clayton Peters and the director Jigar Talati on this extra.

DISC TWO:

is an audio CD of "Russell Peters: Red, White and Brown"

Overall



| | | | | |
| --- | --- | --- | --- | --- |
| The Show: B+ | Video: B- | Audio: B- | Extras: A- | Overall: B+ |

---
DVD Compare is a participant in the Amazon Services LLC Associates Program and the Amazon Europe S.a.r.l. Associates Programme, an affiliate advertising program designed to provide a means for sites to earn advertising fees by advertising and linking to amazon.co.uk, amazon.com, amazon.ca, amazon.fr, and amazon.de.