Office Space
R2 - United Kingdom - Twentieth Century Fox Home Entertainment
Review written by and copyright: Sam Scott (1st May 2004).
The Film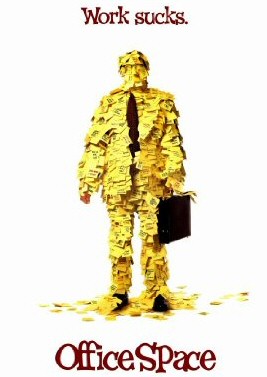 I decided to buy Office Space when walking through my local Asda supermarket and spying it out the corner of my eye. I remembered reading about it in a New York Times online article about how Office Space has made so much money in America even though it flopped at the box office. Over here in the UK though it was DTV (direct to video) release. I can see why.

Ron Livingston plays Inatech IT employee Peter Gibbons. He hates his job. All he does is sit in his cubicle all day and replace the year digits in loads of software. Exciting eh? You also have his 2 best friends Samir and Michael Bolton (oh, the hilarity). All three of them however, fear unemployment more than anything. They have consultants arrive to ask them about their jobs but after a hypnosis therapy type thing goes wrong with Peter (the hypnotist dies) he finds himself not turning up to work and doing pretty much whatever he wants. For some bizarre reason however, it propels him up the management ladder. He conjures up a plan with Samir and Michael (who are both about to be made redundant) to steal money using a virus that steals a quarter of a penny with each of the companies bank transactions. May not sound like much but a few thousand transactions a day and bob's your uncle. One problem. They have put the decimal place in the wrong spot. A couple of days later (and $300000 richer) they prepare themselves to get caught. Peter turns up to work the next day though to find that the place is on fire. I didn't laugh once with this comedy. Actually tell a lie. I did laugh on one occasion but only on how much Ron Livingston looks like the genius comedian Jimmy Carr. In fact this 'comedy' is so unfunny, it was probably made by some rich Germans who paid some Yanks to use their names on the cover. Don't get me wrong, I understand the humour, it's just not funny. For a real comedy set in an office, people should chill out and watch a couple of episodes of the hit BBC show The Office.

Video


1.85:1 anamorphic. A bit grainy. Watchable though.

Audio


5.1 with very very little use. OK, it's mainly dialogue in this film, but even during scenes with a fire or the destruction of a photocopier, the sound is crap.

Extras


Trailer. That's the lot. No really, that's it.


Overall



| | | | | |
| --- | --- | --- | --- | --- |
| The Film: D- | Video: D | Audio: C- | Extras: E | Overall: D- |

---
DVD Compare is a participant in the Amazon Services LLC Associates Program and the Amazon Europe S.a.r.l. Associates Programme, an affiliate advertising program designed to provide a means for sites to earn advertising fees by advertising and linking to amazon.co.uk, amazon.com, amazon.ca, amazon.fr, and amazon.de.