Indecent Proposal [Blu-ray]
Blu-ray ALL - America - Paramount Home Entertainment
Review written by and copyright: Noor Razzak (13th July 2009).
The Film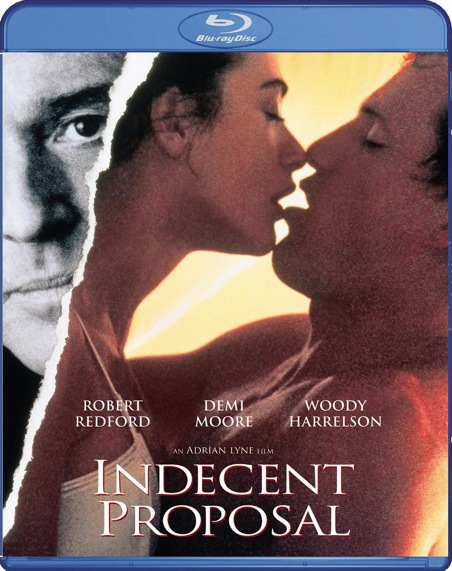 Prior to watching this film I was familiar with it through the various pop-culture parodies it inspired, "The Simpsons" (1989-Present) reference the film with the character Artie Ziff who offers a sizable amount of money for one weekend with Marge (one of my favorite episodes). Various commercials and comedic takes on the story were spun over the years. I knew more about the film from these references than by actually watching the film. A film where a handsome billionaire offers husband and wife Woody Harrelson and Demi Moore $1 million for just one night with Moore. The concept is laughable but director Adrian Lyne manages to craft a half-way believable tale of a financially crippled couple being offered a deal of a lifetime only to satisfy the ego and relative boredom of a suave billionaire who truly believes that everything and everyone are for sale. It's a deep prospect to explore and Lynne does a serviceable job however is bogged down by average to sub-par performances and a convoluted statement on love.

David (Woody Harrelson) and Diana (Demi Moore) are a married couple trying to make it through a financial crisis, they have been bitten by an economic downturn and cannot make their regular mortgage payments on their dream home. A home that David, an up-and-coming architect designed. In a last ditch effort the pair go to Las Vegas in hopes to win enough money to pay their debts. On the first night they strike it lucky, but on the second night, their luck runs out and loose everything. When a suave billionaire, John Gage (Robert Redford) catches the eye on the beautiful Diana, he makes a offer that can drastically change their lives. He offers the couple $1 million for just one night with Diana. After much thought, they decide to take the deal agreeing never to talk about what Diana does on her one night. Their relationship eventually suffers as a result of their decision and complications force the two apart, meanwhile John Gage is there to manipulate things to go his way.

While the film was a box office hit, I'm not entirely convinced that it's a great film. The high-concept premise aside, I was rather unimpressed with the lukewarm performances from the film's stars. Redford manages to sleepwalk through his role, he throws in a few cheeky smiles and does his best to be relatively charming but he's not the spring chicken he once was and the film could have benefited with a different casting choice. Harrelson, coming off his recently gained popularity from the TV series "Cheers" (1982-1993) and his break-out performance in "White Men Can't Jump" (1992), it was obvious the producers wanted to capitalize on a star on the rise but he's painfully miscast and under experienced to handle the major thrust of the dramatic scenes he's given. Coming off a second best to a sleepwalking Redford can't look good in anyone's book. The only winner (if you can call it that) here is Moore, who comes across as a beautiful distraction.. but that's about it, and it's really the only requirement of the role.

There are some iconic moments that have lived in the memory of the pop-culture zeitgeist, the $1 million offer and the scene of David and Diana having sex on a bed of money are but two examples. The supporting players add some further value to the production, Oliver Platt is given a few scenes that are quite enjoyable to watch and an appearance from comedian Billy Connolly as himself was a nice surprise as well as seeing Billy Bob Thornton in a very early appearance as a tourist in the casino. Sadly there isn't much left to comment about and these aspects done necessarily make for a great film.

"Indecent proposal" makes for a fine rainy day distraction, but doesn't reach the heights that I was expecting, it's nice to finally make those connections and witness the origins of various references I'd seen over the years in other shows. If you're a fan of the film then it might be worth picking up, otherwise a rental will do.

Video


Presented in the film's original theatrical ratio of 1.85:1 in high-definition 1080p 24/fps and mastered in AVC MPEG-4 compression. This image is a mixed bag, while some shots look gorgeous and sharp other are murky, lacking in depth and very noisy. While grain is heavy and very much apart of this transfer the blacks suffered a lot here a considerable amount. The image was occasionally soft and some specks were visible. Otherwise the colors are fine, skin tones are accurate and there was little dirt for a film that's 16 years-old.

Audio


Three audio tracks are present here in English Dolby TrueHD 5.1 surround mixed at 48kHz/16-bit as well as French Dolby Digital 5.1 surround and Spanish Dolby Digital 5.1 surround. For the purposes of this review I chose to view the film with its TrueHD audio. For the most part the film's audio mix was very front heavy. The dialogue comes across as clear and distortion free and the film's score does a fine job of filling in the rest, but the surrounds are very limited, ambient effects add to certain scenes such as the casino scenes but for the most part the audio was limited in range and lacking in depth.
Subtitles included are in English, French, Portuguese and Spanish.

Extras


The only extra on this disc is a feature-length audio commentary by the film's director Adrian Lyne. The track operates as a rather standard commentary as the filmmaker offers information mainly dealing with the production in terms of its locations and shoot various scenes. I was rather bored by the many silent gaps the director took throughout the film, and he didn't really provide anything noteworthy outside of the usual comments on his cast, on working with them and also on story elements. He takes us through some of his creative decisions for the film and talks about the tone as well. This track could have benefited with the participation of other cast and crew members.

Overall



| | | | | |
| --- | --- | --- | --- | --- |
| The Film: C- | Video: C | Audio: B- | Extras: C- | Overall: C- |

---
DVD Compare is a participant in the Amazon Services LLC Associates Program and the Amazon Europe S.a.r.l. Associates Programme, an affiliate advertising program designed to provide a means for sites to earn advertising fees by advertising and linking to amazon.co.uk, amazon.com, amazon.ca, amazon.fr, and amazon.de.