The Film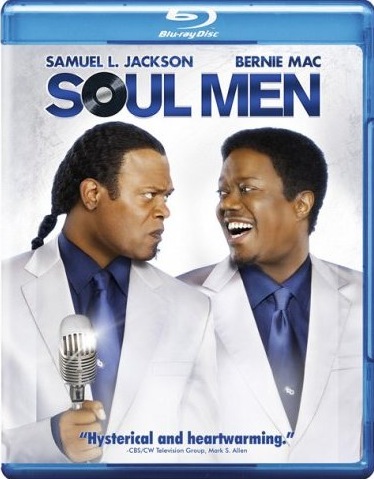 2008's "Soul Men" generated some early buzz before its release, not because of its original, exciting premise, but because two well-known actors from the film, comedian Bernie Mac and legendary singer Isaac Hayes, died within one day of each other. Both came as a huge shock to the film community, as two prominent, iconic figures in the African-American entertainment field were lost too soon. This would end up being the final on-screen appearance for both, making the film's release, and mild success, all the more bittersweet. Though the film has a simple, tried-and-true plot, it contains a fair share of laughs and tender moments that serve as a fitting send-off vehicle for Mac, who showed right up until the end that he was one of the hardest working comedians in show business today.

Back in the day, 'The Real Deal', led by Marcus Hooks (John Legend) along with his backup singers Floyd Henderson (Bernie Mac) and Louis Hinds (Samuel L. Jackson), were the hot ticket to see. But when Hooks went solo, the duo of Henderson and Hinds floundered and eventually parted ways on bad terms. 20 years later, Hooks has died and the Apollo Theater wants to reunite 'The Real Deal' to perform at his ceremony. Once Henderson convinces Hinds to get on board, the duo sets off on a cross-country road trip, warming up with some small shows along the way, running into an old flame's daughter, Cleo (Sharon Leal), who may be Floyd's child, and reminding each other why they got into this business in the first place.

There's no question that, even though he shares top billing, this is very much Bernie Mac's film. Now, that could be due to director Malcolm D. Lee having made some editing decisions to lighten the film up (and possibly focus a little more on Mac's genius), but there's no denying that he steals the show. While Jackson's character is callous, cool and hot-tempered, Mac lightens up every scene he's in with infectious enthusiasm. I'd say he's in rare form, but any fan of his knows that this was how he approached every role he played – with 110% of his abilities. He has some of the best lines in the film, imbuing this typical "odd couple" genre flick with a veritable barrel of laughs. I honestly did not expect to be laughing so hard, but Mac has always been a consistent abuser of my funny bone, so I should never have doubted his role here would be any different. It's a shame to know he won't be gracing the silver screen again. The man was a consummate professional and it always showed through in his work, regardless of the quality of the films he was in. His talents will be sorely missed.

Sharing the spotlight as the second half of 'The Real Deal' is film's most ubiquitous star, Samuel L. Jackson. I love Sam on film; he's one of those actors that has become so universally known, and well-liked, that he can bring a level of comfort to any film he's in, like watching an old friend. But we all know that Sam "The Man" Jackson has two modes: bad-ass motherf**ker and funny-ass motherf**ker. Though occasionally the two will meet, the fact of the matter is that Sam Jackson plays Sam Jackson in every Sam Jackson film. That being said, I really enjoyed him here as Louis Hinds, Floyd's former partner and constant rival in the female department. Though his arc is typical, I liked how even though Louis is so ill-tempered and misanthropic, you can always tell there's a heart lurking under there somewhere. Jackson may not have been the one cracking me up, but his yin to Floyd's yang helped provide some much-needed balance.

Since this is a "buddy road trip" film, the majority of the narrative focuses on Floyd and Louis, but there is one supporting character that gets some good screen time towards the film's second half: Adam Herschman as Philip, the duo's contact point, and fanboy, for the award ceremony. He plays the requisite overweight, semi-clueless dolt looking to assist anywhere he can, but Herschman brings a childlike sensibility to the role that really had me rolling. I hope to see him get some more work because he has great timing and line delivery, two crucial components for anyone looking to have a future in comedy.

Soul legend Isaac Hayes appears here as himself, though the role is little more than a glorified cameo. He isn't given much to say or do; he just shows up while people greet him with the customary, "Hello, Black Moses." It is a bit morbid seeing him share screen time with Mac, knowing both of them died within a day of each other, but it's a fitting tribute to both of their legacies. Especially Hayes, as this is a film primarily centered on soul music, a genre he played a huge role in shaping. The end of the film has a nice tribute to him, in addition to closing with one of his songs.

So, even though it is a sad thing to know this film features two talented men that were taken far too early, it is much better than I had anticipated, and certainly a fitting send-off for Mac. He's on fire for the entire duration of the film, so any fan of his would do well to seek this title out. Combined with Jackson's typical persona, this is an easy watch and the time just breezes by watching the two of them at each other's throats. I should also note that both actors did all of their own singing, giving the songs a much more personal touch and allowing the film to explore the sounds of soul with a touch of realism.

Video


The film's 2.35:1 1080p/24fps AVC MPEG-4 encoded transfer appeared to be nearly flawless to my eyes. The image is razor sharp, crisp, clean and free of any digital noise of grain. Just check out the detail on Floyd's El Dorado as they drive through the sparse deserts, the blue suits both don during their first show back together or the vibrant reds of the Apollo's dressing room. Skin tone reproduction is excellent; you can see every pore and bead of sweat on the actors' faces. If I had to nitpick, some scenes look a little flat and black levels aren't as deep as they should be in some night sequences, but those are minor issues. The colors on display in Memphis look exquisite, as does almost every frame of this film. Trust me, I looked for faults in almost every scene and was constantly amazed that the entire picture looked so detailed and clear.

Audio


There's an English Dolby Digital TrueHD 5.1 surround sound track mixed at 48kHz/24-bit, also included is a standard English Dolby Digital 5.1 track. The TrueHD sounds great, if not slightly underwhelming. I was hoping to get a little more life out of this mix, especially when you consider this is a film about music, but the track isn't a total wash or anything. The LFE could have used a bit more kick during some of the musical numbers, an odd omission that is noticeable. But dialogue is loud and pronounced, with no hiss, pops or anything else to clutter up the track. The film's music still sounds great, it's just missing that extra little "oomph" that the subwoofer is there to provide.
Subtitles are available in English for the hearing impaired and Spanish.

Extras


This Blu-ray comes loaded with bonus materials, a good majority of which are dedicated to the memory of the late Bernie Mac and Isaac Hayes. Included are an audio commentary, several behind-the-scenes featurettes and the film's theatrical trailer.

The audio commentary with director Malcolm D. Lee and screenwriters Matthew Stone and Rob Ramsey is a good listen, even if it isn't incredibly engaging. The trio reminisces about their experiences on set with the actors, while Lee talks at length about what scenes he feels don't work in the film. Additional editing was done after the deaths of Mac and Hayes to "lighten up" the overall tone of the film, and some of that is also pointed out. The track vacillates between informative and humorous, so listeners will likely glean some good production knowledge here, but I couldn't help but wish we could have had a track featuring Mac and Jackson. I'm sure it would have been a real treat.

"The Soul Men: Bernie Mac & Samuel L. Jackson" is a featurette which runs for 9 minutes and 30 seconds. The film's producers, along with Mac and Jackson, discuss how they got both actors on board this film and how they wanted to create a film with two strong leads with opposing personalities to play off each other.

"The Cast of Soul Men" is a featurette which runs for 7 minutes and 42 seconds. This is a brief look at some of the film's other notable cast members and how they got involved with the production.

"Director Malcolm Lee" is a featurette which runs for 2 minutes and 50 seconds. This is a very brief look at the film's director, how he came aboard and his shooting style on set.

"A Tribute to Bernie Mac" is a featurette which runs for 7 minutes and 28 seconds. Cast and crew members remember the late comedian, who died of pneumonia suddenly at the age of 50 in 2008. Also included is some interview footage with Mac discussing his early career.

"A Tribute to Isaac Hayes" is a featurette which runs for 4 minutes and 3 seconds. Hayes died the day after Bernie Mac, and they both were in this film, so the cast and crew remember the legendary songwriter and actor.

"Boogie Ain't Nuttin': Behind-the-Scenes" is a featurette which runs for 2 minutes and 31 seconds. Mac and Jackson do their own singing in this film, and this is a quick look at them at work in the music studio laying down tracks for the film's soundtrack.

"Bernie Mac at the Apollo" is a featurette which runs for 4 minutes and 17 seconds. Mac does some standup work at the theater back in March 2008, cracking up the audience as you might expect. .

The film's theatrical trailer runs for 2 minutes and 25 seconds.

Overall


With plenty of laughs from a great leading duo, fantastic picture quality, good audio and some fitting bonus material, this is a disc that is easily worth your time. Many comedies are hit-or-miss, but if you're even a casual fan of Mac's loudmouth and in-your-face brand of humor, you'd be doing yourself a disservice to not see this one.
| | | | | |
| --- | --- | --- | --- | --- |
| The Film: B | Video: A- | Audio: B+ | Extras: B | Overall: B |