The Film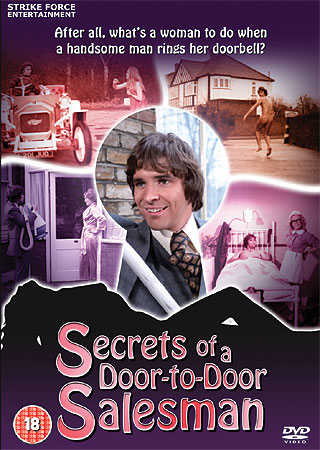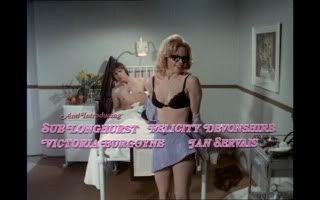 Secrets of a Door to Door Salesman (Wolf Rilla, 1973) is the kind of softcore sex comedy that kept the British film industry going during the early- to mid-1970s. A genre that grew out of the popularity of the Carry On films and their specific brand of smutty seaside postcard humour (see Sweet, 2004: en), the British sex comedy has a very lowly reputatation: in an article for The Independent in 2004 Matthew Sweet referred to it as the genre in which 'a generation of British light entertainment stars surrender[ed] their dignity for a few days in front of a movie camera (ibid.). According to Sweet, the British sex comedy is a genre that 'has been ignored by film historians, forgotten by the public, policed from the false historical consciousness constructed by those four-hour TV shows on which Stuart Maconie tells us what Spangles and Spacehoppers were. And yet, the sex comedy sustained film production at a time when the studio system was in terminal decline. It yielded some of the most profitable British films', with Mary Millington's Come Play With Me (George Harrison Marks, 1977) proving particularly popular, quickly acquiring its status as 'Britain's longest-running and most profitable domestic movie - a record it still retains' (ibid.). However, for the most part these movies, whilst offering acres of nude flesh, were often far from erotic: as Sweet observes, '[t]hese films were a long succession of let-downs. Once cinemagoers had handed their over their money, they were rarely provided with the raw thrills offered by the publicity material. But still they kept going back, hoping, perhaps, that this time the promise of something genuinely erotic would be fulfilled' (Sweet, 2006: en).




As an example of the British sex comedy at its peak of popularity, Secrets of a Door to Door Salesman has a curious pedigree: it was co-scripted by Dennis Norden, under the pseudonym of Roy Nicholas, and was originally to have been the directorial debut of Jonathan Demme. Demme completed one scene, which was retained in the film, before he was fired: the finished film credits Demme with directing the opening sequence, which features the protagonist David (Brendan Price) at home in a fishing village. In an interview for The Independent, Demme referred to Secrets of a Door to Door Salesman as 'part of a time-honoured genre […] Or maybe that should be time-warped' (Gilbey, 2004: en).

Following Demme's departure, the rest of the film was completed by Wolf Rilla, who had been directing British features since 1953. Until the mid-1960s, Rilla's career had mostly revolved around crime pictures and paranoid thrillers, including the 1960 adaptation of John Wyndham's novel The Village of the Damned. However, the failure of his experimental film The World Ten Times Over in 1963 pushed Rilla away from the world of cinema; Rilla spent the next ten years writing television scripts, only returning to film to direct two sex comedies in the 1970s, Secrets of a Door to Door Salesman and Bedtime With Rosie (1975).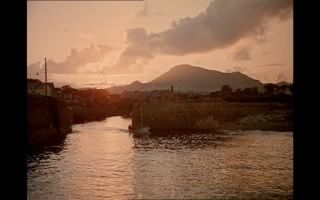 Secrets of a Door to Door Salesman opens with lobster fisherman David Clyde (Brendan Price) in bed with a woman, Martine (Karen Boyer). They are interrupted in their love-making when David's brother Anthony (Steve Paterson) rushes into the house to tell David that their father, who owns the boat on which they work, has fallen overboard. David and Anthony set out to rescue their father, but he is already dead. Returning to Martine, David tells her that his father is dead, the incident caused by the fact that he was drunk ('Drunk? At 6.30 in the morning?', Martine queries). David grieves for a moment, before asserting boldly, 'I'm free'. An offscreen voice declares that Anthony is to inherit the family fishing boat, whilst David is to inherit £3,000. Driving his new Albany car into London, presumably bought with his inheritance, David picks up a German hitchhiker named Martina (Jean Harrington). She causes him to reflect on his relationship with Martine.




In London, David takes a room at Mrs Donovan's (Jaqueline Logan) house; the house is filled with young women who immediately take a shine to David. Soon, David finds himself employed as an actor in a sex film. When David is pressured to do 'another take for the foreign version, and this time really let it go', after eight retakes of the same scene he finds it difficult to perform. Retiring from his newfound acting career, he takes a job as a salesman for the company Tiddee-Up. The rest of the film follows David's sexual adventures in the big city, ultimately ending with David rejecting city life in favour of returning to the fishing village in which he was born.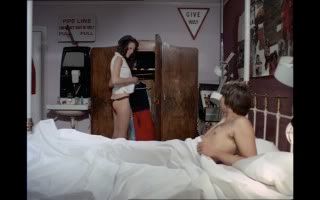 Strikingly, the film begins with the death of David's father; this is the catalyst that leads to David's sexual adventures in the city, offering David a newfound freedom that is expressed in his ambivalent attitude to the news that his father is dead – David mourns, but then observes cheerily that 'I'm free'. This use of drama to undercut or catalyse the sexual content of the film is not unique to Secrets of a Door to Door Salesman: writing in The Guardian in 2006, Matthew Sweet observed that '[w]hat now seems most striking about British faux erotica from the 1970s is the way in which misery and angst threaten constantly to displace the erotic. The Adventures of a Plumber's Mate opens with a tracking shot of the hero's dismal bedsit. On the floor there's a half-eaten plate of last night's chicken and chips. A filthy-looking mouse crawls over the plate. In The Playbirds, a soon-to-be-slaughtered glamour model makes the melancholy remark: "My first nude session paid for the abortion"' (Sweet, 2006: en).

Like the later Confessions… films (beginning with Confessions of a Window Cleaner in 1974), Secrets of a Door to Door Salesman has the episodic structure of a the 'bildungsroman', a novel about the growth and moral development of a young person. That is perhaps the essence of these films: they are tales of moral development, and Secrets of a Door to Door Salesman ends with David realising the value of a stable, monogamous relationship and rejecting city life in favour of life in his home village.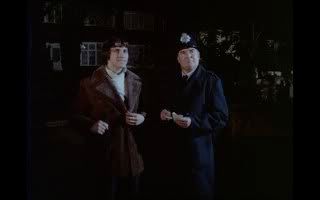 The film appears to be uncut and runs for 79:09 mins (PAL).

Video


The film is presented in an aspect ratio of 1.33:1; the film was most likely exhibited in cinemas at an aspect ratio of between 1.66:1 and 1.85:1. This DVD seems to contain an open-matte transfer, as there is plenty of 'dead space' at the top and the bottom of the frame.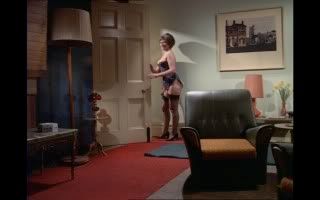 The film is in very good shape: the image is sharp and detailed, and colours are vibrant. There is remarkably little print damage in evidence.

Audio


Audio is presented via a two-channel mono track. This is perfectly acceptable: dialogue is always clear. There are no subtitles.

Extras


There are no extra features.

Overall


The smutty seaside postcard humour of the British sex comedy is most definitely an acquired taste. Although Secrets of a Door to Door Salesman is not the best, or most popular, example of the genre, it is an interesting and occasionally witty film. It has for a long time been absent from home video, and in light of this fact this DVD release is especially welcome. This presentation of the film is very good, and fans of this particular genre will no doubt want to snap this release up, thanks to the rarity of the film itself.


References:
Gilbey, Ryan, 2004: 'Jonathan Demme: Odd Man Out'. The Independent (14 November, 2004): en

Sweet, Matthew, 2004: 'What Happened to the Great British Sex Comedy?' The Independent (16 May, 2004): en

Sweet, Matthew, 2006: 'Keep it up, lads!' The Guardian (30 June, 2006): en


For more information, please visit the homepage of Network DVD or Strike Force Entertainment.
| | | | | |
| --- | --- | --- | --- | --- |
| The Film: | Video: | Audio: | Extras: | Overall: |