The Film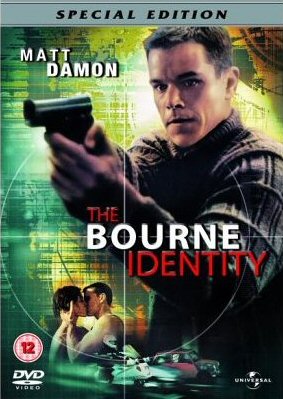 Upon seeing The Bourne Supremacy, sequel to this film, I did exactly what my copy of "Total Film" would do. Seek out the original. I did this mainly because I couldn't remember that much of it. Upon seeing my local Blockbuster store had rental copies for the controversial DVD re-release, I bit the bullet to see what the fuss was all about.
The film opens (well, if you're watching the theatrical version) with some people playing cards on a fishing boat. They eventually find an seemingly-dead man (Matt Damon) floating in the water and bring him on board. One decides to take a closer look, a finds that not only are there two bullets in the guy's back, but also a chip in the man's hip displaying his Swiss bank account. Upon waking up, the man displays selective amnesia, with him unable to know his real name or anything before waking up, but seems to be able to do normal tasks well. When sent to his Swiss Bank to find out his identity, he also discovers he is good at hand to hand combat and has different names on his passports. Upon hitching a ride to Paris with Marie (Franka Potente), he finds that various hitmen are also trying to kill him. Looks he fell in with a very bad crowd...
Matt Damon is excellent as Jason Bourne, the assassin suffering from amnesia. He shows a certain amount of innocence, while at the same time showing the heart of a cold-blooded killer. Potente, as Bourne's ride, struggles mainly due to the fact she is grappling with her accent in the film. Brain Cox and Chris Cooper are excellent support, but Clive Owen stumbles as one of the hitmen trying to kill Bourne. The film, while not sticking to the book, has an excellent story, while at same time, keeping action fans happy with a car chase through Paris being a major highlight.
As for the Explosive Extended Edition? Not much different to the original cut, apart from making the whole film a flashback. And no, you are not getting any new actions scenes here. Quote me on this when I say this version is a waste of time.

Video


Presented in 2.35:1 anamorphic PAL, the original feature segments really do look good, with only aliasing (on some blinds) and very mild film grain spoiling it. The new opening and ending, do not get the same treatment. This look like they came straight of a video source. Non-anamorphic, low-level noise, grain, aliasing, it's all here. Not even an minor effort to restore these scenes. What were you thinking Universal? That's to say if they were at all. The only subtitle stream was an English HOH track.

Audio


Agh, here is the bit where you really wanna get the original version. No DTS, thanks to the extended cut. The English Dolby Digital 5.1 sound does pack a wallop in the action scenes, where it really does come alive. The car chase in Paris, or the fight in the chapter before it will give your system a work out.

Extras


Of special note is the menu. On my Power DVD drive, there was a glitch. The main menu would work fine, but when you select the other menus, the text doesn't up, rendering you to navigate blind. When you select something and return to the menu, the text appears. Sloppy, as this should have been quality tested. Now, reason 3, for why you should keep that old edition. The commentary is gone. Go on scream, I feel your pain.

Moving on, here we having the option to view the bookend scenes without viewing the "extended cut" (the way it should have been).

Loads of featurettes, all of which are short, with little information, lots of back patting, and the same clips from the main feature. "The Bourne Mastermind" looks at Bourne authour Robert Ludlum. "Access Granted" is an interview with the screenwriter, who actually talks about what fans didn't like briefly. "From 'Identity' to 'Supremacy': Jason and Marie" doesn't really look at their relationship, but instead is a obvious promo for The Bourne Supremacy. "The Bourne Diagnosis" has a doctor looking at what type of amnesia Bourne has. The most interesting of the featurettes, but that isn't saying much. "Cloak and Dagger" has a former CIA operative look at the film. Do really think he's gonna admit they got a few things wrong? If the answer you were thinking was "no", you're damn right. "Inside A Fight Sequence" is exactly that. "The Speed Of Sound" looks at how they mixed effects for the car chase, followed by an interactive feature, that I really wasn't that interested in, at all.

"Declassified Information" is some deleted scenes, which suffer MAJOR aliasing. Anything with a straight line is jagged. They are also washed out.

Cast and Crew Filmographies are fairly up to date.

A music video by Moby is included, of a song I actually like over the end credits.

DVD Credits and a fantastic trailer for Van Helsing rounds out this disappointing package.

Overall


A good film presented on a disc which is only made to lure fools from their money in the run-up to the sequel.
| | | | | |
| --- | --- | --- | --- | --- |
| The Film: B+ | Video: B | Audio: B+ | Extras: C+ | Overall: B |