The Film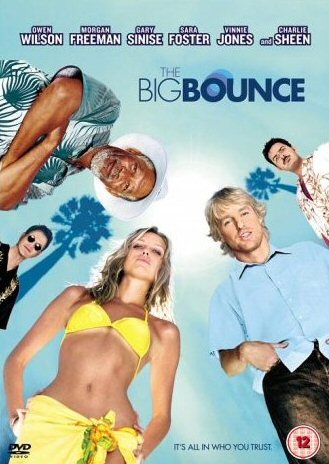 Elmore Leonard has spawned some great films. Jackie Brown, Get Shorty and Out Of Sight to name a few. This isn't one of those great films. It's about average, with probably a rental at best. If you haven't heard of The Big Bounce, it had a very brief spin in multiplexes before landing straight to our favourite format. So who could blame me if I had expectations set to zero? With that in mind, let's continue my review.
The second adaptation of the tale, this is the story. Jack (Owen Wilson) is a surfer/drifter/conman who has been on the wrong side of the law lately. Luckily for him, he's a big fan of new beginnings and running away from his problems, so he relocates himself to Hawaii. There he finds himself working for corrupt real estate developer, Ray Ritchie (Gary Sinise). Getting into an argument with project leader Lou (Vinnie Jones), Jack lamps him one in the jaw with a baseball bat. After serving a brief term in jail and getting fired, Jack is released, and promises to get off the island. But he doesn't and is soon taken under the wing of Deputy Judge Walter (Morgan Freeman), who gives Jack a job on the holiday resort he owns. Jack is lured back into the game by Ritchie's girlfriend Nancy (Sara Foster), who likes the criminal type, with a heist Jack can't refuse: $200,000. This is the money Ray needs to pay some gangsters to do some dirty work for him. Soon, however, Jack learns that sometimes things are not as they seem...
Owen Wilson plays Jack is his trademark laidback, smooth-talking way. Now there's nothing wrong with this, and he actually gives the movie alot of charm, but he seems to play everything this way. The only time I've actually seen Wilson play anything different is in Behind Enemy Lines but even then, he was the same guy except with military training. Freeman, Sinise, and the rest of the cast, seem to be more enjoying the summer sun than actually turning in a decent performace. The less said about Charlie Sheen or Vinnie Jones, the better. Foster, for a first time performace, isn't half bad, and I could actually see her having a bright future doing bigger, better things. A rental at most, but you'd have to be nuts to buy it.

Video


This is a 90 minute film with 30 minutes of extras, over a dual layer disc, so I'd expect no less than stunning. This exactly what we got here. A brief bit of moire and aliasing aside, this is fantastic with the bright colours shining right through. Top dog to Warner.

Audio


A Dolby Digital 5.1 track that has little to chomp on in this dialouge based movie. Rushing waves aside, this was never gonna set any system alight.

Extras


The disc has 30 minutes of extras. And they are nothing to write home about. "A Con In The Making" is your standard EPK fluff piece, "Surfing The Pipeline" is an uninteresting featurette on how they did those surfing transition shots. "Wicked Waves" is a whole 8 minutes of the unused surfing shots which has to be the most blatant use of filler extras I have ever seen. A theatrical trailer (with the usual spoilers, as well as some clips of cut scenes) rounds off this disappointing extras package.

Overall


This is an average movie which is not going to win any awards. Rent it if you must, but otherwise, give this disc a pass.
| | | | | |
| --- | --- | --- | --- | --- |
| The Film: C | Video: A | Audio: B | Extras: D | Overall: C- |