The Show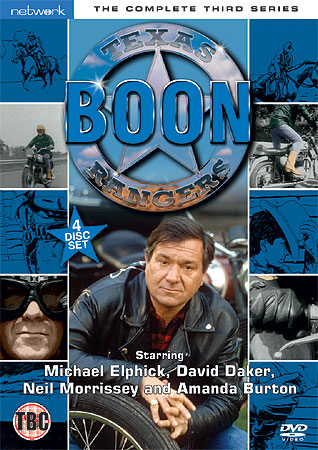 Please see our review of the second series of Boon.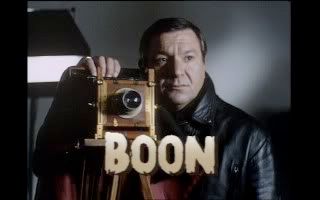 This third series of Boon (Central TV, 1986-92) was originally broadcast on ITV between November of 1988 and January of 1989. The series opens dramatically, with a summary of the final episode of the second series, 'A Once Fluid Man'. In 'A Once Fluid Man', Ken Boon (Michael Elphick) and Harry Crawford (David Daker) – Ken's friend and former colleague in the West Midlands Fire Service – were targeted by a mentally ill former workmate, Terry Brent (Anthony May). Series two ended with Brent shooting Ken, and Harry telling Detective Constable Margaret Daly (Amanda Burton) that 'Ken's been shot. I think he's dead'.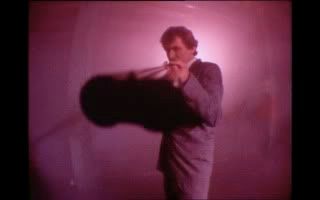 The first episode of this third series ('Charity Begins at Home') begins with a red-tinted dream sequence in which, riding on his motorcycle, Ken passes his younger self dressed in full fireman's uniform, attempting to put out a blaze at a warehouse. Eventually, Ken finds himself in an abandoned warehouse, where he finds a restrained Margaret. Ken tries to free Margaret, but he is interrupted by Terry. Terry points a shotgun at Ken; but as Terry pulls the trigger, Ken's assistant Rocky (Neil Morrissey) wakes Ken from his dream and tells him that Debbie (Lesley-Anne Sharpe) has left Ken's motorcycle courier business, Texas Rangers, to get married. Ken has recovered from the injuries he sustained at the hands of Terry Brent. Meanwhile, Harry has sold The Coaching Inn and bought a ballroom, The Plaza Suite. Ken also discovers that Margaret has quit the police force and is working as a 'security consultant'.




Ken's courier company finds itself in trouble when it is discovered that some documents the Texas Rangers have been handling for an advertising firm have fallen into the hands of the advertising company's competitors. Meanwhile, Harry manages to work himself into a spot of bother when he agrees to let a dubious charity events promoter, Richard Jay (Hywel Bennett), use The Plaza Suite for a gala that is ostensibly intended to raise funds for the homeless, complete with an appearance from Matthew Kelly. However, Jay absconds with the money raised by the event, leaving Harry to cover the bill. After Ken successfully catches Jay, Margaret suggests that she and Ken start a new private investigation firm, Boon-Daly Investigations. Working out of a rented office in The Plaza Suite, BDI find themselves hired to fulfill a range of roles, from acting as minders to a woman who has been accused of passing on state secrets ('Topspin') to investigating the theft of Banbury Blue sheep ('Banbury Blue').




Inspired in part by Have Gun – Will Travel (CBS, 1957-63), whose lead actor Richard Boone lent his surname to this series' lead character, Boon's creators Jim Hill and Bill Stair created the character of Ken Boon in the model of the selfless heroes of television Westerns of the 1950s (see our review of the second series). At the same time, the hit US series The Equalizer (CBS, 1985-9) was treading similar ground, also looking backwards to Have Gun – Will Travel for its inspiration. With each series, Boon's Western-themed title sequence evolved, representing Ken's fascination with stories of the American West; each titles sequence was accompanied by Jim Diamond's iconic theme song 'Hi Ho Silver'. In series three, the titles sequence finds Ken Boon approaching a red door; inside, he finds a photographic studio with a late 19th Century dresser in the centre of it. Written on the dresser's mirror is the phrase 'Pinkerton Detective Agency'. A pan across the surface of a writing table reveals wanted posters and a quill and ink. Ken surveys the scene from behind an old-fashioned box camera; standing in front of the dresser, Ken sees himself in the mirror as a Pinkerton detective, complete with Homburg hat and three-piece suit. A series of dissolves establishes a connection between shots of a horse rider dressed as the Lone Ranger and Ken on his motorcycle.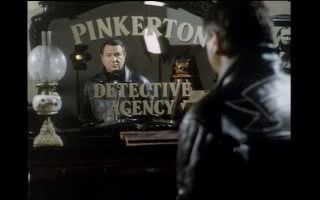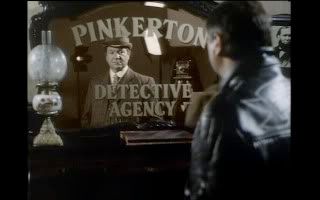 Boon benefits greatly from the presence of Michael Elphick, who portrays Boon as both a pragmatist and a dreamer. Elphick's presence anchors the series, and Boon is an immensely likeable protagonist. Like Minder (Thames, 1979-94), Boon is a potent mixture of drama and comedy, with many of the moments of humour provided by Neil Morrissey's character Rocky.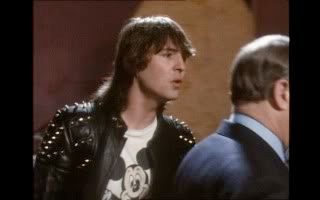 This is the final series of Boon to be filmed in Birmingham; from series four onwards, Boon would be filmed (and set) in Nottingham.

Episodes:
Disc One:
'Charity Begins at Home', Part 1
'Charity Begins at Home', Part 2
'Topspin'

Disc Two:
'Have a Nice Day'
'Beef Encounter'
'Never Say Trevor Again'

Disc Three:
'Honourable Service'
'Peacemaker'
'The Devil You Know'

Disc Four:
'Banbury Blues'
'One Reborn Every Minute'
'The Fall and Rise of the Bowman Empire'
'The Not-So-Lone Ranger'

Video


Shot on 16mm film, these episodes look very good: the image is detailed and crisp, and colours are natural. The episodes are presented in their original broadcast screen ratio of 4:3. The original break bumpers are intact.


Audio


Audio is presented via a mono track (two-channel). This is problem free. There are no subtitles.

Extras


Sadly, there is no contextual material.

Overall


Series three sees Boon hitting its stride: the actors are clearly comfortable with the characters that they play, and the show's formula has been well-established: in each episode, Harry's attempts to set himself up as a 1980s-style entrepreneur are placed in juxtaposition with Ken's more altruistic attempts to help others. However, this series finds Ken's crime-fighting activities becoming his business, thanks to the creation of Boon-Daly Investigations. In series four to seven, this aspect of the show would deepen. Boon is arguably one of the best (and most neglected) British television dramas of the late-1980s, and this series comes with a very high recommendation, especially for those who have already enjoyed Network's releases of series one and two.


For more information, please visit the homepage of Network DVD.

| | | | | |
| --- | --- | --- | --- | --- |
| The Show: | Video: | Audio: | Extras: | Overall: |