The Show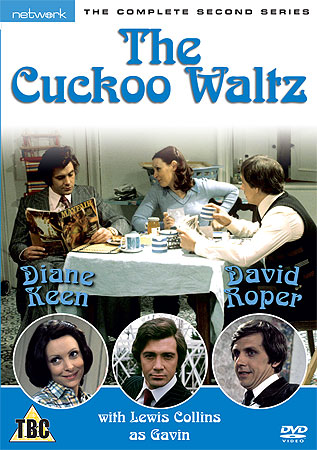 Produced for Granada Television, the situation comedy The Cuckoo Waltz (1975-80) revolves around the characters of Chris and Felicity ('Fliss') Hawthorne. Chris (David Roper) and Fliss (Diane Keen) live a modest life in Manchester, financed by Chris' job as a reporter for the local newspaper, The Evening Chronicle. Chris and Fliss have infant twins, Simon and Sarah; they also have a lodger, Gavin Rumsey (Lewis Collins). Gavin is a friend of Chris' who, following his separation from his wife Carol in series one, manoeuvred himself into the Hawthorne's house. Gavin leads a carefree and somewhat irresponsible bachelor lifestyle: his room in Chris and Fliss' house is decked out with the latest gadgets, and Gavin takes pride and joy in his car, a desirable De Tomaso Pantera (with the registration 'GAV1N')*. Juxtaposed with Chris and Fliss' marriage, Gavin has a series of short-lived relationships with his – frequently glamorous – office temps. Chris and Fliss also have to contend with Fliss' interfering mother, Connie Wagstaffe (Clare Kelly), and their well-meaning but bumbling neighbour Austen Tweedale (John McKelvey), who has a soft spot for Connie.

In this second series, originally broadcast in the summer of 1976, Gavin's tenancy in Chris and Fliss' home is well-established. The first series largely focused on the adjustments that Chris and Fliss had to make in order to accommodate Gavin's lifestyle, and much of the humour was derived from the contrast between Gavin's materialistic and carefree lifestyle and the Hawthorne's frugal existence. Here in this second series, this issue is relegated to the background, and both Connie and Mr Tweedale are given more screen time.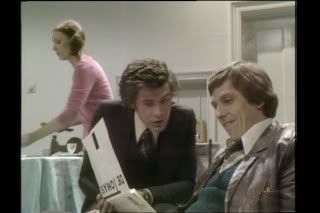 The series was created by Geoffrey Lancashire, a former journalist and one of the many writers of Coronation Street (Granada, 1960- ). Lancashire had who collaborated with Jack Rosenthal on the second series of the much-loved sitcom The Lovers (Granada, 1970-1), and Chris and Fliss' relationship shares similarities with the relationship between 'Geoffrey Bubbles Bon Bon' (Richard Beckinsale) and his girlfriend Beryl (Paula Wilcox): it's easy to see Chris and Fliss' marriage as an extension of the pairing of Geoffrey and Beryl in the earlier series. However, The Cuckoo Waltz also adopts the 'three in the nest' formula associated with a number of other British situation comedies, including Man About the House (Thames, 1973-6), Game On (BBC, 1995-8) and Whatever Happened to the Likely Lads? (BBC, 1973-4). These sitcoms tend to position one of the characters as childlike and in need of the support of the other two characters, who are positioned as symbolic parents. As Rhodes and Westwood note in Critical Representations of Work and Organization in Popular Culture (2008), '[t]he characterization of male figures in British sitcoms as childish, childlike or even infantilized is quite common' (103), and in line with this custom the childlike characters in these 'three in the nest' situation comedies are invariably male. For example, in Whatever Happened to the Likely Lads? the bachelor Terry Collier (James Bolam) is depicted as an overgrown adolescent who refuses to 'grow up' and becomes dependent on the goodwill and support of his friend Bob Ferris (Rodney Bewes) and Bob's fiancée Thelma Chambers (Brigit Forsyth). In Game On, Matthew (Ben Chaplin/Neil Stuke) is a childish man who engages in role play, acting out scenes from popular films such as Reservoir Dogs (Quentin Tarantino, 1992) whilst his flatmates and tenants Mandy (Samantha Janus) and Martin (Matthew Cottle) go out to work.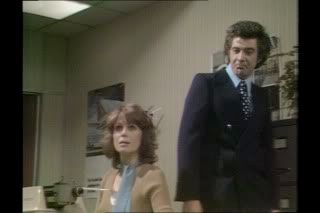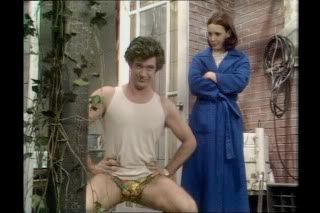 In The Cuckoo Waltz, Gavin is positioned as a child: devoid of responsibilities, he lives the life of a playboy and refuses to 'settle down'. In the first series, Gavin's childlike nature was highlighted through his fascination with his Scalextric set; however, the Scalextric set hardly gets a mention in this second series, with the exception of a comic aside when Gavin receives a letter declaring that Carol wishes to instigate divorce proceedings (in 'The Letter'). Whilst Gavin earns more than Chris (his comparative wealth is flaunted in the room he rents in the Hawthorne house, via his love of expensive gadgets), Gavin is wholly dependent on Chris and Fliss. The Hawthornes live a frugal lifestyle: Chris and Fliss' lack of money is foregrounded in several episodes during this second series of The Cuckoo Waltz. In 'The Armchair', Fliss receives an unexpected win on the football pools and considers buying an armchair to replace the deckchairs that are the only items of furniture in the Hawthorne's living room; in 'Financial Difficulties', the Hawthorne's washing machine breaks down and Fliss tries to persuade Chris to purchase a new one.




In an era in which popular culture in general was questioning women's roles (as per Ira Levin's satirical novel 1972 The Stepford Wives) and in which British sitcoms were increasingly dominated by strong women such as Sandra (Nerys Hughes) and Beryl (Polly James) in The Liver Birds (BBC, 1969-79), The Cuckoo Waltz anachronistically features the character of Fliss wilfully accepting a passive role as housewife and mother. In line with The Professionals (LWT/Mark 1, 1977-83) – the other major series to star Lewis Collins as an unreconstructed 'lad' – The Cuckoo Waltz displays a subtle chauvinism, through both the characterisation of Fliss and Gavin's constant jokes about 'chicks'. Fliss is content to play housewife to Chris; in 'Financial Difficulties', Connie questions Fliss' passive role, suggesting that her daughter could have had more: 'Personally, I think it's disgusting. If that man had any consideration for you at all… [….] Six O Levels, three A Levels. The world was your oyster, love'. However, Connie's concern for her daughter is played for laughs, and Connie is depicted as one of the longest-standing character types associated with television sitcoms, the interfering mother-in-law: Connie even suggests that Fliss can persuade Chris to buy her a new washing machine by 'denying [him his] conjugal rights'. In a slightly more self-conscious exchange (in 'The Letter'), over dinner Mr Tweedale causes an argument when he asserts to Connie that while 'the men are drinking port and smoking cigars [….] you're supposed to leave the room and go and crochet a tapestry or something'. Connie reminds him that 'We've got a Sex Discrimination Act in this country', and attempts to engage the support of Fliss. However, Fliss seems unconcerned, and once again Connie's proto-feminist outburst is depicted as the rantings of a harridan. When Fliss does take employment (in 'The Model'), her decision threatens her marriage to Chris.




Nevertheless, this arguably reactionary element of the series is probably less noticeable to modern viewers, for whom a woman's decision to adopt a passive role as a housewife can be viewed through post-feminist spectacles as simply one choice in a spectrum of decisions facing women – as in selfconsciously 'post-feminist' contemporary television shows such as the American series Desperate Housewives (ABC, 2004- ) (see Weinraub, 2004: en). In addition, the characters in The Cuckoo Waltz are so likeable that the casual viewer is not likely to care. In the first series of The Cuckoo Waltz, Chris and Fliss' relationship at times became maddeningly twee, thanks to their ritualistic greeting of 'Fliss… Chris… Kiss'. Thankfully, the 'cutesiness' surrounding Chris and Fliss' marriage is reduced in this second series, and the episodes are stronger for it. Collins is excellent as Gavin, clearly revelling in the part and deploying the same type of macho bravado that carried Collins through four series of The Professionals (and which, for Collins' fans, would have made him an ideal James Bond). However, here Collins has much bigger hair and Gavin's bravado is played for laughs.

The six episodes on this release appear to be uncut.


Episodes:
1. 'Babysitter'
Chris has volunteered for a work-organised friendly football match on Sunday afternoon and plans to have 'a practice kickaround' before the match. However, Fliss tells Chris that he is babysitting the twins: Fliss is going to the cinema with her mother.

Meanwhile, at Gavin gazes longingly at his new temp, Harriet Pullman (Joanna Lumley). Gavin attempts to flirt with Harriet, but she rebuffs him. During his lunch, Chris pays a visit to Gavin's office, with the idea that he will ask Gavin to babysit the twins. However, Gavin declines. Nevertheless, Harriet overhears Chris and Gavin's conversation and offers to babysit. However, once Fliss and her mother leave the house Gavin enters and announces himself to Harriet as 'your friendly neighbourhood babysitter molester'. He finds that away from work, Harriet responds differently to his attempts to flirt with her and is a more than willing recipient of his advances; but Gavin and Harriet's romantic interludes are interrupted by Chris, who arrives home early from his practice match. When Harriet expresses her fascination with sportsmen, Gavin volunteers to help Chris' works team, The Evening Chronicle Wanderers. To win the affections of Harriet, Gavin masquerades as a seasoned football player.

2. 'Financial Difficulties'
Fliss is struggling to start the family's ancient washing machine, which was designed 'to give an all tangle action and to shave a mohair sweater in five seconds flat. It's not bad for peeling potatoes, if you're desperate'. Fliss' mother Connie suggests that Chris' inability to provide a new washing machine for his wife signifies his lack of respect for Fliss. Connie suggests that Fliss should deny Chris his 'conjugal rights' until he provides her with a new washing machine. Responding to Fliss' concerns about their washing machine, Chris hires a repairman. 'You must have some fantastic stories', Chris tells the repairman. 'I'll have one tonight,' the repairman replies: 'I never thought I'd see another one of these outside the science museum'. According to the repairman, the machine is 'what we call in the electrical profession "completely bloody knackered"'.

Meanwhile, Gavin has fallen in love with a new model of sports car. Now that he has sold the house he shared with his former wife, Gavin has £12,000 in the bank and is 'healthy, wealthy and randy'. Gavin's desire for a new car is juxtaposed with Chris and Fliss' need for a new washing machine. Luckily, Gavin may be able to help the Hawthorne's whilst also acquiring the car that he so desperately desires.

3. 'The Armchair'
When Chris and Fliss' neighbour, Mr Tweedale, pops round he is in an an uncharacteristically jolly mood. Fliss thinks something is wrong: 'Have you been on the razzle?' she asks him. Tweedale reveals that he and Fliss have won two hundred and thirty-four pounds on their shared entry into the football pools. Fliss' share of the winnings amounts to £117 ('and ten pence', as she is proud of telling Chris). Connie tries to persuade Chris and Fliss to buy a proper armchair, to replace the deckchairs they have been using in their living room. However, Gavin has other ideas and tries to persuade Chris to buy a state-of-the-art cassette player. 'Money is the root of all evil. Then again, money is like muck: no use unless it's spread around', Gavin tells Chris. Meanwhile, Mr Tweadale plans on persuading Fliss to pool their winnings together and paint the front of both of their houses. Fliss and Chris eventually decide to spend their winnings on a weekend in Blackpool, and Gavin lends them his car. However, their short break doesn't go as planned.

4. 'Connie'
Connie turns up on Chris and Fliss' doorstep: her house has been burgled ('They've taken all my coronation mugs', she bemoans). Gavin offers to let Connie stay in his room. However, Connie seems to take advantage of Chris, Fliss and Gavin's offers of help. Fliss and Connie go through their old photo albums, and Connie reflects on her failed relationship with her ex-husband, Fliss' father.

Meanwhile, Mr Tweedale offers his spare bedroom to Gavin. Tweedale and Gavin discuss Tweedale's interest in Connie. Gavin plans to throw Connie and Mr Tweedale together ('I'd get my room back', he tells Chris; 'Yes, and I'd get my mother-in-law living next door', Chris reminds him).

Whilst Fliss wonders why Connie has never remarried, Tweedale and Connie's relationship seems to blossom.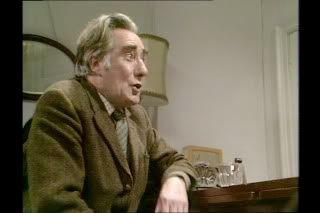 5. 'The Model'
Gavin moans to Chris about his love life: 'I don't fancy the birds who'll go out with me. It's the ones that won't I do'. Gavin reveals that he fancies Pansy Potter, a former schoolmate who has become a model. 'And why should she go out with you?', Chris asks Gavin. 'I can't imagine anyone not fancying you, Gavin', Fliss states sarcastically. 'Remarkable, isn't it', Gavin adds, not noticing Fliss' sarcasm. Gavin lacks a secretary, and Fliss offers to take the position.

Gavin manages to score a date with Pansy, and brings her round to Chris' office with the aim of persuading Chris to pull some strings at the Evening Chronicle and get Pansy some free promotion. However, Gavin brittle with jealousy Chris takes Pansy out for a working lunch. In the meantime, one of Gavin's colleagues, a handsome Dutchman, enters Gavin's offices and attracts the attention of Fliss. The Dutchman flirts outrageously with Fliss: 'You have the kind of English beauty that is plucked from Arthurian legend', he tells her. The man offers to take Fliss out for lunch. However, Fliss and the Dutchman end up at the same restaurant as Chris and Pansy.

6. 'The Letter'
At breakfast, Chris catches Gavin reading Knave. 'Fantastic piece in here', Gavin declares: 'It's about the original XK1 Jag'. 'I'm sorry, I didn't recognise Sterling Moss without his clothes on', Chris quips. Fliss enters the room carrying Gavin's post. There is a letter from Carol, but Gavin refuses to open it, and when he does, he refuses to discuss its contents with Chris and Fliss. When Gavin leaves the room, Fliss reads the letter: Carol has 'met somebody else' and wishes to divorce Gavin so that she may marry her new suitor. Gavin expresses that now Carol 'has met this fella and wants to divorce me and marry him', he wants to move out of Chris and Fliss' home: 'You know, move out and move on'.

Later, at dinner Mr Tweedale causes an argument when he asserts to Connie that while 'the men are drinking port and smoking cigars […] you're supposed to leave the room and go and crochet a tapestry or something'. Connie asserts that 'We've got a Sex Discrimination Act in this country', and attempts to engage the support of Fliss. However, Fliss seems unconcerned. When Fliss and Connie leave the room, Chris confesses that he was perhaps 'too young when I got married [….] I want to meet birds called Naomi, who wear cashmere sweaters and gold medallions and who would invite me to private parties off Curzon Street'. Likewise, in the kitchen, as they wash the dishes, Fliss confesses to Connie that 'I'm fed-up being married'. Connie asserts that, 'You used to say that you're head-over-heels in love with him'. 'Now I'm hand-to-mouth in love with him', Fliss notes.


* Thanks must go to Rewind reader Gordon for spotting the details of Gavin's car.

Video


The Cuckoo Waltz was predominantly shot on video, with some location work (for example, Chris and Fliss' trip to Blackpool in 'The Armchair') shot on 16mm film. The episodes look very good, with very little damage evident throughout the whole series. Colours are strong, and the image is crisp and detailed. The episodes are presented in their original broadcast screen ratio of 4:3.


Audio


Audio is problem-free: audio on all of the episodes are clear, presented via a two-channel mono track. There are no subtitles.

Extras


There are no extra features.

Overall


This second series of The Cuckoo Waltz is more bittersweet than the last. Where the last few episodes of series one depicted Chris and Fliss' relationship as almost too perfect and 'cutesy', in series two both Chris and Fliss are shown undergoing doubts about their marriage, including at the conclusion of the final episode; this adds pathos to the comedy. Although little seen since its original broadcast, The Cuckoo Waltz is a largely gentle comedy that is held together by its three protagonists, who are extremely likeable. Whilst not the greatest example of 1970s British situation comedies, The Cuckoo Waltz is still often very amusing, and this second series is arguably an improvement on the first.

One more series of The Cuckoo Waltz was produced with Lewis Collins; broadcast in 1977, this series was the final series featuring the original cast. In 1980, The Cuckoo Waltz was revived without Collins, who by that time was committed to the role of Bodie in The Professionals; Ian Saynor played the Hawthorne's new lodger, Adrian Lockett. Hopefully, Network will release the final Collins-starring series of The Cuckoo Waltz to DVD.

References:
Rhodes, Carl & Westwood, Robert Ian, 2008: Critical Representations of Work and Organization in Popular Culture. London: Routledge

Weinraub, Bernard, 2004: 'How Desperate Women Saved Desperate Writer'. The New York Times (23 October, 2004): en

For more information, please visit the homepage of Network DVD.
| | | | | |
| --- | --- | --- | --- | --- |
| The Show: | Video: | Audio: | Extras: | Overall: |