The Film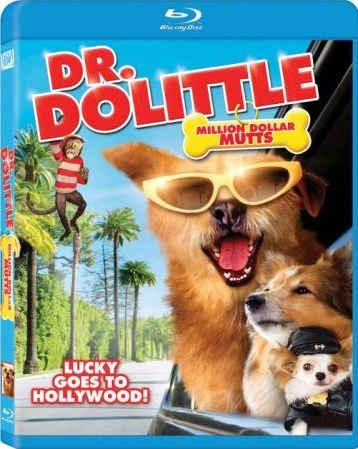 I weep for the youth of today if "Dr. Doolittle: Million Dollar Mutts" is what passes for entertainment. I grew up on a steady diet of films like "The Goonies" (1985), "Indiana Jones and the Temple of Doom" (1984), "Gremlins" (1984)… you know, films that are today regarded as classics that people will likely be watching for the next millennium. What the hell has happened in the last 20-odd years that something so vapid, so banal, so dispensable as this can be made in an effort to entertain viewers? This film isn't just bad; it's offensively bad. In fact, I'm going to have to suggest that showing this to your kids is tantamount to child abuse. If I had the option of showing this film or a reel of porn to my children I think I'd have to go with the porn. At least it serves the latent function of showing kids how mommy and daddy make babies, so some reasonable amount of education is provided. This film may possibly make your children more stupider. Whoa, see… right there. Even I'm not immune to its IQ-sucking powers. Viewers beware!

The film features a cast of anthropomorphized animals doing cute things, while Kyla Pratt proves she should never act again. Everyone in the film can't seem to decide whether they're making an NBC Movie of the Week or a daytime soap opera. Pratt plays Maya, the daughter of Eddie Murphy's world-renowned titular character, and she has his same abilities. A Paris Hilton-esque heiress hires her to talk to her dog and while she's there a Hollywood agent tries to use her as the next hot thing. Typical Hollywood/celebrity/clichéd comedy hardly ensues.

Look, you know you're in trouble when you're a movie that's the 4th sequel in a film series that Eddie Murphy - EDDIE MURPHY!!! – abandoned after the second go-round. I quickly surveyed the back cover to see what notable actors chose to forego making passable films to take a quick paycheck for this utter crap. I got one: Judge Reinhold. Now, I'll be perfectly honest in saying that outside of "Fast Times at Ridgemont High" (1982) and "Beverly Hills Cop" (1984) I have little to no idea what Reinhold has been doing, so I guess we can give him a pass since he may in fact need the paycheck.

Not getting away so easily, however, is a comedian that I really thought was above something like this. Though he isn't listed on the back cover, nor on the film's IMDB page, the film's faithful sidekick, Lucky, is voiced by none other than Norm MacDonald. Yes, folks, it's sad but true. I sure hope that Norm got a fat payday for lending his considerable talents to the film. In his defense, at least it's only his voice being used. But, with it being so distinct, it was easy for a fan like me to notice immediately. Luckily for Norm, I highly doubt anyone who would consider themselves to be a fan of his work would be caught dead buying this movie. Just remember, though he may be a riot when he's working with his own material, Norm, much like the canines on display here, has been neutered by the film's writing and PG-rating.

I can forgive films like "Lady and the Tramp" (1955) for its depictions of animals falling fondly in love because, well, they're animated classics, so it isn't terribly disturbing. However, there's just something so wrong and creepy when two live dogs are hitting on each other in a film. It's about one location shot away from turning into a full-on bestiality video. I don't care what film you're making or who the target audience is; I don't want to see a romantic subplot featuring dogs in my movies.

I'm literally at a loss for any further words for this film. Chances are if you're planning to buy this film a review won't be swaying you either way. I highly doubt there's some guy out there, on the fence, waiting patiently for a review on "Dr. Doolittle 5" to pop up online so he can make that all-important decision. I don't see anyone other than clueless housewives and the film's cast members (and possibly their friends) plunking their hard-earned cash to own this.

Video


"Dr. Doolittle: Million Dollar Mutts" arrives on Blu-ray with a 1.78:1 1080p 24/fps AVC MPEG-4 encoded transfer that does little to make the experience of watching it any more pleasant. The movie's low-budget shows through in the anemic image which appears flat and poorly lit; it would feel right at home on the Lifetime Network. Color reproduction isn't too terrible, but we've come to expect that from a hi-def image at this point. The image displays a poor level of sharpness; the picture is on-par with an upconverted DVD. There isn't much in terms of depth, that's for sure.

Audio


On the audio side, things fare a bit better. The English DTS-HD Master Audio 5.1 surround sound track mixed at 48kHz/24-bit sounds good and loud, but it's also a very front-loaded affair. The minimal participation from the surrounds comes only in the form of replicating whatever the fronts are pumping out. There is a little life to the LFE track, though it only comes during some of the film's songs. Unfortunately, there weren't any of the explosions or gunfire fights that I kept praying for. There are also French and Spanish Dolby Digital 5.1 surround sound track provided.
Subtitles come in the following flavors: English for the hearing impaired, French, Spanish, Cantonese, Mandarin, Korean and Thai.

Extras


Surprisingly enough, someone produced some extras for this movie, but it isn't much. There are three featurettes and a bonus trailer. Mercifully, all are short. Fox also saw fit to include a bonus DVD copy of the film and extras. You know, because what fun is it to have only one beer coaster in a case, right?

DISC ONE:

"Tiffany's Tricked Out Cell Phone" is a featurette which runs for 4 minutes and 35 seconds. Though the name makes it sound like something for kids to interactively play with, this is really just a behind-the-scenes look at the film. There are some interviews with the stars and the people in charge of the film's animals.

"No Business Like Show Business" is a featurette which runs for 7 minutes and 56 seconds. The film's stars and crew talk about how much work people put into making a movie. Maybe someone should have shown this to the writers before they sat down to crank this out.

"Star Tours: Doolittle Style" is a featurette which runs for 5 minutes and 7 seconds. We get a look at some of the locations used in the film, along with interviews from the production design team.

Finally, the Blu-ray opens with a bonus trailer for "Marley & Me" which runs for 2 minutes and 18 seconds. It is not accessible from the extras menu.

DISC TWO:

This is nothing more than a standard-definition copy of the film on a DVD.

Overall


If you managed to make it this far down the page it's because you were either hoping to catch some witty final remark or you genuinely wanted to see if I could give it something higher than an "F". Either way, you're bound to be disappointed.
| | | | | |
| --- | --- | --- | --- | --- |
| The Film: F | Video: C | Audio: C+ | Extras: D | Overall: D |