The Film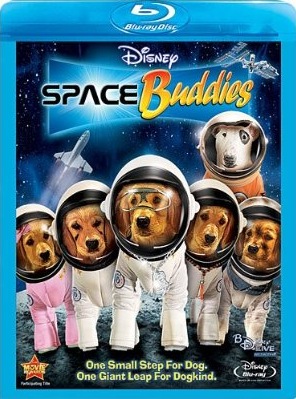 After the abysmal "Dr. Dolittle: Million Dollar Mutts" (2009), I've decided to continue on with the theme of anthropomorphic animals, specifically canines, by subjecting myself to "Space Buddies" (2009), the latest in what appears to be a series put out by Disney. Ah, Disney, the one name that actually gave me hope that the film might not be so bad after all. I've come to the realization the even a bad Disney movie still has some air of magic to it. Maybe that's some kind of placebo effect in knowing that I'm watching a Disney production, but the fact of the matter is that they know how to entertain kids and adults alike. So, while I will admit that this film is a horrendous exercise in masochism, it also threw in just enough of that "Disney magic" that I was able to make it through the scant 84 minute running time relatively unscathed.

"Space Buddies" is the 9th (!) film in the "Air Bud" series that began with 1997's "Air Bud". Since that inaugural film, the series has seen the golden retrievers playing a variety of sports that includes: basketball, football, soccer, rugby, baseball, beach volleyball, sledding and, now, the far reaches of outer space. Isn't it common knowledge that a series has essentially run out of ideas when they start sending their leading characters into space? Though I hardly think that matters in a case such as this. Aside from the first two films, each one thereafter has been released direct-to-video. Going strictly by the number of entries I'm going to assume this has been a rather profitable decision for the company.

The preposterous plot (you didn't think it wasn't going to be ridiculous, did you?) finds our group of pups following a class field trip to the launch site of the first civilian moon craft. The company, Vision Enterprises, intends to market space voyages the entire family, including pets, can experience. The pups manage to get fitted for suits and sneak onto the craft right before launch. Trapped in space, they meet Yuri (Diedrich Bader), a Russian cosmonaut and his dog, Spudnick (Jason Earles). The pups have to find a way to get home before a nefarious scientist, Dr. Finkel (Kevin Weisman), ruins the mission and the hopes of Vision Enterprises.

I can't really fault anyone who makes up the cast for appearing here because, let's face it, they're getting paid Disney money. And from what I hear, that's some GOOD money. Not a whole lot of "names" appear here, but there are some notables that older fans might recognize. For instance, the lead engineer in charge of the project, Pi (Bill Fagerbakke), was best known for playing the bumbling dolt, Dauber, on Craig T. Nelson's "Coach" (1989-1997). Man, I really used to enjoy that show as a kid. I guess he's managed to make quite a career out of repeating that character ad nauseum because he's similarly slow-witted here, despite his obvious intellect.

Our evil scientist, Dr. Finkel, is played by Kevin Weisman. Though he is far from being a household name, twenty and thirty-somethings will remember him as the guy who threw up in Mooby's after a heated argument over "The Lord of the Rings" trilogy (2001-2003) and the "Star Wars" trilogy (1977-1983) in Kevin Smith's "Clerks 2" (2006). I will admit he does have just the right look for playing a total a-hole. I'd expect to see him in similar roles in the future.

As I said, even though the film itself is rather torturous for anyone over the age of, say, 9, the film has some unexplainable element that makes it easily digestible. Maybe it has to do with that je nais se quoi that Disney adds to all of its films. Even working with the limited budget the film no doubt had, the production values appear fairly high for a film of this ilk. I'm wiling to bet that had the film been done by Sony or Fox, the results would have been far less impressive. Disney, plain and simple, knows how to make films that entertain children. It's what they've always done best. Though I may be far from my days as a youth unconcerned with film criticism, the fact remains that even someone my age can at least watch this without wanting to rip their eyes out.

Video


"Space Buddies" hits Blu-ray with a 1.78:1 1080p 24/fps AVC MPEG-4 encoded transfer that looks very good for a direct-to-video film. Black levels are deep and rich, an important factor when you consider that the film takes place primarily in outer space. Color reproduction looks fantastic, from the red colors of Budderball's jersey to the blue hues of their space uniforms. This is a strong effort to be sure; just don't expect to be blown away. The image is sharp and crisp; check out all the CGI used to make the dogs appear to be speaking! Disney may charge a hefty amount for their Blu-ray discs (some as high as $44..99 MSRP!) but they certainly know what it takes to put together a wonderful image, even for their lesser films.

Audio


On the audio side of things, the film receives the standard English DTS-HD Master Audio 5.1 surround sound track mixed at 48kHz/24-bit. The majority of the film concerns puppies speaking to each other, so there isn't much life, action-wise, for the gestation of the film.. However, there are a few moments when the LFE track gets to roar to life, such as during the shuttle launch, and the bass really booms! Surround use is minimal, though there are some sparse ambient sounds to fill things out.. I will say that the track was loud and extremely clear, so keep that volume knob dialed down a bit if you don't want your kids to suffer from ringing ears after a viewing.
Optional subtitles are included in English for the hearing impaired.

Extras


As you might have expected from a film such as this, the majority of the extras are geared towards children. We are given a blooper reel, a behind-the-scenes featurette, interactive features, a music video and bonus trailers. There is also a link for some Disney BD-Live features.

"Buddy Bloopers" b>blooper reel runs for 2 minutes and 54 seconds.

"Disneypedia: The Buddies Guide to Space Travel" featurette runs for 12 minutes and 55 seconds. This is your standard behind-the-scenes look featuring interviews with the cast and crew; it also shows some of the effects used to help the buddies "fly" in outer space.

"Buddy Facts" is an interactive feature which quizzes the viewer on "buddy" trivia while the film plays.

"Buddy Finder" is an interactive feature which has the viewer select their favorite "buddy" to go on a scavenger hunt for certain objects while the film plays.

A music video for "Dancing in the Moonlight" by Alyson Stoner runs for 3 minutes and 9 seconds.

An exhaustive amount of bonus trailers are available for the following:

- "High School Musical 3: Senior Year" runs for 1 minute and 37 seconds.
- "Beverly Hills Chihuahua" runs for 2 minutes and 9 seconds.
- "Morning Light" runs for 1 minute and 43 seconds.
- "Santa Buddies" runs for 1 minute and 56 seconds.
- "Tinker Bell and the Lost Treasure" runs for 1 minute and 27 seconds.
- "Disney Parks and Resorts" runs for 1 minute and 36 seconds.
- "Disney Blu-ray" runs for 1 minute and 18 seconds.
- "Pinocchio 70th Anniversary Platinum Edition" runs for 1 minute and 50 seconds.
- "Earth" runs for 1 minute and 48 seconds.
- "Bolt" runs for 2 minutes and 43 seconds.
- "Disney Movie Rewards" runs for 26 seconds.

Finally, there is a Disney BD-Live link which leads to the standard webpage containing options to chat with your Disney BD-Live friends, as well as challenge them in trivia contests and send them messages. There is no content available for the film itself.

Overall


Definitely not for the older crowd, this is a film that kids should no doubt eat up. Perhaps if I had a youngster of my own I could enjoy it by living vicariously through him. I don't, so I didn't really find myself having too good a time. In fact, at times I lamented the fact that I was watching a film like this by myself. Ahhh, such is the life of a reviewer, I suppose.
| | | | | |
| --- | --- | --- | --- | --- |
| The Film: D+ | Video: B | Audio: B | Extras: C+ | Overall: C |