The Film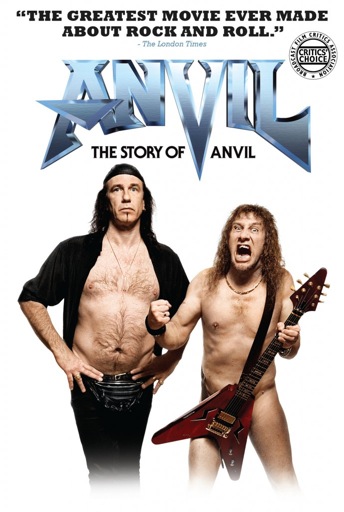 I'd like to consider my tastes in music to be fairly eclectic; I'm apt to listen to just about anything that isn't hip-hop, country or punk/ska. But if you were to ask what my genre of choice would be, the answer comes quickly: metal. More specifically, thrash metal. You see, I'm an unapologetic lover of all things thrash, and I was sure I knew most of the big-time bands that held the crown. Metallica, Megadeth, Slayer, Anthrax, Exodus, Testament, Nuclear Assault and… Anvil? Truth be told, I had never heard of the Canadian thrash titans until I first saw the trailer for this documentary, "Anvil! The Story of Anvil" (2009). In fact, I wasn't even sure this wasn't some kind of mockumentary a la "This is Spinal Tap" (1984) because I had never even heard of these guys in passing.

The film takes a good hard look at the band, and why the fame and fortune they so desperately worked hard to attain never materialized. Maybe it was that their music wasn't up to par; it's good, head-banging thrash, to be sure, but Metallica they definitely are not. Maybe they just never managed to be in the right place at the right time, as Lemmy (of Motörhead fame) muses during the opening interviews. One thing can be said for certain, it wasn't for lack of a dedicated work ethic. Led by the sometimes-egotistical, always apologetic Steve "Lips" Kudlow, Anvil is still rocking 30 years later. That, in itself, is a testament to their dedication in gaining some sort of foothold in the highly competitive world of metal music.

Japan, 1984. Anvil is playing on the main stage at a major festival alongside such popular acts as Bon Jovi, Scorpions and Whitesnake. They seem poised the hit the big time, drawing a popular response from both fans and fellow musicians alike and then… nothing. Cut to almost 30 years later and frontman Steve "Lips" Kudlow is starting his morning off as a school cafeteria delivery driver. Obviously, things didn't pan out so well. The band has been putting out music all this time, but their efforts have been mostly self-produced and have gained little exposure. After playing a series of costly, and ultimately non-paying, gigs in Europe the band decides to try to recapture some of that former glory by enlisting producer Chris Tsangarides to give them the sound they've been craving and, hopefully, spur a comeback of sorts to live out their ultimate dreams of being bona fide rockstars.

What makes this film stand out isn't the music, it's the emotion that Lips and drummer Robb Reiner put into their words and actions. The two are the only original members of the band left, and they've been friends since they were both 14-years old, now both are in their 50's. Lips is a bit of a martyr at times, acting as though the fate of the band and its members rests squarely on his shoulders, whereas Reiner is a laidback construction worker who has made peace with his lot in life and enjoys spending his time painting (quite beautifully, I might add). He quits the band at least twice during the film because of Lips' obsessive, often manic behavior. One can only imagine how many times he's quit in the 20-something years between their inception and the making of this documentary. But the two have a bond that goes deeper than words can express, and Lips' is just as quick with his apologies as Reiner is to accept them. It's their sad, unrealized dreams that are the driving force at play here. The other newer members of the band take a backseat to the duo, leaving us with some great, real, raw emotional scenes.

Though this is a straight, honest documentary, it's rather apparent that the filmmakers were going for a "Spinal Tap"-esque narrative and appearance. Hell, Tsangarides even has production knobs that go up to "11"! There are plenty of shots that echo the humor of "Spinal Tap", but thankfully the film never resorts to total comedy. Director Sacha Gervasi, himself a former roadie with the band and longtime friend of over 25 years, eschews anything that would leave the picture wallowing in its own crapulence. We get the hard facts of where the band has been, where they are now and where they want to get in the future. The 80 minute running time feels just long enough, and the deleted footage proves that there really isn't anything else that would have been worth adding in to beef the running time up.

Video


The 1.85:1 anamorphic widescreen transfer looks reasonably good considering the limited budget with which the production was no doubt working. I did notice some odd colors springing up on faces during some of the interview segments, but that could have been due to lighting conditions more than anything else. The image is pretty damn sharp for standard definition, though. As to be expected with any documentary, nature films aside, the image suffers from some heavy grain, older footage is quite raw and the color scheme can vary wildly depending on where they were shooting. But I was happy with the picture it presented, and for a film such as this the image is absolutely serviceable.

It's a shame no Blu-ray release is planned for the United States as of right now, especially considering that the UK received a Blu-ray release earlier this year. Perhaps one may be forthcoming, but for now this is as good as it's gonna get.

Audio


The English Dolby Digital 5.1 surround sound track sounds great when it needs to. A good portion of the film consists of interviews with the band members at their homes or in private areas, so the track is very quiet aside from their comments. However, when the live footage kicks in that's when the track kicks into full-on thrash mode. The guitars crunch, the drums sound vivid and lively and Lips' vocals are loud and clear. A documentary about a thrash metal band needs to have some damn powerful sound when trying to demonstrate the power of their tunes, and this track does just that. There is also an English Dolby Digital 2.0 stereo surround track included.
Subtitles are available in French Canadian.

Extras


VH1 Films has given "Anvil! The Story of Anvil" a somewhat weak set of extras, consisting of an audio commentary, an extended interview featurette, deleted scenes, and "more shocking & hilarious stuff!" Spoiler: the "more shocking & hilarious stuff!" is just a 4 minute live performance. It is neither of the things it claims to be.

The audio commentary with director Sacha Gervasi and band members Steve "Lips" Kudlow and Robb Reiner is a non-stop gabfest. The trio has loads and loads of anecdotes and behind-the-scenes stories that pour out like wine. Kudlow and Reiner especially provide a massive amount of exposition on every single scene within the film. If you enjoyed the documentary this track is an essential listen because it fills in every conceivable gap you may have wondered about. All tracks should be this lively and fun to listen to.

There are three deleted scenes available for the following:

- "Choice Children's Catering Extended Scene" runs for 7 minutes and 14 seconds, Lips' co-workers talk about his commitment to trying to achieve his dreams and how hard of a worker they think he is.
- "Former Band Members" runs for 2 minutes and 39 seconds, Former members Dave "Squirrely" Allison (guitar) and Ian "Dix" Dickson (bass) discuss why they chose to leave the band. Dickson apparently also has a fondness for cups sold at Spencer's Gifts.
- "Lips' Brother" runs for 2 minutes and 11 seconds, Lips talks about his older brother, who has been diagnosed with a neurological disease.

"Interview with Lars Ulrich" is an interview featurette which runs for 30 minutes and 6 seconds. Ulrich waxes nostalgic while discussing Anvil's rise and relevance. It's not an easy watch, though. I think I'm in the majority who tend to get tired of hearing him speak; I'd rather be listening to James Hetfield. This is like having 30 minutes with Peter Criss from KISS – yawn…

""School Love" in Japan with Sacha" is a live performance which runs for 4 minutes and 17 seconds. The film's director joins the band onstage to belt out a classic tune on the drums.

Perhaps with the (minor) success of the film and its warm reception, a more comprehensive package is in the pipeline for a future Blu-ray release, assuming this DVD sells well. One can only hope…

Overall


Metal fans, specifically those who love 80's thrash, will eat this doc up. It's a fascinating look at a hard-working band that never quite made it big. However, even if you're not a fan of metal you'll likely enjoy this film because it's well-made, raw and emotional; no punches are pulled. Though it may be a little light on extras, the feature itself is strong enough that I highly recommend the purchase.
| | | | | |
| --- | --- | --- | --- | --- |
| The Film: B+ | Video: B | Audio: B+ | Extras: C+ | Overall: B |