The Film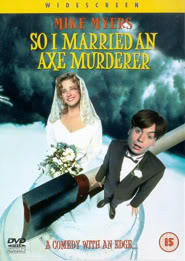 Ah, the realm of budget titles, where you can pick up another beloved shiny disc for £5, if you're not too picky on extras and/or whether you've heard of the film in question. Most likely a film a big name has made prior or just after becoming famous. This title is a case in point.

Charlie (Mike Myers) is a coffee house poet whose best friend Tony (Anthony LaPaglia from Without A Trace) is a cop. One day, Charlie encounters Harriet (Nancy Travis), a butcher, while picking up haggis for his parents (Brenda Fricker and Myers again). They fall in love, but soon Charlie begins to suspect Harriet as being Mrs X, who marries men, kills them on their honeymoon, moves to another city, changes her identity and does it again. Will Charlie be axe fodder?

The film isn't half bad if you're in a light mood. Myers actually seems to be playing a normal person for once (although we do see parts that would later become part of the Austin Powers series - his part as the father sounds and acts like Fat Bastard, only slimmer), although his role as the father is really not needed. Travis is fine as the potential femme fatale, although she has enough innocence to make sure we don't shout 'KILLER!' when she appears on screen. LaPaglia gets a nice running gag for his troubles, where he wishes being on the police would be more like Starsky & Hutch. And generally, it's just light-hearted comedy thriller.

Generally, music and photography are almost nothing to write home about except from a credits sequence where we follow a coffee cup as it's being served to Charlie. Really.

If you like Mike Myers, then you might want seek this out. For everyone else, a rental will suffice.

Video


So I Married An Axe Murderer is presented in 1.85:1 and is 16x9 enhanced. It looks like it's been mastered off a film print due to the grain in the image, but thankfully, there's no telecline wobble. There's a fine sprinking of film artifacts through, but they are never distracting. There are subtitles in nearly every language imaginable.

Audio


There is an English Dolby Digital 4.1 track and French, German, Italian and Spanish dubs in Dolby Surround on the disc. I watched the film with it's default English track. This was first released in Dolby Stereo (my, so long ago) and you can tell. This is little more than a glorified Dolby Surround track with slightly more subwoofer presence. I doubt this film needs a 5.1 remix, but I was surprised the later stages didn't carry more sound stage action, considering what was going on on-screen. But this is me being picky. The dialouge can always be heard and it's perfectly suited for a budget release.

Extras


What? You actually thought you were going to get proper extras? Ha, this is budget! Well, if it makes you feel better, I'll go through each trailer you get in the submenu in detail to make it seem like you get more.

First, we have a slightly different than the usual theatrical trailer, where Myers talks about the film to camera while clips are played (watch closely and you'll spot a deleted scene peek in). The trailer looks a bit grainy, but otherwise, it's fine. It's presented in 1.85:1 anamorphic, English Dolby Surround with French, German, Italian, Spanish and Dutch subtitles.

We then get a bonus trailer for Cops & Robbersons, a comedy with Jack Palance and Chevy Chase that I believe hasn't been released yet in R2 or R4 to my knowledge. And this is a disc from 2001! The trailer is presented in 1.85:1 anamorphic with grain and telecine wobble, English Dolby Surround and the same subtitle choices as above.

The third extra is a bonus trailer for High School High, a Dangerous Minds spoof with Jon Lovitz that hasn't got a R2 or R4 release either. Presented in 4:3 non-anamorphic, English Dolby Surround with the same subtitles.

The next extra is a bonus trailer for Joe Dirt, a David Spade comedy. Presented in 1.85:1 anamorphic with Dolby Digital 5.1 audio in English, French, Italian, German and Spanish and Dutch subtitles.

Finally, we have a bonus trailer for Big Daddy, an Adam Sandler comedy. Video is a bit grainy. Presented in 4:3 non-anamorphic, with the same audio and subtitles as above.

Overall


Mike Myers on a budget disc, with little to warrant a purchase, budget or otherwise. For about the same money, you can get the better Austin Powers: International Man Of Mystery. And that has extras too. Go get that.
| | | | | |
| --- | --- | --- | --- | --- |
| The Film: B- | Video: B | Audio: B- | Extras: D | Overall: C+ |