The Film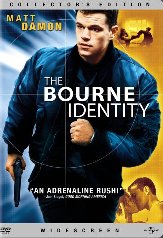 OK, I reviewed the Special Edition of this film a few months ago. Generally, my feelings on the film are the same. So, if you have already read my review, please skip down to my review of the disc. For the rest of you...

Upon seeing The Bourne Supremacy, sequel to this film, I did exactly what my copy of "Total Film" said I would do. Seek out the original. I did this mainly because I couldn't remember that much of it.

The film opens with some people playing cards on a fishing boat. They eventually find an seemingly-dead man (Matt Damon) floating in the water and bring him on board. One decides to take a closer look, a finds that not only are there two bullets in the guy's back, but also a chip in the man's hip displaying his Swiss bank account. Upon waking up, the man displays selective amnesia, with him unable to know his real name or anything before waking up, but seems to be able to do normal tasks well. When sent to his Swiss Bank to find out his identity, he also discovers he is good at hand to hand combat and has different names on his passports. Upon hitching a ride to Paris with Marie (Franka Potente), he finds that various hitmen are also trying to kill him. Looks he fell in with a very bad crowd...

Matt Damon is excellent as Jason Bourne, the assassin suffering from amnesia. He shows a certain amount of innocence, while at the same time showing the heart of a cold-blooded killer. Potente, as Bourne's ride, struggles mainly due to the fact she is grappling with her accent in the film. Brain Cox and Chris Cooper are excellent support, but Clive Owen stumbles as one of the hitmen trying to kill Bourne. The film, while not sticking to the book, has an excellent story, while at same time, keeping action fans happy with a car chase through Paris being a major highlight.

Video


Presented in 2.35:1, the picture is almost identical to the one present on the Special Edition. The only difference is that this version contains the title card. Thrilling, no? Anyway, as I've said before, the picture is good, with only slight grain and aliasing (the usual suspects - car grills and blinds). Subtitles are present in six or seven languages, including English and Arabic.

Audio


There are two soundtracks, both English. A DD 5.1 and a DTS 5.1 to match. These are quite competitive, with DTS once again getting by because of it's improved clarity (case in point - the sirens in the Paris car chase).

Extras


First up is Deleted and Extended Scenes, which are the same four on the Special Edition. Like I have said, they look very bad. Then we have a featurette, which is your standard EPK fluff piece. Thirdly, a Extended Farmhouse Scene, which is strangely seperated from the others. A little bit of development here, but not too much. The main feature is the Audio Commentary with director Doug Liman. He talks for the duration of the feature and is very informative with few gaps. He provides more information on the making of the film than any of the featurettes on the Special Edition. There's the theatrical trailer, which promotes the film as much more action based than it is, bonus trailers for "Hulk" and "Johnny English" and DVD-ROM Features (which I didn't look at) to round off the package.

Overall


The Bourne Identity is a good film, which is better than any recent Bond or xXx adventure. At £4.99, this disc deserves picking up, even if the extras are slim pickings. Catch the sequel cheap and have a double bill of Robert Ludlem's most popular character.
| | | | | |
| --- | --- | --- | --- | --- |
| The Film: B+ | Video: B | Audio: A- | Extras: B- | Overall: B |