The Film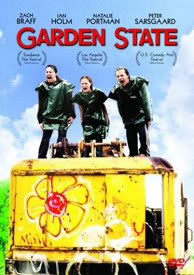 Zach Braff up until now has been 'that bloke from Scrubs', with the public identity of his character on that show, J.D., seemingly etched on the public's mind. It's ironic then that one of the best running gags in this film is actually that Braff's character gets continually recognized as a retarded quarterback off a TV show, which subtly plays on this fact. And that's the beauty of the film - it's subtle.

Braff plays Andrew Largeman, an actor who lives in L.A. who has come home to New Jersey for his disabled mother's funeral. While there, he meets up with most of his friends, who are bored and experimenting with drugs, including his friend, Mark (Peter Sarsgaard), whose behaviour is sometimes lower than the graves he digs. He also has to deal with his father (Ian Holm), who blames Andrew for the accident that left Andrew's mother disabled. Andrew eventually meets Sam (Natalie Portman), a compulsive liar, and begins not only to fall in love, but find his emotions as well.

Braff is note-perfect in his performance, as is his direction and writing. The characters are not only very relatable, but also well rounded. Braff's performances depend on the subtle moments of character breaking through. For example, when he gets hugged by Sam's mother, notice how unsure he is over whether he should embrace hug or not, and when he makes that decision, how happy he is.

Sam is actually quite likable, despite her lying vice. You can see what Andrew sees in her because of her kindness towards him. Mark is more of a character we are unsure of, particularly after Andrew discovers his more heinous acts, which makes the last act more interesting. The only fatal under use is of Ian Holm (but one of his more major scenes was cut, so this is not entirely the script's fault), who we never seem to devise any sympathy for because he seems more 2D than everyone else, appearing to be just a dominating father figure who Andrew needs to defeat.

Back to the script, and it succeeds because it is never too heavy-handed. Whenever there is a bleak dramatic moment, Braff hooks a light gag to try and balance it out, because without them, this feel good tale would be incredibly depressing. But those gags are never laugh out loud funny, more just giggles, which is best, because if it became too funny, it would take away from the more dramatic elements that came before them.

The music in the piece is very modern but it's used very effectively in montage and follows with the piece, with the music is almost set to convey how a character is feeling, without having to mention it too broadly.
On a final note, the sets and cinematography are beautiful. They both show how empty many of the characters in the film are, from Andrew's plain white surroundings (a more than obvious metaphor) to scenes the characters pale in comparison to their surroundings (similar to scenes in Gattaca). The wide frame is used very effectively.

Overall, Garden State is a film you must see, if only to recognize that Zach has more going for him than simply Scrubs.

Video


Garden State is presented in 2.35:1 and is 16x9 enhanced. As mentioned above, the film has a visually strong palette, and the disc shows them off just fine. No low level noise was detected. Aliasing was isolated to a few moments. No colour bleed was spotted. Subtitles are presented in various languages, including English, French, Portuguese, Spanish and Dutch.

Audio


There are three DD5.1 dubs on this disc (in Spanish, French and Portuguese), but I went for the original English DD 5.1 track. Being a romantic dramedy, there are few surround moments with the subwoofer almost sitting on it's hands throughout. The dialogue was always audible. There is an Audio Descriptive in Dolby Surround as well, which is nice, but really a bit useless considering that this is a film to relies quite heavily on it's visuals.

Extras


The extras provided with the disc aren't exactly groundbreaking, but given the independent nature of the film, it's a fairly comprehensive package. None of the extras are anamorphic.

First, we get two Audio Commentaries. The first is stars Zach Braff and Natalie Portman and the second are various crew members, including Braff. I listened to the first half of the film with the former and the second half with the latter. The cast track is a friendly gab track, with them making jokes and general comments for the more casual viewer. The crew version is more in-depth, providing lots of little tidbits, complete with the odd joke or two. If you have to choose one, pick the crew track. Both commentaries are Dolby Digital 1.0, with each including subtitles in Danish, Dutch, French, Icelandic, Norwegian, Portuguese, Spanish and Swedish. Oddly, there are no English subtitles.

The "Making Of" at first seems like an EPK piece, but in reality, it's a half hour of general behind the scenes footage, with little interviews thrown in every so often. Quite interesting, but the lack of a narrative may annoy some.

There are 16 Deleted Scenes, which are mostly extensions of existing scenes. Some have timecodes and one has a special effects shot that hasn't been completed. The major scene of note is a conversation where Andrew openly wonders to his father the possibility that his mother's death may have been a suicide. There is also a commentary as well, with Braff defending his editing decisions. It runs for about 30 minutes.

We get a Gag Reel, which is 3 minutes of the actors cracking up. You know the drill.

Finally, we get a 30 second Soundtrack Spot. Not really anything to say here either, except that this is no replacement for the absent theatrical trailer, which was one of the best I saw last year.

Overall


Zach Braff has created a fantastic film that deserves your attention for being a film done right. With trash like xXx 2 around, it's good to remind yourself of how good cinema can actually be. The film is presented on a fairly good disc by Buena Vista.
| | | | | |
| --- | --- | --- | --- | --- |
| The Film: A | Video: A | Audio: B- | Extras: B | Overall: A- |